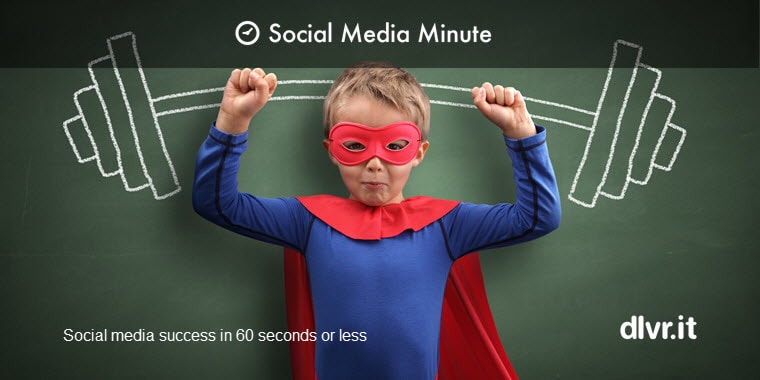 7 Ways to Boost Social Media and Blog Traffic with dlvr.it
One of the things I enjoy doing is meeting with our customers. Recently, I had the opportunity to chat with a small business owner of a local coffee shop. He said he has only just started to dip his toe into the unknown waters of social media and by toe, he meant his little toe. He added that social media was paralyzing to him. He didn't know what to do next. Sound familiar?
I realized that regardless of the small business category your business may fall under, most social media goals are very similar to others:
Increase awareness of your business
Engage followers on social media
Boost website traffic
Once you understand the goals, it's easy to walk away with an action plan to solve the paralyzing "what do I do next" question. While social media and promoting your blog can be overwhelming,  I was able to walk our small business owner through the following seven ways to use dlvr.it to successfully and easily achieve his social media goals:
 7 Ways to use dlvr.it to Boost Traffic
1. Smart Automation with RSS to Social
Automating social media gets a bad rap sometimes. If it is done with the intention of updating customers with blog content (and not spamming), RSS to Social is a huge time saver. Learn how to enable smart automation with Pinterest, Twitter, Facebook, LinkedIn and more.
2. Email to Social
Social media moments strike at any time and any place. You need a quick way to share these moments when you're on the go. Learn how to update all your social media accounts in a few clicks using email.
3. Newsletter to Social
This is one of my favorite hacks. Don't have a blog? Is your email newsletter your primary tool to communicate with your customers? Repurpose this content to social. Learn how to instantly share your newsletter to Twitter, Facebook, Google+ and more.
4. Queue Smart Scheduling
Queue allows me to create and schedule several new headlines, try different hashtags and schedule blog posts throughout the day or over a period of time. Learn how to effectively use scheduling to engage fans and followers.
5. Promoted Stories
Have a blog post that needs a boost? Promoted Stories is an affordable way to share blog posts with new audiences. Upload your content (text and video), select your target market and choose a budget. Your story is instantly shared with new audiences. Learn how to share blog posts with Promoted Stories.
6. Auto Include Hashtags
We've written several blog posts on hashtags. Hashtags are a powerful and inexpensive way to expose your social media updates to new audiences. Included in dlvr.it's smart automation technology is the addition of adding hashtags automatically. Learn how to auto-add hashtags to your social media updates.
7. Browser Add-on
You're browsing the web. You come across a great article that your audience would love. You copy and paste the link, update Twitter and repeat for each social network. That is so…2010. Get the dlvr.it browser add-on and in one click, comment and share articles without leaving the page you are on. Learn more about the dlvr.it browser add-on for content curation.
I'm always happy to "walk" customers through a social media action plan using dlvr.it. Feel free to reach out to me with any questions.