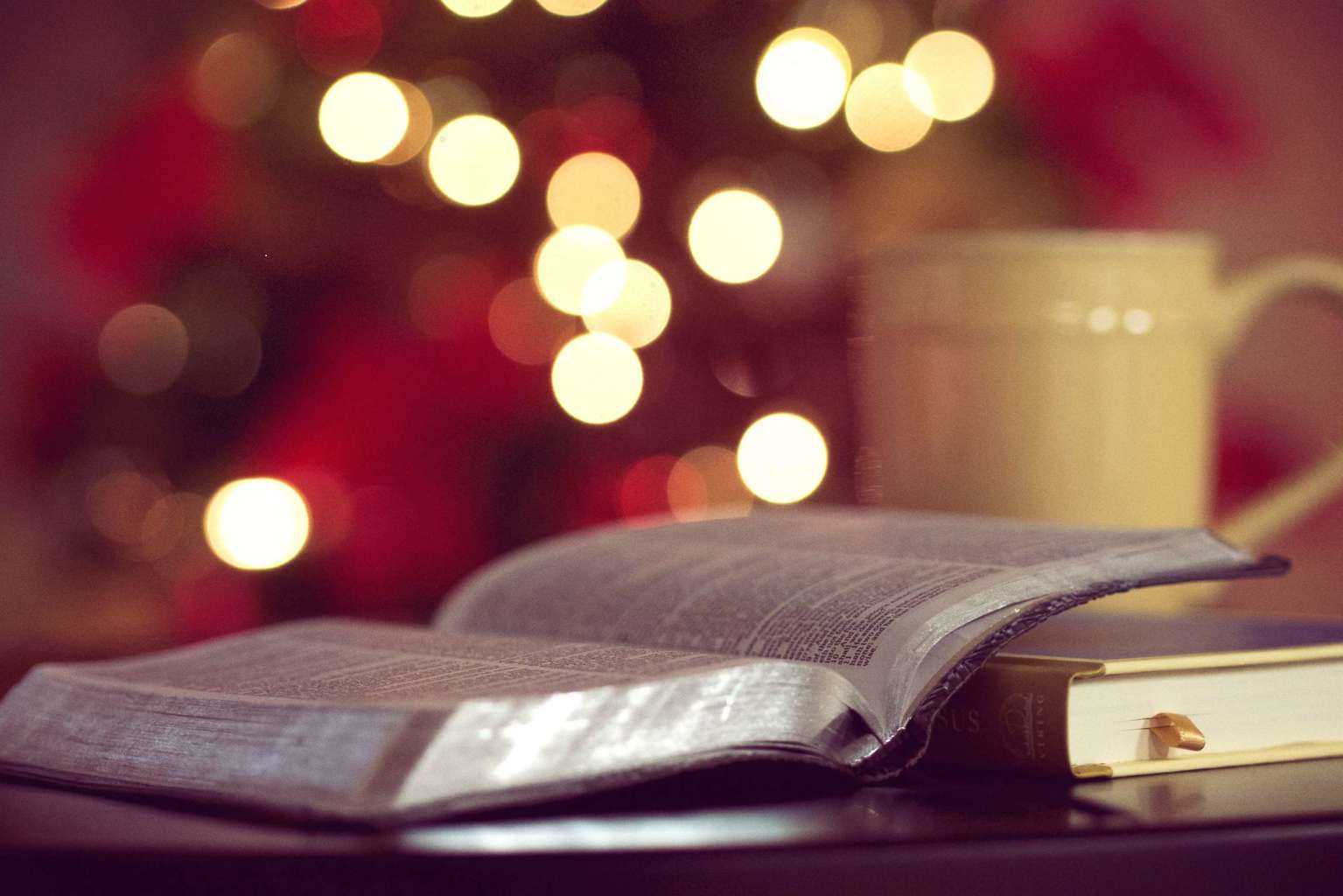 Ultimate List of 1000 Powerful Words That Will Make You A Social Media Rockstar
Ever noticed how some bloggers have an uncanny ability to toy with your emotions? They can miraculously get you to click through to an article within nano-seconds of skimming the headline. Why? It's fairly simple – one or two power words have worked their magic on you!
For beginning bloggers, powerful words are one of the easiest tools to master. Unlike many blogging strategies which can take considerable time to get right, start sprinkling power words into your writing, and you'll notice an immediate lift in the quality of your article.
What Makes Words – Power Words
A power word…
1 – Strikes a balance between pretentious sounding words and standard language.
2 – Communicates with clarity and precision.
3 – Enhances marketing effectiveness by invoking emotion.
People connect to emotion, not words. Studies show that content that elicits "high arousal emotion" (anxiety, amusement) is more likely to be shared and go viral than content that doesn't elicit emotion or elicits "low arousal" emotion. Power words are key to evoking these "high arousal" emotions. Examples include words like "instantly", "mistakes" and"hilarious".
4 – Triggers curiosity.
Research published by Harvard Business Review found curiosity to be one of the most powerful triggers for virality. Since we have a hard time resisting our curiosity, strategic use of powerful words makes it almost impossible for us to not to click, share, and read. Power words that trigger curiosity include words such as "Reveals", "Proves", "Ridiculous".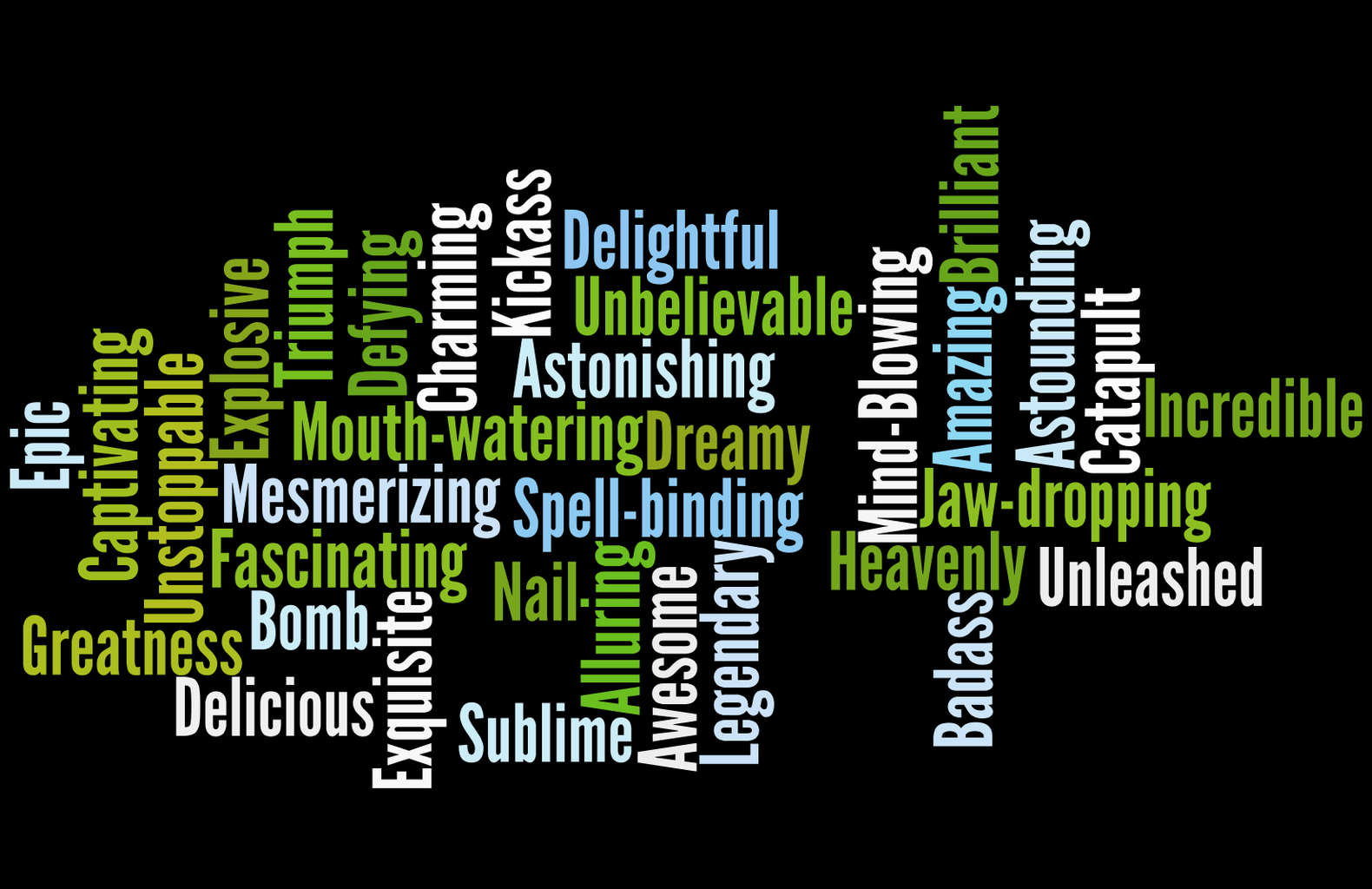 Best Power Words From the Experts
1 – SumoMe: Turbo-Charge Your Marketing (With These 355+ Powerful Words)
This article includes great examples on how to combine powerful words for more sales, signups, and conversions.
The easiest way to start? Incorporate power words into your call to action and headlines.
Check out the following examples:
Example #1: Using

Power Words in a Call to Action
In the image below, see the 'Subscribe Now' pop up in a post from Vanessa Van Edwards, founder of Science of People.
Notice how she uses two power words – 'Free' and 'Scientifically Proven' –  in her call to action (one in the header and the other one in the sub-header):
  →  Free: Converts visitors to subscribers
  →  Scientifically Proven: A power phrase to demonstrate authority and credibility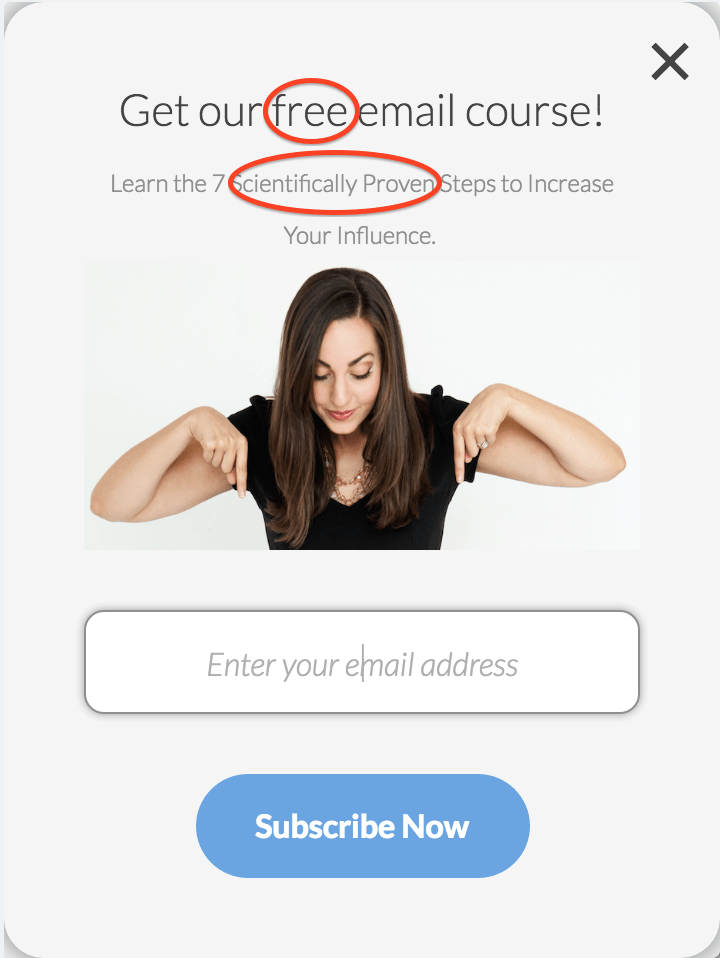 Example #2: Using

Power Words in a Subhead
Power words in your subheads capture attention and draws the reader into reading rather than scanning the content.
Bryan Harris does a great job with this on his blog, VideoFruit.com. In the article below he used:
  →  Unique
  →  Unconventional
both of which trigger curiosity.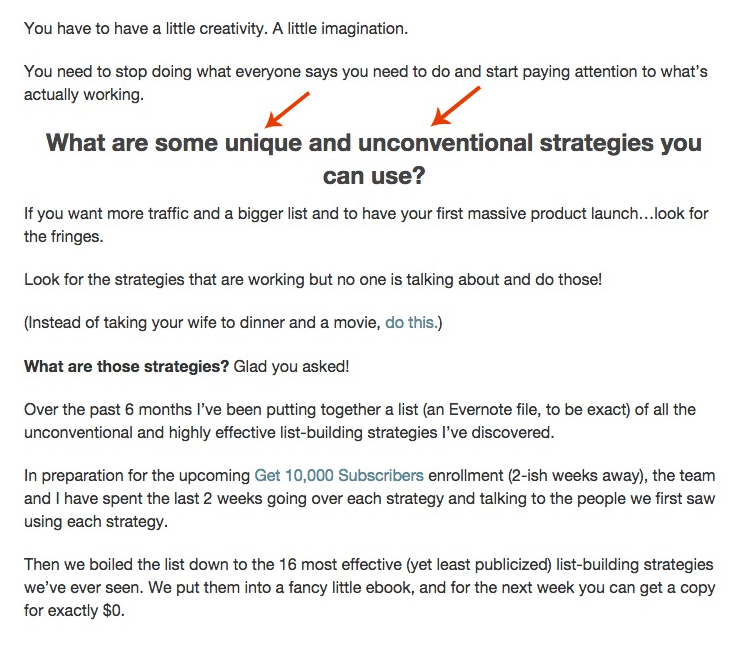 2 – CoSchedule: 180+ Powerful Words for Writing Emotional Headlines
Copywriter Karl Stepp offers a great list of highly emotional words that he calls "power words for emotional selling."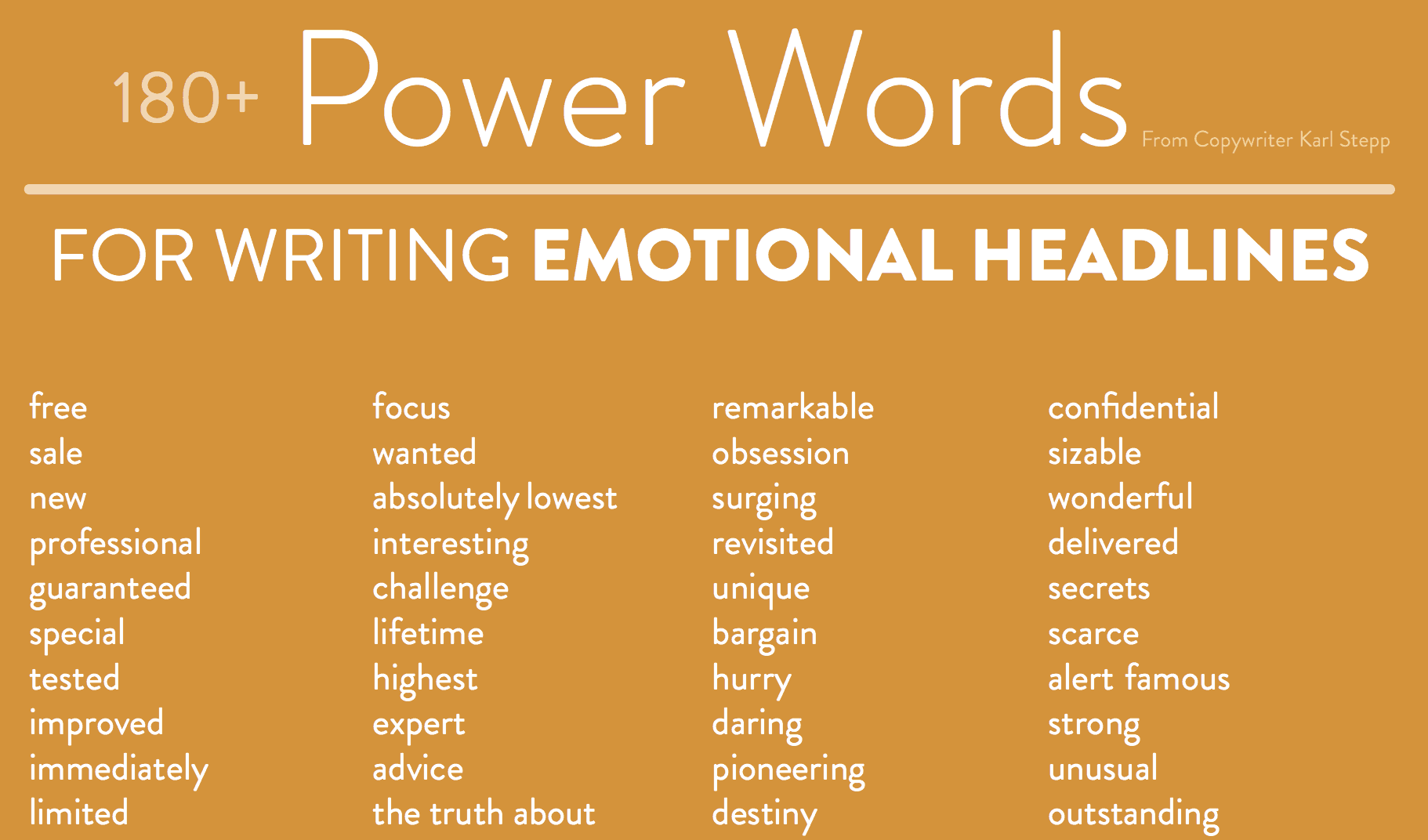 3 – SmartBlogger: 317 Powerful Words That'll Instantly Make You a Better Writer
Jon Morrow offers an impressive list of power words organized into categories based on the emotion you want to create, so you can easily find the right word.
Try one of Jon's experiments:
Experiment #1: Calling All Fearmongers
Just for a moment, stop reading this post, turn on the television, and go to a major news channel. Watch it for five minutes, listening for the words below.
Chances are, you'll hear dozens of them.
Here's why:
  →  Fear is without a doubt the most powerful emotion for grabbing and keeping an audience's attention. Why do you think news networks load up with fear words, making you worry you might miss something important. To make sure you don't change the channel. 
  →  It's effective. Granted, you can overdo it, but in my opinion, most writers don't use these types of words nearly enough. They "really" do connect with people.
Here are 30 "fear inducing" words to get you started: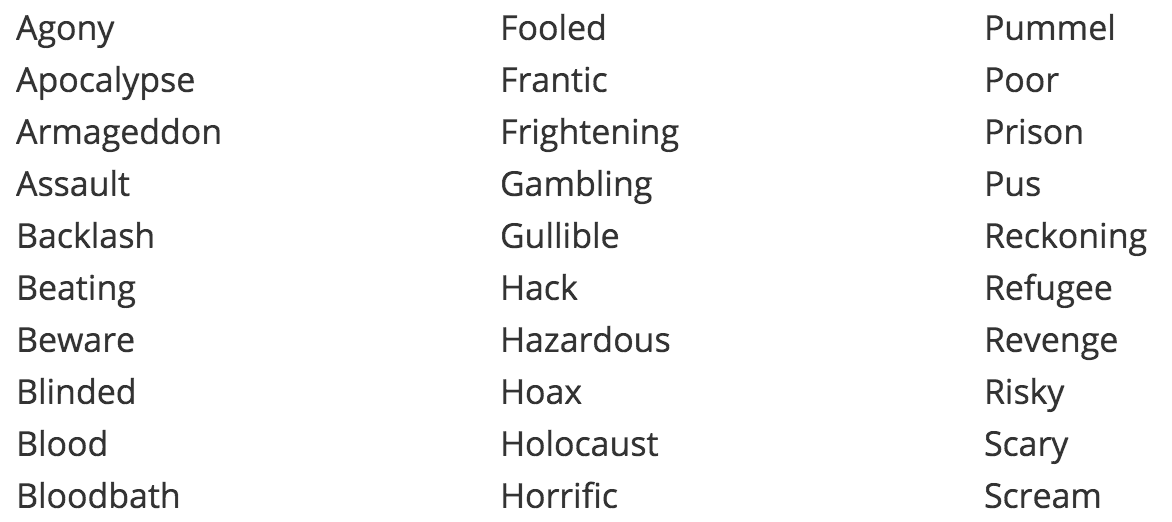 Experiment #2: Make Them Feel Safe
Greed isn't the only emotion you want buyers to feel. You also want to make them feel safe.
They need to:
Trust both you and your product or service
Have confidence you'll deliver
Believe they'll get results
Of course, building that kind of trust starts with having a quality brand and reputation, but the words you use to describe yourself and your product or service also matter.
To help your customers feel safe, try to use as many of these power words as possible:
| | | | |
| --- | --- | --- | --- |
| Anonymous | Guaranteed | No Strings Attached | Research |
| Authentic | Ironclad | Official | Results |
| Backed | Lifetime | Privacy | Secure |
| Best-selling | Moneyback | Protected | Tested |
| Cancel Anytime | No Obligation | Proven | Try Before You Buy |
| Certified | No Questions Asked | Recession-proof | Verify |
| Endorsed | No Risk | Refund | Unconditional |
4 – WordStream: 5+ Powerful Words & Techniques for Writing More Persuasive Landing Pages
Dan Shewan at WordStream answers the question: What are the MOST common power words?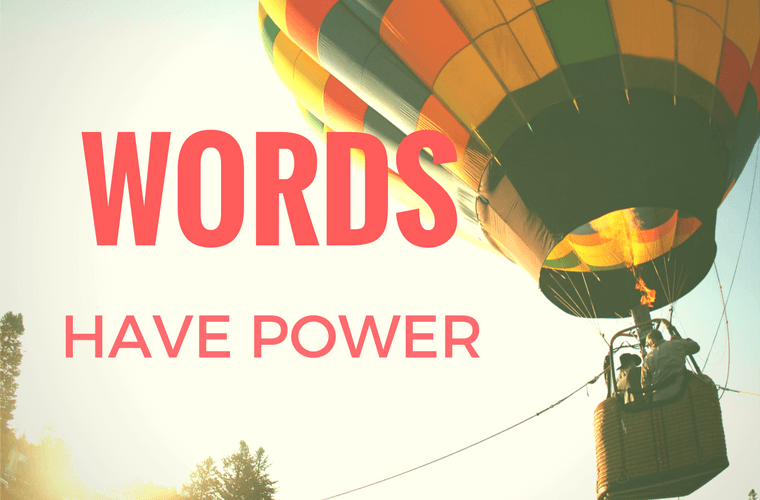 When used in the right context, these powerful words can make your copy significantly more compelling, but it's important to understand why they're so effective.
  →You
Terms such as "you" and our names trigger specific responses in the brain that appeal directly to our sense of identity, making them a powerful way to connect with your prospects.
  →Easy
If your product or service is genuinely easy to use, say so in your landing pages. Better yet, show them how easy it is.
  →Save
When it comes to committing to a purchase, most prospects are looking to minimize two things: how much it will cost them, and how long it will take. Even if time and money aren't your prospects' primary concerns, the word "save" has powerful implications that can make your landing page copy much more persuasive.
  →Results
To the uncertain prospect, ambiguity is the enemy. Why waste time or money on something that may not work? The word "results" can offset a prospect's hesitation to commit and nudge them gently over the line and convert.
  →Guarantee
Just as many prospects are averse to ambiguous "solutions" to their problems, they're even more wary of the possibility of losing something, whether it be time, money, or something else. That's what makes the word "guarantee" so powerful – when used correctly, it effectively removes the risk of at least trying whatever you're selling.
5 – Writtent: 640+ Power Words That Sell to Maximize Your Conversions
Are you struggling to find the right words to sell your product or idea? What are the most persuasive words in the English Language? This article from writtent.com CEO, Helen Nesterenko, helps point you in the right direction.
Most Persuasive Words in the English Language: 
Because

Free

Instantly

New

You
Helen's post also contains many other power word nuggets, such as…How to:
Write Popular Blog Post Headings: Big/Huge, Critical, Hacks (or a variation of this word), History, Science, Smart, Surprising
Increase Facebook Shares, Likes, and Comments: Amuses, Comment, Deals, Discounts, Inspires, Post, Should, Submit, Take, Tell use, Warns, When, Where, Would
Increase Retweets: 10, Blog, Blog post, Check out, Follow, Free, Great, Help, How to, Media, New blog post, Please, Please retweet, Post, Retweet, Social, Social Media, Top, Twitter, You
Call to Action: Add, Buy, Call, Claim, Create, Discover, Download, Get, Join, Launch, Learn, Promote, Send, Share, Sign up, Start, Subscribe, Trial, Try
Imply Logic: Analyse, As a result, Because, Consequently, Example, For this reason, In order, Logical, Makes sense, Organize, Reasons, Science, Therefore, Thus, Why
Encourage Community: Be a part of, Help us, Join, Let's, We can
Spark Curiosity: Astonishing, Banned, Bizarre, Censored, Confessions, Confidential, Controversial, Cringeworthy, Did you know, Elusive, Extraordinary, Eye-opening, Find out why, Hidden, Hilarious, Imagine, Life-changing, Magic, Mysterious, Myth, Remarkable, Revealed, Revolutionary, Secret, Shocking, Sneak peek, Strange, Surprising, You won't believe
Offer Exclusivity: Be the first, Before everyone else, Behind the Scenes, Exclusive, Insider, Just for you, Limited, Members only, Membership, Rare, Secret, Sneak peek, Special, Unique
To Target Greed: Bargain, Bonus, Cheap, Discount, Double, Extra, Free, Giveaway, Half price, Marked down, Massive, Prize, Profit, Reduced, Reward, Sale, Triple, Unlimited
Make it Personal: You, Your, I, My, We, Our, Us
Imply Specificity: Because, Certain, Comprehensive, Exactly, Explain, Define, Definite, Detailed, How, Identify, In-depth, Precise, Specific, This, Why
___
Power Word Headline Analyzer Tools
Now that you have a grasp on words that are powerful enough to grab attention, how can you use them to write better headlines?
Check out these two FREE tools to help analyze headlines for you:
This free blog post headline analyzer will score your overall headline quality and rate its ability to result in social shares, increased traffic, and SEO value.
Use Proven Research To Write The Best Headlines
Make sure you have the right balance of common, uncommon, emotional, and power words in your headlines. This structure makes sure your headlines are readable while commanding attention from your audience.
Research proves that readers share emotional and positive headlines with their social networks. Use the headline analyzer to write captivating headlines your audience will share.
Here's an example of one of the results testing headlines for this post:
1,000 Power Words That Will Make You Awe-Inspiring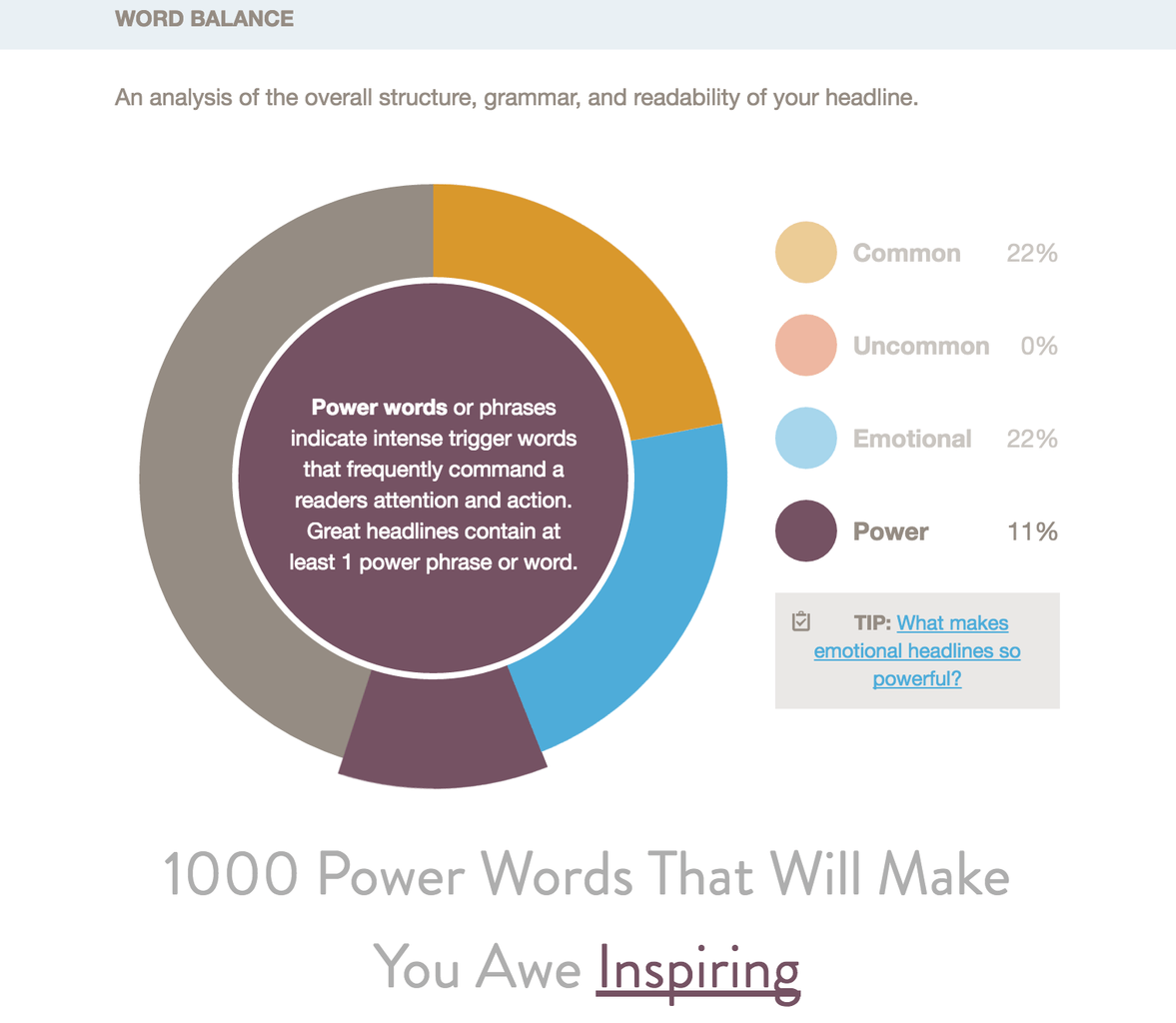 ***Author's note: One of the best things about CoSchedule's Headline Analyzer is the ability to run as many headline scenarios as you need. The system also keeps your previous headlines and results in a running list during the current session – making it easy to flip back and forth between them.
This free tool will analyze your headline to determine the Emotional Marketing Value (EMV) score. As you know, reaching your customers in a deep and emotional way is a key to successful copywriting, and your headline is unquestionably the most important piece of copy you use to reach prospects.

___
What did we miss?
Which power words have worked for you?
Which words contain extra emotional spark?
We'd love to hear from you!
Debra Garber
VP of Finance & Operations, Chief Content Contributor, and backyard chicken farmer. I happily share my experiences traversing the wilds of social media. Will trade social media tips for fresh organic eggs. Motto: "Live the life you love, love the life you live."