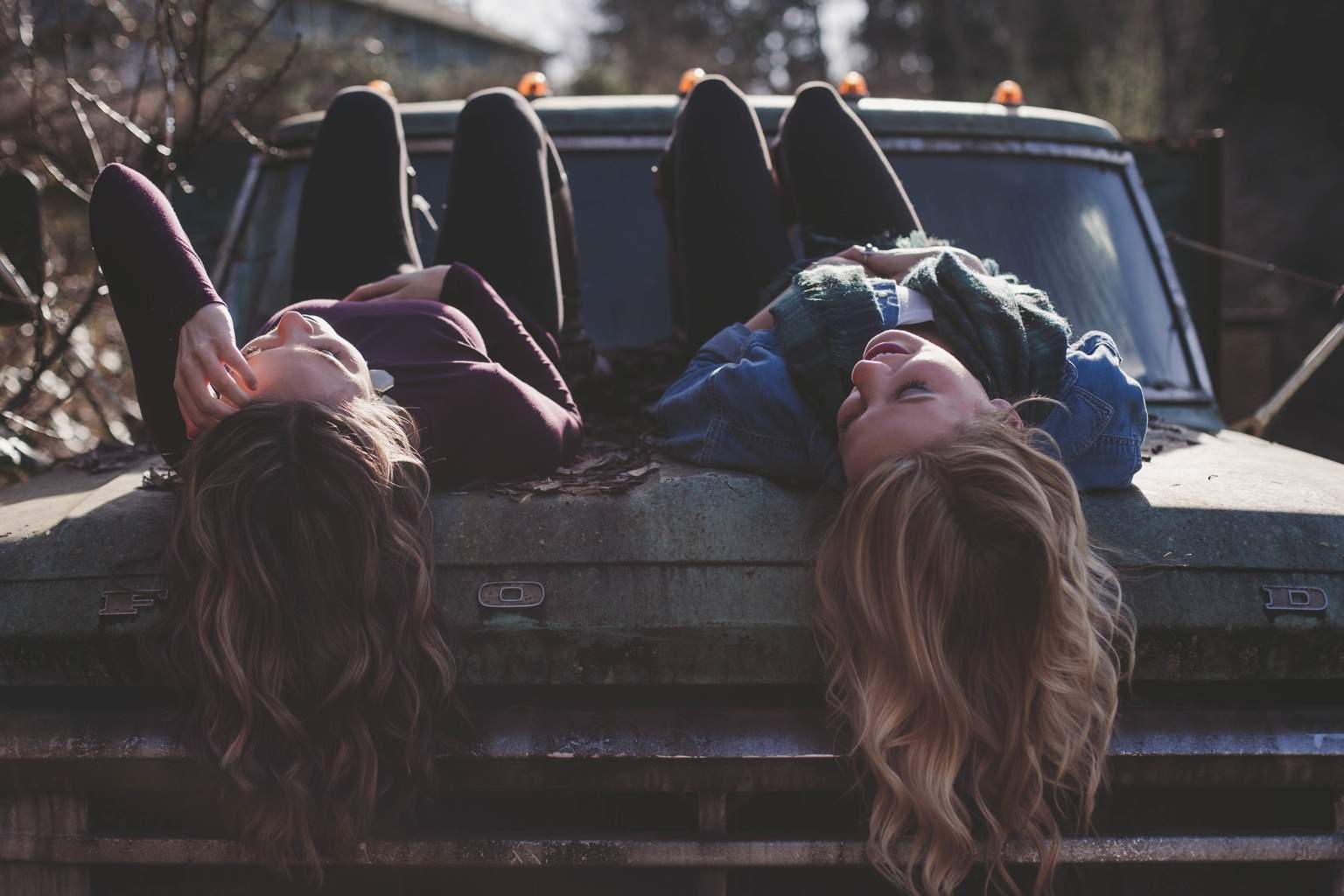 How to Make a Killing on Snapchat: Engage the Millennials and Their Parents
Why Snapchat? If you're my age (over 50), you may be under the false impression that it's is only used by teenagers to send "not-for-prime-time" pictures to each other that, thankfully, disappear.
With this limited business model in mind, I was blown away to hear that Snapchat's latest Series F financing round, raised $1.8 billion.
Then, as, filmmaker and YouTube star, Casey Neistat said, "Snapchat is the greatest new storytelling tool." Something big is going on here, and it's obvious that Silicon Valley, Hollywood, and social media know more than I do regarding the demographic reach.
As CNN money phrased it, Snapchat is growing up.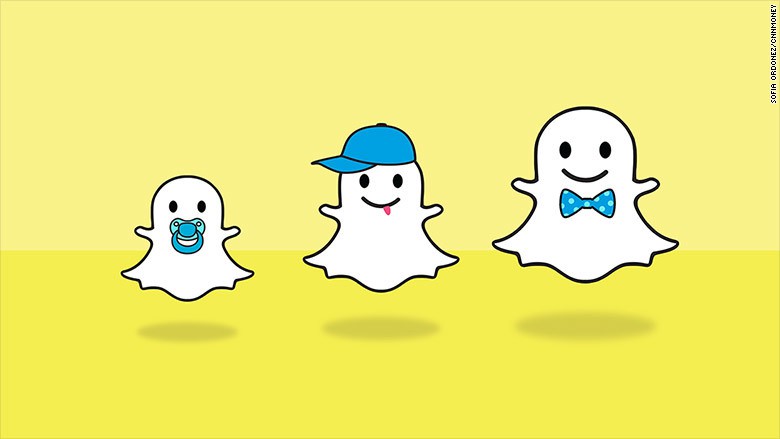 Snapchat has quickly evolved from a messaging app used mostly by teens to a powerful storytelling platform that enables anyone to broadcast short videos and photos (known as "snaps") that are linked together to form a story.
As a small business, you might be questioning – Is Snapchat for me? How does it work? What are some its secrets and tricks? How can I tell my story? And ultimately, how can I make money?
To answer these questions, we've put together the following guide on how to engage the newbie, the millennial, your parents and customers:
What is Snapchat
How Do They Make Money
Why is Snapchat the Greatest New Storytelling Tool
Really Good Reasons Why Your Business Should Be On Snapchat
Creative Ways to Use It
What is Snapchat?
The concept is relatively straightforward. You take a picture or short video (called a "snap") and send it to people who have connected with your account. The content, however, is only available for viewing for a few seconds after you open it before it disappears. You can also post snaps to your "Story", which strings all your snaps together and allows them to be viewed by your connections for 24 hours. – HuffPost Business
In short, Snapchats are real moments! When someone sends you a Snap, and you can reply in real time, within minutes of it, it's extremely personal.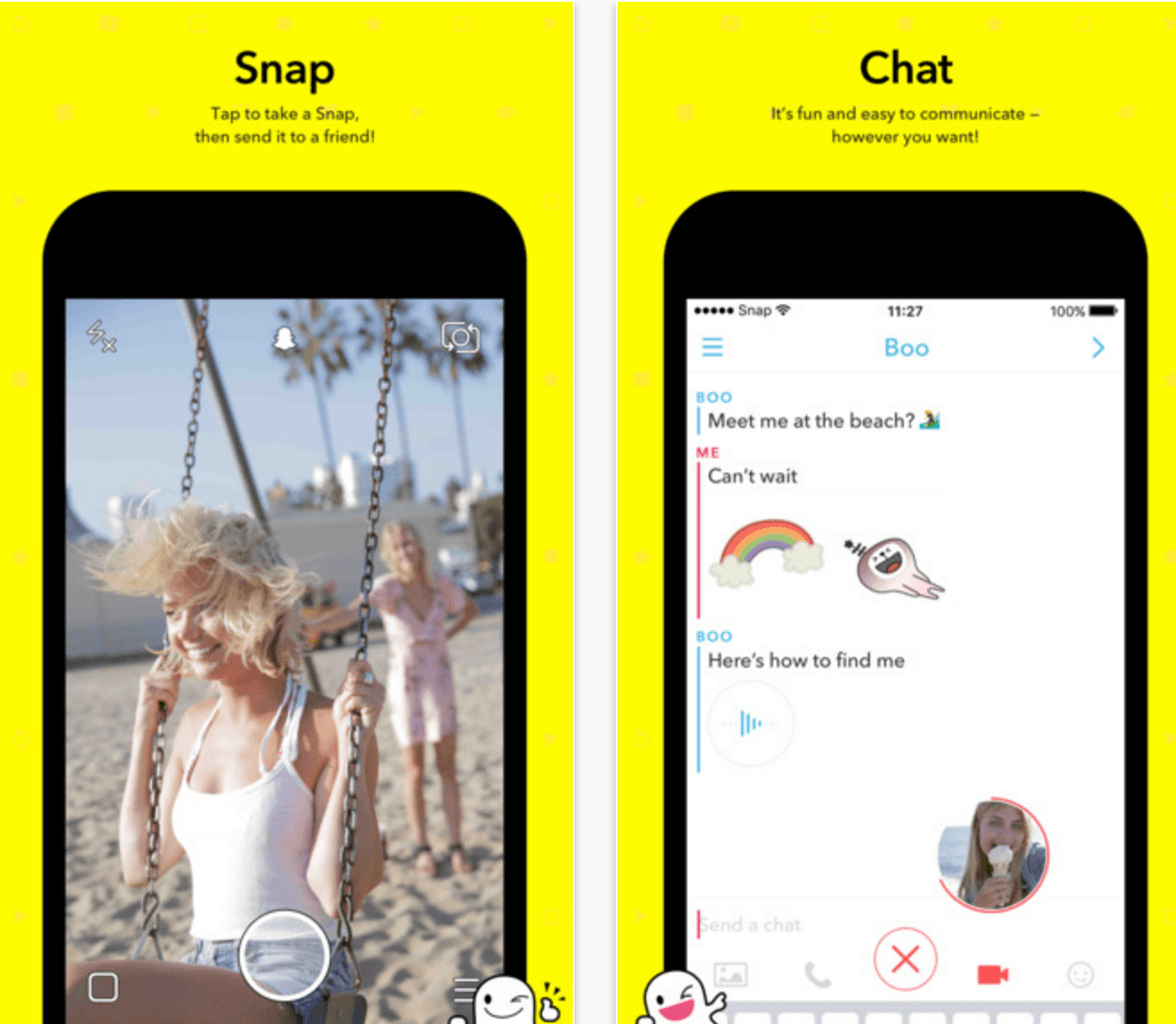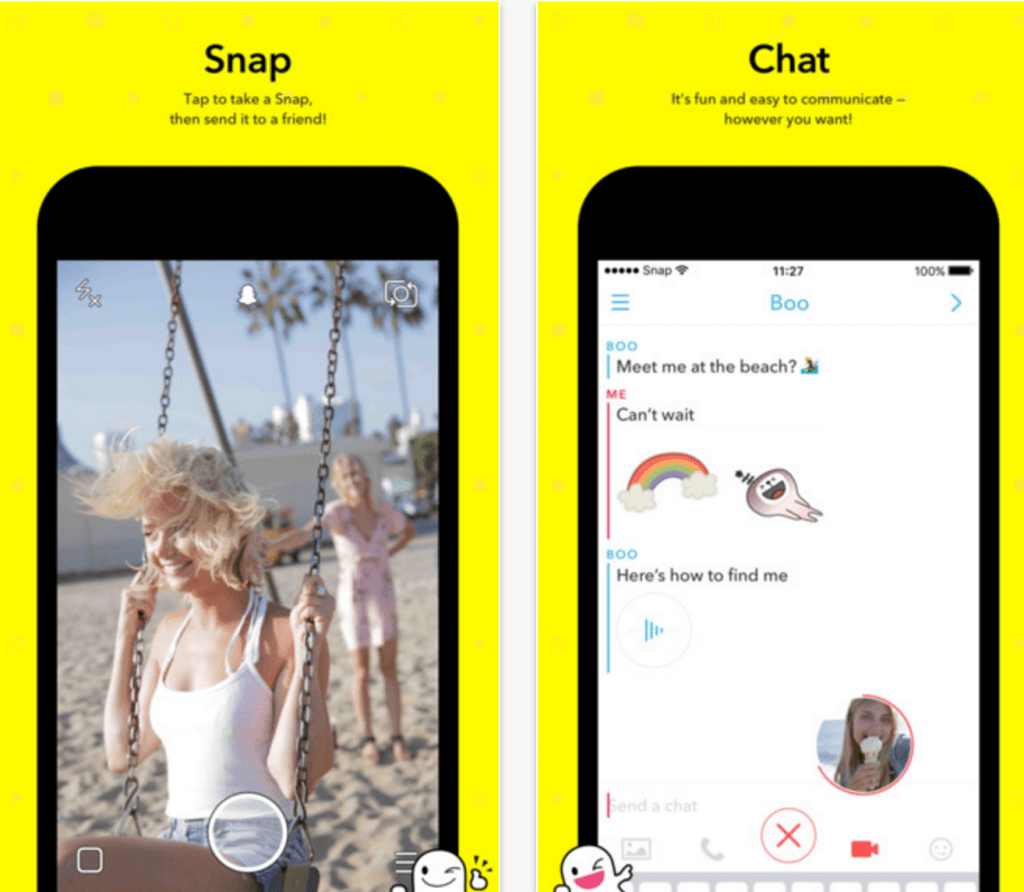 Snapchats Demographics:
8B video views per day (as of Feb. 2016) – Recode.net
→However, this may be low. Snapchat has recently said that video views on the service grew more than 350% in the last year to over 10 billion video views per day, and that over two-thirds people who use Snapchat create content every day.
→As a side note: Facebook also has 8 billion video views daily, but with a larger audience. On a per-user basis, Snapchat users are consuming more videos.
110M daily ACTIVE users (as of Dec. 2015) – TechCrunch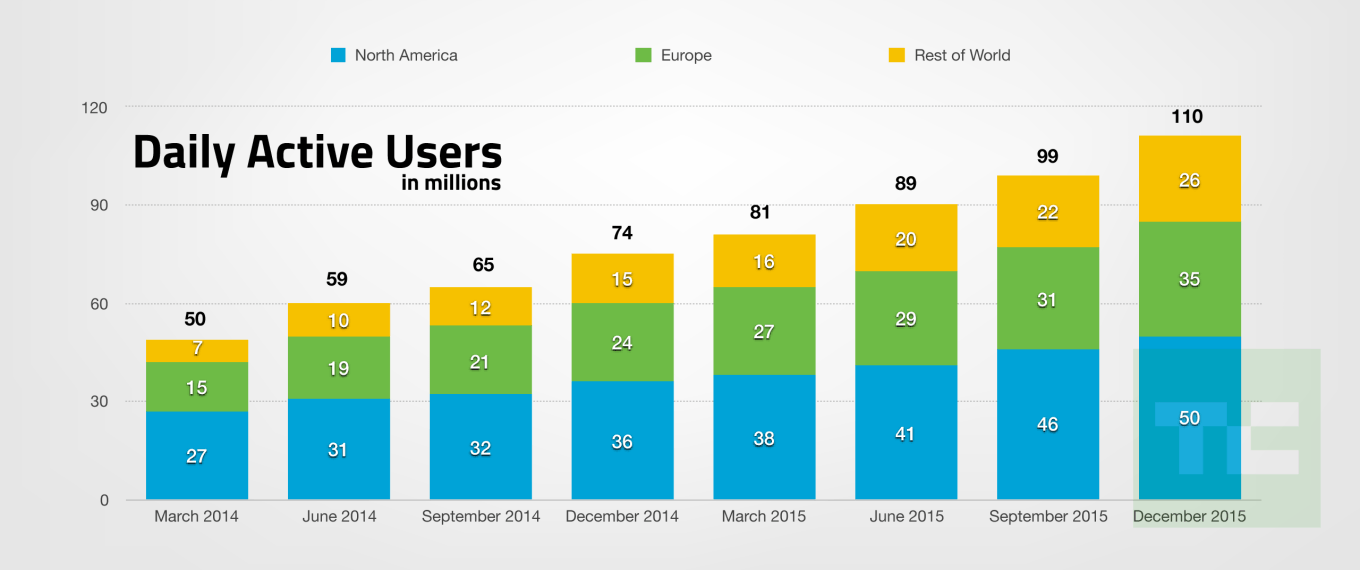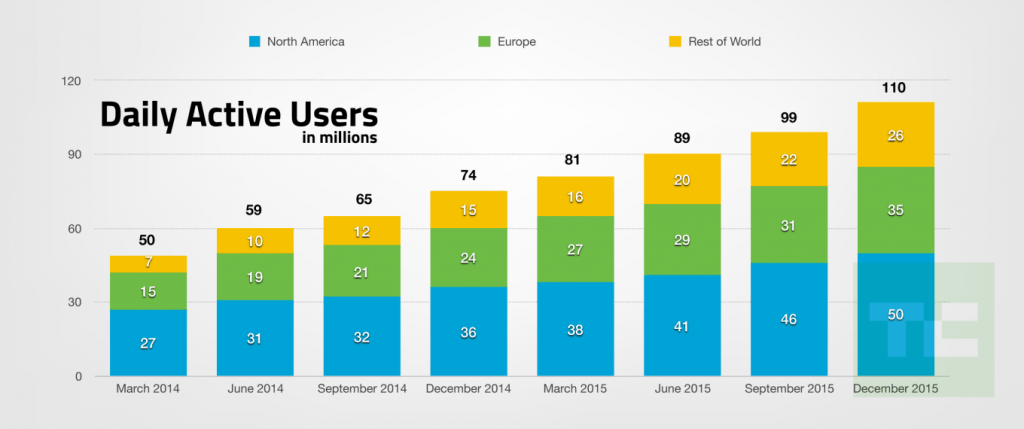 More than

60% 

of 13 to 34-year-old smartphone users are Snapchatters in the U.S. – (Derived from Sources: U.S. Census—Projections of the Population by Sex and Age for the United States: 2015 to 2060; comScore mobiLens February 2015)
86% of Snapchat's users fall into the 13 – 37 age range – internal data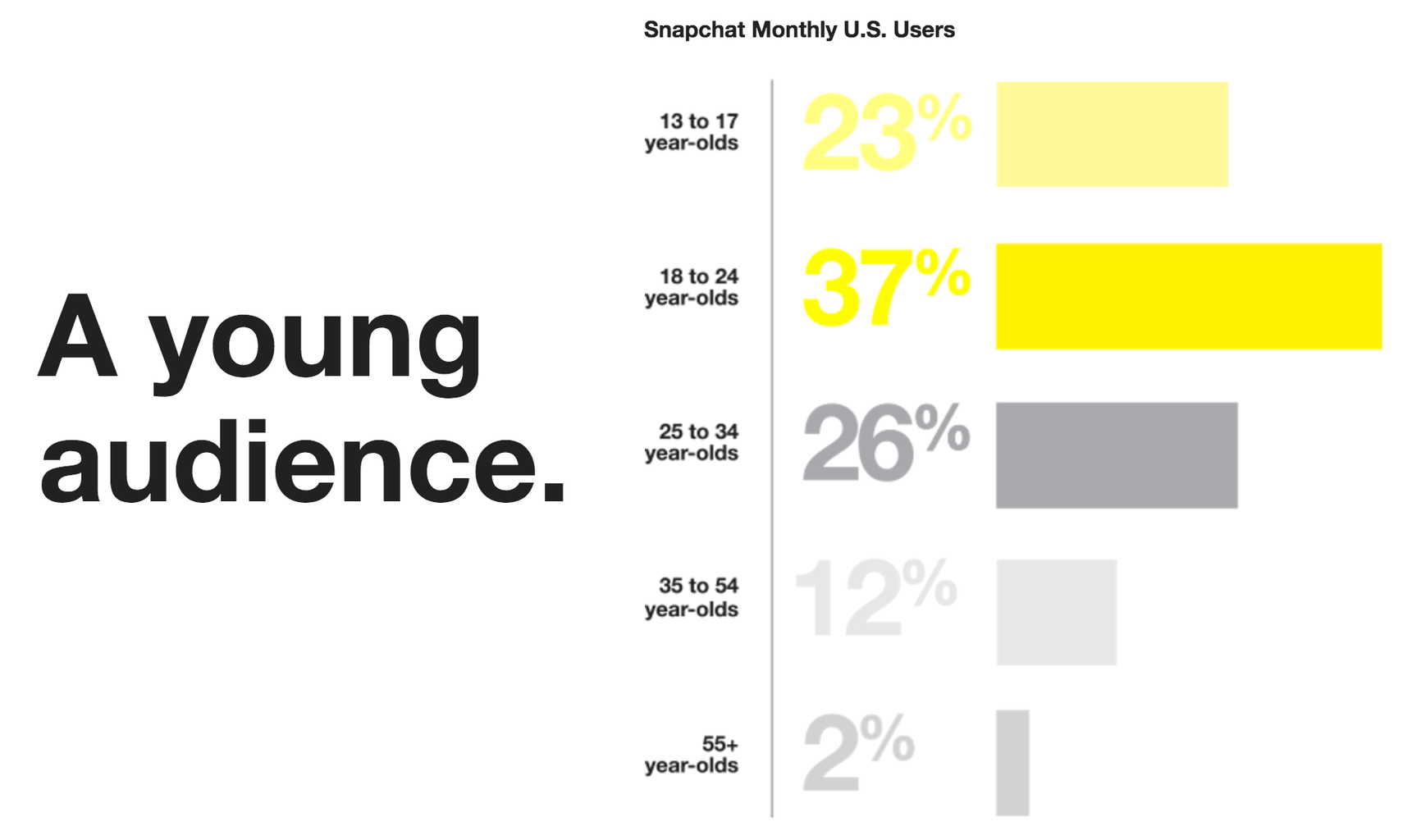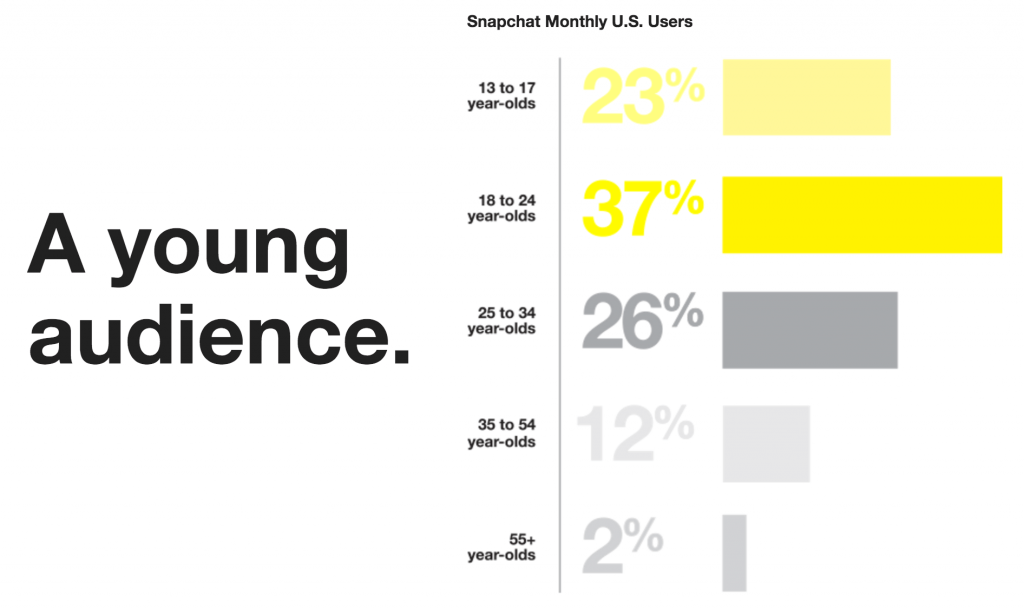 How Does Snapchat Make Money $$$
Snapchat makes money through several means. – Fortune
Discover, the media hub the company introduced a year ago that lets users consume bite-sized content from publishers and advertisers, is one of its primary sources of revenue.
Additionally, they let brands pay to sponsor their own geofilters (decorations for users' photos and videos that appear in specific locations) and lenses (animated overlays).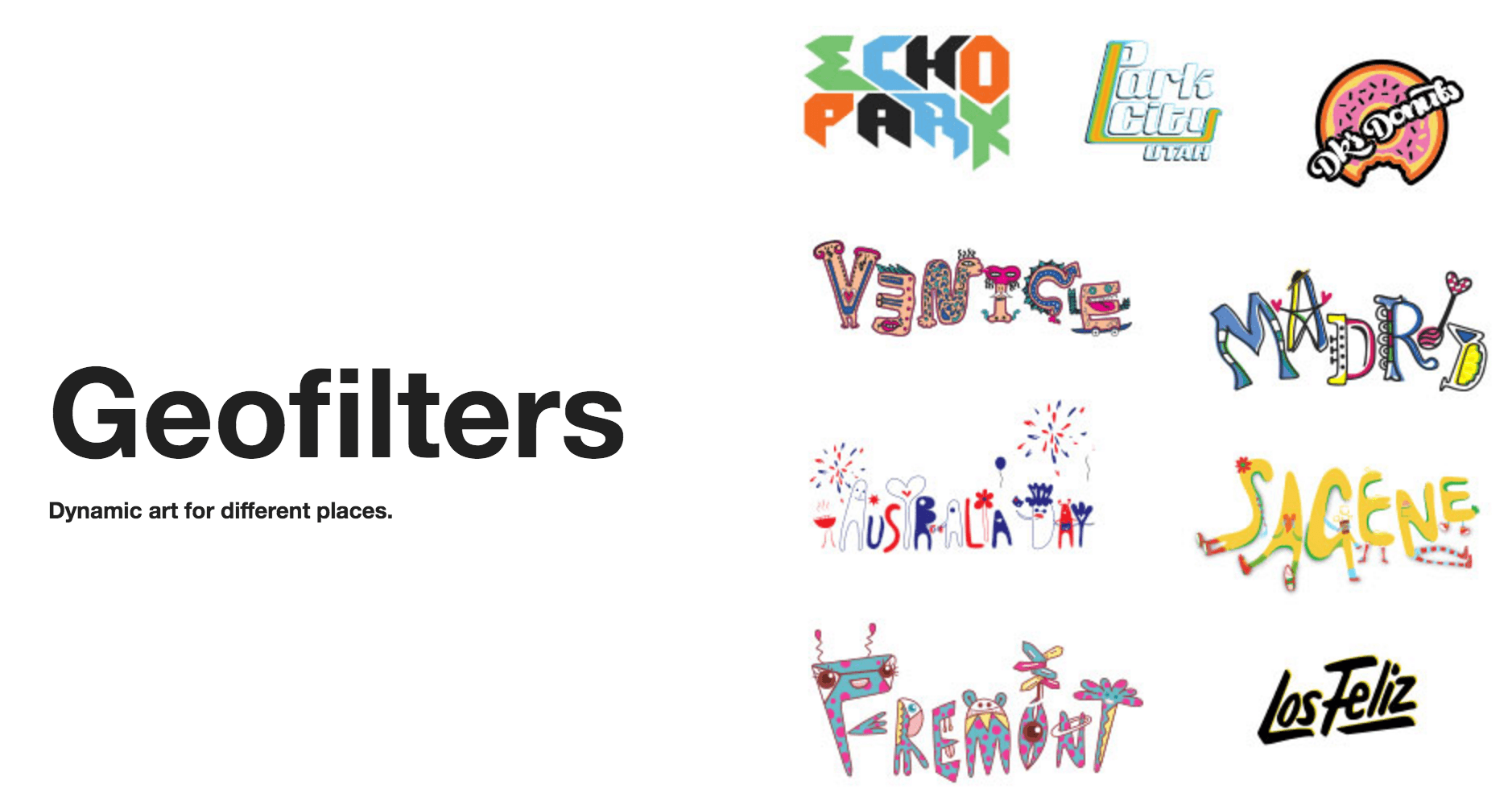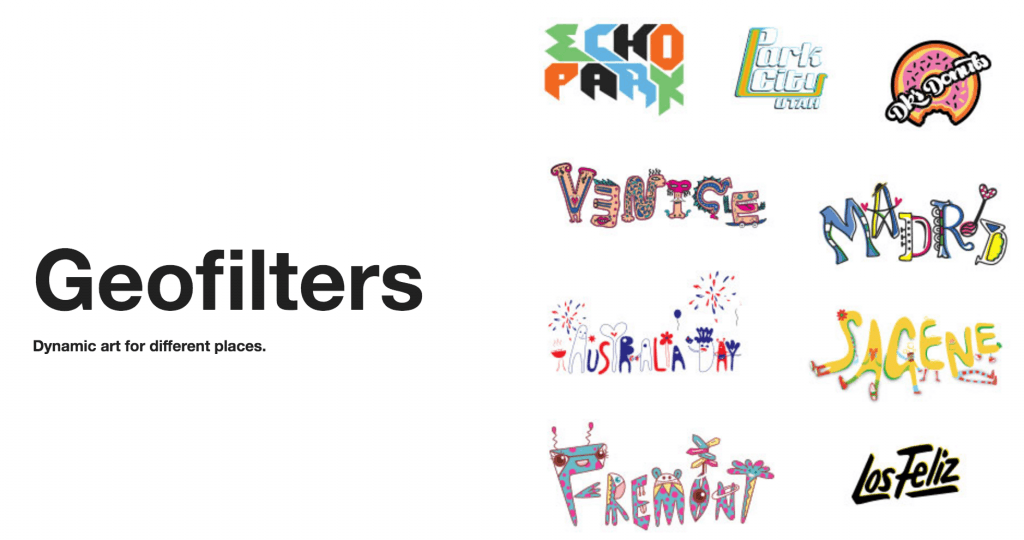 It also lets advertisers and publishers pay for ads in its Stories, which are collections of user-generated photos and videos organized by location or event.
Estimated Revenue:
2015: $59M
2016: According to Fortune, the company has estimated that revenues will be between $250 million and $350 million for 2016.
2017: According to Engadget, Snapchat aims to make over $1 billion in revenue in 2017.
Here's a pressing question: Will they IPO in 2016? Read more on Quora.
Why is Snapchat the Greatest New Storytelling Tool
Casey Neistat likes Snapchat because it is a social platform that enables storytelling. Sharing of ideas and sharing of stories is what excites him.
Be design, everything you post on Snapchat disappears. It is temporary. This temporariness brings a level of energy. – Casey Neistat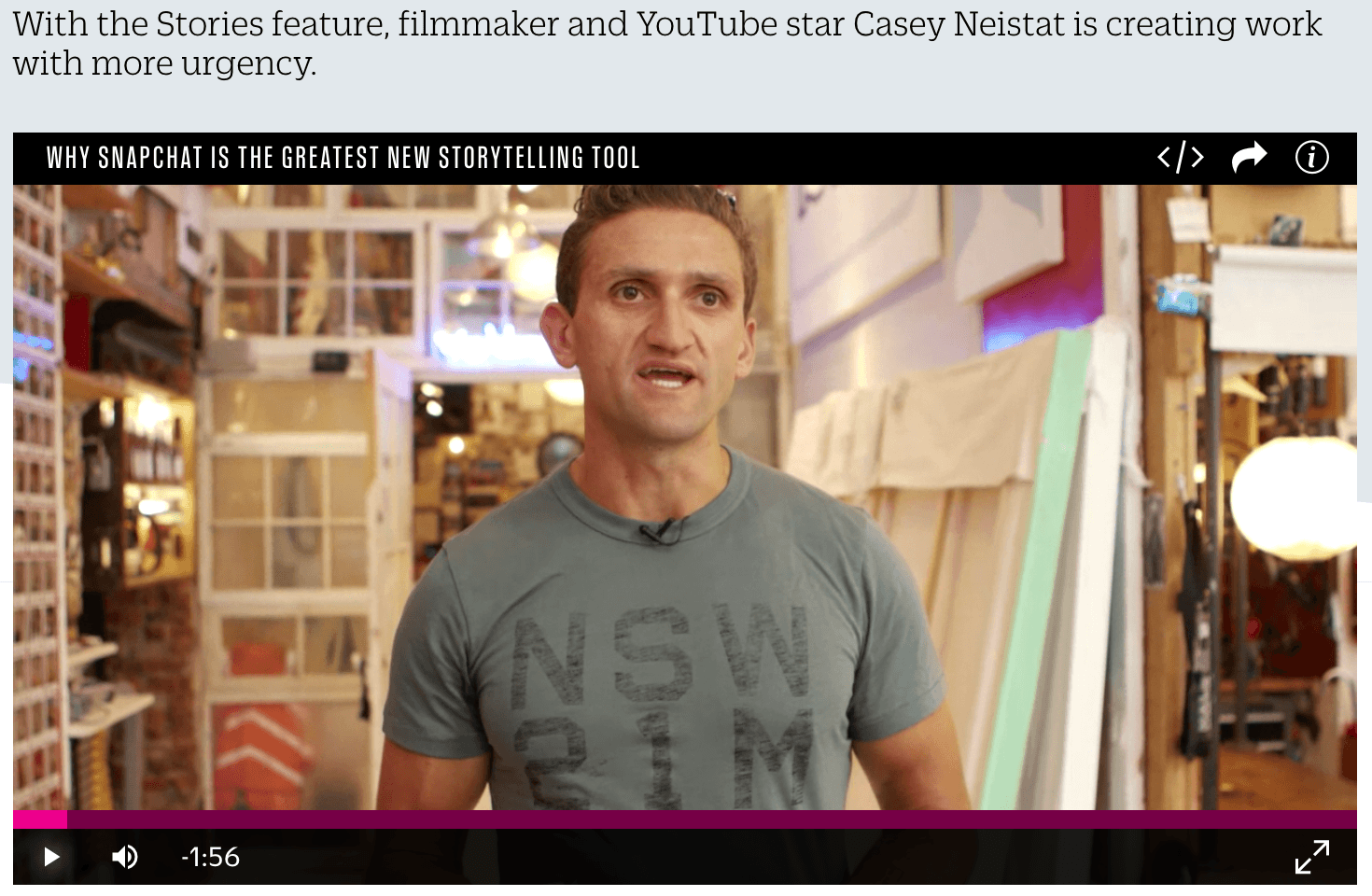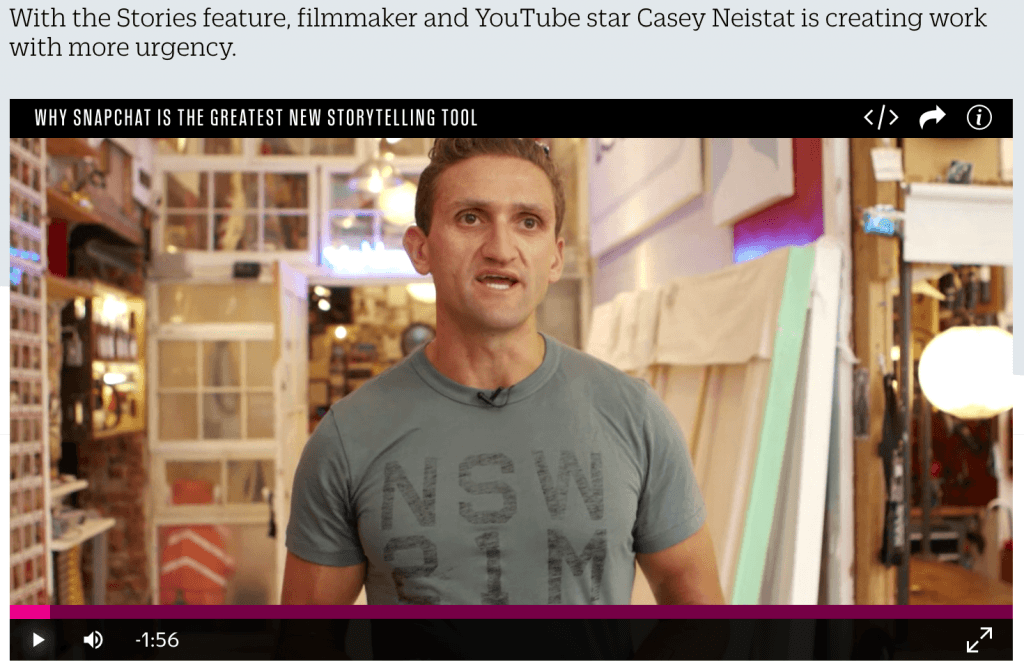 Casey puts lots of energy into his stories. Here's how he makes his stories last forever:
1 – Post stories to Snapchat
2 – After 24-hours, download them
3 – Reassemble them and post them on YouTube so they will last forever
Real-time, movie making, one clip at a time!
View Casey's YouTube video interview with Fast Company here.
Reasons Why Your Business Should Be On Snapchat
This one is easy. Here are the best reasons why your business should be taking active steps to make a profit on Snapchatting:
Reason #1 – Reach The Younger Audience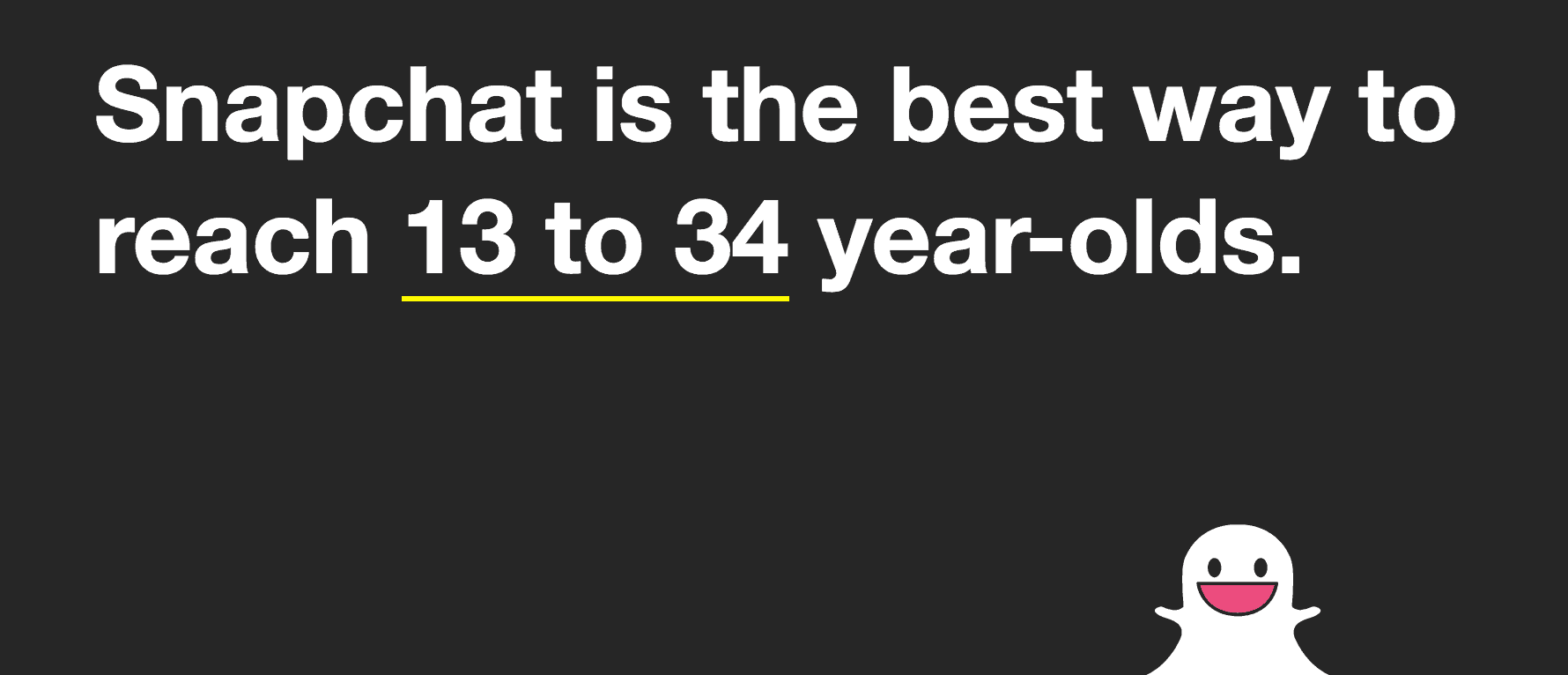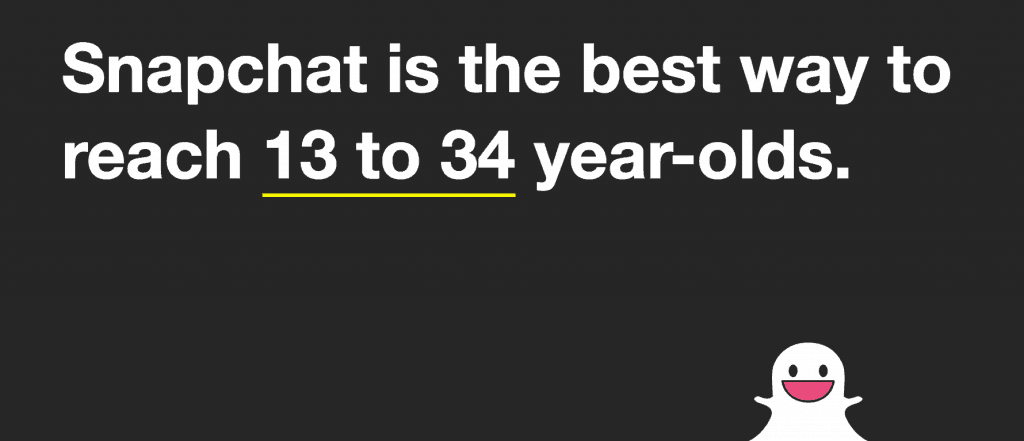 This sentence says it all, "Snapchat dominates with millennial users."
From Forbes:
The only way to reach the younger audience is through Snapchat now.
Snapchat is the only proven social media network where they are regularly hanging out.
If you are running a business with products and services targeted towards this audience, you are going to have the most success here.
It gives you a chance to have one-on-one interactions with this younger audience.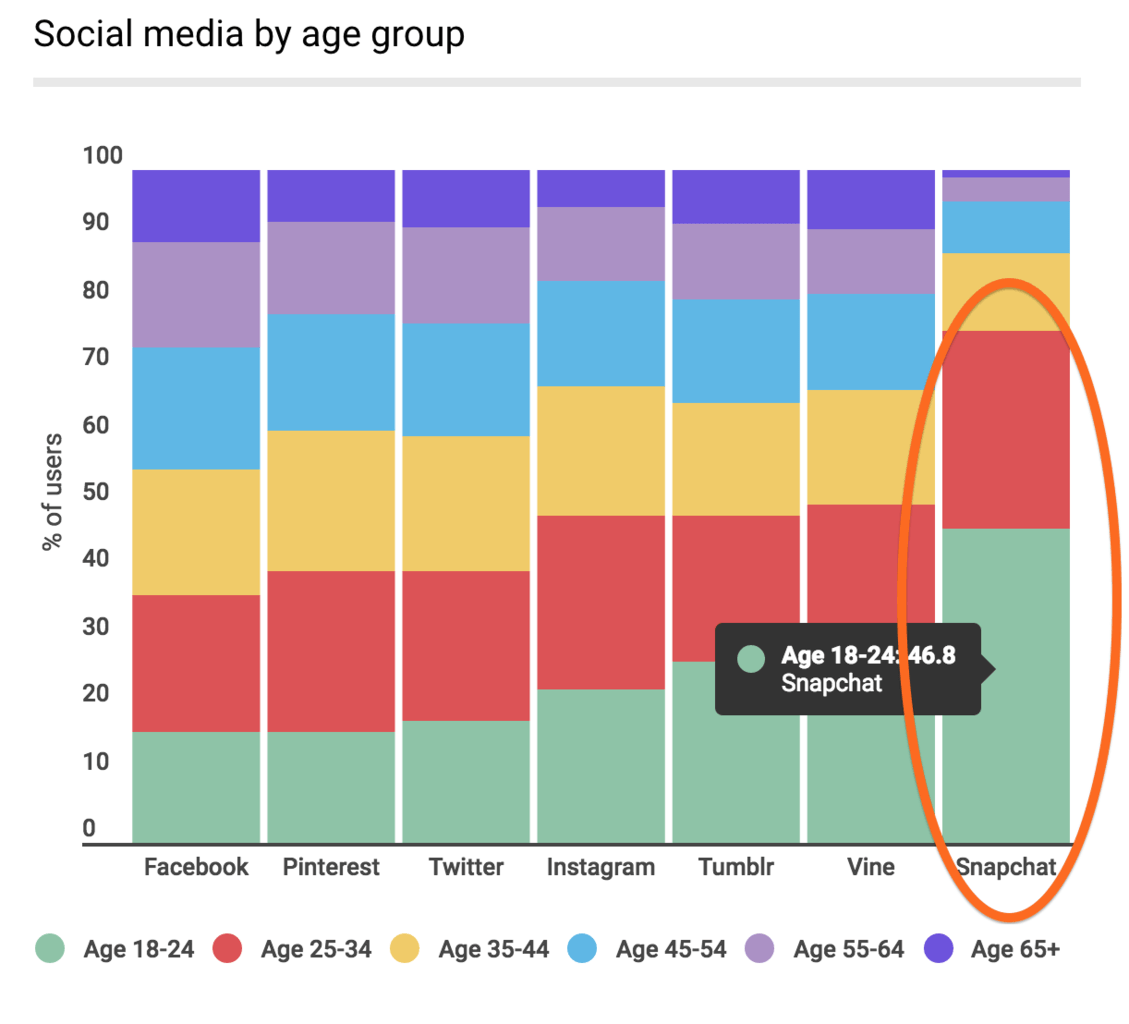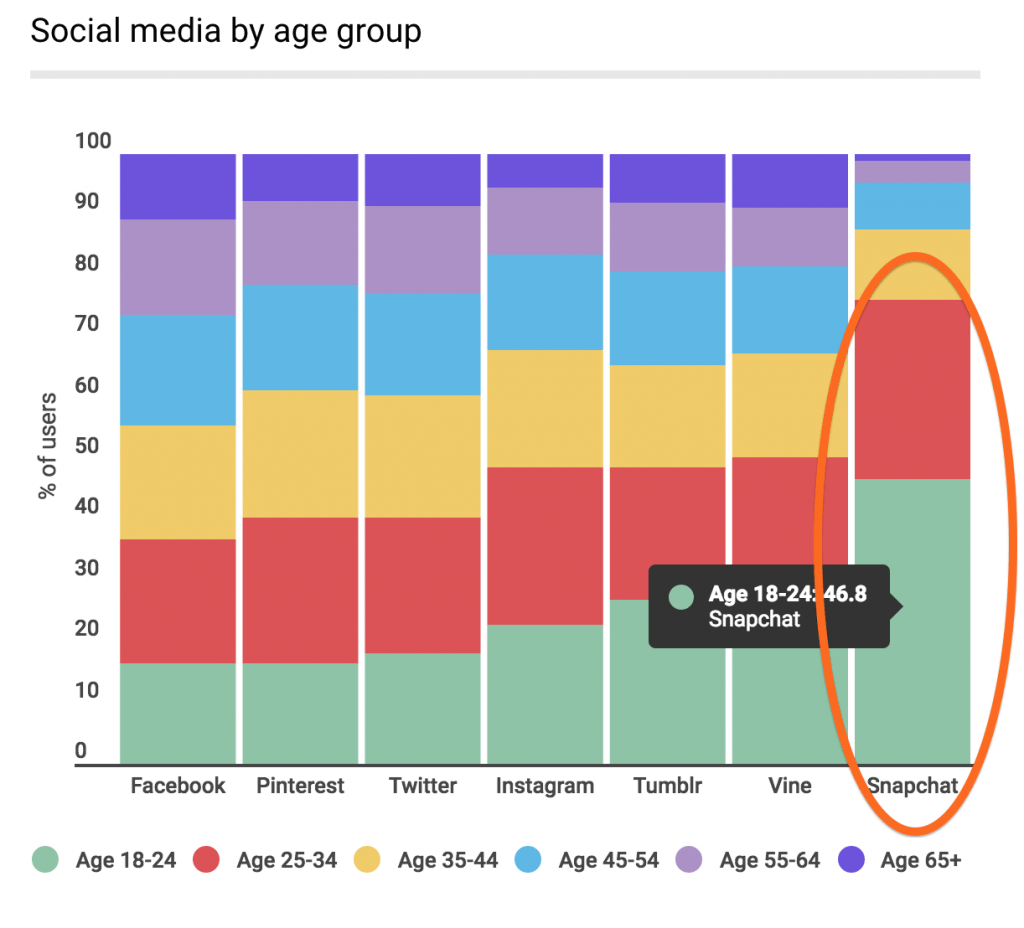 Data Source: comScore Media Metrix Multi-Platform, U.S., Age 18+, Dec 2015
Reason #2 – Get Real One-On-One Engagement
Snapchat enables you to send content directly to your individual followers. As long as they are following you, you have the power to send messages directly to them.
Reason #3 – Easy To Partner With Influencers
Influencer marketing is all about connecting with influential people in your industry to reach their audiences. Many popular personalities use Snapchat these days (Vine stars, YouTube celebrities, and popular Twitter accounts, etc.), partnering with them is an easy way to promote your brand and stories.
Partnering with influencers on can also spread brand awareness among your chosen demographic.
Partnering can even help you to discover new demographics that you never previously considered.
Reason# 4 – Prove How Cool You Are
It's the only way to grab the younger audience!
Using Snapchat, which is a cool platform, will naturally make you into a cool company as well. When organizations attempt to be cool it nearly always leads to them looking stupid. But the frontier is a path that can pay incredible dividends.
Here's an example of a cool company on Snapchat:
Rather than producing one-way content, GrubHub focuses on building out an active community by sending messages that require responses, like exclusive coupons, contests, giveaways, and promotional codes.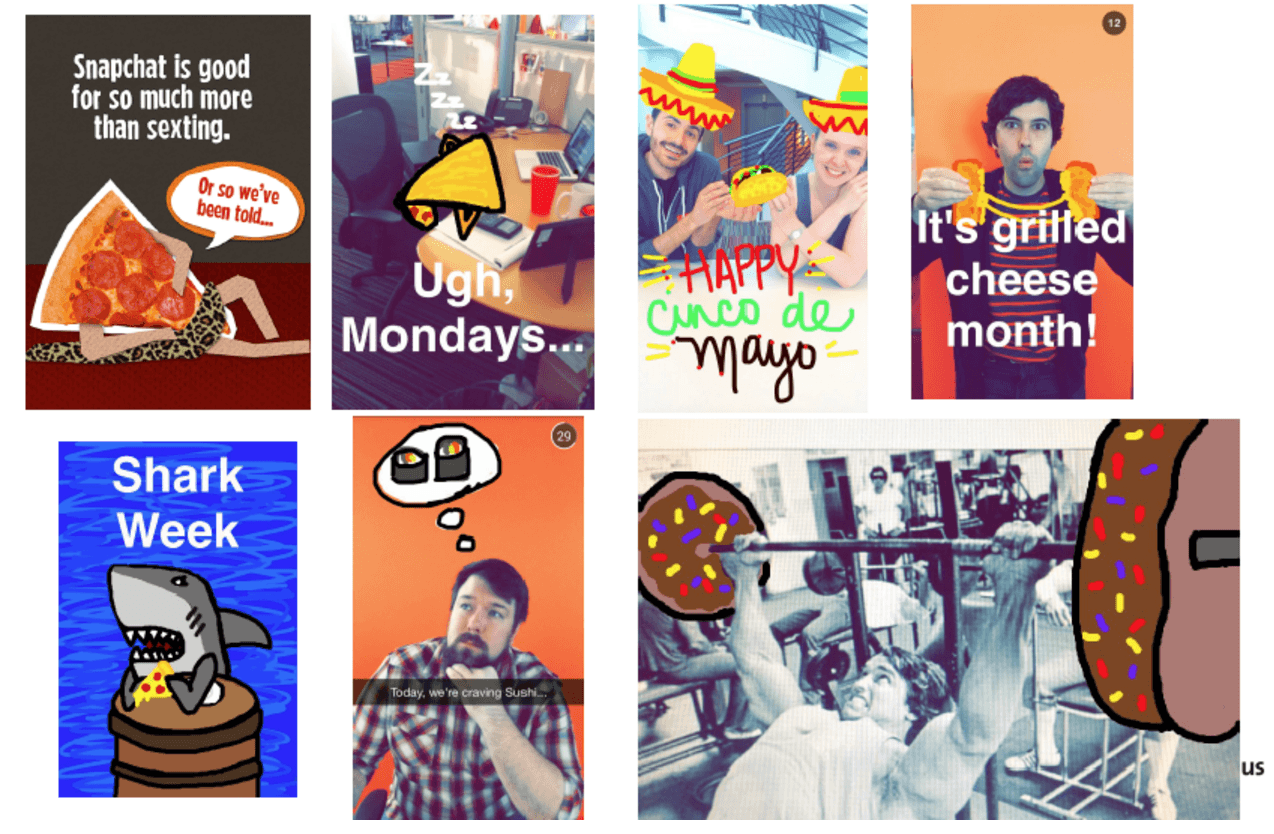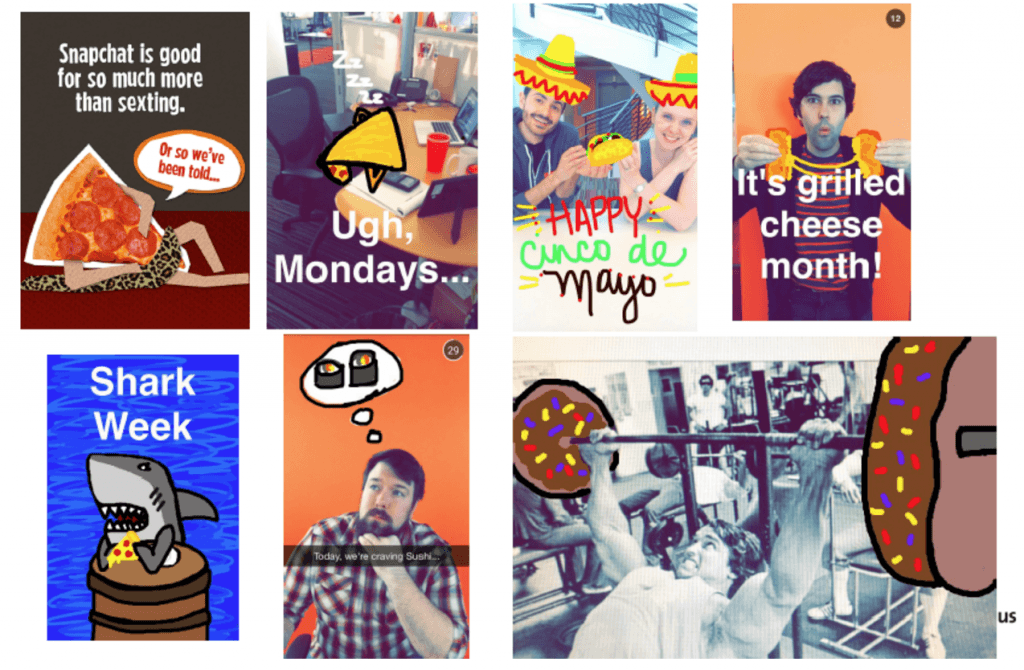 Creative Ways to Use Snapchat
To understand how to market and be creative on Snapchat, Hot Potato offers great advice on how to help you first discover what users like (and don't like):
1 – What users like: Snapchat is intimate.
⤷The Fix: Humanize the company and make Stories feel like a very personal glimpse into your business's culture.
Give your viewers something that they can't find on your other social media accounts.
Make sure to respond to your followers. If they are sending a photo or message to your company, they want a response.
Use Snapchat as an opportunity to build relationships.
2 – What users like: Unplanned, raw content.
⤷The Fix: Instead of polished content that feels like an ad, create content that feels live and unedited.
Movies with Snapchat accounts have created behind-the-scenes content, either on-set or at a premiere. You can replicate this by showing your company's process and the employees that make it happen.
To make it feel candid, just think of what the viewer would see if they walked into your workplace, and bring that to life.
3 – What users like: FOMO (Fear of Missing Out)
⤷Use it to your advantage: Get users to join because they don't want to miss out.
Post secret announcements, discounts, or contests, and ensure these posts are exclusive.
Because there are only 24 hours to view your Story, frequent posting will make your followers want to check often.
4 – What users like: They choose their friends.
⤷The Fix: Give them a reason to add you.
In-person, talk about the coupons and contests you run on your account.
On other social media platforms, tease followers with the content that you can only view on Snapchat.
Looking for a creative example?
Here's an example of a secret announcement from Taco Bell:
Taco Bell decided to use Snapchat to spill its secrets. This Snap is an excellent way to get fans from other platforms to follow you.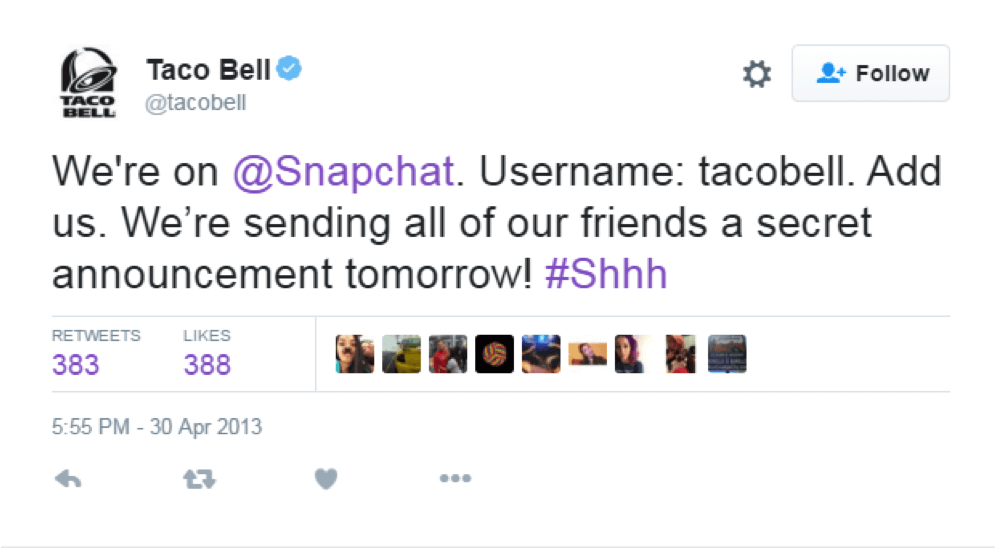 To find out how GrubHub used Snapchat to find a summer intern and other creative ways brands are using Snapchat, read more here.
Takeaway:
Snapchat users don't want to feel like they're looking at an ad, so focus on making your stories fun and personal.

Instead of focusing on the final sale, build your company's brand through customer relationships.

Because of Snapchat's high engagement, marketing can be extraordinarily effective, but only if it's done right.
Effective Snapchat Marketing Plan
Snapchat is a unique social network when compared to Twitter, Facebook, Instagram and others. It offers businesses (not just millennial businesses) unique ways to connect with their audiences.
There are two key ways to keep your audience engaged with your business:
Creating stories
Sending snaps
For an effective marketing plan, Social Media Examiner's Guide for Marketers takes an in-depth and thorough dive on how to use Snapchat's features to connect with your customers. 
___
Key Takeaways
1 – Not just for millennial businesses
2 – Weeds out "followers" and leaves you with only devoted and hardcore "fans".
3 – Demands people's attention.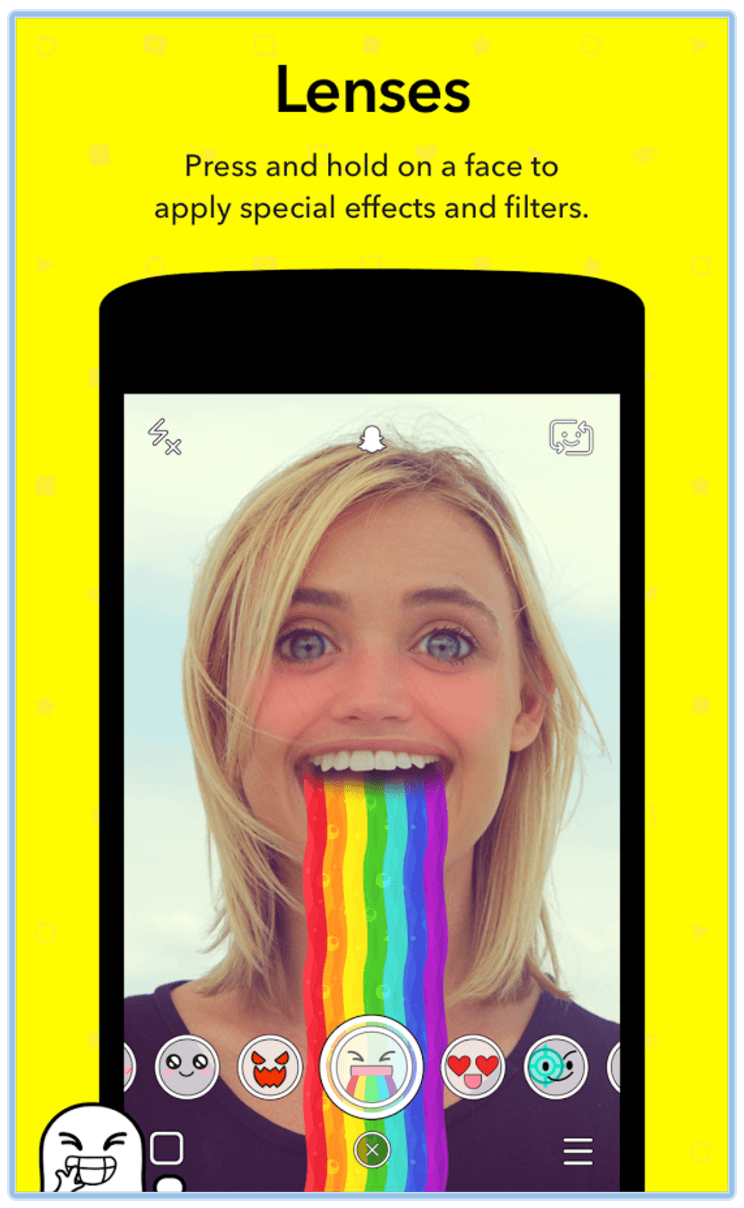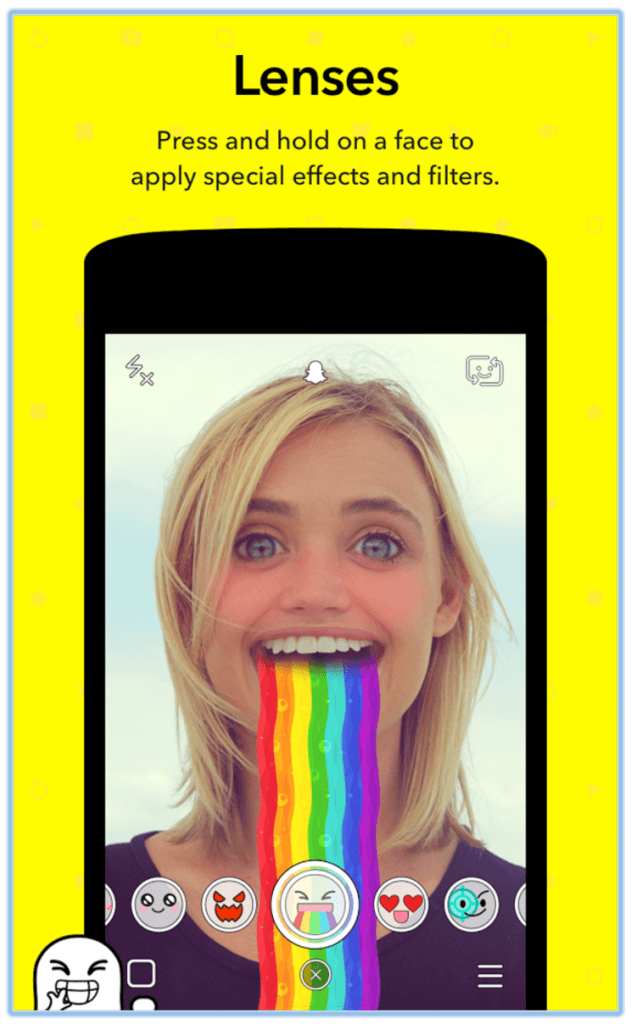 Life's more fun when you live in the moment 🙂 Happy Snapping!
___
Have you used Snapchat for business?
What's your strategy?
Please share in the comments.
Debra Garber
VP of Finance & Operations, Chief Content Contributor, and backyard chicken farmer. I happily share my experiences traversing the wilds of social media. Will trade social media tips for fresh organic eggs. Motto: "Live the life you love, love the life you live."