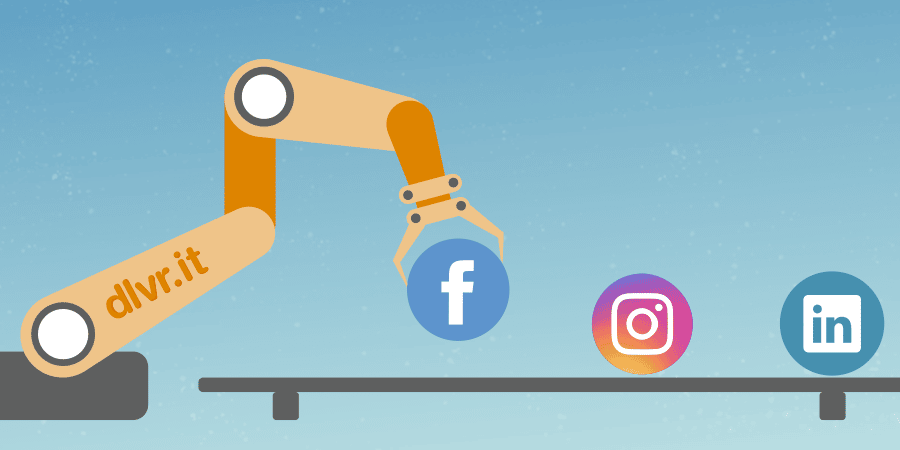 What Is Social Media Automation?
Social media automation has become one of the most popular ways to manage social media accounts. With the rise of social media platforms such as Facebook, Twitter, LinkedIn, Instagram, Pinterest, YouTube, and others, there are now thousands of options available to automate tasks across all of them.
Automating social media tasks allows marketers to spend less time managing their posts and more time focusing on growing their business.
If you're looking to automate your social media tasks, there are a few things you should keep in mind.
Balance: It's important to consider which tasks you want to automate and which you want to keep manual. Automating everything can lead to a loss of personal touch and engagement with your audience.
Integration: When choosing a social media automation platform, be sure to select one that integrates well with the social media platforms you use most. This will make it easier to manage your social media accounts from one place.
Budget: Consider your budget when selecting a social media automation platform. There are many great options available at various price points. Choose the one that fits best with your needs and budget.
With social media automation, you can save time and energy while still maintaining a strong social media presence. Keep these tips in mind to get the most out of social media automation for your business.
A Social Media Automation Strategy For Marketers
Automation has become a huge part of our lives. We are constantly being bombarded with emails, texts, notifications, and social media posts. So it makes sense that we want to automate some of those things. But how do you know what automation tools to use? What does each tool offer? And what exactly does automating mean anyway?
In this article, we'll go over everything you need to know about automating your social media marketing strategy. By the end of the post, you'll have a better understanding of what automation is and why it could benefit your business. You'll also learn about different types of automation tools and how they differ. Finally, we'll give you examples of how you can implement automation into your social media marketing strategy today.
What Is Automation?
Before getting into the nitty-gritty details of what automation actually is, let me first define it. According to Wikipedia, automation is "the practice of using computers or computer programs to perform tasks usually performed by humans." In short, it's when machines do something instead of people.
For example, think about how much time you spend writing blog posts. It takes hours of research, planning, writing, editing, and publishing before you even start seeing results from your efforts.
Now imagine if you could write a blog post once, then publish it without any further input. That would save you tons of time!
This is where social media automation comes in. Instead of spending hours and hours doing manual tasks like scheduling tweets, posting images, and replying to comments, you can simply set up an automated system to handle all of these tasks for you.
Why Use Automation?
There are many reasons why marketers use automation for scheduling content and social conversations. Automation features include:
Time Savings
If you've ever tried to schedule tweets manually, you know how difficult it can be. There are so many variables involved, such as time zone differences, holidays, and more.
If you use automation, however, you can easily set up a schedule that automatically sends out your content at specific times every day from a single dashboard. Marketing automation tools save the business owner (and social media teams) extra time.
Consistency
One of the biggest problems with social media is consistency. When you're new to social media, you may make mistakes. Or maybe you just don't feel comfortable sharing certain topics yet. Either way, it's easy to lose track of your brand image and message.
But with automation, you can create a consistent flow of messages. For example, you can set up one tweet per week that shares a link to your latest blog post. Then, you can add another tweet per week that links back to your Facebook page.
Results
The last reason why marketers use automation is that it works. Studies show that companies who use automation see higher engagement rates than those who don't.
So whether you're looking to grow your following, increase sales, or both, automation will help you achieve your goals faster.
What Are Important Features of Social Media Automation Platforms:
Schedule Posts
One of the key features of social media automation software is scheduling posts ahead of time. For instance, if you want to post something once a week, you can set up a weekly posting schedule.
Auto Posting Updates and Content Using RSS Feeds
You can use RSS feeds to automatically publish new blog posts to multiple social networks.
Recycle Your Best Content
If you're running out of ideas for your next blog post, you can recycle old content. Simply copy and paste the piece of content into the tool and select the appropriate network.
Content Search
You can search for specific keywords inside your content and then add those words to the title, description, tags, and URL.
Import From Other Websites
Some social media automation tools allow you to import content from other websites. This means you can take advantage of the existing content on another site and repurpose it for your own purposes.
Synchronize Your Social Media Accounts
Keep content automatically updated and synchronized across all social media accounts.
Hashtag Generator
With social media automation software, you can find popular hashtags to use in your posts. This makes it easy to get more exposure for your content.
Tracking Integration, Analytics, and Reporting
Some social media automation platforms include advanced tracking and integration with Google Analytics and other analytical tools and reporting services. This allows you to track your progress and see how your content is performing.
When Should I Automate My Social Media Tasks?
The answer to this question depends on your situation. If you're just starting out, it might be best to do everything manually so you can get a feel for the process and learn as you go.
However, if you're already managing multiple social media accounts and find yourself running out of time, automation can help.
No matter what your situation is, it's important to remember that social media automation should be used to supplement your overall social media strategy, not replace it.
Social media has become one of the most powerful tools marketers use to reach consumers. But many people don't know how to effectively leverage it. In fact, according to HubSpot research, fewer than half of B2C companies have a dedicated person responsible for managing social media accounts.
If you're among those who are struggling to keep up with the ever-changing world of social media, there's no reason to feel overwhelmed. For example, the tools listed on this page feature social media automations, tips and tricks to help you automate your social media strategy without sacrificing quality.
What are the Benefits of Social Media Marketing Automation?
There are several benefits of social media automation, including:
Saving time
Automating social media tasks can save you a lot of time.
Increased efficiency
Automation can help you be more efficient in your social media activities.
Improved accuracy
Automated tasks are often more accurate than manual tasks.
Increased reach
Automation can help you reach a wider audience with your social media posts.
Improved ROI
Automation can help you improve your social media ROI by helping you focus on tasks that are most likely to produce results.
Social Media Content Automation Best Practices:
Be Consistent: Consistency with posting on social networking sites is key. If you only post sporadically, your followers may lose interest in following you.
Focus on Quality: Quality content is king. Don't just throw together any old thing and expect it to work. Use good grammar and spelling. Make sure your links are working properly.
Monitor Results: It's not enough to simply create a schedule and hope things go smoothly. Monitor your progress regularly. Look at your stats and adjust accordingly. And always check your analytics to ensure your posts are performing well.
Advanced Scheduling: With social media automation, you can save time by scheduling and publishing your content to all top social sites in advance. Automation tools like Hootsuite and Buffer make it easy to queue up your posts and share them automatically at the best times for engagement. Alternatives to Hootsuite for social media automation often make updating posts across your social profiles even easier.
Use Tracking to Improve Engagement: You can also use social media automation to help you keep track of mentions, hashtags, and messages. By monitoring social media for these things, you can quickly respond to any mentions or messages, jump on any trending topics that are relevant to your business, and keep on top of customer interactions.
Overall, social media automation can help you save a lot of time in your social media marketing, and free up your time to focus on other aspects of your business.
What are Some of the Best Social Media Automation Tools?
There are many social media automation tools available, but some of the best include:
dlvr.it: This is our top recommendation to auto post to social media, you can auto share photos, news, and videos across your social networks. Auto post to Facebook, Twitter, Pinterest, Tumbler, Reddit, LinkedIn, Instagram, Google Business Profile, and more. Auto posting items from RSS feeds, eCommerce sites, photo sharing apps, social networks, and more. Using dlvr.it is like having your own fully automated social media marketing team. The top dlvr.it social media automation power tools are listed here.
Hootsuite: Hootsuite is a social media management platform that allows you to automate tasks across multiple social media platforms.
IFTTT: IFTTT is a platform that allows you to create "recipes" for automating tasks across multiple social media platforms.
Zapier: Zapier is a platform that allows you to connect different apps and services to automate tasks.
SocialOomph: SocialOomph is a social media management platform that allows you to automate tasks across multiple social media platforms.
In addition to the services listed above, here is a more in-depth post about some of the best social media automation tools to boost traffic.
What are the Risks of Social Media Automation?
There are several risks associated with social media automation, including:
Spamming: If you're not careful, social media automation can lead to spamming.
Posting too often: If you post too often, you run the risk of annoying your followers and driving them away.
Posting at the wrong time: If you don't post at the right time, you may not reach your target audience.
Not engaging with your followers: If you don't engage with your followers, they may lose interest in following you.
Posting irrelevant content: If you post irrelevant content, you may not achieve your social media goals.
Social media automation can be a great way to save time and improve your social media ROI. However, it's important to remember that social media automation should be used to supplement your overall social media strategy, not replace it. Automation can help you be more efficient and accurate in your social media activities, but it's still important to engage with your followers and post relevant content. If you don't, you may find that social media automation does more harm than good.
Effective Social Media Automation Tips
Social media automation can save you a lot of time, but it's important to use it effectively. Here are some tips:
Schedule your posts in advance so you don't have to worry about them later.
Use social media management tools to help you keep track of your accounts and automate tasks.
Make sure to post fresh content regularly so your followers don't get bored.
Take advantage of social media analytics to see what's working and what's not.
Make sure to respond to comments and messages so you can engage with your followers.
Following these tips will help you get the most out of social media automation.
What are the pros and cons of social media automation?
Social media automation pros:
Automating social media tasks can save marketers time
Automation can help ensure that posts are made regularly, even if the marketer is busy
Automation can help marketers track their social media performance and engagement
Manage your social calendar from one dashboard
Social media automation cons:
Some social media users may see automated posts as less personal
Automation can lead to decreased social media engagement if not used correctly
There is a risk of social media accounts being banned or suspended if automation is used excessively

Additional FAQs About Social Media Automation
Can Social Media be Automated?
Yes! In fact, there are many different ways to automate social media marketing. You can use software, third-party apps, websites, and other methods to automate your social media marketing campaigns. In fact, recently social media AI applications are becoming an important trend. These applications leverage artificial intelligence (AI) to further automate the creation and distribution of social media posts.
How do I Start Automating my Social Media Posts?
It's easy! First, you need to decide on which social media platforms you want to automate. Then, you'll need to choose an app or website to create your campaign. Finally, you'll need to set up your account and schedule your posts.
Is Social Media Automation Safe?
Yes! Social media automation isn't dangerous. In fact, it can actually make your life easier by saving you time and helping you stay organized.
Why should I use Social Media Automation?
Because it helps you manage your social media presence without having to spend hours every day posting content. Plus, it allows you to focus more on growing your business instead of managing your social media accounts.
How Much Does Social Media Automation Cost?
The price depends on how much work you want to automate. If you only want to run a few simple scripts, then you might be able to find free solutions online. However, if you want to automate more complex processes, then you'll have to pay for a service.
Which Social Media Platforms can be Automated?
Most social media platforms can be automatically posted to. This includes Facebook, Twitter, Instagram, LinkedIn, Pinterest, Google+, YouTube, Tumblr, Reddit, Snapchat, and others.
How Long Does it Take to Automate Social Media?
Depending on what type of automation you're looking for, this will vary. For instance, some services offer scheduled posts while others allow you to post whenever you'd like.
What Happens When I Stop Using Social Media Automation?
When you stop using social media automation, the system stops working. That means that you won't be able to schedule posts anymore. Also, you won't be able to post new updates to your social media pages.
Social Media Automation – How to Get Started with SMM
Social media automation is a great way to save time and increase engagement on your social media profiles. With the right tools, you can easily automate your social media activities so that you don't have to worry about posting content manually.
Social Media Marketing Automation Checklist
If you're ready to get started with social media automation, here is a checklist to help you get started:
Choose the Right Platforms
There are many different types of social media platforms out there. You may already have a favorite platform, but if not, it's important to consider where your audience spends their time. Some people prefer Facebook, whereas others prefer Instagram. Knowing which platforms your target audience uses will help you determine which ones you should automate.
Decide What Type of Content You Want To Post
Once you know which platforms you want to automate, you need to decide what kind of content you want to share. Do you want to post links or images? Are you interested in sharing videos or live streams? There are plenty of options available, so choose wisely.
Set Up Schedules
Scheduling is an essential part of any social media marketing campaign. Without proper scheduling, you risk wasting valuable time and money. It's also important to set up schedules for each individual social media profile. This ensures that all of your posts go out at the same time.
Create Custom Messages
When you create custom messages, they appear as unique posts on your social media channels. These messages can include things such as hashtags, links, mentions, and other relevant information. They can also contain text, photos, and videos.
Use Filters
Filters let you control exactly what appears on your social media feeds. You can use filters to hide certain types of content from appearing on your feed. For example, you could filter out all of the comments made by your competitors.
Track Results
It's important to track how well your social media campaigns perform. If you aren't tracking results, then you might miss opportunities to improve your performance. Tracking results allows you to see which strategies work best and which ones don't.
Keep Improving
As your business grows, you'll likely find yourself needing to add more social media accounts. Make sure that you keep improving your social media strategy so that you continue to grow your brand.
Don't Forget About SEO
Search engine optimization (SEO) plays a huge role in getting traffic to your website. However, most people forget about this aspect of their online presence. Fortunately, there are some easy ways to optimize your site without spending too much time.
Be Consistent
Consistency is key when it comes to social media marketing. If you're inconsistent, you won't be able to build trust among your followers. Instead, make sure that every single one of your posts has something new and interesting to offer.
Stay Organized
You never know when you might run into problems while trying to manage your social media accounts. That's why it's important that you stay organized. Having everything in one place makes it easier to access whenever you need it.
Get Help From Social Media Experts
Social media experts can provide you with tips and tricks for managing your social media accounts. They can also help you develop a plan for your next steps.
Start Small
If you're just starting out, it's probably better to start small. You can always expand later if necessary. Plus, you can learn a lot from smaller projects.
Focus On One Platform At A Time
If you try to do too many things at once, you may end up spreading yourself thin. Instead, focus on one platform at a time. Once you've mastered that platform, move onto another.
Set Goals
Setting goals helps you measure whether or not your efforts are paying off. When you have clear objectives, you're more likely to achieve them.
Plan Ahead
Planning ahead will save you time and energy. By planning ahead, you can avoid making mistakes and ensure that you get the most out of your social media marketing budget.
Take Advantage Of Tools And Apps
There are tons of tools available today that can help you manage your social media accounts more efficiently. Some of these apps even allow you to automate tasks.
Create Content That People Want To Share
The easiest way to increase engagement on your social media pages is to share content that your audience wants to read. This means creating content that people want to share.
Ask Your Customers For Feedback
Your customers are an invaluable source of information. Asking them what they think about your products and services can give you valuable insights.
Use Hashtags Effectively
Hashtags are a great tool for connecting with other users who share similar interests. Using hashtags effectively can lead to increased exposure and engagement.
Engage With Other Users
A customer conversation is a great way to gain exposure and grow your following. It's also a good way to establish relationships with potential clients.
Don't Forget About Mobile Marketing
Mobile marketing is becoming increasingly popular. In fact, mobile searches surpassed desktop searches for the first time last year. So don't ignore mobile marketing!
Make Sure You Have An Email List
Having an email list gives you the opportunity to communicate with your customers directly. You can send emails with special offers and promotions, as well as keep them updated on any changes or news regarding their account.
What Is A Social Media Strategy?
A social media strategy is a roadmap that helps you define where you want to go - it fits right into your content marketing strategy. It includes goals such as increasing brand awareness, generating leads and driving traffic.
The most common mistake businesses make is not having one at all. This is why we've put together this social media marketing strategy checklist to think about and ensure you have everything covered.
Define Your Audience
Who do you want to reach? Who will benefit from your content?
Create Content That Cares
People care more about quality than quantity. Quality content means something people actually read.
Measure & Optimize Your Social Accounts
Measure what works and optimize based on those results.
Engage With Others on Social Channels
Engagement is key. Share other people's content, comment on blogs and respond to tweets.
Build Relationships on Social Platforms
Relationship building is crucial. Start by sharing other people's posts, commenting on their blog posts, and responding to their tweets.
Promote Yourself on Social Platforms
Promoting yourself is just as important as promoting others. Use Twitter lists, share links on Facebook and LinkedIn and create YouTube videos.
Get Feedback
Feedback is invaluable. Ask your clients what they think of your content and ask friends and family what they think.
Test Different Channels
Different channels offer different benefits. Choose the channel that suits your message best.
Be Consistent across Social Media Channels
Consistency is key. Make sure you post consistently every day or even multiple times per day.
Don't Forget About Mobile Social Channels
Mobile users now account for over 50% of internet usage. Ensure your content looks great on mobile devices.
Have Fun!
Don't forget to enjoy yourself while doing this. You're going to find out a lot about how people see your business.
Keep Learning about Social Media Marketing Automation
Don't stop learning. Read industry news and keep up to date with any changes in technology. Don't forget about competitor analysis - see what your competition is doing.
Stay Organized
Make sure you stay organized. Set aside specific times each week to check your analytics and review your progress.
Focus On One Thing At A Time
It's easy to get distracted when you're trying to build an audience online. Focus on one thing at a time and don't spread yourself too thin.
Track Results
Track your results. If you see no change after a certain amount of time, it might mean you need to adjust your strategy.
Learn From Mistakes
Mistakes are inevitable. Learn from them and use them to improve your strategy.
In summary, social media automation is an effective way to increase productivity and free up time for other marketing activities. Be careful when automating every aspect of your social media strategy. Some tasks are better left to human hands. A good social media automation tool will integrate with multiple social media platforms.
Social media automation can save a social media marketer hours of time and effort on repetitive tasks. You don't have to manually manage your social media accounts anymore. Instead, you can automate your social media management using a variety of tools. Automation tools allow you to schedule posts, track performance, monitor competitors, and even create campaigns based on keywords or hashtags.
Get started, check out more of our articles on Social Media Automation, Social Media Scheduling, and Social Media Marketing, and begin to automate your social media marketing today!