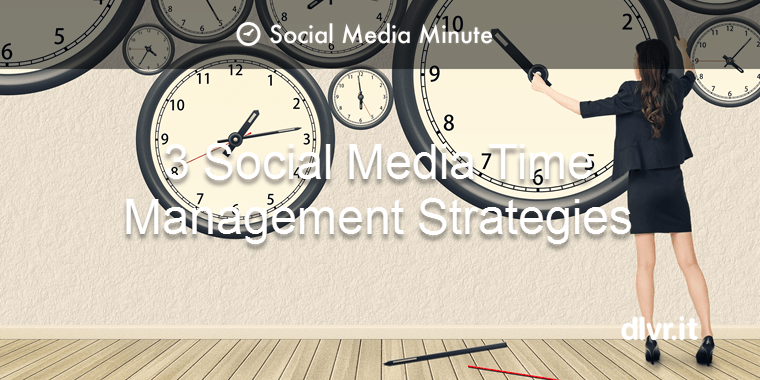 The 5, 30, & 60 Minute Social Media Marketing Plans for Time Strapped Business Owners
Let's be honest. If you run a small business, every day is not created equally. We wake up having the best intentions to tackle our to-do lists. However, many times the first thing to get pushed off our busy schedule is social media.
We put together a checklist of items to keep you on task when you're time-strapped. Taking just 5-minutes to keep your social media audience active, is much better than silence.
Make sure to click the [+] at the top of this post for options to save, print or bookmark for future reference.
The 5-Minute Social Media Plan
Repost content from your archives. Dig through your blog archives to find a great piece of content to share again. Your new followers will think it is new content. (3 min)
Write a thank you post. Think of a person who has helped your business in the last month. Get in the habit of saying thank you. You might just brighten up their day. Queue up a few thank you Tweets or Facebook updates to trickle out over the week. (1 min)
Favorite a tweet. Did a customer say something nice? Let them know you appreciate their feedback. (1 min)
The 30-Minute Social Media Plan
Get influencers to notice you. Create a list of 20 prospects you want to interact with in social media. Spend 15 minutes interacting with some or all of these 20 people. (15 min)
Distribute your content. Register your blog with 3 relevant RSS Directories.  (5 min)

Create a drip-marketing program. Start planning ahead and saving time in the future. Schedule several updates, blog posts, deals and promotions or add a back-up feed to your social media scheduling tool. (5 min)
The 60-Minute Social Media Plan
Write an original blog post. Follow our Quality Blog Post Ideas when Faced with a Deadline. Set a timer for 45 minutes. Are you good under pressure? Often, I set a timer on my iPhone. It focuses my attention during the time period. And remember to check for these common grammar goofs. (45 min)
Answer one question on Quora. Quora is indexed well in Google. Answer questions relevant to your niche. Get in the habit of doing this weekly. (5 min)
Queue up 3rd party content. Spend a few minutes on scheduling content from sources you like and your audience might find interesting. Spending 10 minutes now will save you in time in the future. This will keep your social accounts active when you can't. (10 min)
Use this as a guide when you are strapped for time. For a comprehensive list, be sure to check out the 56 Time Saving Social Media Ideas for the Time-Strapped Business Owner. And, remember to breathe!