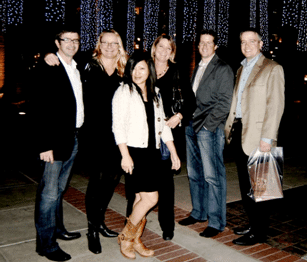 Traditions Celebrate Employees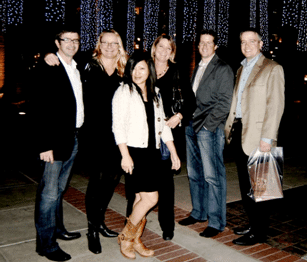 Here in the Oakland offices of Dlvr.it, we recently sat down to white board holiday traditions.  Admittedly, the original intent of the meeting was much more mundane.  Something about content marketing strategies.  Sorry, Bill.  I'm in finance.  It's nice to digress once in a while.  The stories and memories made us smile.  From garage startups to Fortune 500 environments.  From the 1980's to current day.   From lack of budget to seemingly limitless budgets.  Holiday parties and traditions run the gamut.
In my past, company holiday parties have ranged from potluck white elephant gift exchanges to holiday winter wonderlands replete with fresh snow drifts and sit down luncheons for 200 catered by Wolfgang Puck.  Rags to riches.  1980's to 1990's.
Anne, here in our office shared her experiences from a mid-sized dot.com, where the whole month of December was dedicated to holiday celebrations.  Employees were divided into teams and had different activities to complete each day or each week.  From cookie decorating, to a scavenger hunt, to cubicle decorating, to cocktail creating, each team worked together to earn points towards a prize announced right before the holiday break.  To round out the experience, the company would adopt a family through Compass Family Services in San Francisco.  Each team was assigned to one family member and given their wish list.  It was wonderful to watch all of the gifts fill up the conference room – every team always went overboard and guaranteed that each family member received what they asked and many surprises.
This brings us full circle to 2011 and Pheedo and Dlvr.it.  It is difficult to coordinate schedules and celebrate together with our offices in Oakland, Portland, Chicago and New York.  The Oakland office, a mixture of sales, marketing and finance, usually takes the holiday lead and jumps on the bus (actually, the biggest Suburban on the planet) for an adventure.  We've done catered private dinners with and without spouses, lunch in San Francisco for a Cirque de Soleil show followed by drinks and most recently, a quaint afternoon with lots of laughter at Lotsa Pasta in Danville (subtle plug for a great family restaurant) followed by a stop for excellent coffee in Rockridge at Bica.   It is rumored that our tech team frequently celebrates the holidays or any time of year really, at pubs, concert venues and bowling alleys of Portland.  I can't imagine why the Oakland office has never been invited up for these events.  Same goes for Chicago and New York.  Expense reports do talk!
You may ask, what was the outcome of the Dlvr.it team white boarding exercise?  It may be obvious, but holiday traditions are just as important in companies as they are in families.  Traditions celebrate employees.  Whether it is an open bar karaoke night or month long activities, they are an important aspect of motivation, team building and productivity.  How do you celebrate your employees?
Family traditions also run the gamut.  We took a quick poll of our employees most memorable ones.  Enjoy!
Watch Polar Express with the kids on Christmas Eve.
Growing up, we had a big Italian feast – everything was homemade. Pasta, meatballs, cookies, breads, sausage and more.
On the first weekend in November, the entire family plus dog, hike up to the top of Moon Mountain to "reserve" our tree.  We march back up first weekend in December to cut down.  Same time frame, year after year.
Pixies show up in early December and hide each night in different locations until Christmas day where they safely land on top of the tree.  Kids go crazy every morning trying to locate them.
We leave shoes outside on December 6th for St. Nick.  Miraculously, they are filled in the morning with goodies.
On New Year's Eve, my family plays Michigan Rummy.  Google it.
How do you celebrate your employees or families during the Holidays?
Debra Garber
VP of Finance & Operations, Chief Content Contributor, and backyard chicken farmer. I happily share my experiences traversing the wilds of social media. Will trade social media tips for fresh organic eggs. Motto: "Live the life you love, love the life you live."