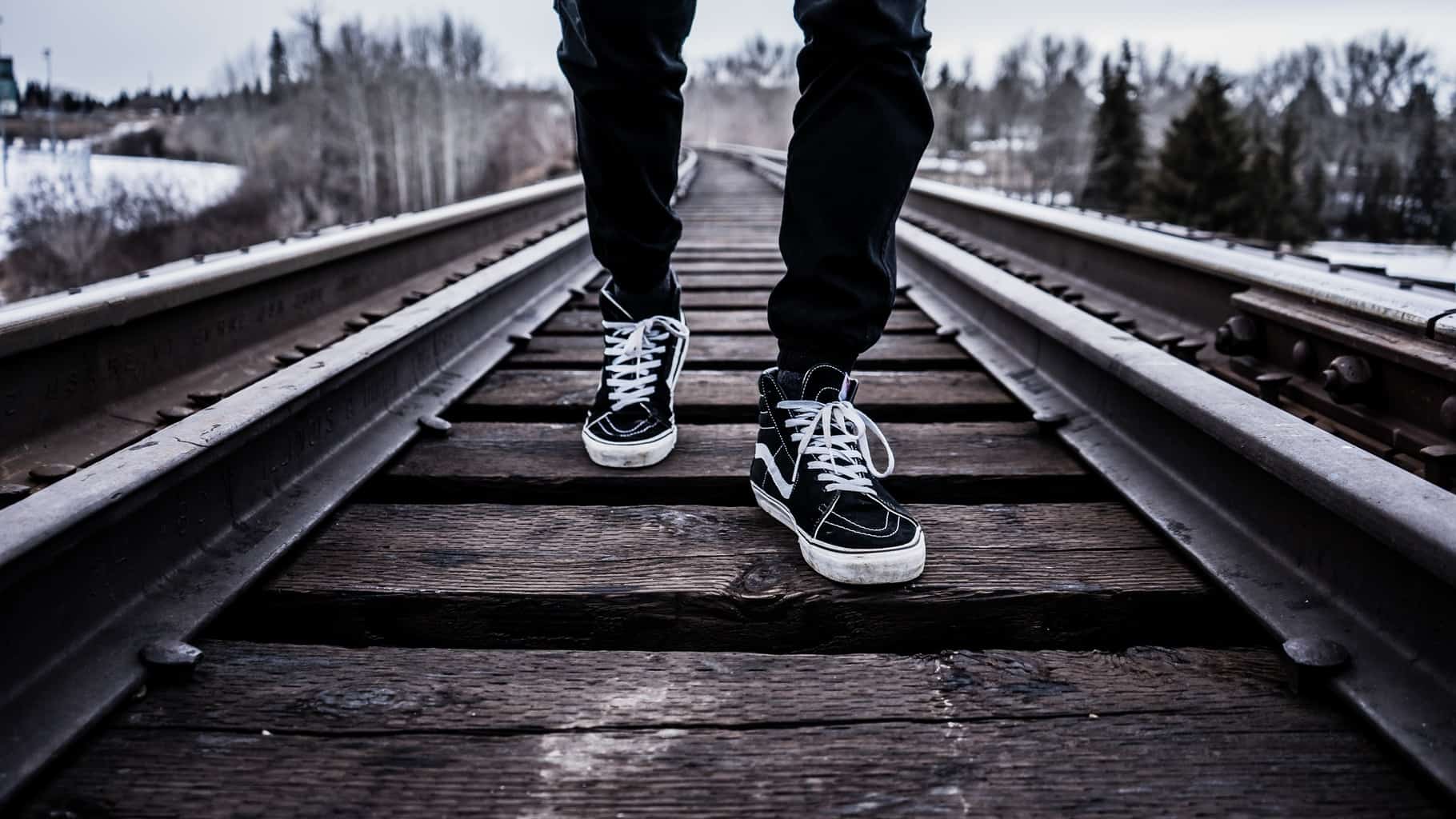 How to Track Every Social Media Link with Google UTM Codes
If you look at your Google Analytics data, it can be overwhelming. There are so many variables to review and things you can adjust to get your desired results. Adding Google UTM tracking to each social media post can help you make sense of your social media traffic.
Focus on One Stat That Matters
I am sure you've heard the phrase "Big Data." If you are a small business, big data can sound scary. The last thing you need is more data! You just want results, right?
When monitoring our own social media progress, we like lean data. We identify one or two metrics that help increase our ROI. We focus on those over a period of time and optimize our blog and social media for that one stat. For example, it could be simply to 'increase clicks from Twitter by 10% in 10 days' or 'increase conversions from our blog by 20%'.
If you are using dlvr.it to share content to social media, it's easy to see the impact you are making in your third party analytics package. We'll be sharing examples from Google Analytics below.
Enabling Google UTM Parameters in dlvr.it
Google uses what they call UTM parameters. UTM parameters are the way you track the performance of a custom campaign from the origination point (tweet, email or website). A link with a UTM parameter looks like this: http://yourdomain.com/?utm_source=dlvr.it&utm_medium=[desttype]&utm_campaign=NAME
When users click one of the custom links, the unique parameters are sent to your Google Analytics account. This allows you to quickly identify the URLs that are most effective in attracting users to your content. In Google Analytics, these codes can be found under "Traffic Sources."
Google created a UTM builder to help you easily add UTM parameters to any URL. We've recreated the Google UTM builder inside of dlvr.it. Fortunately, we've also automated the process for you. In one click, a basic UTM structure appears. You can customize the UTM code depending on your needs. dlvr.it automatically fills in the social network in which your update appeared.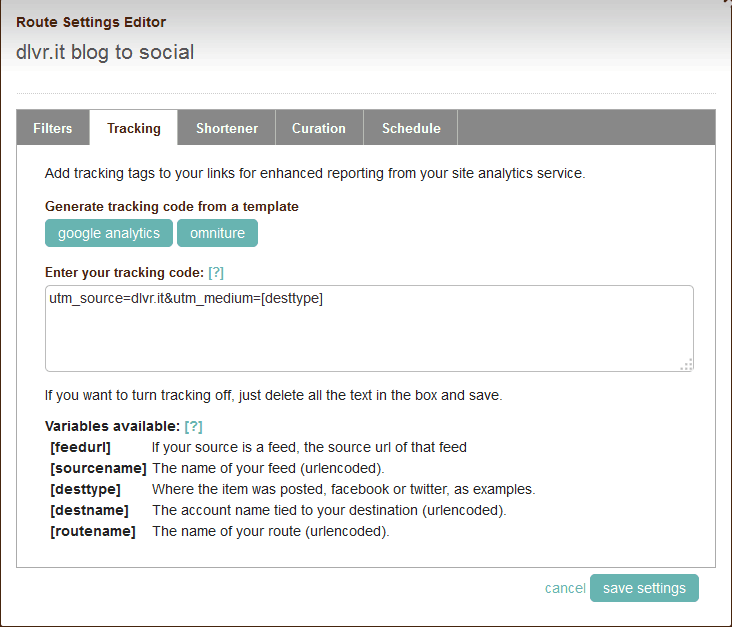 Let's take a look at a few scenarios with different objectives. There are many UTM tracking combinations to string together depending upon the one lean metric that matters to you.
Social Media ROI Objective
UTM Code Set-up

I want to track traffic across all my social networks
utm_source=dlvr.it&utm_medium=[desttype]
I have several Twitter accounts. I want to show traffic
patterns from specific accounts
utm_source=dlvr.it&utm_medium=[destname]
I want to see how a specific content from a feed
performs on each specific social network
utm_source=dlvr.it&utm_medium=[destname]&utm_content=[sourcename]
I am running a specific promotion. I want to attach a
static name to each update.
utm_source=dlvr.it&utm_medium=[desttype]&utm_campaign=NAME
For further help on using dlvr.it to integrate with your web analytics, here are the complete instructions for enabling tracking parameters to links shared in social media.
NOTE: You can successfully add any third party unique link append parameters to URLs using dlvr.it's tracking tool.
When you review your data in Google Analytics, you will see something similar to the image below. In this example, the Source is dlvr.it, and the Medium is Twitter.

Now it's your turn. Determine your one lean metric for the next 60 days and put all your effort into optimizing for success.