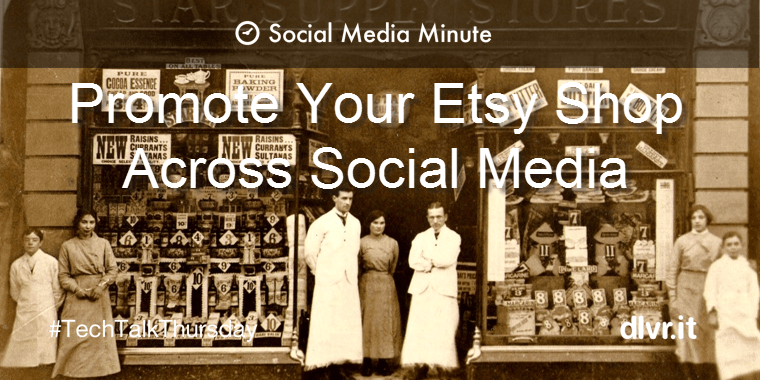 How to Create an RSS Feed for Your Etsy Shop to Boost Sales Across Social Media
(#TechTalkThursday) Looking to give your Etsy Shop a boost? Want a fast and easy way to showcase your products to your Twitter and Facebook audience? Promoting your Etsy items across social media is simple.
Step 1. Create an Etsy Shop RSS Feed
Every Etsy shop has an RSS feed. To create a feed of your Etsy items, use the following format and replace ENTER_SHOP_NAME with your shop name.
https://www.etsy.com/shop/ENTER_SHOP_NAME/rss
For example, if I were to share items from the Etsy shop VintageAdarama; the RSS feed would like this:
https://www.etsy.com/shop/VintageAdarama/rss
The product details including price are included in the RSS feed. Any time you add new items to your shop, the RSS feed will automatically update.
Step 2. Add the Newly Created RSS Feed to dlvr.it
OPTIONAL. Click on the 'Scheduling' tab to share across social media at set times

Step 3. Add your Social Media Destination(s)
Choose where you want to promote your Etsy Shop Products including Twitter, Facebook, Google+, Tumblr and more.

When your Etsy shop items are added to Twitter, Facebook and Tumblr, they will include a big image and detailed description. Check out the examples below. You can customize the display and content by using the various dlvr.it tools including filtering, replace and remove, prefixes and hashtags.
Twitter

Facebook
Tumblr
Now it's your turn. Create an Etsy feed of your products and start sharing across social media today. It only takes seconds to get started.
Featured image by: Paul Townsend