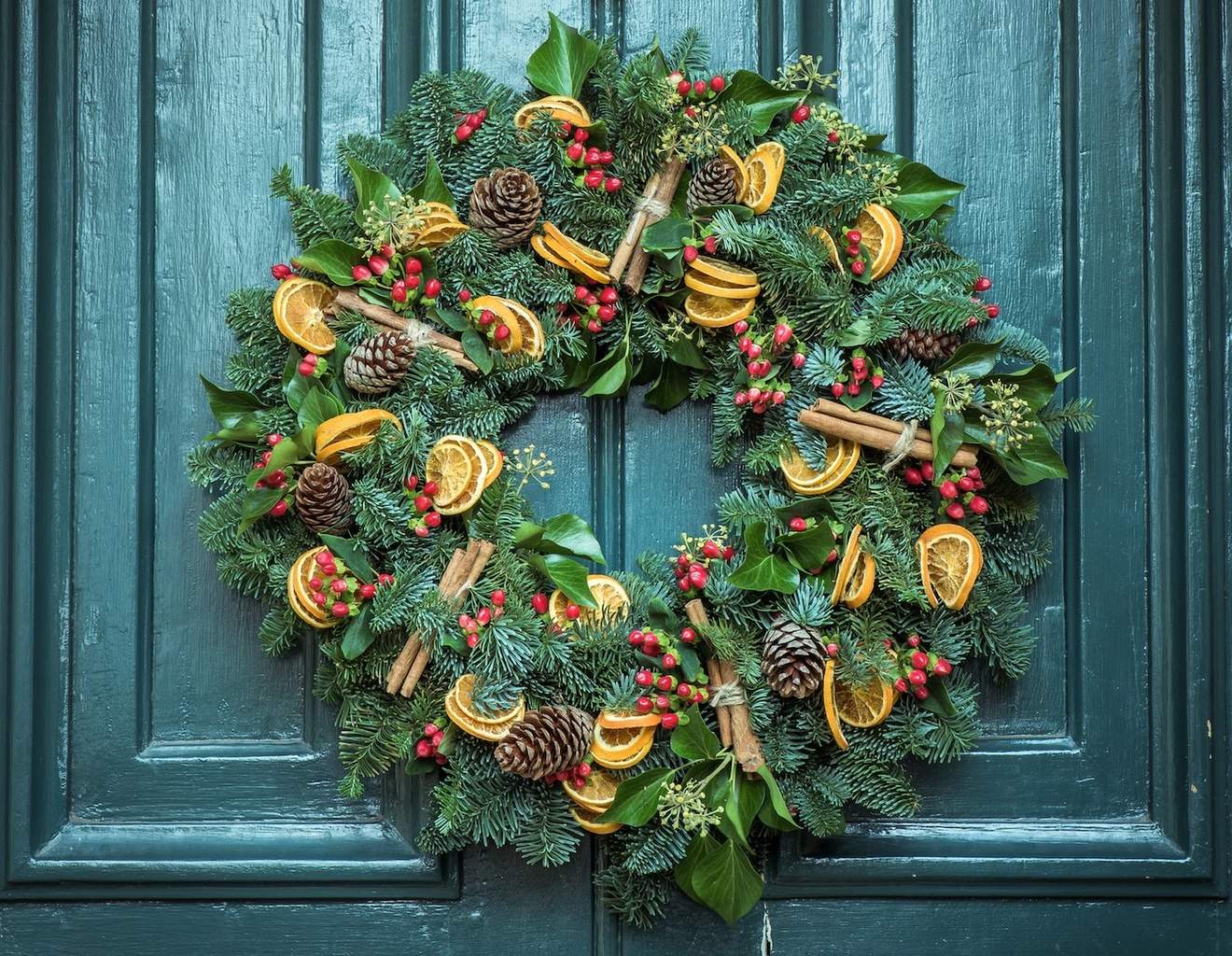 24 of The Best Holiday Email Marketing Ideas That Will Increase Sales
Are you prepared for the holidays? Let's face it, no matter how much you plan; holiday madness can quickly sneak up on you. In our post on 15 Last Minute Social Media Marketing Ideas to Implement Before the Holiday Rush, we put together a marketing plan checklist using many social media platforms. This post focuses on your holiday email marketing plan.
If you're wondering why you should spend time on a last-minute holiday email campaign, there's a simple explanation: it works!
Email remains a significantly more effective way to acquire customers than social media—nearly 40 times that of Facebook and Twitter combined. That's because 91 percent of all US consumers still use e-mail daily, and the rate at which e-mails prompt purchases is not only estimated to be at least three times that of social media, but the average order value is also 17 percent higher. (McKinsey & Company)
Holiday email marketing makes it quick and easy to promote your business and drive sales during the holiday season.
First, make sure:
You have a healthy email subscriber list
You have created the perfect email newsletter for your audience
Optimized your newsletter for mobile
Read: The Complete Guide to Creating the Perfect Email Newsletter: Boost Subscribes, Get More Traffic and Reduce Churn
24 Last-Minute Holiday Email Ideas to End the Year with a Bang
Scroll down to the section that is important for your businesses holiday email marketing for:
Businesses that sell products to consumers (B2C)
Companies offering their services to other companies (B2B)
Nonprofit organizations
From Constant Contact, here are 15 ideas to help get your business started. You can implement these holiday email marketing plans for any type or size of business including your nonprofit – there are plenty of last-minute emails you can send out that can make a significant impact before the end of the year.
Section 1: Holiday email ideas for businesses that sell products to consumers (B2C)

Consumers have a lot of businesses vying for their attention during the holiday season. A well-timed holiday email can help you stand out from the competition and bring people into your store, restaurant, or office before the end of the year.
Before you start, take this advice from Barry Moltz:
Put Your Customer First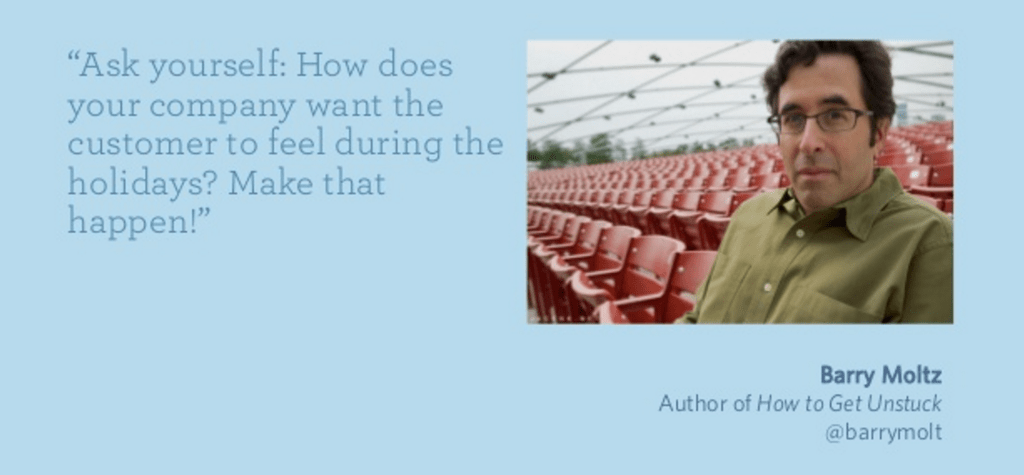 Now that you have a clear idea of how you want to treat your customers, here are five email marketing ideas to embrace during the holidays:
1 – Holiday Sale
Choose a day (or days) to offer exclusive discounts to customers during the holiday season. You can include a coupon in any email you send out for customers to redeem in-store or online.  You can also offer daily or weekly specials and promote them to your email list.
Offer something valuable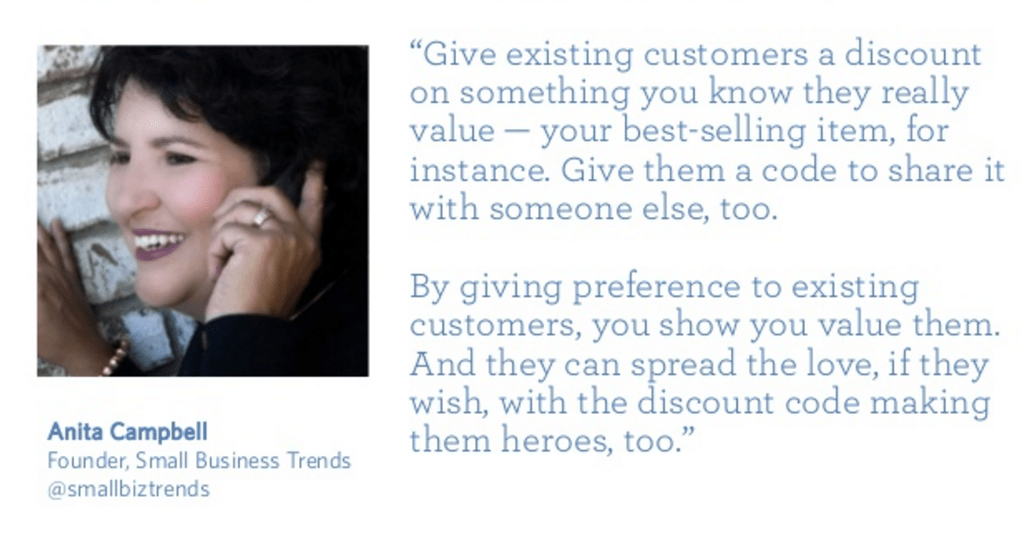 2 – Free Shipping
If you sell products online or let customers place orders over the phone, consider offering a special holiday discount on shipping to encourage customers to shop small.
You can also create an email to remind customers of any upcoming shipping deadlines to make sure their gifts make it in time for the holidays.
3 – Holiday Giveaway
Giveaways are a fun way to reward your most loyal customers while also generating sales during the holidays. Rather than offering a discount, create a holiday giveaway and promote it to your email list.
4 – Gift Certificate
Send a special offer on gift certificates to loyal customers and encourage them to share it with a friend. Special offers are a great way to generate revenue toward the end of the year, and introduce your business to new customers who will come back and shop with you in 2016.
5 – Holiday Party Ideas
Show customers how you can make their lives easier during the holiday season. Send gift ideas to help them plan for their holiday giving and parties and look for opportunities to highlight how your products or services can fit into their holiday plans.
Give gift ideas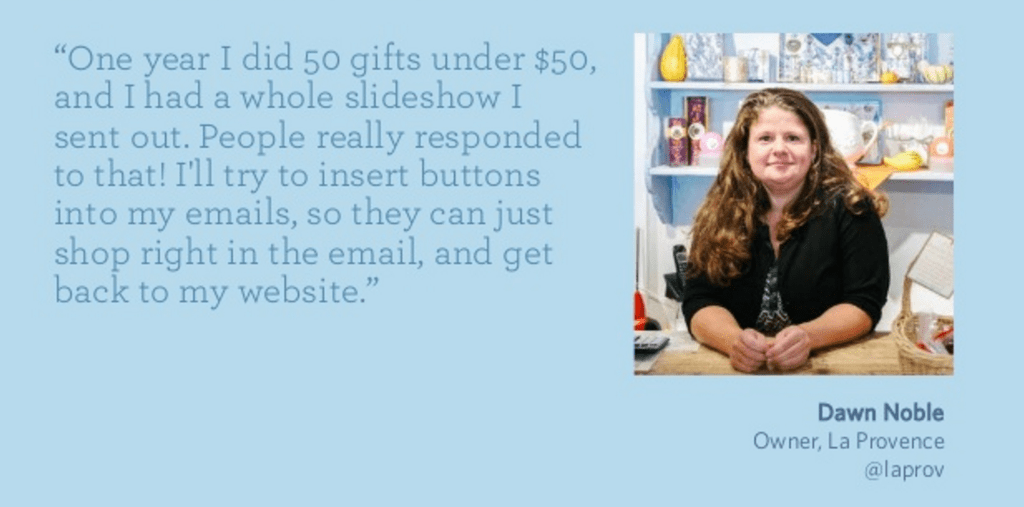 Section 2: Holiday email ideas for companies offering their services to other companies (B2B)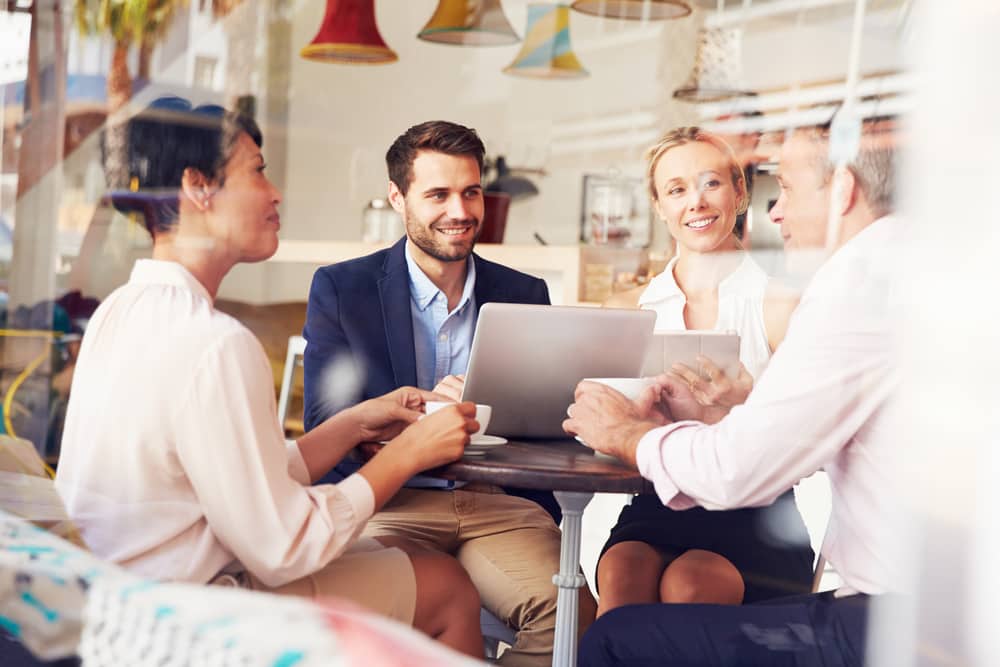 Even if you're not a business that sells products or services to consumers, you can still use the holidays to connect with clients and generate new opportunities for your business.
Here are some last-minute ideas for business to business companies:
1 – Client Appreciation
No matter what time of year it is, clients always like to feel appreciated. There are a number of ways you can use a holiday email to show your gratitude.
Be sentimental
2 – Event
Celebrate the season with current and potential clients by hosting a holiday event. If you already have an event planned, you can schedule a series of invitation and reminder emails to help drive registration or show your support for the community by sponsoring local events.
3 – Education
December isn't all about the holidays. Many of your clients will be planning for the New Year and will be looking for advice.
Think about how you can share your expertise this holiday season. A free eBook, webinar, or training video can make a great gift to your loyal customers.
4 – Holiday Discount
You don't have to be a business that sells gifts to offer a holiday discount. A special holiday promotion can help you end the year on a high note and reach your 2015 goals. It can also set you up for success if you're heading into a slower season for your business.
Be creative. Provide a WOW experience.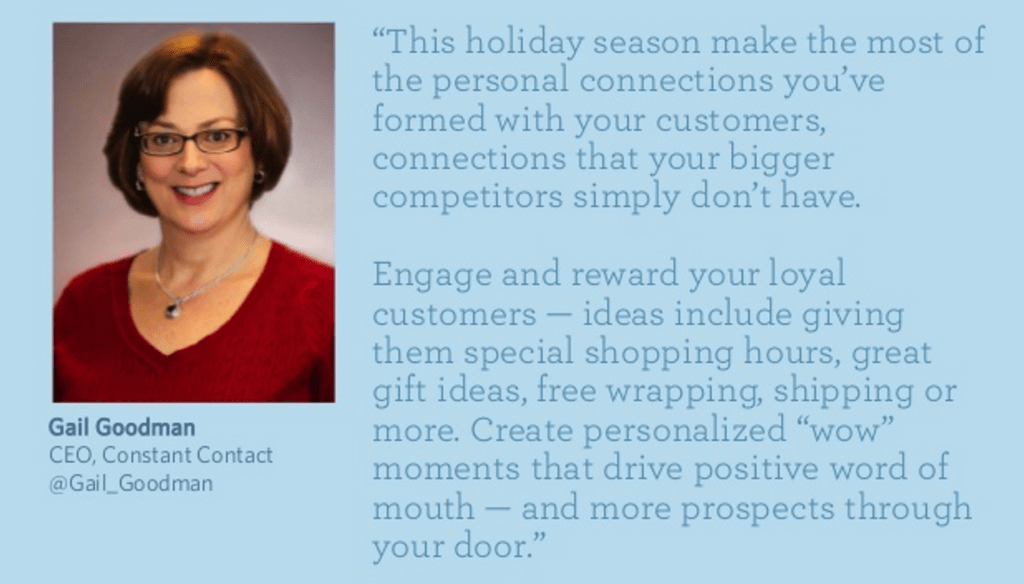 5 – Preview Email
Give clients sneak peeks at what you have planned for 2016. Are you introducing new products? Have you grown your staff or expanded your services? Send out an email recapping 2015 and let people know what you have planned for the New Year.
Email Your Customers With Curated Gift Collections
Grouping products by theme is always a useful marketing tactic, and this is especially so during the holidays. People are primed to seek and respond to seasonal messaging – so that Christmas gift collection will grab your customers attention.
You'll add value by giving customers a helping hand by providing gift ideas and grouping them by theme, or by price range, making finding the perfect gift easier.
Create A Sense Of Urgency
Time limited offers and deals are a great way to incentivize customers, and email is the ideal way to deliver this kind of promotion. The 3 for 2 range has become a familiar sight on the websites of big retailers but isn't viable for many. Instead, you might want to try running a similar promotion for a much shorter period of time. You could offer free shipping over selected dates, or free gift wrapping on orders made during a specified period.
Highlight Last Delivery Days
Keeping your customers informed of last delivery days can discourage people from leaving it to the last minute, and it also helps you to manage expectations. These reminders also contribute to creating a sense of urgency, as discussed above.
Target The Big Shopping Days
Don't forget key seasonal shopping dates, and launch promotions targeted around these dates. Do remember, however, to publicize offers to your email subscribers well in advance, to help drive demand on the day.
Read: Black Friday Messaging: Earlier is Better [New Research]
Send A Christmas Day & New Year Greeting
Sending an email thanking your customers for their business and wishing them well is a great way of fostering positive sentiment, and serves the dual purpose of keeping your brand top of mind.
Section 3: Holiday email ideas for nonprofit organizations

December is a critical month for nonprofits, especially those who rely on end-of-year giving to reach their fundraising goals. Whether you're in the middle of your December fundraising planning or just want to connect with supporters before the end of the year, email can help.
Use these five ideas for nonprofits:
1 – Fundraising Reminder
Chances are, your end of year fundraising is already underway. Maybe you participated in #GivingTuesday and are already on pace to reach your fundraising goals.
Build on that success by sending a fundraising email to encourage more people to get involved. Update people on your fundraising goals and give them different options to get involved.
2 – Thank You Message
Don't miss the chance to say, thank you, to all the people who have contributed to your success in 2015. Send a thank you message to everyone on your email list, or create a personalized thank you message for all the different groups of people that you work with.
Do you have a list of recurring donors or volunteers who are always there when you need them? Are there businesses or other partners who have shown their support? The personal touch of a thank you email can make people feel appreciated and remind them of how important their support truly is.
Say thanks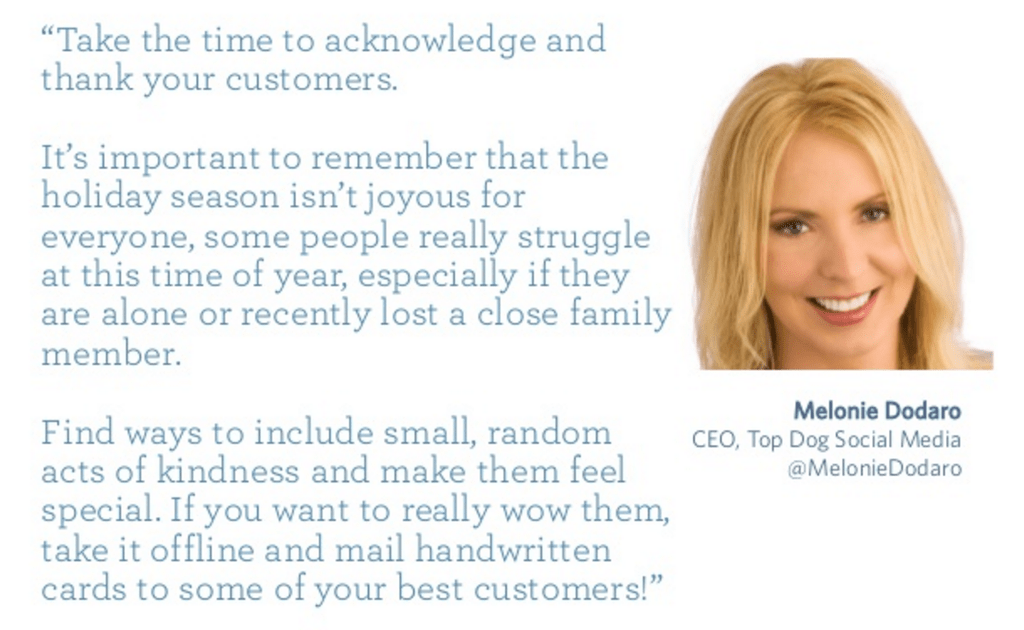 3 – Contest
It's not too late to engage supporters in a new way this holiday season. Last year, the Baltimore Humane Society ran a holiday photo contest, asking donors to post a selfie with their pets on social media after making a donation.
Contests like this are an excellent way to bring your email marketing and social media together and generate valuable word of mouth for your organization.
Take this example from the Sonoma Valley Education Foundation's Giving Tuesday post raffling off a wine tour and coffee vouchers for your donation: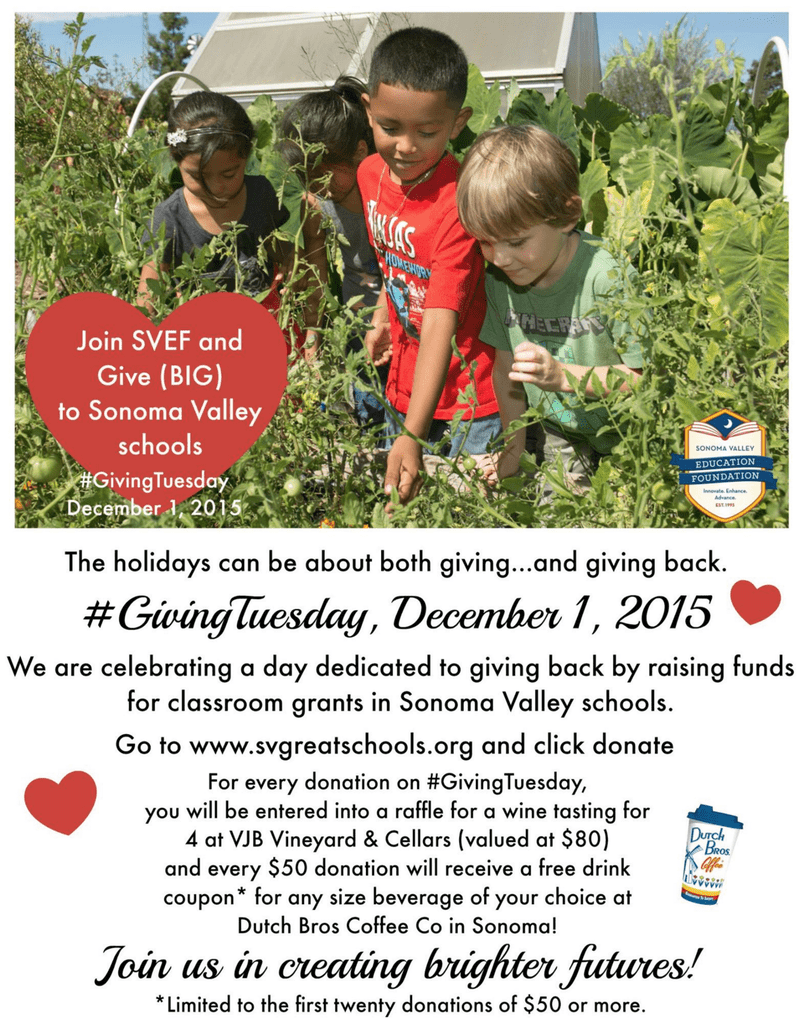 4 – Recurring Giving
December is a great time to highlight the different giving programs you have available for 2016. Tap into the giving season and set your organization up for success in the New Year by encouraging people to become recurring donors. Attach giving levels, exclusive perks, and impact descriptions to monthly gift tiers so that you make recurring giving an attractive option.
5 – Holiday Gift Guide
During the holiday season, people need help in the gift department. For inspiration, businesses create gift guides to showcase must-have presents. There are a number of ways nonprofits can offer gift ideas for the holiday season.
Massachusetts animal rescue organization, Fairy Dogparents, sells gifts like bottles of wine and candles that include the Fairy Dogparents logo, which benefits their team. Gorilla Doctors, an organization that works in areas of Rwanda, Uganda, and the Democratic Republic of Congo, puts out an annual calendar as a way to raise proceeds.
You can also encourage people to sponsor a donation as a gift to a friend or family member.
Three bonus ideas for nonprofits from Campaign Monitor:
1 – The Story Email
There's power in storytelling. If your organization helps those in need, share stories with subscribers to help them understand how important their donation is.
Sure, you could explain that a $10 donation feeds a homeless person for one night, but you can go further than a simple explanation. Don't just tell donors how their gifts help, show them.
Here are a few storytelling tips:
Tell a story, not a promotion – The story should focus on a person, not how your organization saved the day. Mention how you help –  fuel the story with the details and emotion of the individual in need.
Include a picture – Make sure you share a picture of the person; it brings the story to life.
Make a connection to the holiday season – After telling the story, mention your need for holiday donations, or if you can tell a story about someone in need during the holidays that's even better.
Consider including a video – Creating a video has never been easier. Consider telling a story through video and sharing a link to it via email and on your social sites.
2 -The Refresher Email
The holiday season is a good time to remind donors what your organization is all about.
Create an email that outlines your organization's mission and the good it does. Consider adding a bulleted list that describes the number of people helped, and next year's goals. Or, create a short video that looks back at this year's accomplishments, explains new initiatives for the year to come or reminds donors about the year-round need.
Here are a few tips to create a refresher email:
Keep it short – Donors are always busy, but even more so during the holiday season, so keep it brief.
Consider creating a video – Emails with video have a 53% higher click to open rate than those without. It's worth taking a little time to create a short (1-2 minute) video this season.
Help donors learn more – Provide links to your website and social channels in the email to help donors continue their learning process.
3 – The Event Email
A lot of nonprofits host holiday events. Whether you're hosting your annual gala, coat drive, food collection or charity auction, use email to invite guests.
Be sure to explain what the event is and tell donors what to expect. Encourage guests to come by describing what's in it for them.
Tips to create and send an event email:
Double check the details – Run through your email and make sure all of the information is correct. You don't want to send an invitation with the wrong date or address.
Offer perks to those who RSVP – Give early bird RSVPers something special like a free t-shirt, a chance to win a giveaway or a VIP tour of your facility.
Create an event on Facebook – To cross-promote your event, create a Facebook event and let people RSVP. Facebook explains how to set up an event in five easy steps.
Provide additional information in reminder emails – When you remind people of your event via email, offer additional details like parking suggestions or a list of speakers featured at the event.
___
What did we miss? What are your holiday email marketing plans for your business? Please feel free to discuss in the comments!
Debra Garber
VP of Finance & Operations, Chief Content Contributor, and backyard chicken farmer. I happily share my experiences traversing the wilds of social media. Will trade social media tips for fresh organic eggs. Motto: "Live the life you love, love the life you live."