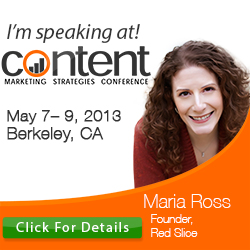 How do you create an irresistible brand? Maria Ross responds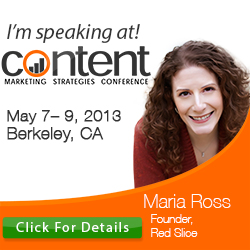 We recently caught up with Maria Ross, Founder of Red Slice, for a Q&A session on the importance of having a clear brand strategy. Maria is a brand strategist who advises entrepreneurs and SMBs on creating irresistible brands. You can hear Maria's session on "Start with the Story: Why a Clear Brand Strategy is Vital to Effective Content Marketing" at dlvr.it's upcoming Content Marketing Strategies Conference, May 7 -9, 2013 at The Claremont Hotel Club & Spa in Berkeley, CA.
Q&A time with Maria Ross:
We were enjoying a blog post you wrote, The 10 must-have messages you need for your brand.  In the post you speak about, "consistency in your branding and messaging." How does a business keep to the message without sounding robotic?
Maria: Thanks, I enjoyed sharing that post with my tribe! Consistency should never be confused with "robotic." Two different things. Starbucks is consistent in terms of quality and convenience. You always know what you will get when you walk into a store anywhere in the world. Same is true of Apple. You expect fine design, cool features and sleek usability. You expect the same look and feel so you know its Apple.
Being consistent means identifying and articulating the key things for which you want your brand to be known, and ensuring you deliver that promise through everything that you do.
Brands get into trouble when they promise one thing but fail to consistently deliver it through every single customer touchpoint.
You can't possibly be all things to all people so choose wisely and focus on those messages.
In terms of content and messaging, this means knowing your brand voice and personality and ensuring everything you write conveys that tone. It means understanding your core benefits and hammering on those within the context of whatever content you're producing. It does not necessarily mean saying things the exact same way each and every time, but using scripts or having soundbites and creatively tailoring them to the context is what will help you stay consistent and fresh, all at the same time.
We often hear the following from small business, "Of course <insert big brand x> can do content marketing, they have big budgets." What advice can you share with a small business when kick starting a content marketing program that doesn't break the bank and is consistent?

Maria: Content marketing is the most inexpensive marketing tactic you can employ on a budget! You write your own editorial in your own voice, you build your own fan base, you determine your frequency, and you can create content once and repackage it a hundred different ways. And it can set your company up as a thought leader. I can't imagine anything more affordable! And it is usually a heck of a lot more effective than spending hundreds of thousands on one ad or one billboard (which is all you'll get if you have a tight budget). Content marketing can live on forever and be used in a variety of ways.
I'd advise starting with a simple blog. Just once a week if that's all you can do. Think of all the questions people have about your industry or offerings and build an editorial calendar of which topic you will cover each week. 
After that, you can easily jump to sharing those posts through social media channels to expand the reach (again, all this costs is time). 
Next, you can engage your budding audience by asking them what topics they'd like to see, or offer a form on your website for them to submit questions. You can take great blog posts and pitch them as stories to the press, or repackage it as a more in-depth report or podcast for which people need to sign up for your email list to access. An ad, an event…all of those things are good and have their ROI but they will cost way more and once they're done, they're done. 
Content marketing is a much smarter, and less expensive, investment – and brands today need to ditch the hard sell and build a relationship over time by offering value upfront. Content marketing is a great way to do this.
We only have so much time in the day. What is the one consistent thing we should not ignore per day, per week, per month that will help us build our brand?
Maria: I think the biggest thing is to engage in every activity with brand intention. What are we trying to say, who are we trying to attract, what is our personality and voice?  Once you build a strong brand strategy and determine your value, your voice, your ideal customer, you need to look at every activity through that lens.
Throwing something out there without considering the brand consistency or perception is a waste of your time and can actually harm your brand.
Don't just go on autopilot – I'd rather see a company do a few things really well, than try to do a lot with no brand direction. For example, I used to get emails from a winery touting their newest wines. Someone clearly had "send an email to our subscribers about this vintage" on their To-Do list and yes, I got an email. But it had no brand personality: it was plain, boring, looked like a business form letter (the last thing I want to think of when enjoying wine!) and did not get me excited about the wine at all. In fact, it made me assume they understood nothing about a good wine experience, so I didn't buy from them.  In the quest to just, "get the marketing activity done," their non-branded choice actually made a brand statement – and one I'm sure they would not want! They offered no "brand cues" on where their wine should live in my mental file drawer: Fine wine? Casual pizza night wine? Expensive? Cheap? Your brand helps customers make sense of you in a crowded marketplace and if they can't figure you out right away, they'll go elsewhere.
About the author:
Maria Ross is a brand strategist, author and speaker who believes cash flow and creativity are not mutually exclusive. As creator of Red Slice (www.red-slice.com), she advises entrepreneurs and SMBs on creating irresistible brands. Prior to that, she spent years guiding marketing strategies for both start-ups and global brands, including Discovery Networks, Monster.com, and Business Objects. Maria has written two books:  Branding Basics for Small Business and Rebooting My Brain. She has appeared in numerous media outlets, including MSNBC, ABC News, NPR, and Entrepreneur Magazine.
======
There is still time to register for the Content Marketing Strategies Conference, May 7-9, 2013.   The conference is the only event to specifically focus on helping companies of any size gain practical 'how to' advice on content marketing SEO, content distribution optimization, content ROI, and learn from case studies by brands including Red Hat, New Belgium Brewing, FOX's hit show Glee and much more. Participants are guaranteed to walk away with an action plan to kick-start or enhance any content marketing program no matter how large or small. Discount codes are available!
Debra Garber
VP of Finance & Operations, Chief Content Contributor, and backyard chicken farmer. I happily share my experiences traversing the wilds of social media. Will trade social media tips for fresh organic eggs. Motto: "Live the life you love, love the life you live."