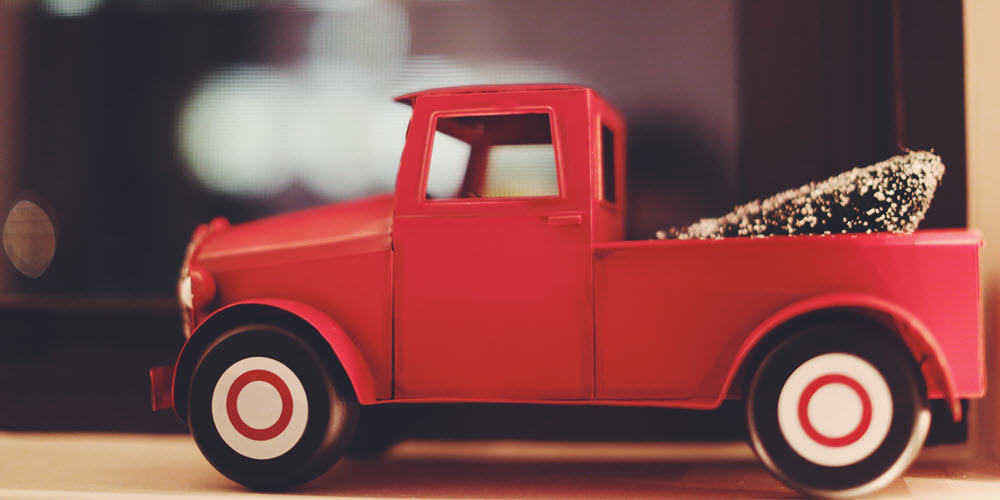 100 Black Friday Marketing Ideas That Will Boost Sales This Year
Holiday shopping can account for as much as 20% of annual sales for some retailers, so early planning and preparation is key to maximizing success during the holiday season. Specifically, Black Friday is a unique time for retailers – shoppers are swarming, and prices slashed. Moreover, you know it's imperative that your Black Friday marketing campaign grabs attention in crowded inboxes and social media feeds.
Concerned about how you will reach shoppers this holiday shopping season?
Worried about your Black Friday marketing plan?
We researched the latest online retail trends and put together this ultimate Black Friday marketing guide in the hope that you can get a jumpstart on your holiday promotional planning!
And, do you think that just because you're a small business owner, your Black Friday Marketing plan can't compete with the box stores like Walmart and eCommerce giants like Amazon, and eBay, so why bother?
Think again!
You don't want to miss a beat, in this post we'll cover the following:
(clicking will take you right to each section below)
Black Friday Marketing Ideas, Tips, and Trends for:
Holiday Shopping Projections
According to projections by shopping advice site BestBlackFriday.com, online sales are expected to rise 13.3 percent year over year to a record $3.1 billion on Nov. 25, in contrast with a nearly 10 percent decline in Black Friday in-store sales. Additionally, NPD group shows similar data.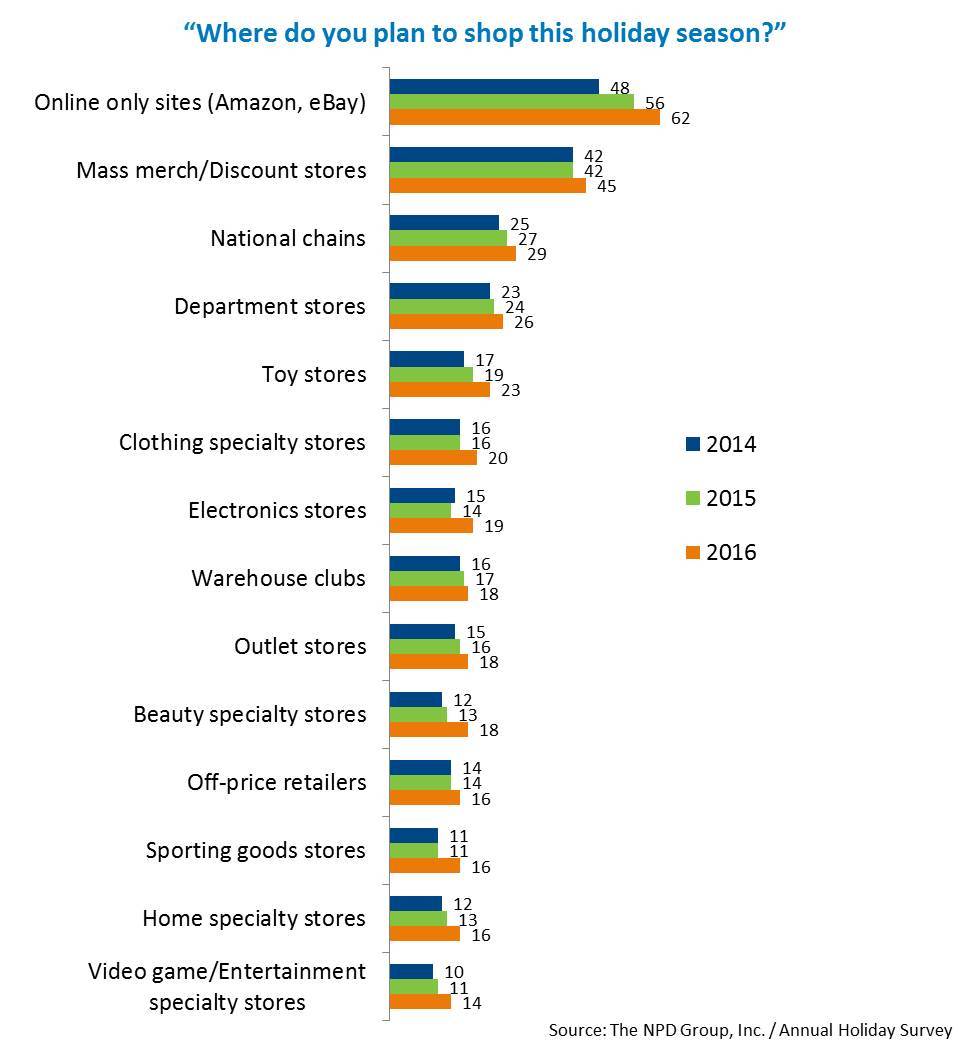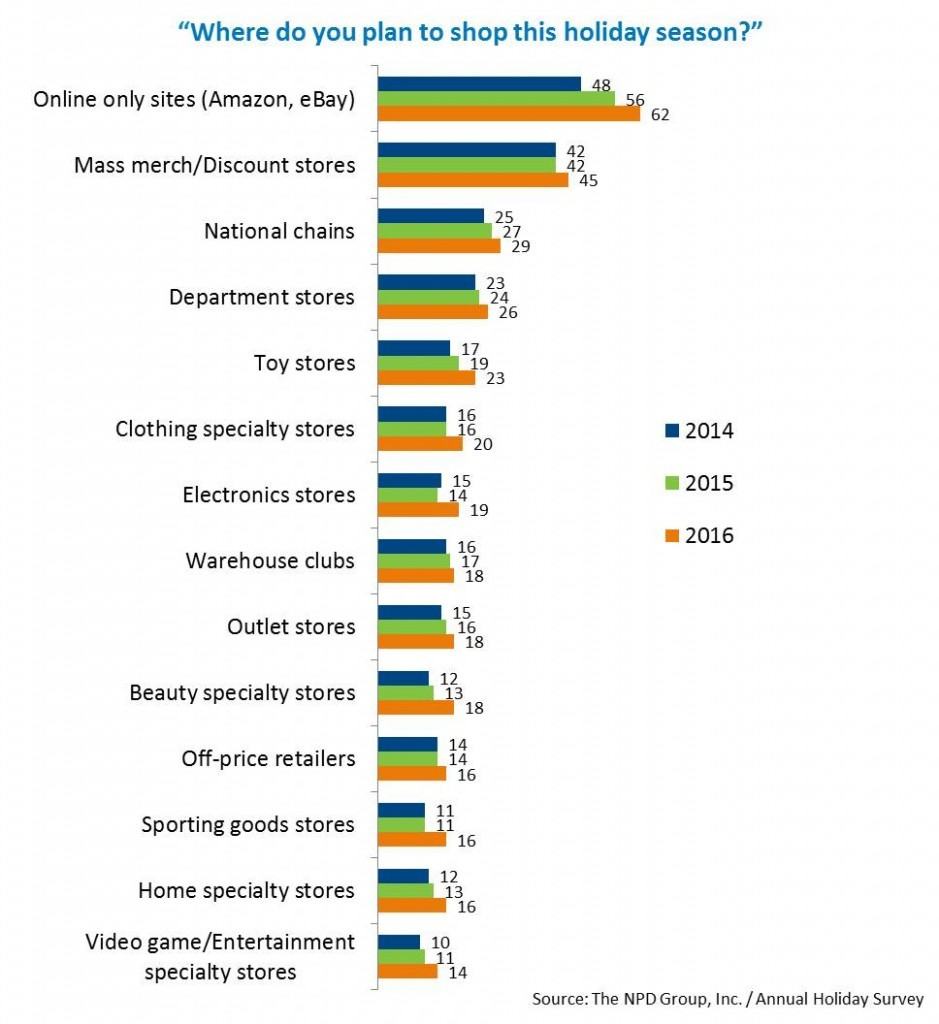 In light of this, a solid online Black Friday marketing plan is a must. However, it's not that simple.
In reality, as shoppers look for the perfect gift this season, there's no one perfect way to reach them.
While planning your Black Friday marketing plan, ask yourself:
What days result in the greatest engagement?
Is email marketing more effective than Facebook?
What days are best for posting on social media or deploying an email promotion?
—♠ ♣ ♥ ♦—
When's the Best Time to Start Your Black Friday Marketing Promotion?
As you work through your Black Friday marketing ideas, an important question to ask is yourself  is "when will shoppers shop?" The research shown in the image below, from ICSC, points to Black Friday as the most popular day for shopping. Likely, this is no huge surprise. On the other hand, some research shows shoppers are starting as early as October!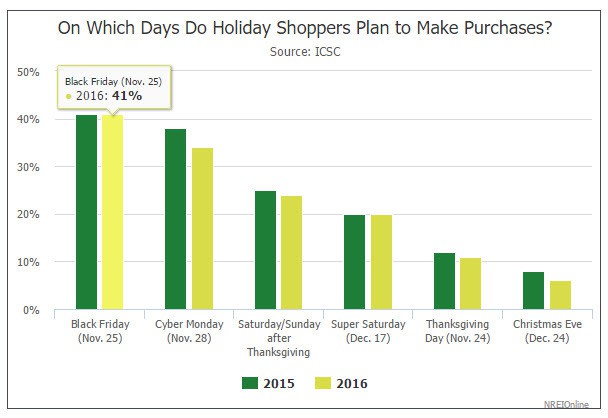 October might seem like it's too early. However, for starters, earlier shopping correlates with bigger spending. In fact, twenty-seven percent of heavy spenders (those planning to spend $750 or more) have already started shopping; this drops to 24 percent among midlevel spenders ($300-$749) and 17 percent among low spenders (<$300).


However, new research shows that marketers are engaging customers at the wrong time with their Black Friday marketing ideas.
So, when is the right time? We'll go into greater detail below.

—♠ ♣ ♥ ♦—
Most Important Black Friday Marketing Trend
Surprisingly, in-store mobile usage is up. You will see throughout this guide, research points to the NEED for a great mobile experience – mobile and shopping go hand in hand (pun intended). Notably, the trend shows higher mobile usage than in previous years.
$1 TRILLION – 28% of all retail sales were influenced by shopping-related mobile searches.
3% of those who shopped online used smartphones or tablets
The top 5 reasons shoppers will grab their mobile device when shopping
Compare prices
Find a discount or coupon
Check inventory availability
View ratings
Take pictures of items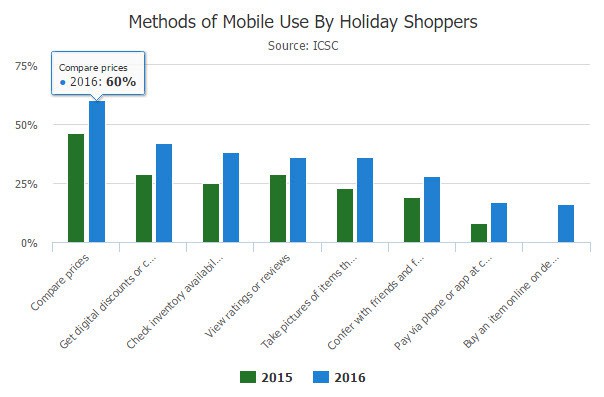 —♠ ♣ ♥ ♦—
Importance of Facebook Mobile
Facebook mobile will play a big part in holiday sales. As a matter of fact, mobile shoppers and millennials are more likely than the average demographic to use Facebook & Instagram for gift buying research and inspiration.
Every day millions of people use Facebook to engage with businesses – look up an address, a menu, customer reviews, comment on a post, send a message or to check in, etc.
By the same token, according to Venture Beat, over 50% of those people are checking these pages only from their mobile device. As a result, users are not only interacting with businesses on Facebook mobile but, they're also discovering new business pages.
A survey conducted by market research firms Sterling Research and SmithGeiger found that:
Two-thirds of smartphone users said that a mobile-friendly site made them more likely to buy a company's product or service. Half of respondents went on to say that even if they like a business, they'll use its site less often if it doesn't work well on their smartphone.
—♠ ♣ ♥ ♦—
3 Black Friday Marketing Tips for Facebook Mobile
In the light of these massive mobile trends, make sure your Facebook mobile site is "up to snuff" by reading the full excerpt from Facebook Mobile: 1.5 Billion Reasons It's Important to Getting it Right.
First: Understand how your page looks on a mobile device.
Look at how your Facebook Page is rendered on a mobile device
Second: Make sure your customers can find your Facebook mobile site through mobile searches.
Make sure your Facebook Business Page is ready by always keeping it complete and up-to-date. Mobile Facebook users can search by
Business name
Category
Based on their location
Third: Encourage check-ins. They matter!
✔Encourage customers to check-in on Facebook at your business location because recommendations from mobile user's friends will also appear first. Having check-in's serves as an excellent tool for word-of-mouth recommendations.
✔Facebook already promotes mobile users who recommend your page, but it doesn't hurt to nudge customers a little more by asking for recommendations through signage or a promotional incentive.

—♠ ♣ ♥ ♦—
3 Shopping Trends You Can't Ignore from Google
According to Google research, when they start their shopping journey, 7 in 10 shoppers are undecided on what to gift. As a marketer, this is an opportunity to help buyers make a quick decision.
With that said, Google uncovered three trends they are seeing that help shoppers make decisive decisions when finding the perfect gift.
1.) YouTube Gift Guides
On YouTube, gift guides are a popular and growing trend during the holidays. An astonishing 70% of these videos are watched on Mobile. In other words, make sure whatever your Black Friday marketing idea is, it needs to be mobile friendly!
Videos "really" do guide gift buying. For example, in the consumer electronics category, 68% of smartphone shoppers turn to YouTube for ideas about what to buy.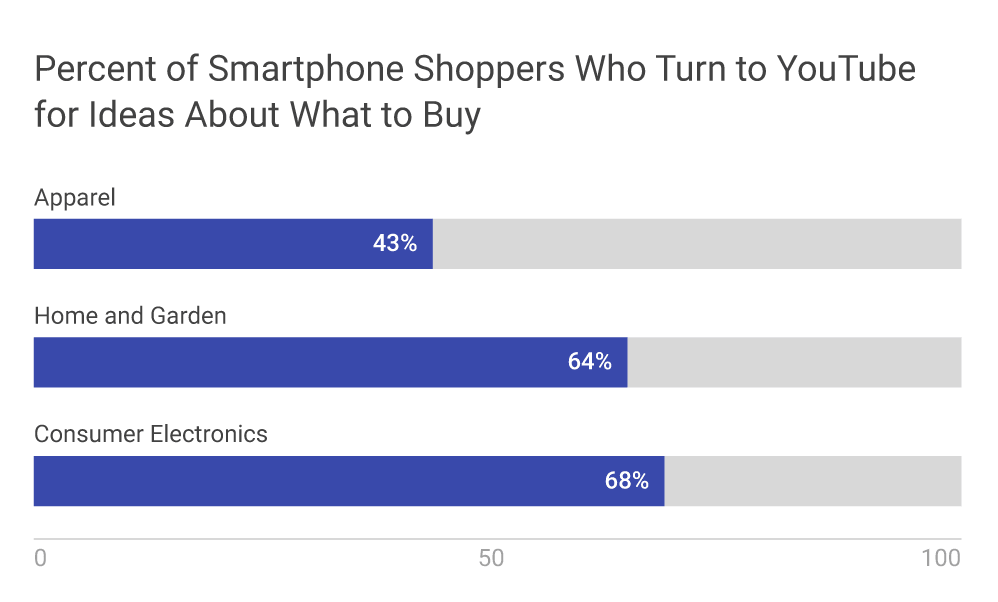 2.) "The Best" SEO Tactic
Obviously, you need to have a solid SEO strategy to compete online. Additionally, there are an overwhelming number of choices for consumers. Deciding what to buy can leave shoppers stressed, unhappy and paralyzed.
To narrow down the options, shoppers look for the "best" gifts. In the top retail categories, searches on Google related to "best" products have grown by more than 50% in the last year.
Action item: Create a list (shopping guides, etc.) use, 'best' in your SEO title. For example "5 Best Gifts She'll Love and Appreciate"


And now more than ever, shoppers are relying on product reviews in these
"which one's best" moments
.
Reading reviews is one of the top three actions shoppers took while shopping on mobile
, up significantly from the previous two years.
3.) Frictionless Shopping
I was a little surprised to learn that shoppers will buy on their smartphones while physically looking at the product in the aisle or on a shelf in a store.
43% of mobile shoppers in consumer electronics have purchased products on their phones while looking at those products in the store.
This purchase flexibility points to convenience and offers multiple ways of buying —what marketers call "
frictionless shopping
." With this in mind,
make it as easy as possible to buy something no matter where someone is
. According to Google, nearly 7 in 10 people say it's important that a retailer offers multiple ways purchase a product, such as buying online or picking up in-store.
And when they do buy online, shoppers look for free shipping; it was the promotion that shoppers most used last holiday season, more than coupons or discounts.
—♠ ♣ ♥ ♦—
Black Friday Marketing Trends – Email
One of the more popular Black Friday marketing tactics is email. But according to research from Yesmail, you may be doing it wrong.
The Yesmail research shows that one of the worst days to email shoppers during Thanksgiving week is on Black Friday itself, yet the greatest number of Black Friday messages (over a third) were sent day-of.
Here's a snapshot of the email engagement data from Yesmail's proprietary Market Intelligence tool comparing 2013 and 2014 Black Friday campaigns: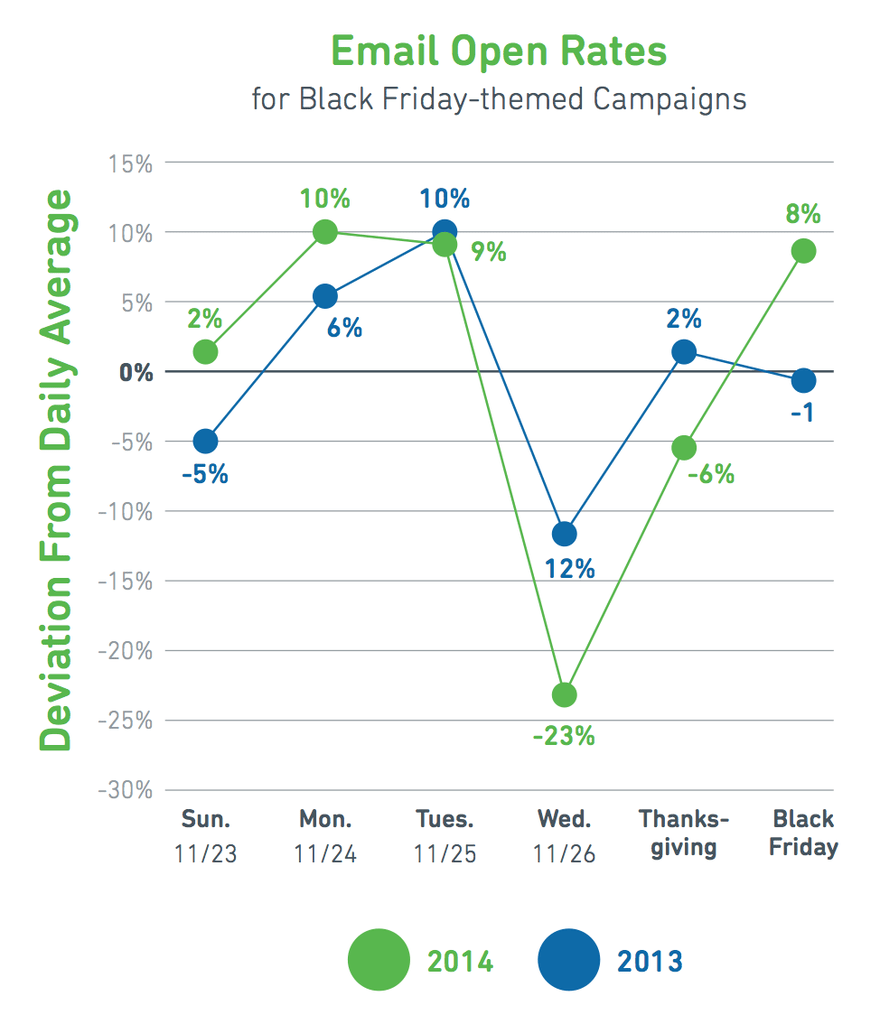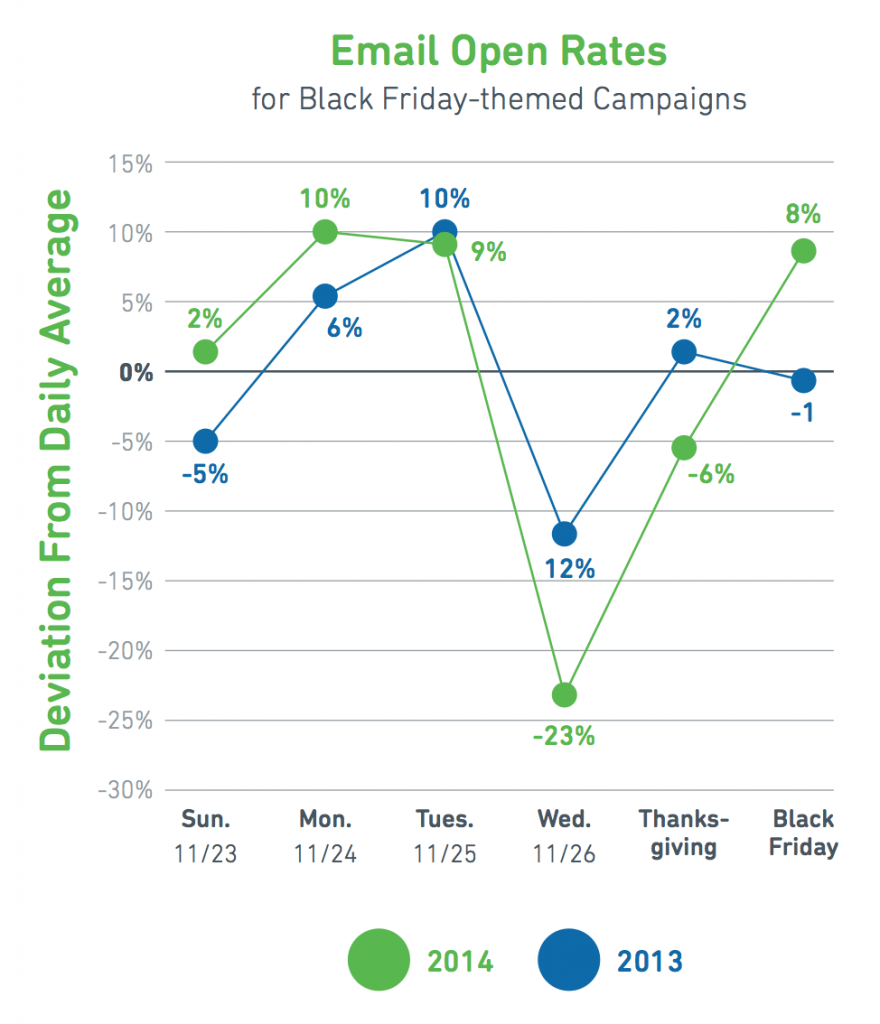 So, what is the best day to email Black Friday specials?
In the light of the research, customers open Black Friday-themed emails early in the week and become less interested in them as the day approaches.
→Send Black Friday "Teaser Emails" on Sunday, Monday and Tuesday
→Follow-up with great Black Friday "deals" on Black Friday
—♠ ♣ ♥ ♦—
24 Black Friday Marketing Ideas for Email Promotions
1 – Holiday Sale
Choose a day (or days) to offer exclusive discounts to customers during the holiday season. You can include a coupon in any email you send out for customers to redeem in-store or online.  You can also offer daily or weekly specials and promote them to your email list.
Offer something valuable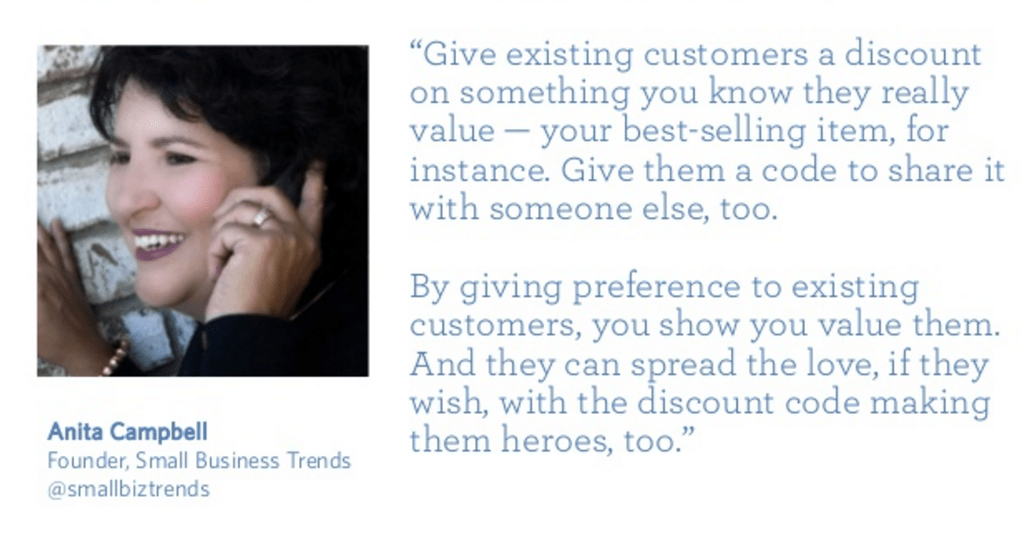 2 – Free Shipping
If you sell products online or let customers place orders over the phone, consider offering a special holiday discount on shipping to encourage customers to shop small.
You can also create an email to remind customers of any upcoming shipping deadlines to make sure their gifts make it in time for the holidays.
3 – Holiday Giveaway
Giveaways are a fun way to reward your most loyal customers while also generating sales during the holidays. Rather than offering a discount, create a holiday giveaway and promote it to your email list.
4 – Gift Certificate
Send a special offer on gift certificates to loyal customers and encourage them to share it with a friend. Special offers are a great way to generate revenue toward the end of the year, and introduce your business to new customers who will come back and shop with you in 2016.
5 – Holiday Party Ideas
Show customers how you can make their lives easier during the holiday season. Send gift ideas to help them plan for their holiday giving and parties and look for opportunities to highlight how your products or services can fit into their holiday plans.
Give gift ideas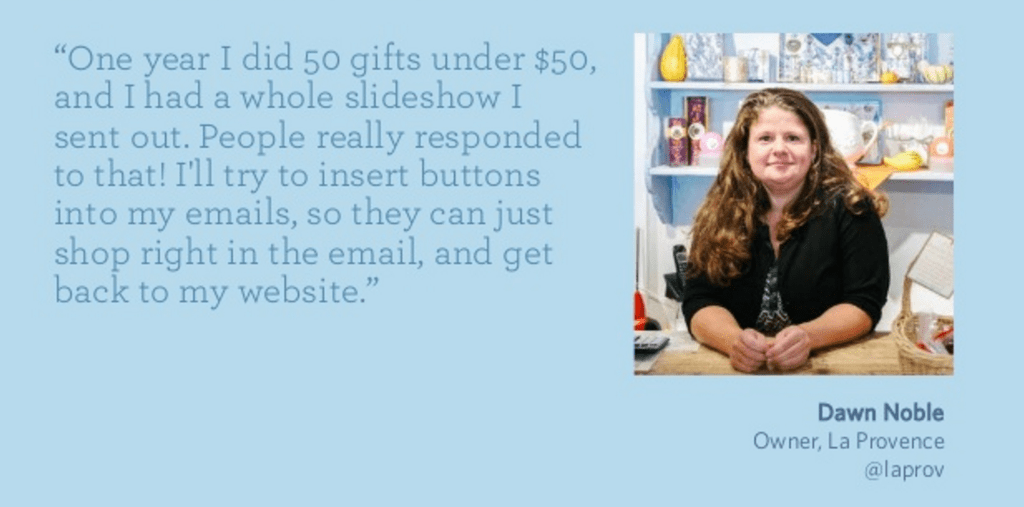 6 – Email Your Customers With Curated Gift Collections
Grouping products by theme is always a useful marketing tactic, and this is especially so during the holiday season. People are primed to seek and respond to seasonal messaging – so that Christmas gift collection will grab your customers attention.
You'll add value by giving customers a helping hand by providing gift ideas and grouping them by theme, or by price range, making finding the perfect gift easier.
Remember the Google research trend – gift guides and "best of the best" langue.
7 – Create A Sense Of Urgency
Time limited offers and deals are a great way to incentivise customers, and email is the ideal way to deliver this kind of promotion. The 3 for 2 range has become a familiar sight on the websites of big retailers but isn't viable for many. Instead, you might want to try running a similar promotion for a much shorter period of time. You could offer free shipping over selected dates, or free gift wrapping on orders made during a specified period.
8 – Highlight Last Delivery Days
Keeping your customers informed of last delivery days can discourage people from leaving it to the last minute, and it also helps you to manage expectations. These reminders also contribute to creating a sense of urgency, as discussed above.
9 – Target The Big Shopping Days
Don't forget key seasonal shopping dates, and launch promotions targeted around these dates. Do remember, however, to publicize offers to your email subscribers well in advance, to help drive demand on the day.
10 – Send A Christmas Day & New Year Greeting
Sending an email thanking your customers for their business and wishing them well, is a great way of fostering positive sentiment, and serves the dual purpose of keeping your brand top of mind.

—♠ ♣ ♥ ♦—
B-to-B Email Marketing Ideas
Think Black Friday marketing is just for B-to-C sellers? Think again.
Even if you're not a business that sells products or services to consumers, you can still use the holidays to connect with clients and generate new opportunities for your business. We list a few Black Friday marketing ideas for your B2B business.
1 – Client Appreciation
No matter what time of year it is, clients always like to feel appreciated. There are a number of ways you can use email to show your gratitude.
Be sentimental
2 – Event
Celebrate the season with current and potential clients by hosting a holiday event. If you already have an event planned, you can schedule a series of invitation and reminder emails to help drive registration or show your support for the community by sponsoring local events.
3 – Education
December isn't all about the holidays. Many of your clients will be planning for the New Year and will be looking for advice.
Think about how you can share your expertise this holiday season. A free eBook, webinar, or training video can make a great gift to your loyal customers.
4 – Holiday Discount
You don't have to be a business that sells gifts to offer a holiday discount. A special holiday promotion can help you end the year on a high note and reach your 2015 goals. It can also set you up for success if you're heading into a slower season for your business.
Be creative. Provide a WOW experience.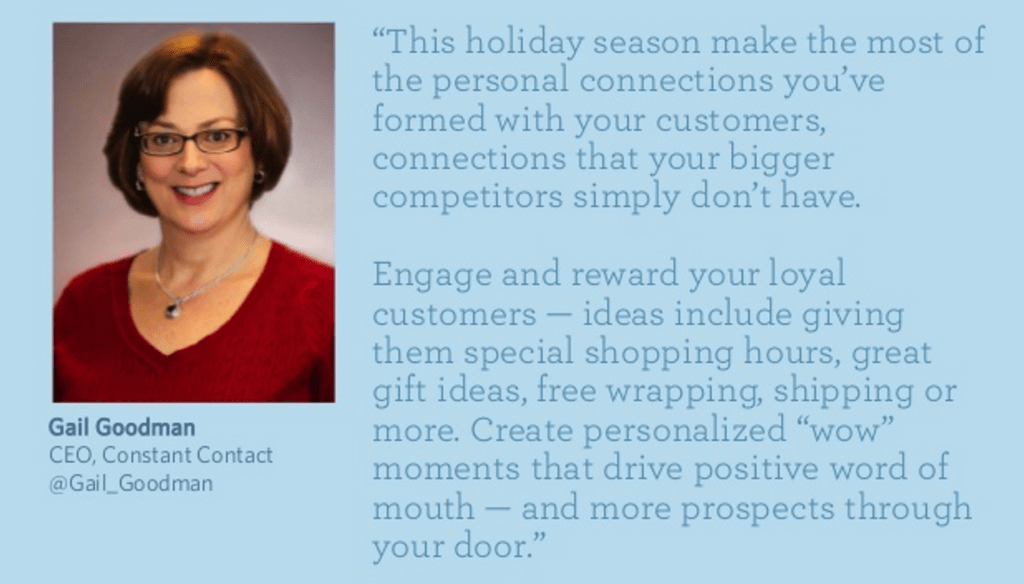 5 – Preview Email
Give clients sneak peeks at what you have planned for 2016. Are you introducing new products? Have you grown your staff or expanded your services? Send out an email recapping 2015 and let people know what you have planned for the New Year.

—♠ ♣ ♥ ♦—
Black Friday Marketing Ideas Nonprofits Will Love

December is a critical month for nonprofits, especially those who rely on end-of-year giving to reach their fundraising goals. Whether you're in the middle of your December fundraising planning or just want to connect with supporters before the end of the year, email can help.
Nonprofits can benefit from these five Black Friday marketing ideas:
1 – Fundraising Reminder
Chances are, your end of year fundraising is already underway. Maybe you participated in #GivingTuesday and are already on pace to reach your fundraising goals.
Build on that success by sending a fundraising email to encourage more people to get involved. Update people on your fundraising goals and give them different options to get involved.
2 – Thank You Message
Don't miss the chance to say, thank you, to all the people who have contributed to your success in 2015. Send a thank you message to everyone on your email list, or create a personalized thank you message for all the different groups of people that you work with.
Do you have a list of recurring donors or volunteers who are always there when you need them? Are there businesses or other partners who have shown their support? The personal touch of a thank you email can make people feel appreciated and remind them of how important their support "really" is.
Say thanks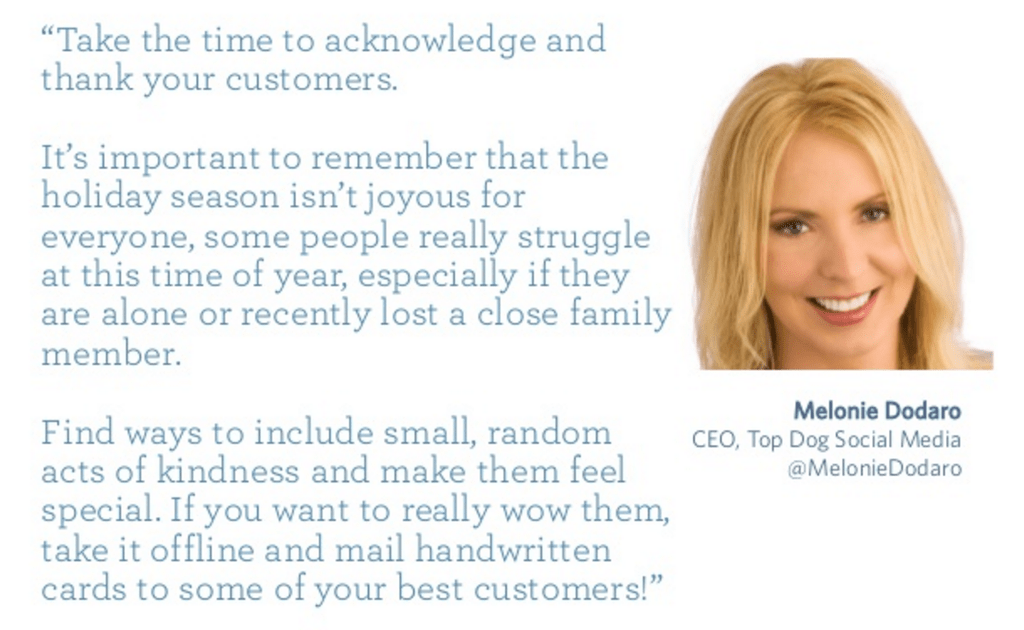 3 – Contest
It's not too late to engage supporters in a new way this holiday season. Last year, the Baltimore Humane Society ran a holiday photo contest, asking donors to post a selfie with their pets on social media after making a donation.
Contests like this are an excellent way to bring your email marketing and social media together and generate valuable word of mouth for your organization.
Take this example from the Sonoma Valley Education Foundation's Giving Tuesday post raffling off a wine tour and coffee vouchers for your donation: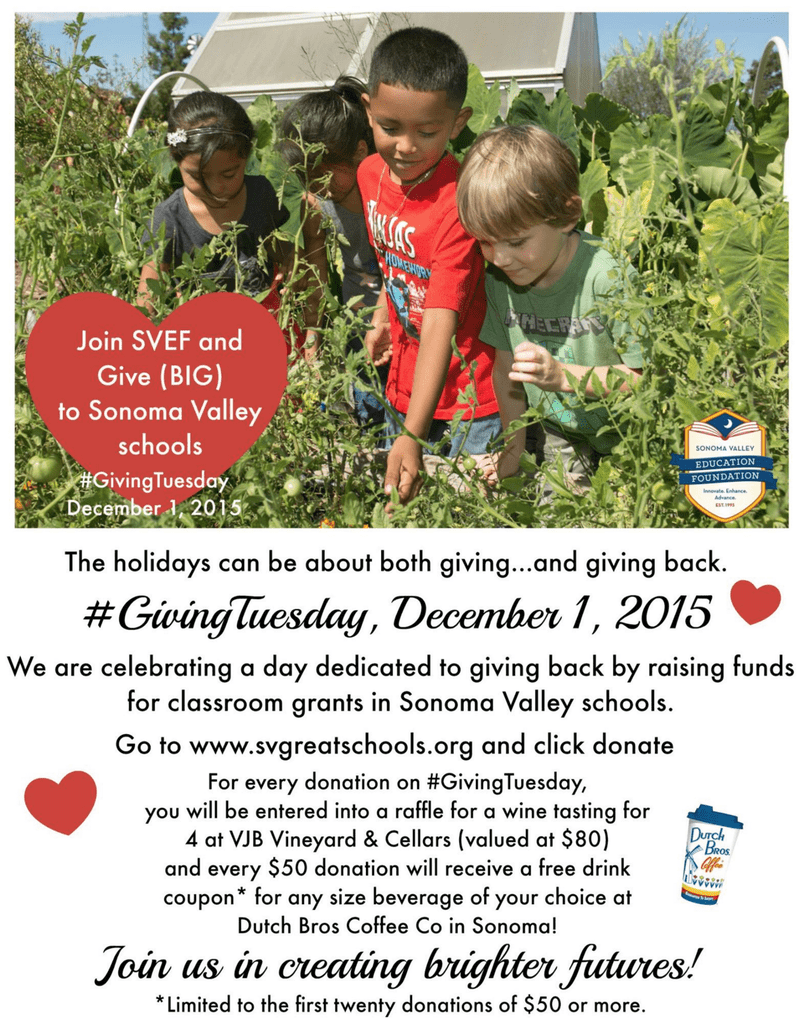 4 – Recurring Giving
December is a great time to highlight the different giving programs you have available for 2016. Tap into the giving season and set your organization up for success in the New Year by encouraging people to become recurring donors. Attach giving levels, exclusive perks, and impact descriptions to monthly gift tiers so that you make recurring giving an attractive option.
5 – Holiday Gift Guide
During the holiday season, people need help in the gift department. For inspiration, businesses create gift guides to showcase must-have presents. There are a number of ways nonprofits can offer gift ideas for the holiday season.
Massachusetts animal rescue nonprofit, Fairy Dogparents, sells gifts like bottles of wine and candles that include the Fairy Dogparents logo, which benefits their organization. Gorilla Doctors, an organization that works in areas of Rwanda, Uganda, and the Democratic Republic of Congo, puts out an annual calendar as a way to raise proceeds.
You can also encourage people to sponsor a donation as a gift to a friend or family member.
6 – The Story Email
There's power in storytelling. If your organization helps those in need, share stories with subscribers to help them understand how important their donation is.
Sure, you could explain that a $10 donation feeds a homeless person for one night, but you can go further than a simple explanation. Don't just tell donors how their gifts help, show them.
Here are a few storytelling tips:
Tell a story, not a promotion – The story should focus on a person, not how your organization saved the day. Mention how you help, but make sure to fuel the story with details and emotion of the individual in need.
Include a picture – Make sure you share a picture of the person; it brings the story to life.
Make a connection to the holiday season – After telling the story, mention your need for holiday donations, or if you can tell a story about someone in need during the holidays that's even better.
Consider including a video – Creating a video has never been easier. Consider telling a story through video and sharing a link to it via email and on your social sites.
7 – The Refresher Email
The holiday season is a good time to remind donors what your organization is all about.
Create an email that outlines your organization's mission and the good it does. Consider adding a bulleted list that describes the number of people helped, and next year's goals. Or, create a short video that looks back at this year's accomplishments, explains new initiatives for the year to come or reminds donors about the year-round need.
Here are a few tips to create a refresher email:
Keep it short – Donors are always busy, but even more so during the holiday season, so keep it brief.
Consider creating a video – Emails with video have a 53% higher click to open rate than those without. It's worth taking a little time to create a short (1-2 minute) video this season.
Help donors learn more – Provide links to your website and social channels in the email to help donors continue their learning process.
8 – The Event Email
A lot of nonprofits host holiday events. Whether you're hosting your annual gala, coat drive, food collection or charity auction, use email to invite guests.
Be sure to explain what the event is and tell donors what to expect. Encourage guests to come by describing what's in it for them.
Tips to create and send an event email:
Double check the details – Run through your email and make sure all of the information is correct. You don't want to send an invitation with the wrong date or address.
Offer perks to those who RSVP in advance – Give early bird RSVPers something special like a free t-shirt, a chance to win a giveaway or a VIP tour of your facility.
Create an event on Facebook – To cross-promote your event, create a Facebook event and let people RSVP. Facebook explains how to set up an event in five easy steps.
Provide additional information in reminder emails – When you remind people of your event via email, offer new details like parking suggestions or a list of speakers featured at the event.
—♠ ♣ ♥ ♦—
Black Friday Social Media Marketing Trends
Similar to email, research from Yesmail engagement data shows the greatest number of Black Friday Facebook posts were made on Friday, although it was the worst day for engagement on the channel. 
Friday also saw the second-largest number of Black Friday-themed tweets — again, with the lowest engagement rate.
Here's a snapshot of Facebook followed by Twitter engagement data from Yesmail comparing 2013 and 2014 Black Friday campaigns.
Compare it to the email data above. The severe drop off on Monday on Facebook and substantial jump on Thursday (Thanksgiving Day) on Twitter is quite telling.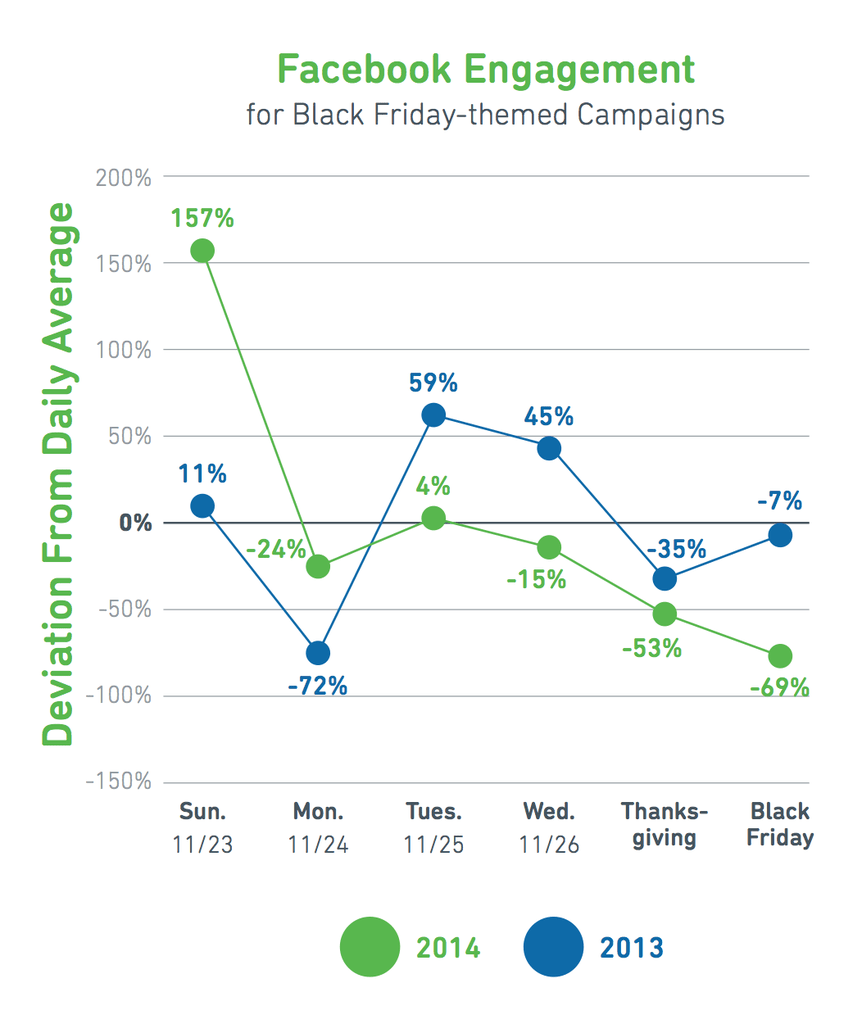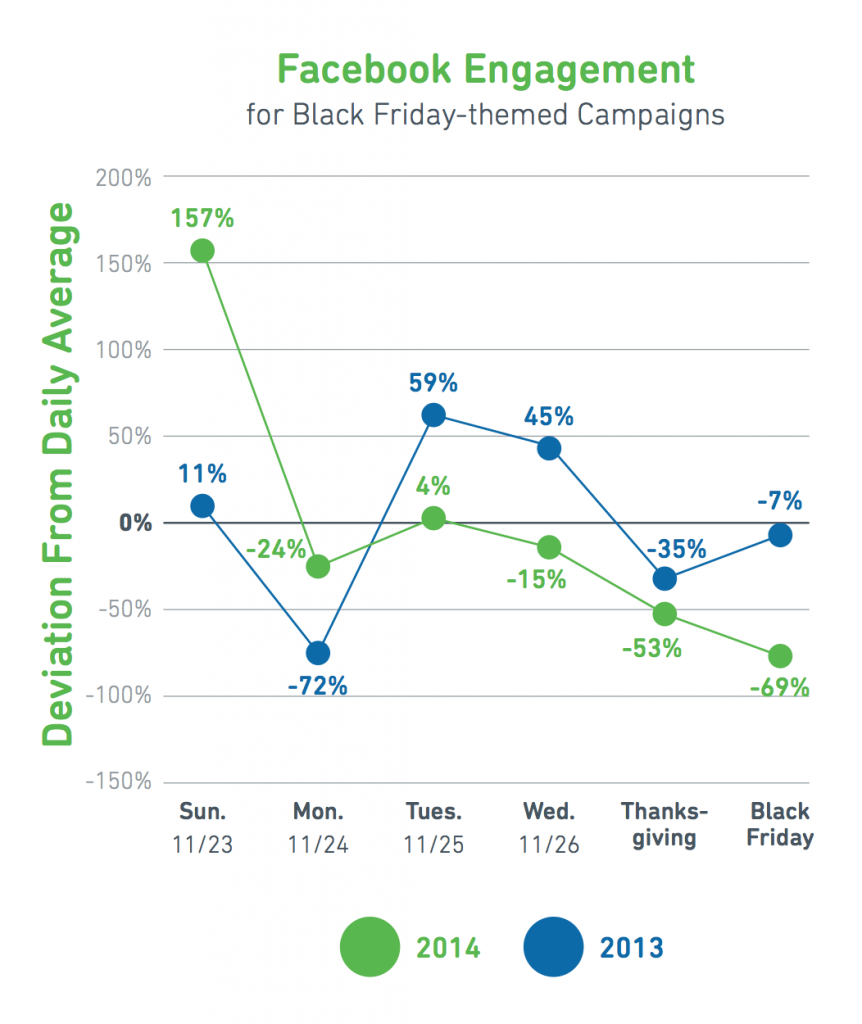 Snapshot of Twitter engagement data: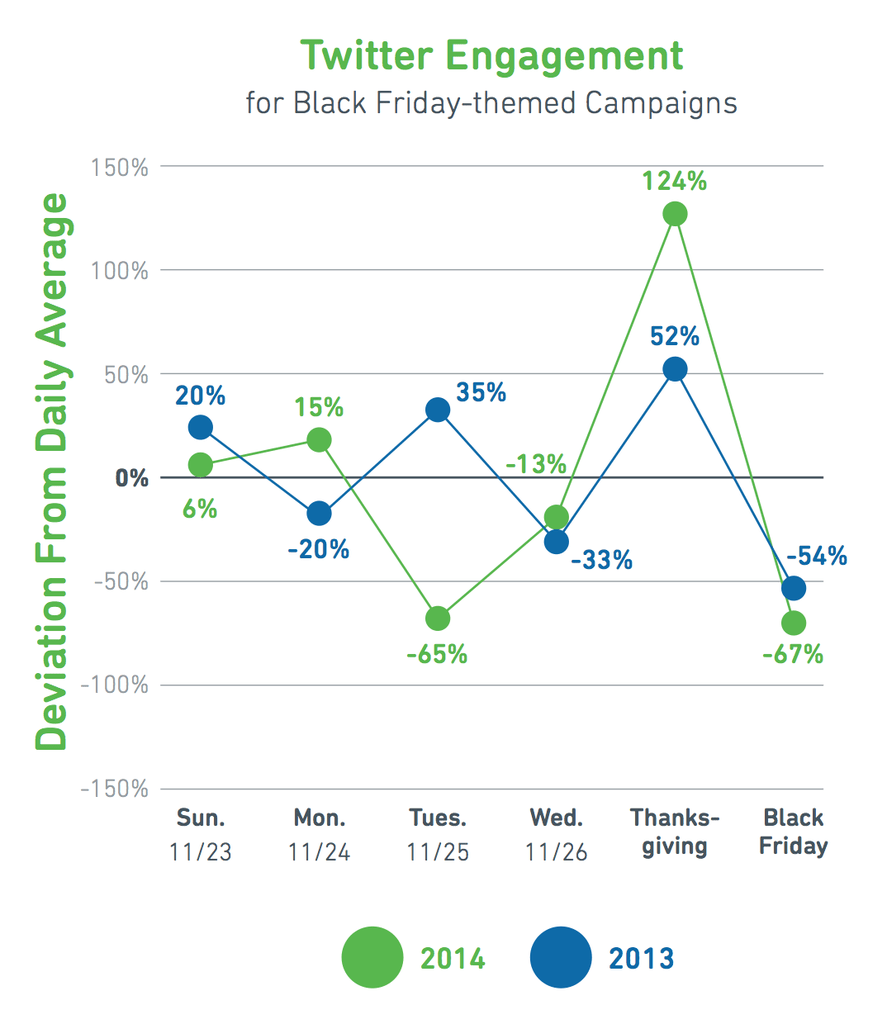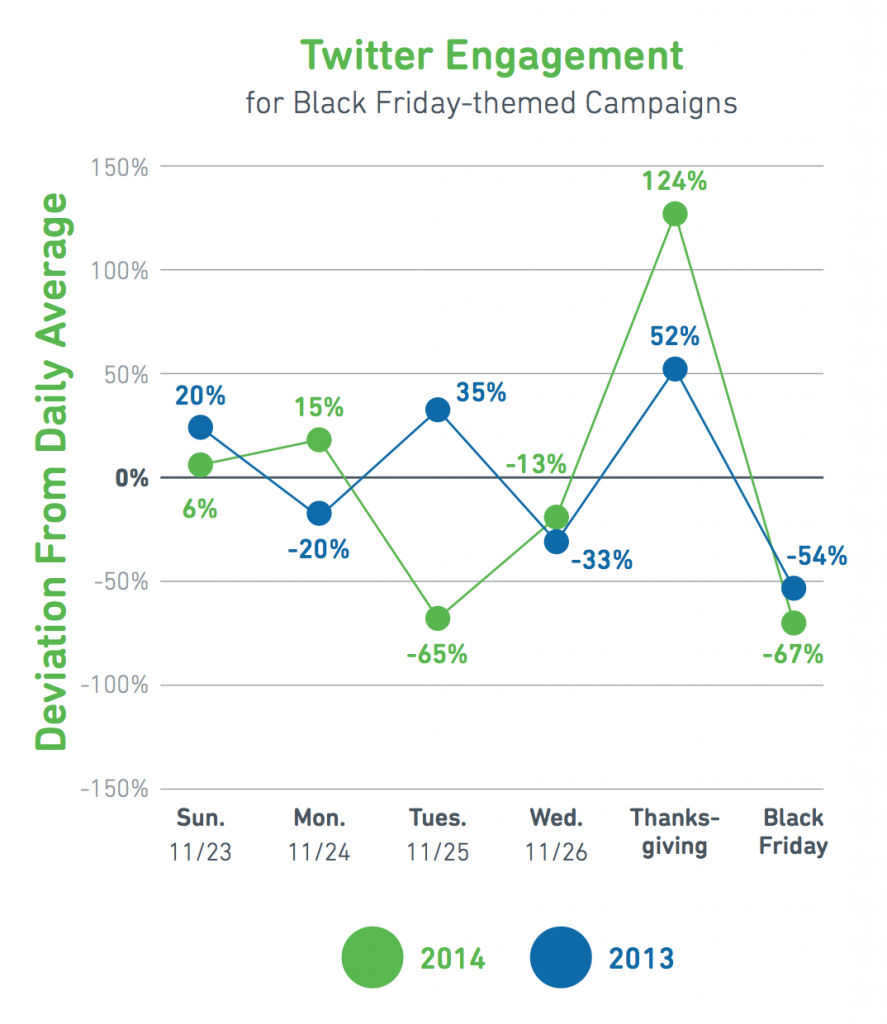 So, when is the best time to engage on social media?
When it comes to Black Friday, messages sent earlier in the week have higher engagement rates. The engagement levels from 2013 and 2014 are somewhat similar, indicating that:
Consumers look to Facebook for deals at the beginning of the week
Sunday has been best for Facebook engagement
Monday and Tuesday are best for email
Twitter users show the most engagement on Thursday proving that Thanksgiving Day is best for Twitter.
What to send and when:
→Facebook: Send Black Friday "Deal Sneak Peeks" on Sunday 
→Twitter: Send Black Friday-themed tweets early in the week, and tweet on Thanksgiving with final Black Friday deals
—♠ ♣ ♥ ♦—
Create a Social Media Content Calendar 
Consider creating a content calendar to plan out your Facebook, Twitter and email campaigns. Using its Market Intelligence data, Yesmail put together the following example of how your Black Friday content calendar could look:


Next read, Complete Guide to Creating a Simple Yet Effective Social Media Editorial Calendar
—♠ ♣ ♥ ♦—
5 Black Friday Marketing Ideas for Social Media
Let's face it. You're busy. And, I assume, you'll get busier as the Holidays approach. With a few smart social media automation tweaks for any social network, dlvr.it will help you grow your business while you focus on serving customers.
1 – Quickly and Easily Pre-Schedule Special Offers
Before it get's too busy, create a list of special offers to share with your Twitter followers. dlvr.it's social media scheduling makes it easy to pre-schedule promotions today that can be trickled out over the holidays. Upload as many promotions as you need and don't forget to include photos and images. There are no limits to the number of promotions you can create.
2- Share your Reviews
As stated above, customers will buy from you based on reviews. Feed your social networks with a consistent stream of favorited updates.
Read how we converted our 'Twitter Favorite' feed into a stream of customer testimonials. We use this 'Testimonial Favorite' feed as a way to acknowledge what customers have written about us and as a way to say "thank you" for the feedback. As an added benefit, the testimonial feed transfers the "selling" of our service to a credible, unbiased recommendation written by a third party.
Testimonials are one of the easiest ways to improve your website, social media and credibility. A good one can convince a prospect to buy!
3 – Link your Email Marketing to Social Networks
Instantly share your email promotions across social networks with this email-to-social recipe from dlvr.it.
4. Improve Reach by Automatically Adding Hashtags to Updates
Hashtags are a powerful marketing tool to expose your promotions to new audiences across social media.  When auto-hashtags are enabled, dlvr.it will include your RSS items' category tags as hashtags and automatically insert your content into relevant conversations across Twitter.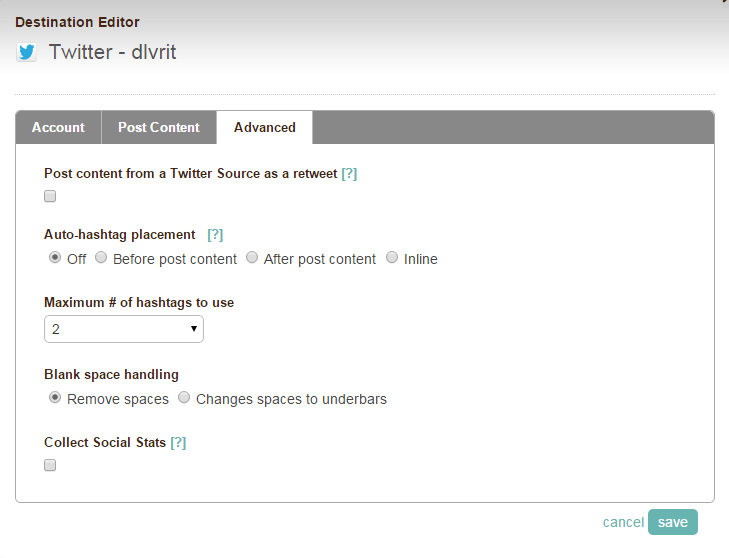 5 –  Link Pinterest Pins to Social Networks
Created a Pinterest board? Share it on Social Networks.
Remember to Measure and Optimize
Loyal, repeat customers, are the meat and potatoes that sustain your business. New customers help it to grow and expand. Your social media marketing efforts need to cover all bases from getting found, to converting interested consumers, to keeping loyal customers. Use the stats dashboard to understand what's working so you can optimize your campaigns to get even better results. Enable all your dlvr.it routes with Google Analytics.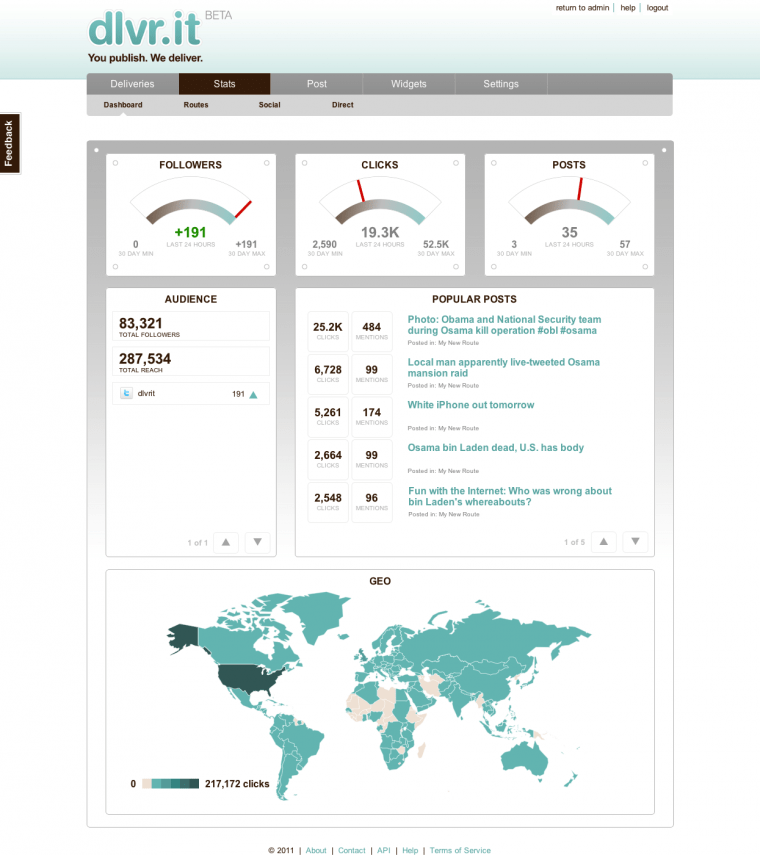 Next, we'll explore very Black Friday marketing ideas you can do implement on some popular social networks including Twitter, Facebook, and Pinterest.

—♠ ♣ ♥ ♦—
3 Black Friday Marketing Ideas for Twitter
Every year, holiday shopping conversation on Twitter peaks on key days like Black Friday. Why does this matter? Data from Crimson Hexagon and The NPD Group indicates that conversation volume on Twitter is strongly correlated with sales.
A Twitter study touts its ability to influence online purchase decisions. According to the study conducted for Twitter by DB5 Research:
52% of users learned about a product on Twitter they later bought
54% of users check Twitter while shopping in a retail store
39% of users say Twitter is the source of their new holiday shopping list
More than half of those surveyed said they used Twitter regularly and the survey found that "Twitter users start holiday shopping earlier, spend more and are more prone to impulse purchases".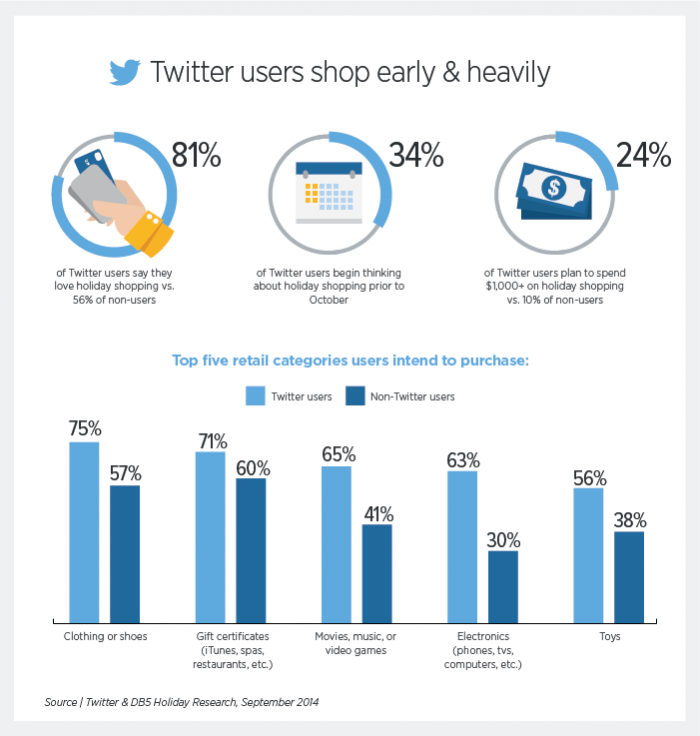 How can your business capitalize on this Twitter shopping frenzy?
Your Twitter Black Friday marketing promotion can be accomplished using a three-fold strategy:
Use your brand advocates
Fire up Twitter
Combine #1 and #2 and turn your brand advocates into Tweeting elves
Twitter Strategy #1: Enlist your brand advocates
How can you easily identify your advocates? Ask your customers the "Ultimate Loyalty Question": "On a scale of 0-10, how likely are you to recommend our company or product to your friends?" Customers who respond 9 or 10 can be considered Advocates.
My husband is an excellent example of a brand advocate for American Giant. I'm positive he would quickly respond to the loyalty question with a 10. He has been an advocate of American Giant t-shirts and sweatshirts since day one – touting their superb quality, comfort, and perfect fit even after years of numerous washings. He jumps on notifications of upcoming sales and coupons, corresponds with customer service and talks up his happiness with the product via pictures on Facebook (he's not on Twitter – yet). So, how can your business use a customer's love for your product to boost holiday sales?
SocialChorus has a great solution; turn your advocates into elves. By turning your brand advocates into elves, you can use them to amplify your holiday campaigns, reach new audiences, and increase social engagement during the holiday season.
Here are few tips from the post:
Provide advocates with first access to special holiday campaigns and promotions. Advocates are motivated to share things that make them look cool or help them help their family, friends, and followers. Let your advocate's exclusive first access, whether it's part of a Cyber Monday promotion or a new t-shirt release for the holidays, drive them to share with their followers.
Give advocates creative freedom when it comes to content creation. Allow advocates the creative freedom to create and share content that tells their story. Encourage them to Tweet a picture of their Black Friday experience or share their holiday gift wish list.
Thank your advocates – to keep them engaged and continuing to share! Thanking and recognizing advocates is an excellent way to motivate them to continue sharing.
Twitter Strategy #2: Launch a strong Twitter strategy early in the season
According to the recent Twitter study mentioned above, 54% of users are motivated to make a purchase after looking at promotions. So for businesses looking to capitalize on this holiday season's sales potential, now would be the time to start developing a Twitter campaign to get new customers on board.
Tip #1: When creating your campaigns, keep in mind that (1) good prices and (2) positive reviews are what users say most influences their likelihood to purchase. Don't forget to make your landing page mobile-friendly. Seven out of ten Twitter users use mobile to buy gifts online.
Tip #2: Encourage conversation about your brand on those days when shopping is predominately on their mind, such as Black Friday and Cyber Monday. You might also try a limited time offer. According to research, most Twitter users plan to take advantage of limited time offers they see this season.
Tip #3: Once you've launched your campaign, monitor results daily to determine which ad content, format and targeting work best, and optimize accordingly. Then scale your efforts by encouraging users to Tweet about the gifts they're buying or have received. Users repeatedly state that these recommendations from family and friends matter when considering a purchase.
Twitter Strategy 3: Combine your brand advocates strategy and your holiday Twitter strategy to turn your brand advocates into Tweeting elves
Encourage these elves to Tweet stories about their experience with your company or products.
Brand advocates feed on engagement from your brand. Here's what you can do to encourage and retain your brand advocates:
Offer exclusive previews of products to make them feel 'in the know' and 'first to try'
Make it easy to share content through your chosen platforms
Provide customer service through social channels and forums
Recognize and give responsibility and/or accolades to your most trusted advocates
Here's what you're looking to achieve in return:
Positive reviews which increase ratings and give your SEO a boost
Real customer stories and experiences which help boost your brand's reputation
Tweets that drive word of mouth
Increased engagement with photos and video
—♠ ♣ ♥ ♦—
5 Black Friday Marketing Ideas for Facebook
As of the second quarter 2016, Facebook had over 1.71 billion active users – are you reaching the right ones? If you're like most, spending money on Facebook Ads is like blindly throwing darts. Read our tutorial on Facebook Ads. An excerpt is below.
1 – Buy Facebook Ads
Facebook ads are a more advanced way to advertise on Facebook and require you to create an ad account.
Facebook ads offer the greatest number of options for advertisers, and the type of ad you choose to use will depend on your marketing objectives. Objectives include Awareness, Consideration, and Conversion and contain the following goals:
1.) Awareness
Boost your posts = Post Engagement
Promote your Page = Page Likes
Reach people near your business = Local Awareness
Increase brand awareness = Brand Awareness
2.) Consideration
Send people to your website = Website Clicks
Get installs of your app = # of App Installs
Raise attendance at your event = Event Responses
Get video views = # of Video Views
Collect leads for your business = Lead Generation
→Interested in generating more Facebook leads? Make sure to read Everything You Need to Know about Facebook Lead Ads.
3.) Conversion
Increase conversions on your website = Website Conversions
Increase engagement in your app = App Engagement
Get people to claim your offer = Offer Claims
Promote a product catalog = Product Catalog Sales
 2 – Optimize for Facebook Search
Facebook Search processes over 2 Billion queries every day. Not surprisingly, they have indexed 2 trillion posts – shared by 1.71 Billion monthly active users.
Facebook search is possibly the most powerful, under-used feature on the social network.
Facebook has a wealth of information you can't get anywhere else – even on Google and they made a few attempts to get search right. However, pundits believe they may have finally cracked the nut with their latest effort.
As shown above, shoppers will be using Facebook mobile to find specials, reviews and 'best of' content.
How to optimize for Facebook Search?
1.) Post-Timely Information
Past: In the past, to see your update, I had to be following you.
Present: Now (based on your privacy settings), when using Facebook search, I could surface your updates.
Facebook includes public posts into search results, so if you're looking for information about a current event or trending topic, you'll likely see results from people outside your network alongside posts from people you know.
PRO TIP: As a small business, you want your post settings to be public so potential customers outside your network can find you.
Facebook promises, "As you type, we'll highlight things that are happening right now so you can follow popular stories as they unfold."
Equally important is to understand how fans use Facebook. For example, they want to be:

entertained
to find timely news
to find where their friends are
and where they visited

Your Facebook updates should mirror this information.
According to a study from TrackMaven, posts with 80+ words garner 2x's as much engagement.
In other words, Facebook users are willing to read! Also, this gives you more opportunity to include relevant keywords in your updates.
2.) Include Photos and Videos
When you search on Facebook, you can view the results in four different categories: Top, Latest, People, and Photos. That is to say, to get noticed, a compelling photo increases the likelihood that you will get noticed.
And don't forget about video posts on Facebook. Video posts have 135% greater organic reach than photo posts.
3.) Optimize Your Facebook Page
Your Facebook page is probably not going to turn up in the search results, but it is a good practice to keep your page in order because when you do surface in a search query, and that user clicks to your posts, you want to make a great first impression.
Read the following for more Facebook optimization tips:
Call-to-action: Make it easy for visitors to get to your site or add their email.
4.) Participate in Popular Conversations
"When a link gets shared widely on Facebook, it often anchors an interesting public conversation," Facebook said. One click will display the most popular public posts connected to a particular link, therefore allowing users to jump into the conversations on those posts.
To emphasize, the more actively you participate in discussions related to your niche the better the opportunity you will surface in the search results.
5.) Use Facebook Instant Articles
Facebook's goal is "… to connect people (quickly) to the stories, posts, videos or photos that matter most to them."
What's more, is that 50% of their users access Facebook mobile, so it only makes sense that Instant Articles has the potential to be a ranking factor.
Instant Articles allows any… "publisher to tell great stories, that load quickly, to people all over the world," according to Facebook.
Facebook wants to keep users on their platform and for this reason, will likely give preference to businesses who use Instant Articles.
3 – Optimize Your Facebook Cover Photo
Learn how to optimize your Facebook Cover Photo to boost leads, conversion and conversation. As has been noted, make sure your cover photo is mobile friendly. We show you everything you need to know in detail.
4 – Add Map to your Facebook Page
Make it super convenient for Facebook searchers to find your location and learn how to add a map to your Facebook page.
Need more ideas to boost Facebook during the holiday? Continue reading 11 Free Ways to Boost Likes on Facebook Now
5 – Optimize (or Create) a Facebook Business Page
It's important to realize, one key trigger to more Facebook activity is to boost likes. Read in detail the comprehensive Facebook Business Page guide to improving likes. It also contains a few rumors about what you should not do.
—♠ ♣ ♥ ♦—
8 Black Friday Marketing Ideas – Pinterest
No Black Friday marketing plan would be complete without mentioning Pinterest. If Google's gift guide trend is right, what better place then Pinterest to creates Pinterest boards galore of gift buying guides.
Unlike Twitter or Facebook, success on Pinterest is less about growing massive followers and more about creating compelling Pins that generate Repins. Pinterest puts more emphasis on the content rather than the person who created it. 
1. Post at the Right Time
According to new data from HubSpot (Janaury 2016), the best times to post on Pinterest are:
2 AM – 4 AM and evening hours every day
5 PM on Fridays
8 PM – 11 PM on Saturdays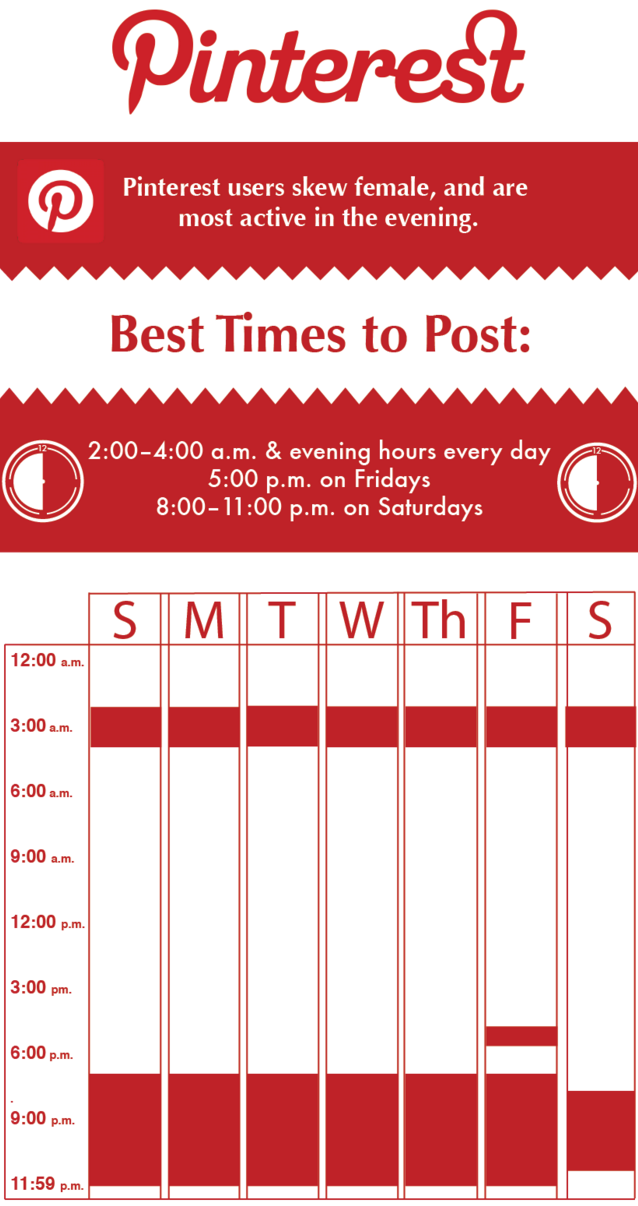 2. Post Often
To get more followers, you should post between 5-30 new pins every day.
→Keep in mind quality content is key.
3. Create the Right Sized Pin
Pins over 800 pixels tall get more repins. A typical Pin size is 736×1102 pixels.
4. Don't Forget Males
To point out, Pinterest is not just for females. On the contrary, the male demographic is the fasting growing demographic. Moreover, one-third of new signups are from males. In fact, in some countries, there is a 50/50 split between males and females.
5. Use a Call-to-Action
In your Pin's description, add a call-to-action. You'll get 80% more engagement.
For example, you might add:
Download the free ebook
Read more ways to…
To learn more…
Sign up online
For more details…
Please submit ideas and questions to ______
Call for a complimentary consultation
Get a free quote
Tell us what you think
Watch a video of _____
6. Create More Content
Creating more Pins and boards are essential factors in determining your growth on Pinterest. In fact,  The University of Minnesota's study found that the three top factors that Pinterest users take into consideration in the "should-I-follow-or-not" decision-making process are:
how many accounts you are following /are following you
how many pins you have
how many boards you have
7. Use Rich Pins
The Pinterest marketing firm, Piqora, found that there was an 82 percent jump in the Repin-Pin ratio with brands using Rich Pins.
There are six different types of Rich Pins: app, movie, recipe, article, product, and place.
8. Include a Price Tag
Pins with prices get 36% more likes than those without.
—♠ ♣ ♥ ♦—
3 Bonus Black Friday Marketing Ideas
And we are not done yet! Here are a few easy Black Friday marketing ideas you can implement quickly:
Update your top banner or email footer with a countdown timer – Instead of following the standard approach of sending urgent subject line (after urgent subject line…), stick to a playful subject line that garners "opens." And, use a countdown timer across your promotional messages to create a sense of urgency through visuals as opposed to text. It helps keep your customers informed and ready to purchase when the time strikes.
Send an online-exclusive Tweet on Thanksgiving that features online Black Friday deals.
Thanksgiving is family time (until you need a break…) and while Macy's and other big box retailers are spending crazy overhead to open up early, why not cater to the adult laying on the couch fighting off a food coma? Thanksgiving's mobile purchases continue to grow every year. With this in mind, it only makes sense to create a unique holiday promotion for your brand to get a share of those mobile dollars.
Offer sneak peeks or mystery savings to email subscribers.
Intrigue can be a marketer's best friend when it comes to increasing engagement –  as long as you have a compelling offer behind it, it can lead to a nice revenue boost. It's an often overlooked tactic because marketers tend to focus on the offer. Instead, this holiday season, try adding a little spice of intrigue to your email relationship with your customers to pique their interest. Who knows, you may just get lucky.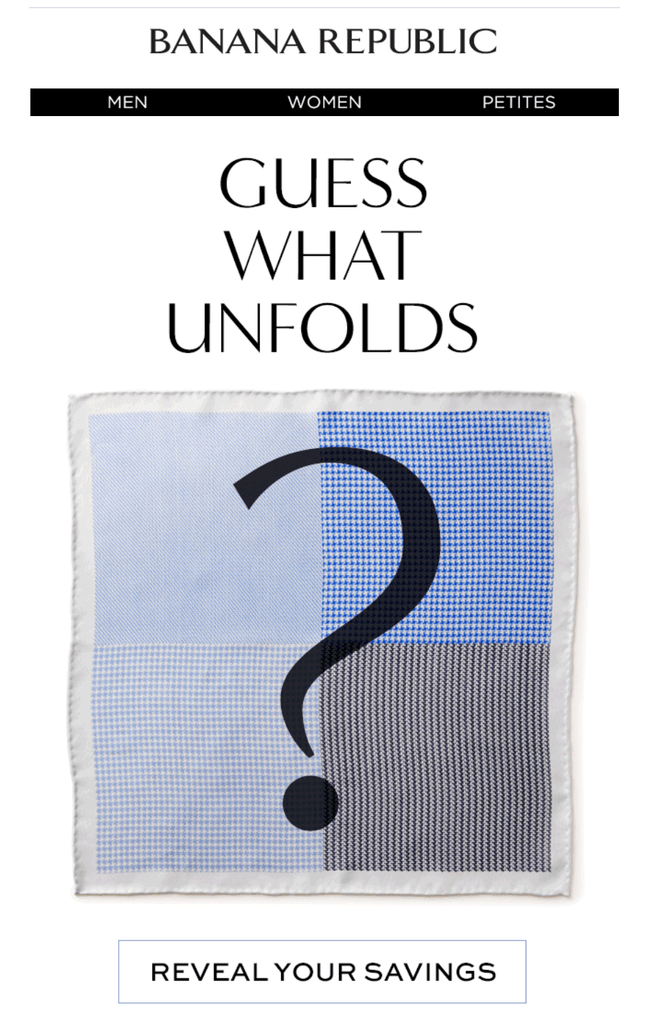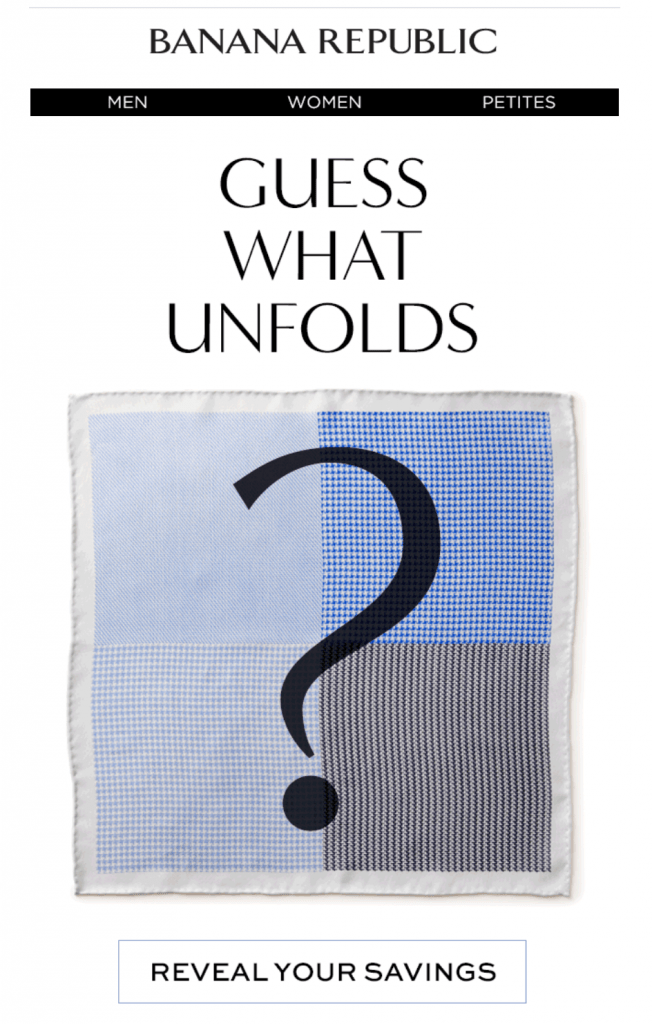 —♠ ♣ ♥ ♦—
As shown above, there is no silver bullet in reaching shoppers with your Black Friday marketing promotions. For this reason, it'll require a combination of tactics to get their attention. For the most part, the one common denominator is mobile. In summary, mobile allows marketers to be everywhere in every moment.
Have a Black Friday marketing idea to share? Seen a Black Friday promotion you love? Let us know.
Debra Garber
VP of Finance & Operations, Chief Content Contributor, and backyard chicken farmer. I happily share my experiences traversing the wilds of social media. Will trade social media tips for fresh organic eggs. Motto: "Live the life you love, love the life you live."