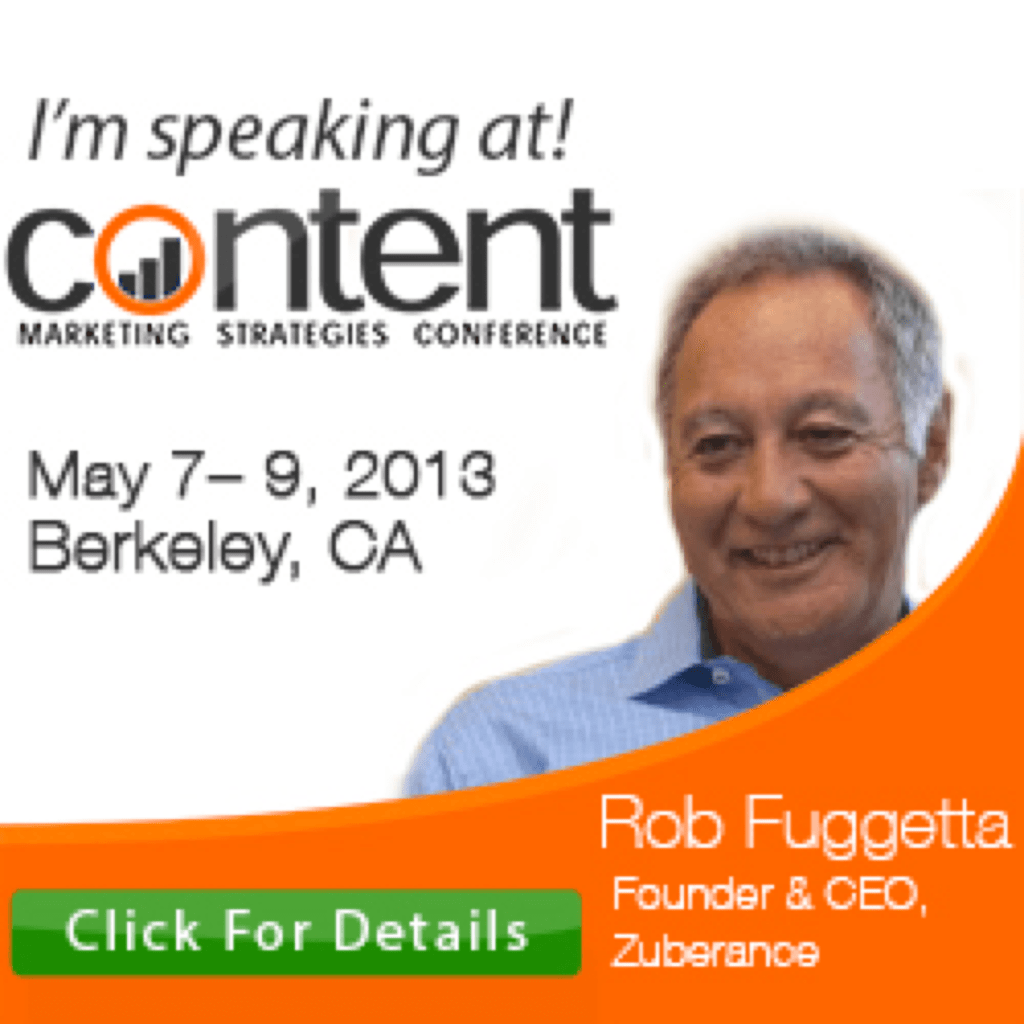 5 Ways to Turn Brand Advocates into a Content Marketing Engine
Guest speaker Rob Fuggetta, Founder & CEO of Zuberance, will be presenting a case study on "How to super-charge your content marketing efforts via your Brand Advocates," at dlvr.it's upcoming Content Marketing Strategies Conference, May 7-9, 2013 at The Claremont Hotel Club & Spa in Berkeley, CA.
Learn from Rob on how to get Advocates to create five-star product reviews, compelling user stories, plus thousands of positive posts, Tweets, pins, and more – without paying Advocates or giving them swag. Your Advocates are a powerful yet untapped content creation engine!
Here's a sneak peak at Rob's presentation:
How to turn satisfied customers into 'Brand Advocates'
Are you leveraging your highly-satisfied customers (AKA "Brand Advocates") to generate product reviews, videos, testimonials, and more? If not, you're missing a major content marketing opportunity.
Content created by Advocates is highly trusted and influential. According to Nielsen, 92% of consumers trust peer recommendations. Only 53% trust content that you create and post on your website.
Here are five ways to turn your Advocates into a powerful content marketing engine:
Identify your Advocates. Ask your customers the "Ultimate Question" for loyalty: "On a scale of 0-10, how likely are you to recommend our company or product to your friends?" Customers who respond 9 or 10 are Advocates.
Encourage Advocates to rate and review your products. Seventy percent of consumers trust online reviews, Nielsen says. And 67% of consumers don't buy after reading only one to three negative reviews, according to Lightspeed Research. Make it easy for Advocates to create online reviews by giving them review applications.
Enable Advocates to create stories about their experiences with your company or products. Ask them to tell you about their "Kodak moment." Stories bring your brand promise to life in a very authentic way. Here's an example of a story created by an Advocate of Rubio's Restaurants, a California-based fast casual eatery famous for its fantastic fish tacos. (see attachment.)
Make it easy for Advocates to answer prospects' questions. Zuberance's Advocate Answers application enables prospects to ask Advocates questions about why they purchased your products or services. A VOIP company has generated over 3,000 leads via Advocate Answers. These are highly-qualified leads – these are prospects who are taking time to ask questions, indicating strong purchase interest and intent.
Amplify Advocates. Enable Advocates to publish and/or share the content they've created on shopping sites, Facebook, Twitter, LinkedIn and elsewhere by including social sharing widgets in content creation forms.
Creating content can be costly and time-consuming. Don't overlook the most powerful weapon in your content marketing arsenal: your Brand Advocates!
Hear more from Rob at the Content Marketing Strategies Conference, May 7-9, 2013 at The Claremont Hotel Club & Spa in Berkeley, CA.
About the Author:
Rob Fuggetta is the world's leading expert on brand advocacy. Fuggetta is the author of the ground-breaking new book, "Brand Advocates: Turning Enthusiastic Customers into a Powerful Marketing Force." Published by John H. Wiley & Sons, Inc., Brand Advocates shows how forward-thinking companies are leveraging Brand Advocates to build their brands and businesses – and how you can too! Fuggetta is the Founder & CEO of Zuberance, a social media marketing company that manages and powers Brand Advocate programs for leading brands. Prior to founding Zuberance in 2008, Fuggetta was the Chief Marketing Officer at Genuity, a Verizon spin-out. He also was formerly a partner at Regis McKenna, Inc., the legendary high tech marketing and communications firm in Palo Alto, where he co-led the global Apple account.
Debra Garber
VP of Finance & Operations, Chief Content Contributor, and backyard chicken farmer. I happily share my experiences traversing the wilds of social media. Will trade social media tips for fresh organic eggs. Motto: "Live the life you love, love the life you live."