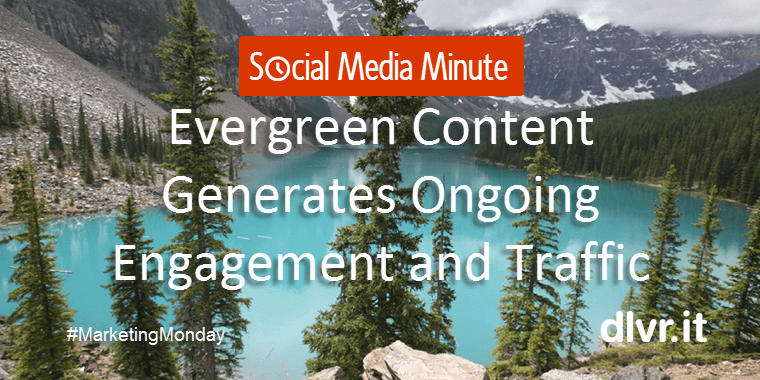 One Thing You Should do Right Now to Create Steady Social Media and Blog Traffic
(#MarketingMonday) While doing research for a blog post on social media strategy, I did the typical thing; opened up Google, typed in my query and quickly scanned the results. With limited time, I frantically hopped from link to link hoping to find some inspiration.
After a cursory glance, I came across an article that appeared to have the answers I was looking for. Diving right in, I was quite impressed with the ideas and was immediately drawn further into its content. I kept thinking to myself, "This person writes well. They certainly know their stuff." As I got closer to the end, I wanted to know who wrote it. Maybe they could help me with my article. I was eager to learn more.
As it turns out, the author… was me! No joke. Of course I had a good laugh. It was an article for a trade publication that I had written a few years back.
I share this story not because I think my content is exceptional. The point is if you publish a lot of content on your blog, you don't always remember what you have written. Secondly, some of your content doesn't have a normal shelf life; it is referenced as "evergreen." Evergreen content is content that is considered sustainable and lasting.
Evergreen blog content stays useful season to season, year to year with little or no need for upkeep. It can be referenced long after it was originally published, and even then, it's still valuable to the reader. 
Creating a consistent flow of content isn't hard. Creating great content is. Great content can be re-played in social media. And here lies the opportunity. Re-playing content is an important piece of a social media strategy that helps increase blog traffic and social media engagement. Chances are your fans and followers will not see every new post on your blog or when it's promoted in your social media feeds. Plus, new subscribers likely have not seen your older content. To your new subscribers, this previously published content is as relevant as the day it was first created.
When I scan our blog archives for content to re-promote, I look for content that:
Doesn't need updating
Is relevant to my audience right now
Is of 'high-quality'
Performed well in the past
If the content meets the criteria, I queue it for delivery often times refreshing the headline and hashtags before scheduling. It is highly likely this long lasting content will generate ongoing engagement in social media and blog traffic, leading to increased conversions and brand awareness.
As you can see in the example below, the article How to find your Pinterest RSS feeds was originally published on our blog in June 2013. A year plus later, we continue to share and re-play it with our social media audience. Not only does it meet the criteria above, it continues to drive blog traffic.

Now it's your turn to incorporate evergreen content in your social media strategy. Look through your blog archives, scroll through Google Analytics, review past successes and re-promote a piece of content to your social media audience. It would be a shame to let this relevant content just sit there. It only takes a second to increase social media engagement and blog traffic!
Looking for even more blog traffic? We've written extensively on other simple and effective tactics to promote your blog.
Featured Photo by:  LASZLO ILYES