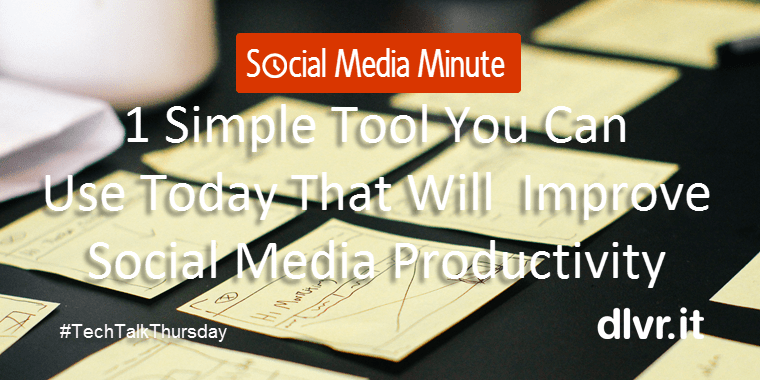 How to Reduce Your Social Media Workload and Boost Engagement in One Click
(#TechTipThursday) Does this sound familiar? While browsing your favorite site, you come across an inspiring quote, a delicious recipe or an awesome how to article that would be of interest to your social media audience. You highlight and copy the quote or grab the URL, open up Twitter, paste the content in the status update box and hit enter. You repeat the same thing for Facebook, etc. I've been there too.
Obviously, this process of manually sharing content is time consuming and inefficient but you probably already knew this. Fortunately for all of us, this is exactly why we created the dlvr.it button. It's simple to use and easy to install. The button in conjunction with Q, helps to schedule and share content with your social media audience at the optimal time – with just one click. Your time saved and improved productivity will be worth the 10 seconds it takes to install the extension. All your browser needs now is the dlvr.it button.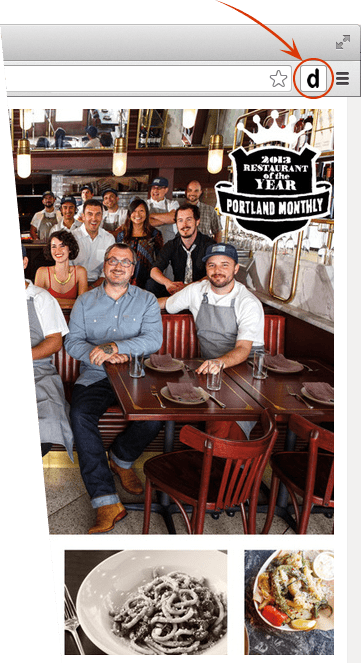 After it's installed, whenever you spot something interesting out on the web, just click your new dlvr.it button and…boom, content is added to your Queue or you can share it instantly! The dlvr.it button makes it easy to share things you find anywhere on the web or in your Twitter feed.  You'll see all your connected social accounts and with one click, sharing a tweet or a website is hassle free.
Why install the dlvr.it button?
One-click to share instantly to your social media audience
Stats on the shared items your followers love
Instant sharing of Tweets right from your Twitter feed at optimal times
Reduce your workload and increase your productivity
How to install the dlvr.it button?
Create a dlvr.it Q
Add the dlvr.it button to your browser
Start sharing content at optimal times
How does the dlvr.it button work?
Step 1: Highlight text or an image on any page
Step 2: Right click (on a PC) and choose "Add Selection to dlvr.it." A box with your social networks will appear.
Check out the examples below:


Browse Twitter and share a tweet instantly. You'll now see the 'd' on all the tweets in your Twitter feed. Choose between old-fashioned retweet with comments or new retweet

styles.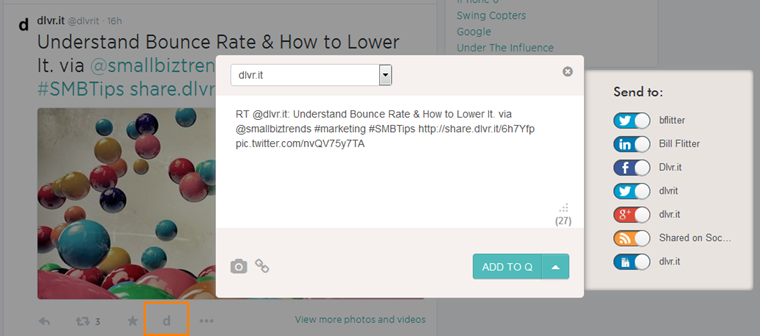 Browse the web, click the dlvr.it button in your browser and share a link and your comments to your social media audience.


I know I am a bit biased but I have to say, this little button is pretty powerful. Once the button is installed, share selected text, a Tweet or a website with your comments.  Now it's your turn. Boost your social media productivity and start sharing better with the dlvr.it button. It only takes seconds!