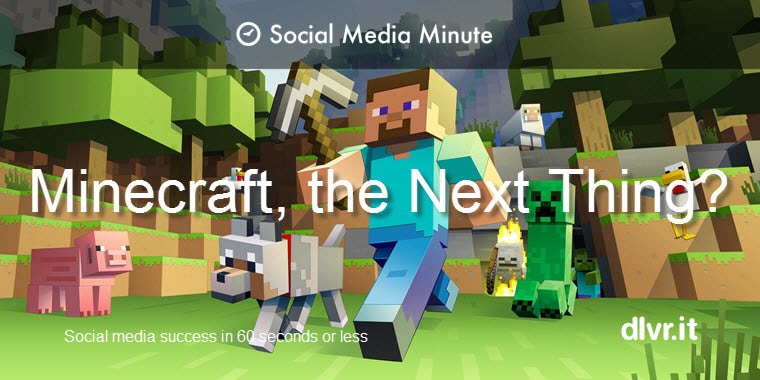 How Minecraft will Shake Up the Future of Social Media
What can your 13-year old tell you about the future of social media?
Surprisingly, more than you think. Unless you live completely off the grid, you probably have heard about Minecraft, which Microsoft purchased from Mojang in September 2014 for $2.5 billion. 
It's not really a game, per se — players don't really compete against one another in any formal way — but, rather, a community of like-minded individuals who often collaborate on accomplishing tasks or sharing experiences. – Jonathan Salem Baskin, contributor to Forbes.com
Minecraft: The Future of Social Media
In its simplest form, Minecraft is a game where you dig (mine) and build (craft) different kinds of 3D blocks within a vast world of varying terrains and habitats.
What's so unique and blog-post worthy about that?
Take a look at this stat from Quora when I searched for How Many People Play Minecraft Daily?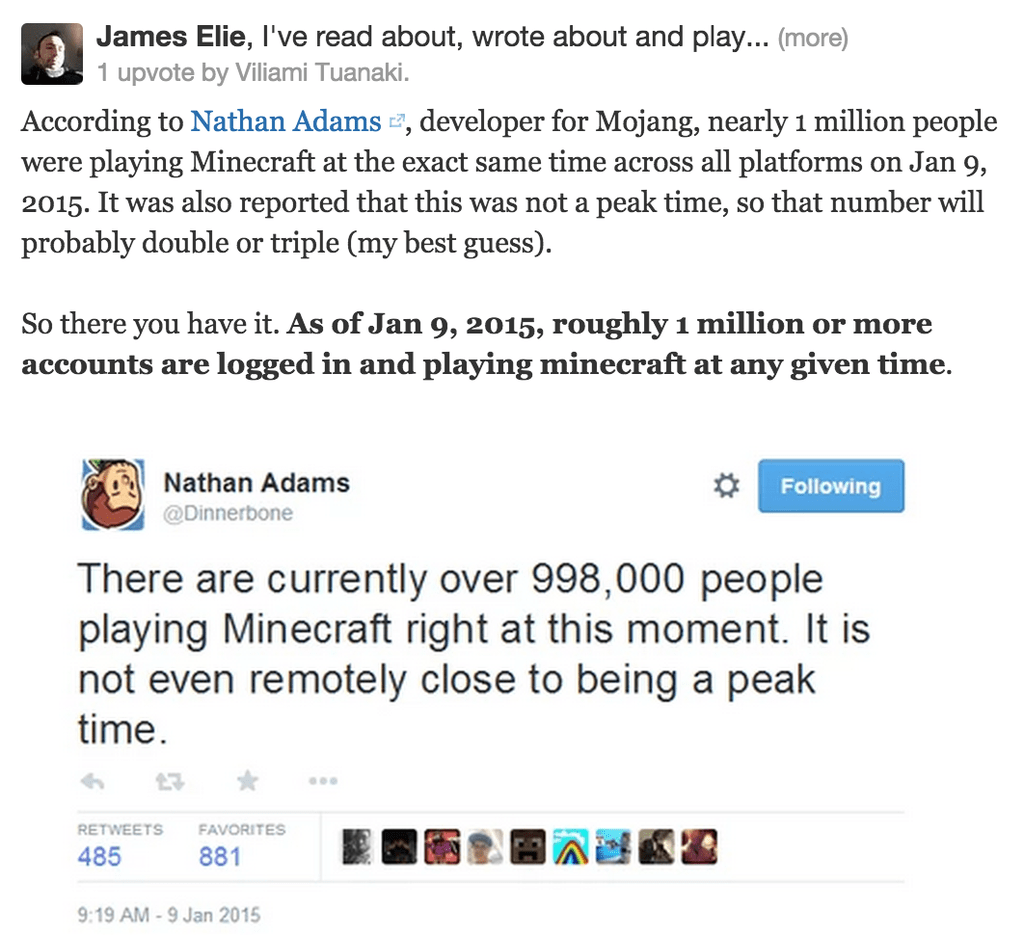 →What is it about Minecraft that is so compelling to the 1 to 3 million people who are obsessively playing with it at any given time, my son included?
→How will it shape the future of social media?
First: The Demographics
The player demographics within Minecraft reveal a lot about the popularity of the game. For instance:
15 to 21-year-olds comprise 43% of the player base
22 to 30-year-old age bracket consists of just over 21% of the base
Under 15 age bracket averages to 20.59%
With just 15% over 30. The lowest player demographics are the 61-80 age brackets (not surprisingly).
While teenagers comprise the largest group of Minecraft users, the surprising figures are for those players under 15 and over 30.  Unexpectedly, it isn't merely one demographic that this game does well with, but a variety.
The last reported number of copies sold of this game was just over 33 million, which means that nearly five million players are over the age of thirty.
Second: The Social Community
Minecraft is, essentially, the gaming version of YouTube; a social interaction that has exploded onto the gaming scene and has transcended the typical boundaries of gaming.
According to Baskin, most video games are far more social than the traditional social media sites. We just don't think of applying the social label because games usually focus on players doing anti-social things like killing gangsters, monsters, and/or one another.
Yet, the emotional engagement is often deeper; the time committed longer and less uninterrupted than many other experiences, and most other entertainment media.
Social Media Today asked over 30+ social media influencers on what they view as forthcoming in the year ahead. Not surprisingly, Minecraft was a topic of conversation.
@teedubya: Social Media is evolving and factions of social media are localizing.  Many teens and pre-teens aren't getting on Facebook, as they are on Snapchat, Minecraft, Xbox Network, and more specialized non-traditional social platforms. They are socializing online, just not in the same ways as older demographics. I'd expect this trend to continue.
In fact, there are quite a few apps targeting social sharing on Minecraft.
Here's one similar to Twitter and Instagram: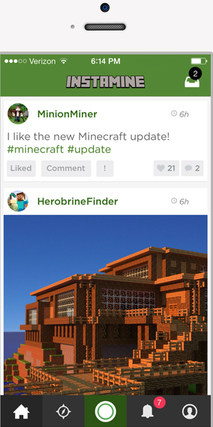 InstaMine: Social Network for Minecraft!
Features:
• Share Minecraft photos, videos, and more
• Follow other Minecraft fans
• Customize your profile
• Easily message other users
• NO constant ads
• Simple, Minecraft themed interface
Fast Company's article by Amber Mac on Minecraft as the future of social media, discusses the three social things Minecraft does really well:
1. Creativity While Maintaining Simplicity
Social networks as we know them today are entirely one-dimensional.
Log in to Facebook and you have the option to create a post, comment on posts or add an image or video. While it's impressive that more than 1 billion people log in every month, it's not a place to get creative.
Twitter's simplicity, 140 characters, helps to make it a real-time hit; however, today's maker generation is bound to find it boring.
Minecraft, on the other hand, is all about building—crafting and sharing.
Some of the game's top block-based creations include the Space Shuttle, Minas Tirith (The Lord of the Rings), and the Winter Palace. While such extreme creative possibilities exist, the Pocket Edition is simple enough that even a preschooler can join the fun.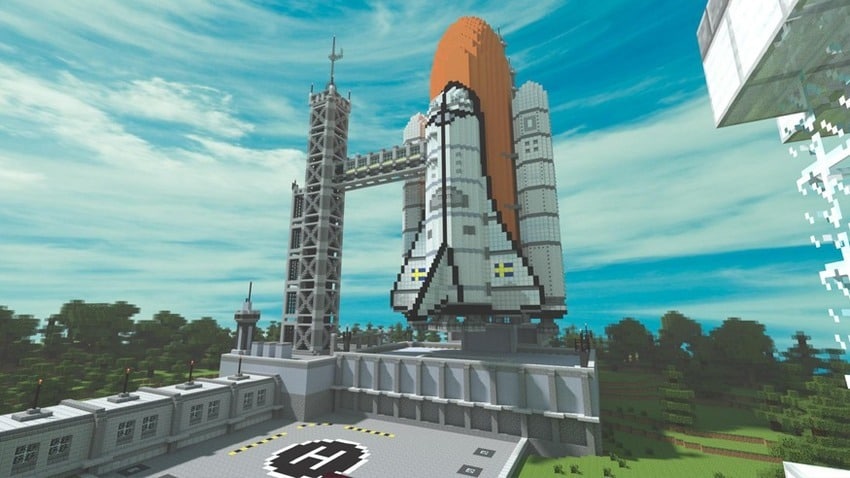 2. Collaboration and Learning Potential
Take a spin over to MinecraftEdu to learn how to use Minecraft in schools around the world.
The "mod" lets teachers adapt Minecraft for the classroom, enabling them to write assignments, create boundaries, and guide their students to create together. As game-based learning expert Alan Gershenfeld says in a recent issue of Scientific American, "not only is Minecraft immersive and creative, but it is an excellent platform for making almost any subject area more engaging."
Outside of the school environment, there are plenty of examples of intense collaboration among the fans—inside and outside of the game. For example, active contributors manage the Minecraft Wiki, an info-heavy place where anyone can contribute to more than 4,500+ helpful articles.
3. Cohesive Community Building
There are millions of disparate communities connecting on today's top social networks. The Minecraft community, on the other hand, feels more whole. Minecon, Minecraft maker Mojang's annual convention, kicked off with much success in 2010. This year's event in London on July 4-5, sold out its 10,000 tickets in just days.
At the game's Minecon fan conference in 2013, many sessions were about YouTube (and Twitch, too). According to Joe Pulizzi of the Content Marketing Institute, the sessions had names like:
Building Your YouTube Channel
Video Making 101
How to Win with YouTube
Crafting Stories for Videos
Growing Your Community
How to Develop a Musical Parody in Minecraft

Another surprising fact about Minecraft: More people watch YouTube videos about Minecraft than any other game. Much more. You can see in this chart from E3 in November 2014, among the top ten games on all of YouTube, fans put Minecraft far out in front with a stunning 31 billion views. Since the stats were published, it's been reported that Minecraft fan videos have leaped from 31 billion to 47 billion. That's 16 billion views in just five months. Minecraft's YouTube community is key to its success.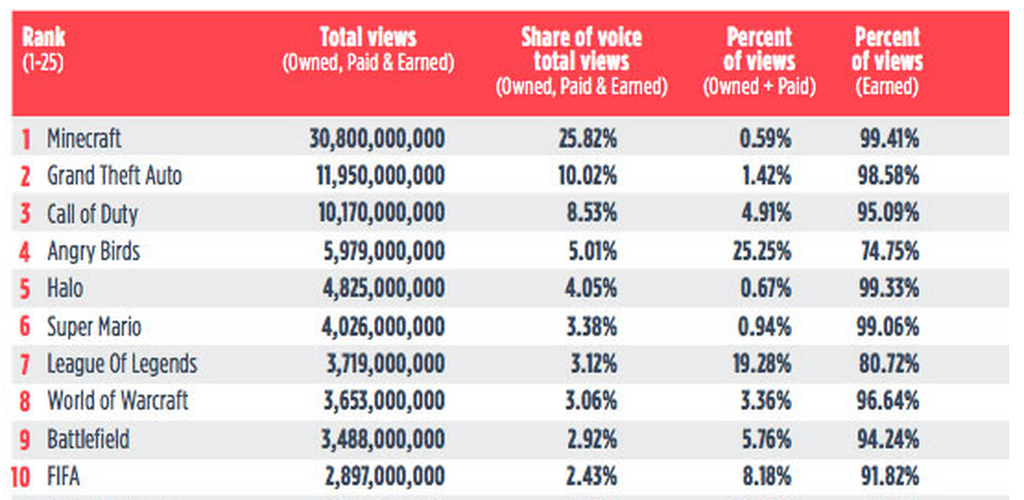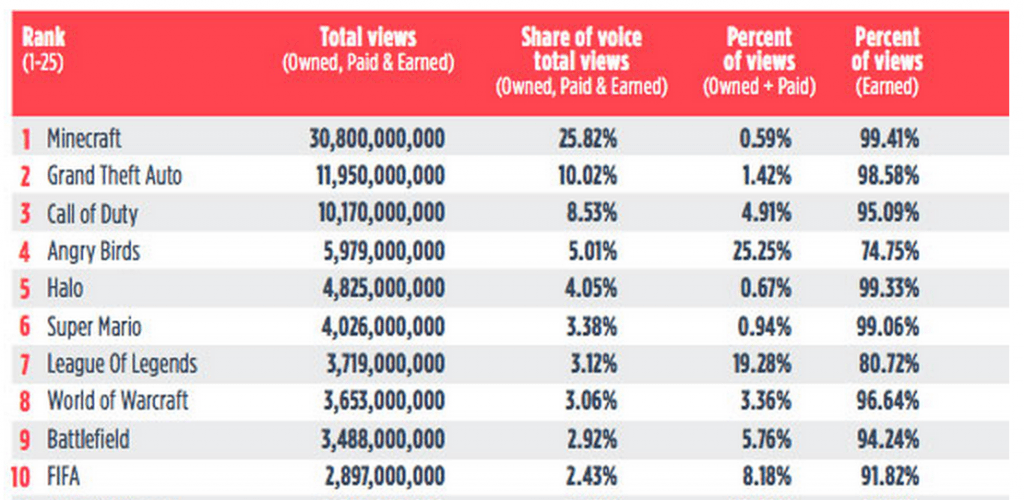 From the data above, it's clear that Minecraft is a real social media site. Here's a quick recap of Minecraft social stats:
5 million players over the age of 30
1 to 3 million people playing at any given time
47 billion YouTube views with hundreds of channels
Minecraft reveals many of the qualities that inform genuine social engagement. Mac concludes with, aside from solid creation, collaboration, and community at its core, Markus Persson, creator of Minecraft, deserves a lot of credit for showing us that the future of social media is game-based. While he probably didn't set out with this goal in mind, watch a 5-year old Minecrafter or my 13-year old son, and you too will see the future of social media unfold, one building block at a time.
Debra Garber
VP of Finance & Operations, Chief Content Contributor, and backyard chicken farmer. I happily share my experiences traversing the wilds of social media. Will trade social media tips for fresh organic eggs. Motto: "Live the life you love, love the life you live."