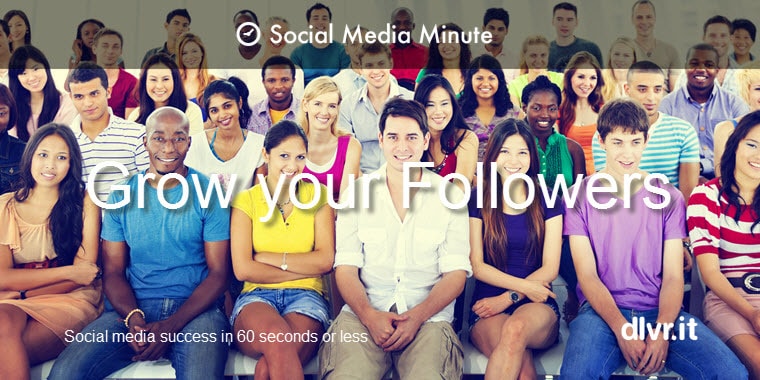 4 Easy Steps to Promote your Business on Social Media when you have No Followers
Here are two similar scenarios we hear from our customers: (1) You're just starting a new social profile. (2) You're determined to add more fans and followers to an existing one. What is the best growth strategy? How do I add hundreds of new fans?
In response, we've put together an easy to follow social profile growth strategy of what we've learned over the years. Here's your 4-week action plan:
Week 1 and 2. Set-up
Plan a content strategy.
Put together a social media content strategy. It doesn't have to be complicated but writing your own content and posting consistently should be part of it. Don't let your shelves go empty. Follow our simple content plan here: Easy 3 Step Content Strategy
Start writing before you start promoting.
This is important. Before promoting your profile, make it look active. No one shops at an empty store. Add content, comments, pictures etc. Do that every day for about two weeks. Don't worry about adding hashtags or retweeting content. You're still filling up the shelves at this point – you don't want people to discover you just yet.
Fill out your social profiles completely.
Your social media profiles should be consistent across each network. Add a compelling profile image and a complete bio. Spend the time to do it right.
Week 3. Open for Business
Follow to be followed.
Follow who your competitors follow. On Twitter this is especially easy. Go to your competitors Twitter profile. You will see the link  "Following" below their header image.
Search for potential customers, press and influencers. Create a focused list of anyone who you want to know that you exist, and follow them. They will get alerted that you followed them. A certain percentage of them will check out your profile and follow you back.
Reach out to your friends on Facebook. Let them know you have a Facebook page for your business.
 Add hashtags.
Share content written by prospects and influencers.

This goes along with follow to be followed. There is no better compliment to a customer or influencer then to share their content with your followers. Be sure to add the proper attribution. We add the source's twitter handle at the end of the content (ex. via @twitterhandle). This is a great method to grab their attention. Most people monitor their brand name so they'll get alerted to your gesture.
Promote social accounts in your email signature, website and blog
Week 4. Branch Out
Join a Twitter Chat
Join a Twitter chat or Facebook group and contribute wisely. This is mainly to alert new groups of people that you exist on those platforms.
Get Active on Quora
Get active on Quora. Create a Quora profile (several for specific areas of expertise) and follow subject areas. You'll get alerted anytime a new question is added. Search for questions in your area of expertise. Share your answers on Twitter and Facebook. This is not only a source of content for your social feeds but in our experience, the answers are retweeted by current fans and followers creating more exposure for your social profile.