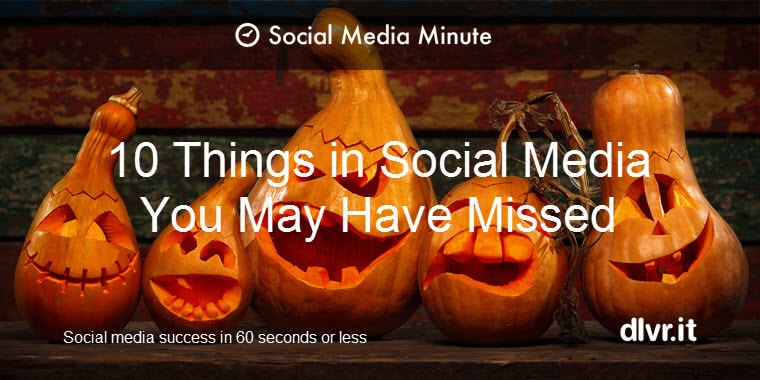 Monday Social Media Roundup [October 19, 2015]
Our weekly roundup is here to help you stay on top of all the latest in social media.
This week featuring:
1 – One guide to hashtags
2 – Two Top Tweets of the week
3 – Three Productivity Tips
4 – Four Growth Tips
___
Different day, different hashtag. Whether you're on Instagram, Google+, or Twitter, keep your social media accounts fresh with these trending topics that pop up week after week, without fail.
#MCM or #ManCrushMonday
#MusicMonday
#MountainMonday
#MeowMonday
#ManicMonday (your crazy post weekend work/school schedule)
#ManicureMonday
#MondayBlues
Top Tweets:
It's early summer, and I'm in Dupont Circle. Something's off. People, I notice, seem to be suddenly tweeting much less lately. But I've got a book to finish, so I file the observation away to carefully inspect later. Read more.
Tell me this hasn't happened to you before. You've just read an awesome, lengthy post on a topic like "X social media tips" or "Y steps to a better social media campaign". The article is chock-full of useful information. While reading it, you resolve to implement each of the detailed social media strategies mentioned in the post. Read more.
Productivity Tips:
This is the wrong question. It's upside down. This is a tacky question. This is sort of a rude question. Actually, the question was a bit worse. Read more.
In early August I launched my first product, an all-natural, plant-based, probiotic protein powder. But it wasn't easy. In the 18 months leading up to the launch, I experienced every trial, tribulation and startup cliché/buzzword imaginable (think: "pivoting," "minimum viable product," "growth hacking," etc.). Read more.
Do you find yourself rushing, multitasking or relying on smartphones and apps to get more done in your day? According to Josh Davis, Ph.D., we're going about it the wrong way! Try these five brainy tips to boost your productivity. Read more.
Social Media Growth Hacks
Content comes in all shapes, sizes, and topics. The best content is interesting, informative and awe inspiring, the rest you wonder how it ever got published. It's easy to look at the work others have done and judge it, saying, "that's great," or "that's horrible," but, it's another thing to have to create your own content. Read More.
Do you want to increase the ROI for your social media campaigns? Have you considered fan content? Using fan photos in your marketing is an effective way to highlight your brand, products and customers at the same time. Read more.
In January 2015, we explained a recipe to create an RSS feed of a Facebook page (see original post below). As of Summer 2015, Facebook has removed the ability to create an RSS feed of a Facebook page using the method we described. We are happy to report a new super easy method using a tool called Zapier. Read more.
Are you popular yet on Instagram? In our post on How to Quickly Get Popular on Instagram, we listed several easy-to-implement steps to increase your followers. Looking for more ways to become influential on Instagram? Here are 9 additional Instagram marketing tips. Read more.
Debra Garber
VP of Finance & Operations, Chief Content Contributor, and backyard chicken farmer. I happily share my experiences traversing the wilds of social media. Will trade social media tips for fresh organic eggs. Motto: "Live the life you love, love the life you live."