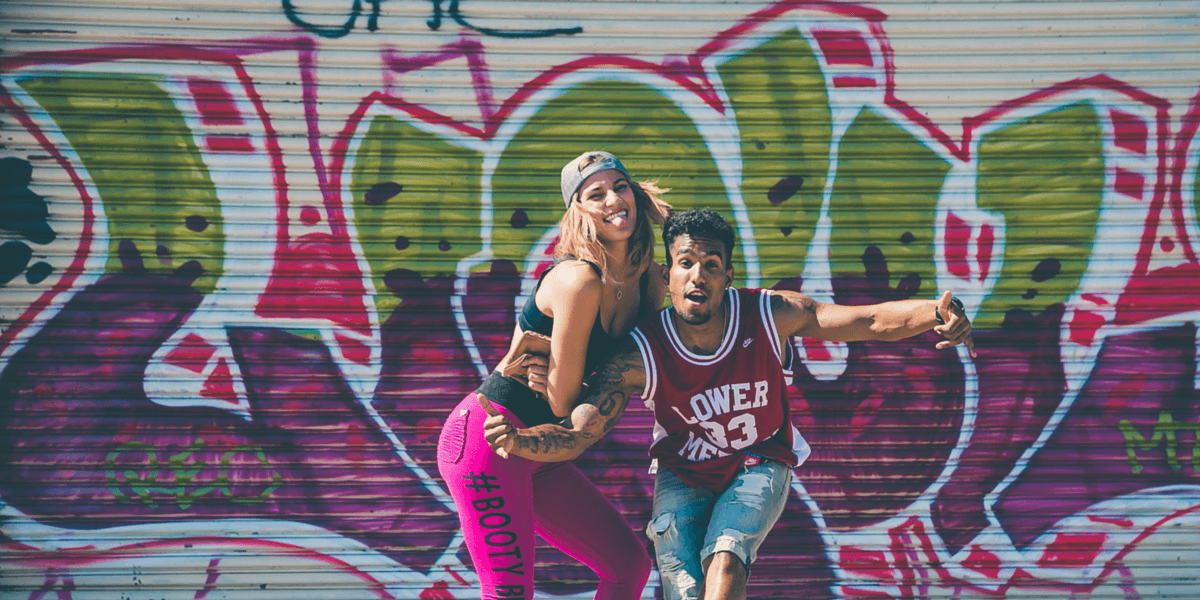 The Best YouTube Social Media Tips: The Why, Where, Who and How
Don't have time to keep up with the pace of social media? No worries. Our weekly roundup is here to help you stay on top of all the latest in social media and other interesting facts, trends, tips, tools, and questions. This week featuring "The Best of YouTube" – read about the why, where, who and how. Also, includes reviews of FREE YouTube to MP3 downloaders.
Why YouTube
First, let's talk about the momentum:
YouTube has over a billion users — almost one-third of all people on the Internet — and every day, people watch hundreds of millions of hours on video and generate billions of views.
Growth in watch time has accelerated and is up at least 50% year over year for three straight years.
The number of people watching YouTube per day is up 40% y/y since March 2014.
You can navigate the platform in a total of 76 different languages (covering 95% of the Internet population).
The number of users who start at the homepage (similar to the way they might turn on their TV) is up more than 3x y/y.
Video rules among social media marketers and yields better results than pictures, promotions, and articles, according to new survey
When it comes to social media, enterprise companies in the US identify Facebook (96%), Twitter (71%), and YouTube (61%), as their top three platforms, according to a new survey by Clutch, a leading B2B research firm. YouTube's impressive ranking as one of the most popular social media platforms among enterprises, validates the increasing importance of video for social media marketing.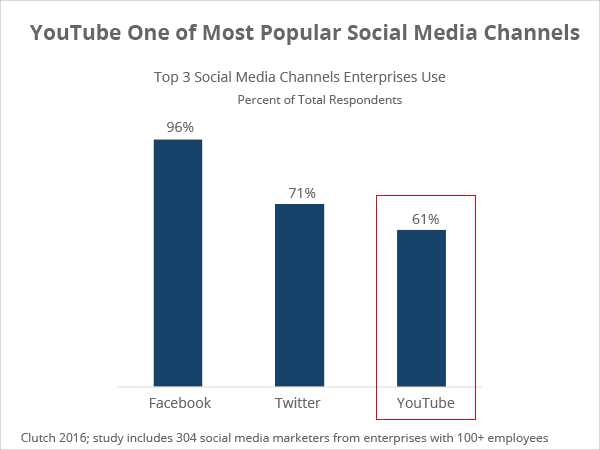 YouTube's prominence highlights businesses' appreciation of video as a multifunctional content medium. Video engages, entertains, informs, and educates. It appeals to our short attention spans and our habit of consuming information on mobile devices. It's digestible.
You can tell stories in a different way through video. Video can portray what a picture can't fully communicate.— Keith Kakadia, Owner, SociallyIn
Read more data insights from the Social Media Marketing Survey 2016 from Clutch.co.
→Check out our Youtube converter hack – create an RSS feed of your YouTube videos and instantly share them on Facebook, Twitter, Pinterest and more.
___
YouTube is still killing it as a video platform.
Today…
The average viewing session on a mobile device is 40 minutes.
It reaches more 18- to 49-year-olds than any cable network in the US—that's counting YouTube mobile alone.
And it's still by far the clear leader in Internet video, with billion-plus users consuming videos rapidly on the site.
Who
Ask any kid who is the most popular on YouTube; you get somewhat similar responses. My teenage son responded with PewDiePie. So who is PewDiePie and how popular is he?
This list of the most subscribed users on YouTube contains representations of the channels with the most subscribers on the video platform. The ability to "subscribe" to a user's videos was added in late October 2005. The "most subscribed" list on YouTube began being listed on a chart on the site in May 2006, at which time Smosh was #1 with fewer than 3,000 subscribers. As of July 25, 2016, the most subscribed user is PewDiePie, with over 46 million subscribers. The PewDiePie channel has held the peak position since December 22, 2013 (2 years, 7 months and 3 days), when it surpassed YouTube's Spotlight channel.
Here's a snapshot of the top 25 YouTuber's. Interesting to note that content varies between video games, vlogs (a blog in which the postings are primarily in video format), entertainment, music, comedy and one channel making the top 25 for beauty!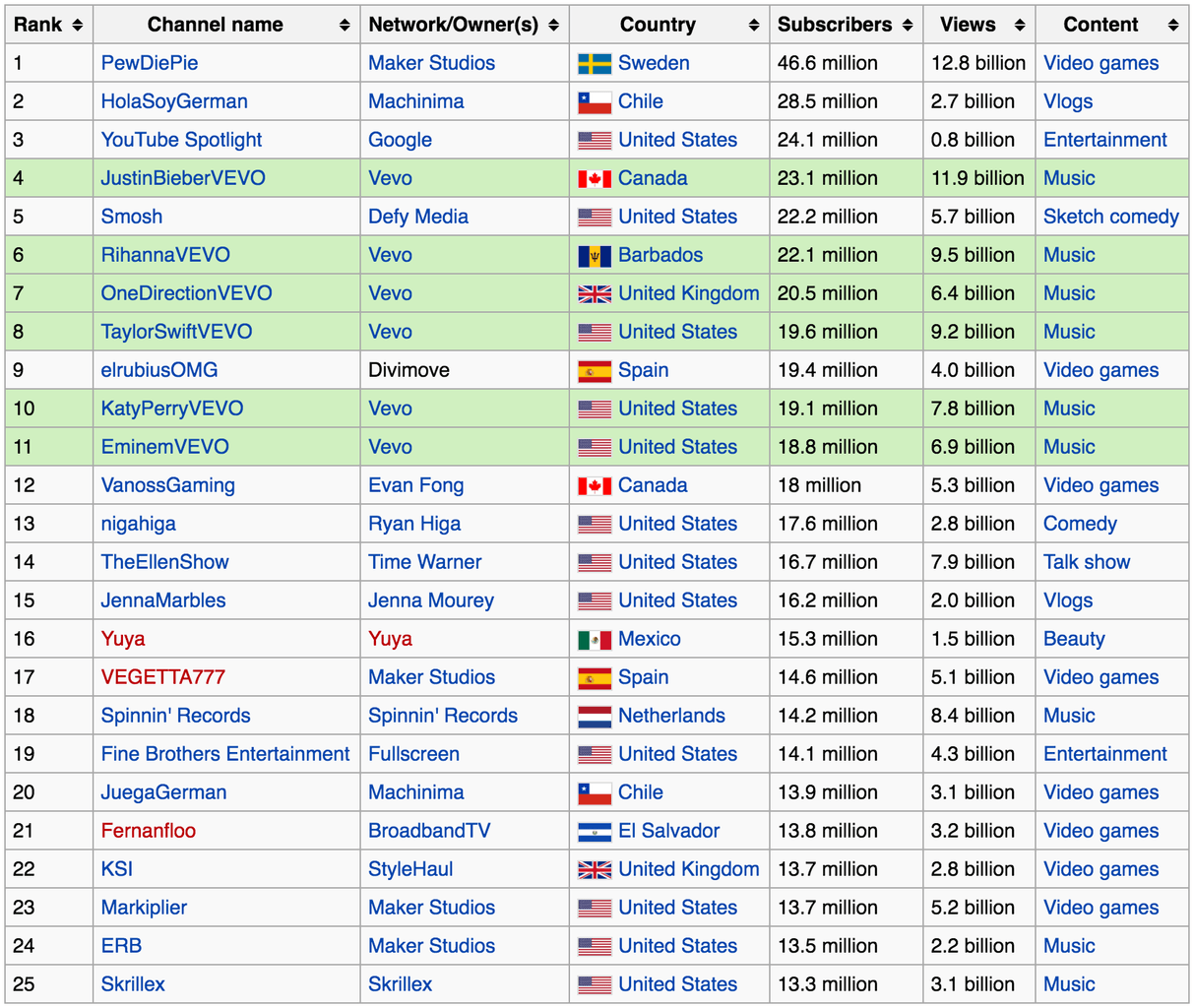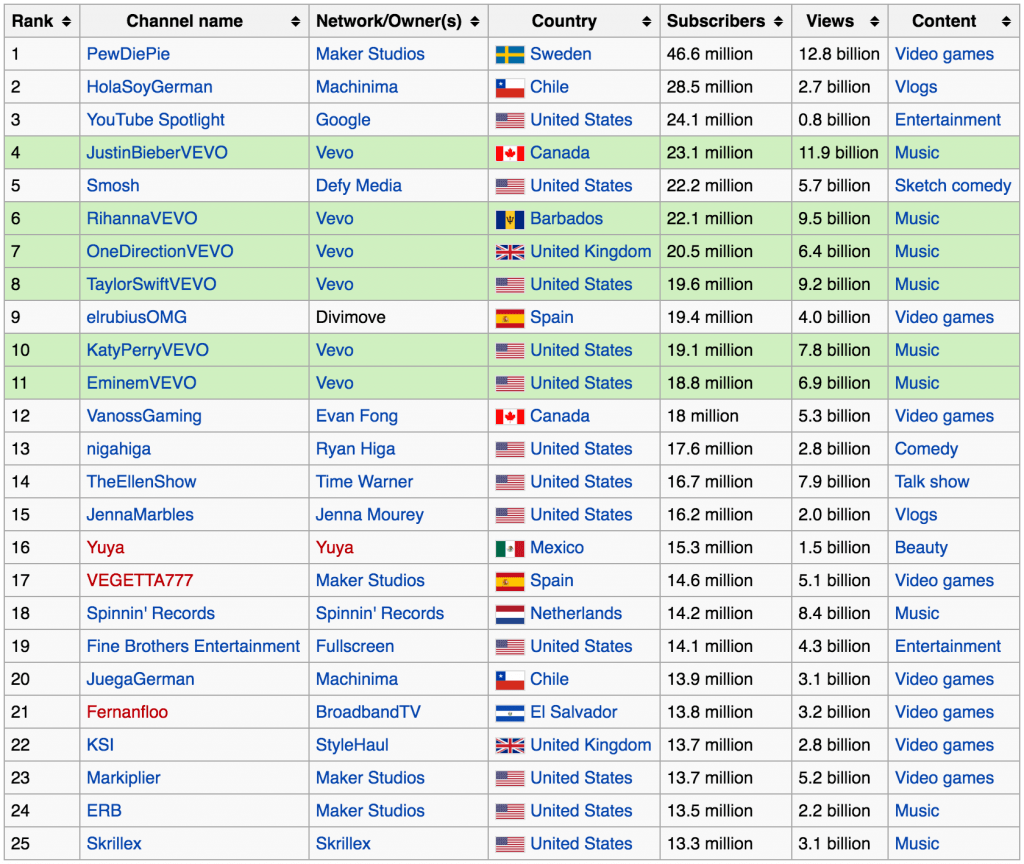 So, who is PewDiePie?
There are a few things commonly accepted about Felix Kjellberg, aka PewDiePie.
1 – He screams a lot.
2 – He publishes videos himself playing video games.
3 – He makes a lot of money doing so.
The latest figure is $7.4 million, which comes by way of Swedish newspaper Expressen (via Engadget and Fusion). That shouldn't be too surprising — Kjellberg is the king of YouTube, after all. When we nominated him for The Verge 50 this past December, he had 32.6 million subscribers and 6.9 billion views; less than a year later, he's now up to 37.7 million subscribers and over 9 billion views. Assuming the $7.4 million figure is accurate, that comes out to less than 20 cents per subscriber.
And, there is never popularity, without scandal.
How
So you've officially launched your YouTube channel! How will you promote it now that it's live?
Commit to these nine strategies and watch your YouTube account blossom:
1. Build Excitement by Cross-promoting Teasers and Videos
2. Engage, Engage, Engage Your Followers
3. Perfect Your Video Thumbnails
4. Post Unique Promotional Content on Your Social Media Accounts
5. Host Cool Contests
6. Never Underestimate Analytics
7. Be Consistent
8. Trust Collaboration
9. Be Unconventional!
Think about the videos you've seen that went viral on social media. BuzzFeed Food is an excellent example. If you're on Facebook, and you HAVEN'T seen one of their catchy homemade food videos, you're missing out. These YouTube videos shared on their Facebook pages (and other social channels) regularly go viral. And the highest viewed of them all? "Cake Eggs."
2 – Making it Easier to Shop
People often turn to YouTube to help them research purchases.
In fact, almost half of the U.S. population, 47%, says that YouTube helps them when making a decision about something to buy at least once a month.
From Social Media Examiner: Google Improves YouTube's Ad Experience
Google introduced two new eCommerce features on YouTube that give retailers "more control over branding" on TrueView for shopping ads. The new features include companion banners, "a new interactive banner appearing next to the video that lets viewers scroll through products while the video is playing next to it"; and product picker, which "lets advertisers easily choose and prioritize which of their products are featured as cards in a TrueView for shopping campaign."
Where
Live streaming YouTube is not new, but did you know that mobile live streaming will be baked right into the core YouTube mobile app?
Read more from the Creator Blog: We'll do it live—a new chapter in YouTube's live stream
Yes, it's true. Mobile live streaming will be baked right into the core mobile app. You won't need to open anything else, just hit the big red capture button right there in the corner, take or select a photo to use as a thumbnail, and you can broadcast live to your fans and chat in near real time
Unfortunately, for now, the channel has launched live mobile streaming for only a select few.
YouTube hasn't given a date for the feature's arrival – promising that it will be available to general users "soon." In the meantime, only a handful of big-name channels will be able to broadcast live from their apps, including political news show The Young Turks and vlogger Alex Wassabi.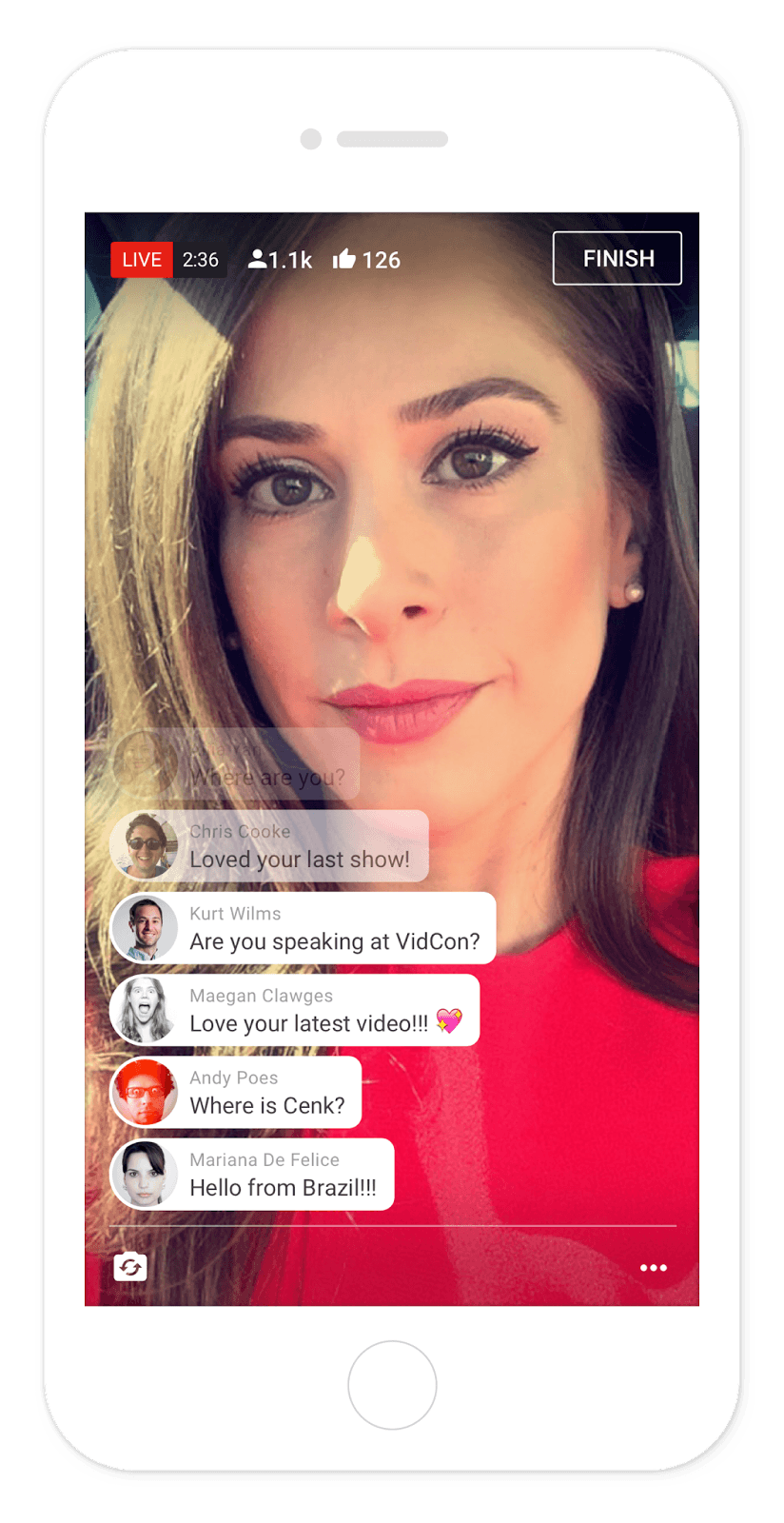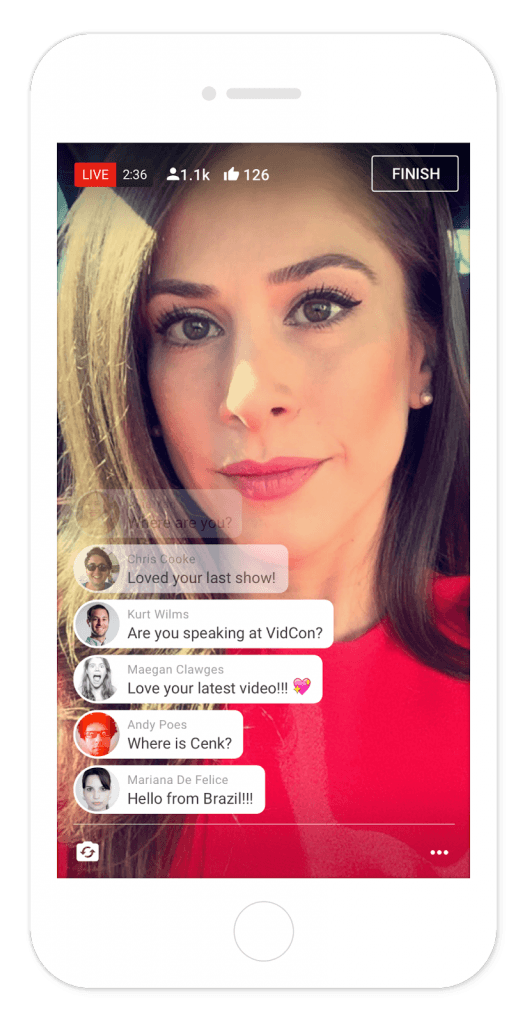 YouTube to MP3
Looking for a quick, easy way to download audio from videos and save it in the format of your choice?
There are many YouTube downloaders, but Free YouTube to MP3 Converter does something slightly different: it just grabs the audio. You might want to use it to grab the audio from a concert someone has uploaded, or perhaps save the narration from a vlog.
With support for saving audio as MP3, M4A (AAC), WAV, FLAC, and OGG, Free YouTube to MP3 Converter can create audio files suitable for any device. There are no frills – the name tells you what it does, and it doesn't really veer from that path.
Freemake is much more than a simple downloader. It supports more than 500 audio and video formats, which helps explain why it has so many users: 93 million and counting. The formats are organized in profiles for specific devices. For example, you can tell the app that you're making a clip for your Xbox 360 or a PSP, and it'll pick the appropriate format.
aTube Catcher is a free YouTube video downloader and converter allows you to download your favorite videos and immediately convert them into AVI, FLV, MOV, WMV, MPG, MP4, PSP, 3GP or 3G2 format.
When you download aTube Catcher, you're no longer restricted to watching your favorite clips online. Thanks to the number of supported formats, you can watch them on virtually any device.
Ummy Video Downloader is a useful program that will help you to download HD video or MP3 from YouTube.
Additional features:
HD videos with sound
Possibility to choose video format
MP3, MP4 extraction from the YouTube video

Unlimited downloads
___
Have any social media trends, tips, tools or tricks to share? 
Read any interesting YouTube social media facts recently? 
We'd love to hear from you.
We're serious!
Go to our blog home page and click 'HAVE A TIP.'
Debra Garber
VP of Finance & Operations, Chief Content Contributor, and backyard chicken farmer. I happily share my experiences traversing the wilds of social media. Will trade social media tips for fresh organic eggs. Motto: "Live the life you love, love the life you live."