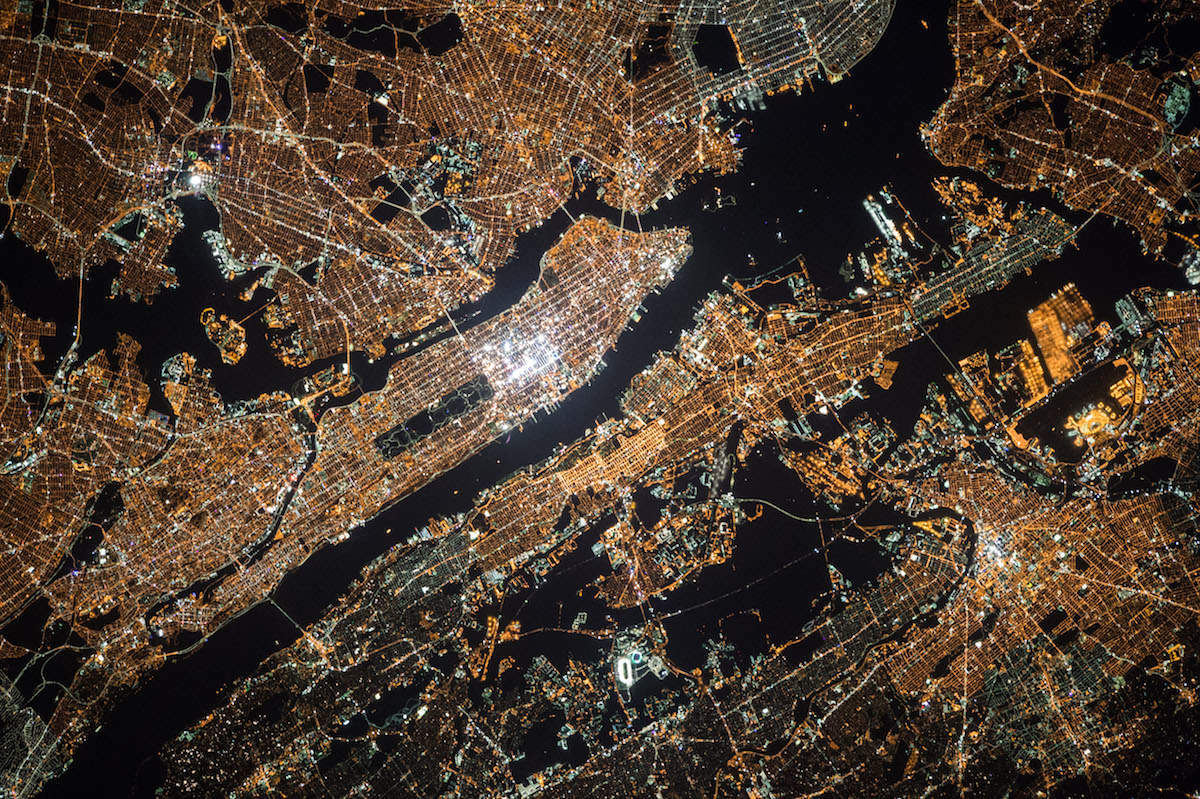 The Good of Instagram Search: New Tools and Expert Advice
In June 2016, Instagram announced that its community has grown to more than 500 million Instagrammers — more than 300 million of whom use Instagram every single day. As Instagram continues its pace of growing 100 million users every 9-months, this dramatic growth is nothing to sneeze about. In fact, if you haven't already, it's time to find your voice on Instagram. An eMarketer study found that by 2017, 70% of all companies in the United States would engage on Instagram in some form or fashion. It's time to ramp up your business by arming yourself with the right Instagram search tips and tools.
In this post, we will look at the following:
Instagram is not a fad nor is it slowing in growth despite the competition.
Facebook paid $1 billion for Instagram in 2012 – with some calling it foolish at the time. In hindsight, Facebook is now looking sagacious and astute. Current estimated value? According to Bank of America, it could be as high as $37 billion!
In fact, here are ten unbelievable but true Instagram facts that you should not ignore from Jeff Bullas:
500 million monthly users
20% of all internet users are on Instagram
Average engagement on Instagram posts is 1.1%
91% of all Instagram posts are photos
90% of all Instagram users are younger than 35
41% of Instagram users are between 16 and 24 in age
47% of Millenials use Instagram as a messaging app (compared to 50% for Facebook Messenger)
1/3 of teenagers say Instagram is their most important social network
28% of US users use Instagram
Instagram has doubled each year for the past two years
Instagrammers upload 80 million photos daily
Stats source: Expandedramblings, Maximizesocialbusiness
Revenue Potential for Instagram
Consider these facts from Bloomberg:
1 – With its 500 million active users, the rate of consumer adoption of Instagram is actually at a faster pace than Facebook was in its early days. – Carolyn Everson, Facebook's vice president for global marketing solutions
2 – Instagram ads are expected to bring in revenue of $1.53 billion in 2016, or 15 percent of Facebook's total ad sales. – eMarketer
3 – Instagram Users Engage with Brands 10 Times More Than on Facebook = Greater revenue potential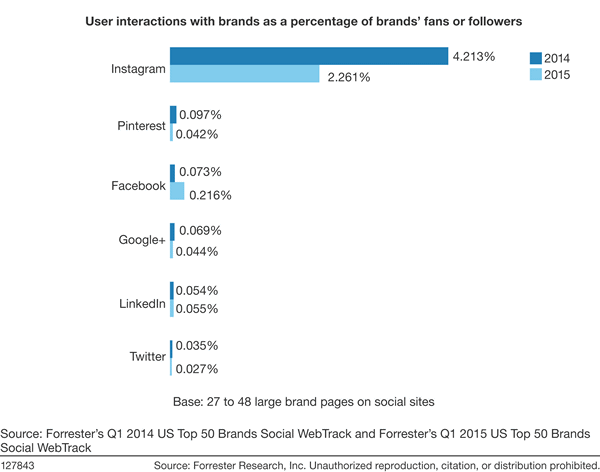 Sneak Peak at Instagram Business Profile
According to The Next Web, Instagram's Business profile and tools are here, and they look just like Facebook Pages'.
Instagram's business profile and tools will roll out first in the United States, Australia, and New Zealand. For everyone else, the company promises global rollout by the end of 2016.
With more than 200,000 companies using Instagram to promote their businesses, it was inevitable that Facebook would unveil tools to help these users. The tools even look like Facebook's own page insights tool, which displays reach and impression numbers alongside fan growth rates. It's clear that Facebook assumes its business users would use both Instagram and Facebook, since the tools are so similar.
Thanks to a sneak peek from Later.com, the new Instagram business profile will include:
1 – A prominent 'Contact' button that sits beside the "follow" button, a linkable location tag, and a category for your account – which allows you to email a business or get directions to their store and will help users find your business with improved location listings.
No more direct messaging!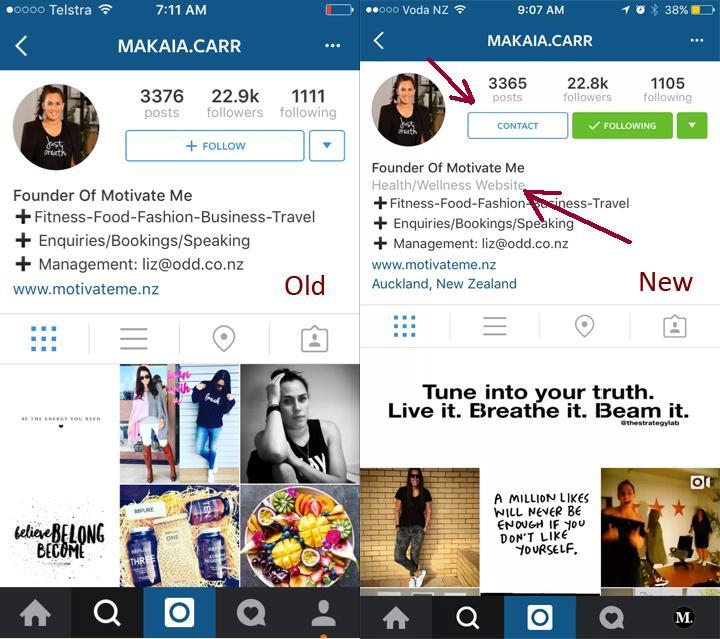 2 – New brand analytics options for Instagram. Instagram's analytics options provide a range of new insights and tools to help businesses make better use of their Instagram profiles and gain more understanding of what's resonating with their followers.
Instagram's analytics tools will be accessible from the front page of your brand profile – in the top bar of the screen; there'll be a new analytics button to the right.
Read more:
How to Create Good Instagram Bios: The Ultimate Checklist

Instagram Search Tools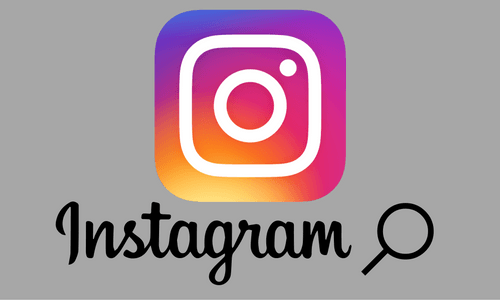 Last November 2015, Instagram announced much stricter rules for accessing its API rendering most third-party Instagram search apps and websites useless by June 1, 2016,
In short, Instagram wants general users to go to instagram.com for searching and not access through (in some cases questionable) 3rd-party apps. The following criteria must be met to qualify as a recognized app:
Help individuals share their own content with 3rd party apps, such as apps that let you print your photos and import an Instagram photo as a profile picture.
Help brands and advertisers understand and manage their audience, develop their content strategy, and get digital rights to media. Established apps in this space may apply for our newly announced Instagram Partner Program.
Help broadcasters and publishers discover content, get digital rights to media, and share media using web embeds.
Here are a couple of tweets from a few of the most popular apps affected by this change:
Retro: Unfortunately, Retro doesn't fit into any categories above. Furthermore, Instagram will deprecate the home feed API endpoint (/users/self/feed) on June 1st, 2016. This change kills the most important feature for Retro and all 3rd party clients out there and is the end for Retro, but Tiny Whale will continue to deliver new and creative apps for years to come.
Flow: Just passed 500,000 downloads. Thanks everyone for the support. Top 100 app in over nine countries as the curtain falls.
Flipboard: Flipboard confirms it will get cut off from Instagram after the feed API ends this month
IFTTT: A change in how Instagram works with IFTTT
How to use Instagram Search
Despite its limited search functions, you can make a fairly good business case for using Instagram search.
You can use it to:
Find people to follow;
Find hashtags related to your business or industry;
Search by place for people to follow;
Engage with nearby customers;
Get involved in trending conversations.
Instagram's search feature is now more like Facebook's and a little less basic.
Using the search bar at the top of Search & Explore, you can search for: People (search by their name or username), Hashtags and Places
> Search then choose whether you're looking for People, Tags or Places. Tap Top to explore popular people, tags and places on Instagram. You can also search Instagram on the web.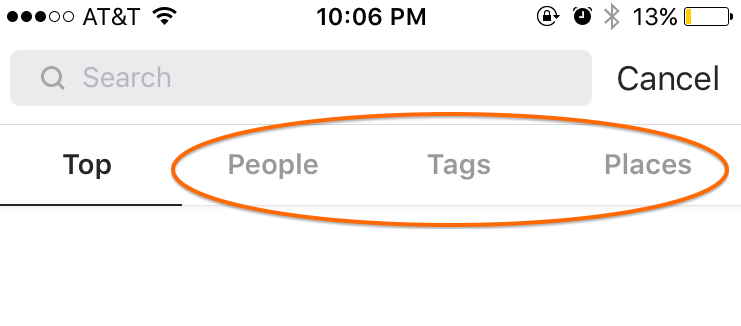 The search results you see are based on a variety of factors, including –  the people you follow, who you're connected to, and what photos and videos you like on Instagram.

How to use Instagram search to follow people
There are a couple of different ways to find people (you know) on Instagram:
1 – Using the Instagram search bar
Click on the looking glass icon and enter people you want to follow. See image above.
You can also search by name, username, or tag.
→Following interesting people is a great way to get inspired, and it helps Instagram's algorithms learn what you like and suggest photos and videos in the Discovery tab.
Or, go to your profile and then tap
in the top right. In the Options menu, you can FOLLOW PEOPLE. You can search for friends that have connected their Facebook and Twitter accounts to Instagram and find contacts.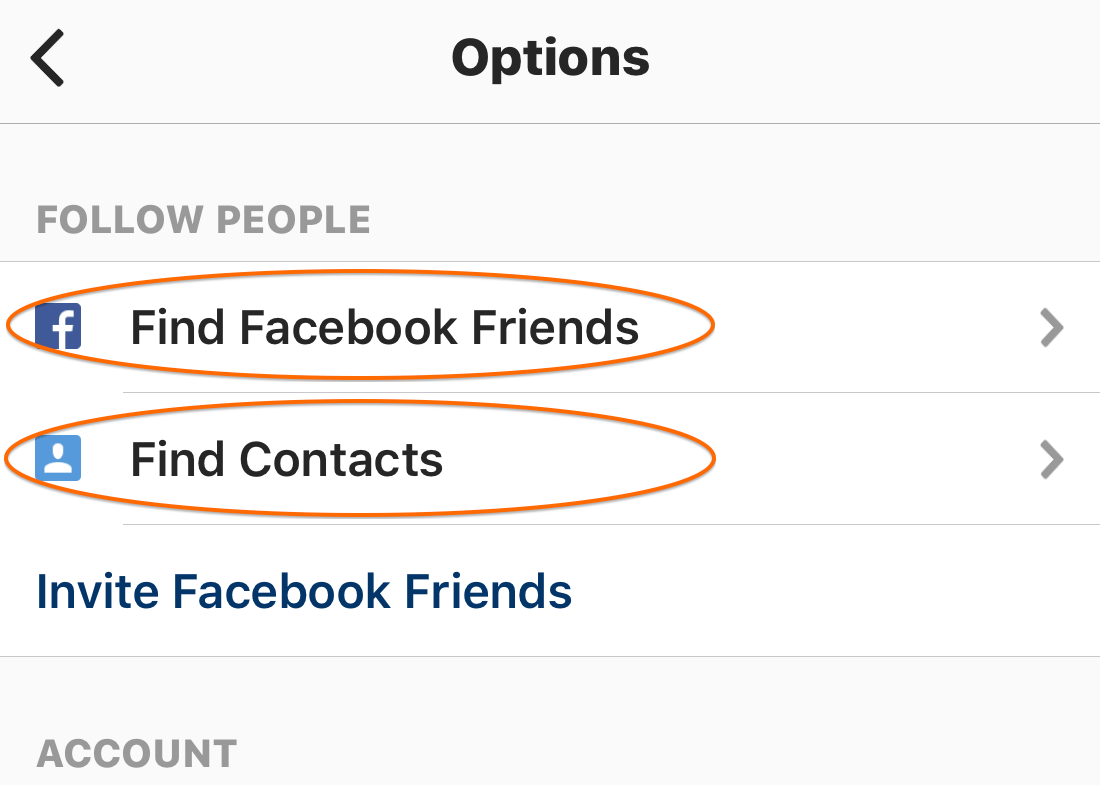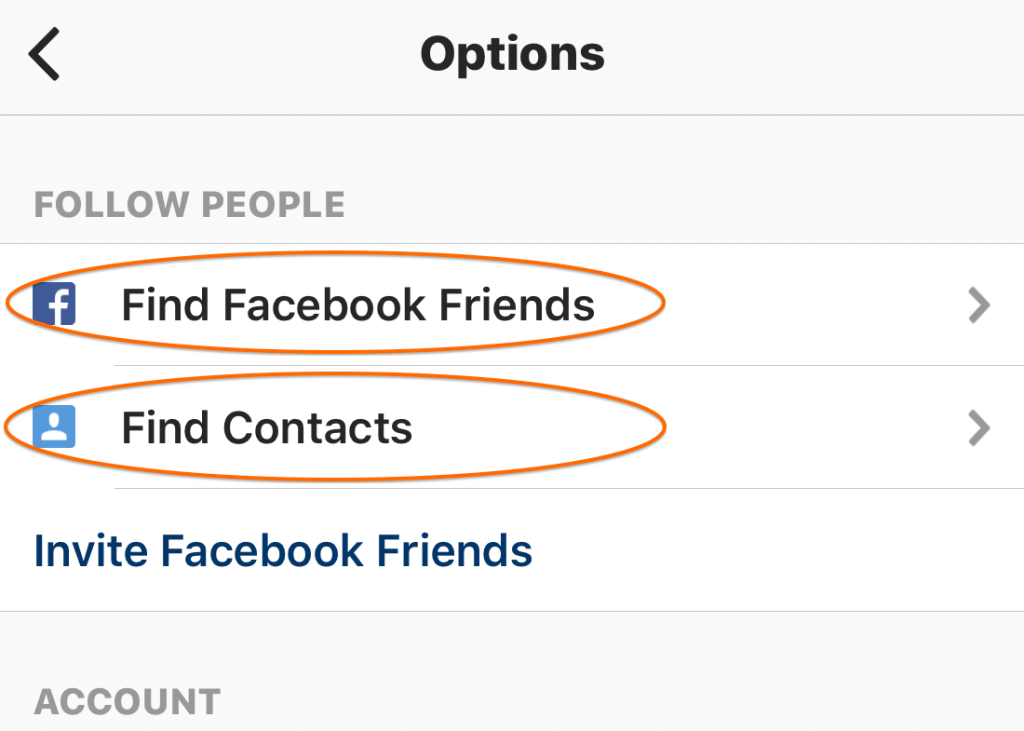 2 – Syncing your Facebook Contacts
Unless you've logged into Instagram through Facebook, you will need to give permission to access Facebook. Instagram will pull in all Facebook contacts who are on Instagram. You can select '+Follow All' or scroll through the list and choose who to follow.
3 – Syncing your Contacts
If you choose this option, your contacts are periodically synced on the Instagram servers. You can choose contacts to follow from this list.
Useful Instagram Search Tools
Picodash (formerly gramfeed.com): Focusing on providing the search and social media management functionality to brands, publishers, and journalists.
Later (formerly Latergramme): Later helps you plan, manage, and schedule your visual social media posts and marketing campaigns.
Iconosquare: Iconosquare helps you measure, understand and improve every important aspect of your Instagram activity. You won't need those spreadsheets anymore!
Read more: 7 FREE Instagram Tools That Make Social Media Easy

Get More Followers on Instagram
Instagram users like to shop! Instagram search tools help you find people, hashtags and places to follow but how about getting more followers on Instagram – those that look for brands on Instagram.
Taken from our post on 9 Easy Ways to Get More Followers on Instagram, here is a summary of four of the proven tips that take less than a minute to follow:
1 – Take Advantage of Hashtags
Hashtags are a great way to spread your brand and get more followers on Instagram. Instagrammers can use hashtag search to discover content they care about. Hashtags are key to getting more followers on Instagram.
2 – Post at the Right Time
Unfortunately, the pronouncements as to the "best" time to post on Instagram are not based on science. Social media is always "on". The key is to find the right balance for you, your audience, and your content.
3 – Cross Promote Instagram Content to Facebook, Twitter, etc.
Creating an Instagram RSS feed of your Instagram content provides flexibility to extend the reach of your images and video taken inside the app. With an Instagram RSS feed, you can get more followers on Instagram by exposing your content to your existing social audience.
4 – Create an Interesting Bio
Instagram can make your small business stand out in the crowd. The first step is to craft good Instagram bios.
Review the "coming soon" updated Instagram business profile pages and tools discussed above.
Instagram Search Optimization Tips
Recap:
1 – We've discussed why it's important to have an Instagram voice (500M users!).
2 – We've looked at revenue potential on Instagram (Instagram alone expects to make $1.53 billion in 2016!).
3 – We've taken a quick peek at the new Instagram Business profile (it will be important to update your profile once these tools become available).
4- We've reviewed how to use Instagram search to find people to follow and useful Instagram search tools for people, hashtags, and places.
5 – We've learned that Instagram users like to shop and how to find more followers on Instagram.
___
Next, let's look at five strategies that will help you engage your followers and gain new (engaged) ones – from Business 2Business Community post on 5 Tips to Show Up in Instagram's New Algorithm Feed.
1. Capitalize on the special interests of your customers.
2. Feature your employees and community.
3. Post a discount code via Instagram.
4. Get your customers to post using a hashtag you've created.
5. Let your followers know that some of your special offers are ONLY communicated via Instagram.
And most importantly, show up for your Instagram audience!
___
We'd Love to Hear From You
Instagram is not a fad nor is it slowing down. It's important to use Instagram search tools to capitalize on the second most popular social media site in the world! Please share any sage Instagram advice in the comments. We'd love to hear from you!
Debra Garber
VP of Finance & Operations, Chief Content Contributor, and backyard chicken farmer. I happily share my experiences traversing the wilds of social media. Will trade social media tips for fresh organic eggs. Motto: "Live the life you love, love the life you live."