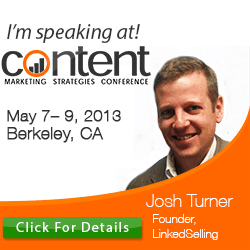 3 tips to dramatically increase traffic from LinkedIn with content marketing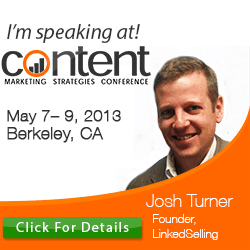 Next up in our ongoing guest speaker posts highlighting the 2013 Content Marketing Strategies Conference is Josh Turner, Founder, LinkedSelling.  After Josh's workshop on "Learn how to drive thousands of new visitors to your content via LinkedIn" you will be able to distribute content on LinkedIn in a highly targeted manner, increasing traffic from the RIGHT prospects and dramatically increase conversions.
Josh shares 3 tips on optimizing updates on LinkedIn in the post below.  Want to know the other 7? Hear Josh speak live at the conference on May 7-9, 2013 at The Claremont Hotel & Spa in Berkeley, CA.
Top 3 Tips for Optimizing Status Updates on LinkedIn
LinkedIn status updates can be an effective way to stay top of mind with prospects, clients, referral partners, and centers of influence.
Yet most people are completely missing the boat on how to execute an effective content marketing program on LinkedIn.
Why?
For one, they don't have time.  Absent a busy schedule, most people just aren't sure what to say.
Here are three tips for getting it done AND knowing what to say.
1. Automate
Using tools like dlvr.it you can automate a substantial portion of your updates.  If you're trying to reach prospects all around the country or even globe, then it's impossible to hit them with manual updates at all the necessary times of the day.
By automating, you can schedule your posts to reach them at optimal times.  Put in just an hour or so each month on the front end, and you'll be well on your way to "top of mind" status with many of your connections.
2. Be Diverse
People who say the same thing over and over generally lose traction.  If you're persistent with your updates, it's important that your messages be diverse.  Otherwise people may tire quickly of you.
Take a look at what others do, and learn from the best of what they do.  Your mix of updates might include links to articles, info about projects you're working on, video updates, links to your recent newsletter, promotional updates, shares, business related quotes, and more.  The list is endless.
3. Include a Call to Action
Not every update should be promotional, far from it.  But when you are promoting yourself, take full advantage by including a clear call to action.  Think about these updates in these terms: "What's the action that I want a prospect to take?"  Mold your message around it.
For example, I might say: "Folks are raving about our free training at LinkedUniversity.com…have you checked it out yet?" or "Wow, just heard from a member who is blowing up thanks to our free training at LinkedUniversity.com."
Again, be careful with the promotion.  But when you do it, don't squander the opportunity to deliver real value and move prospects into your funnel.
To learn more tips on leveraging LinkedIn, come hear Josh speak at the Content Marketing Strategies Conference, May 7-9, 2013 at The Claremont Hotel & Spa in Berkeley, CA.
About the Author:
Josh Turner is the founder of LinkedSelling, a B2B marketing firm that helps clients systematically build relationships with cold prospects, to turn them into warm leads. The tools they use to achieve this are LinkedIn, webinars, content and email. Visit LinkedSelling.com for more information.   Josh's company also created the leading online training program for business professionals who want to learn how to leverage LinkedIn for marketing and sales, LinkedUniversity.com. Please visit LinkedUniversity.com for more information, free training videos, and upcoming webinars.
Debra Garber
VP of Finance & Operations, Chief Content Contributor, and backyard chicken farmer. I happily share my experiences traversing the wilds of social media. Will trade social media tips for fresh organic eggs. Motto: "Live the life you love, love the life you live."