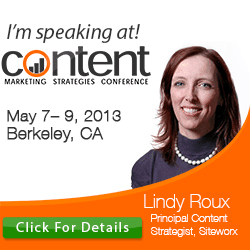 Learn how to increase website traffic and sales with a well planned content strategy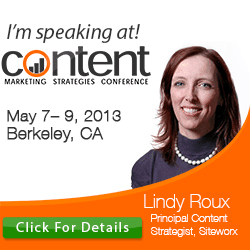 Our next Content Marketing Strategies Conference speaker is Lindy Roux, Principal Content Strategist at Siteworx.  Lindy's session on "Learning how to develop a user-centric content strategy that drives engagement across multiple channels" will dive deep into creating content strategy to improve sales. Below is a sneak peak at what Lindy will be sharing.
Content Strategy Imperative
It still surprises me how often content strategy gets left behind when companies plan the creation or redesign of their website.  Underestimating the importance of having a solid content strategy can have disastrous results for companies, as it can even prevent their websites from launching on time.
What I've observed, is that businesses often don't fully realize the amount of content they actually need to create, review and ultimately map for their website. With the investment your company is making in redesigning your website, why risk your site's success by not properly addressing the content? To prevent this, I highly recommend that content be considered a managed risk, just as any other component of website development.
One of the biggest downfalls that I've seen historically is that content is not being addressed early enough or diligently enough. Mapping your content requirements to your brand, business and user goals can actually help define the overall site architecture and layout. Knowing early what content you need to create, revise or adapt will help you be ready for your website launch. Finally, putting the right content guidelines and governance in place will help you avoid content hoarding, or ad hoc content. On the flipside, not doing this leaves your content owners looking a little a like deer in headlights when it comes to website migration or launch time.
Basically, you could build the best website possible with all the bells and whistles in place, but without a concerted effort to get the right content in the right place, you'll risk creating a dissatisfying customer experience that won't meet your business goals.
By developing a content strategy you can:
• Avoid Launch Delays: believe it or not, one common reason many website launches are delayed is due to content issues.
• Save money: With a strategy in place, you can cut your copywriting time by 50%.
• Increase Sales: By mapping your content to the sales cycle you can predict and provide exactly what your customer need at certain points of the buying process.
• Create an inviting customer experience that keeps your target audience(s) engaged: These days your website, or digital presence, is most likely where customers will first experience your brand and if your content isn't useful or relevant you will lose them.
• Reach Multiple Channels: Your company will be able to more efficiently cross-promote and re-use content across multiple channels – create once and publish everywhere anyone?
To learn more about creating a content strategy that improves traffic and sales, come hear Lindy speak at the Content Marketing Strategies Conference, May 7-9, 2013 at The Claremont Hotel & Spa in Berkeley, CA.
About the Author:
As the Principal Content Strategist at Siteworx, Lindy is responsible for articulating, guiding and overseeing the various content services that we deliver, including content audits and strategy sessions, migration planning, taxonomy development, content definition, modeling and creation. She has over 15 years of experience defining, creating and managing engaging digital experiences that resonate with required audiences and drive conversion, helping to meet business and user goals.
Debra Garber
VP of Finance & Operations, Chief Content Contributor, and backyard chicken farmer. I happily share my experiences traversing the wilds of social media. Will trade social media tips for fresh organic eggs. Motto: "Live the life you love, love the life you live."