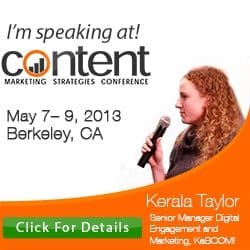 5 tips for content marketing on a shoestring budget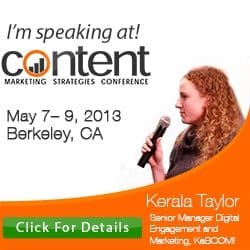 How can you make your content stand out – particularly when you're up against big brands with deep pockets? Kerala Taylor, Senior Manager, Digital Engagement &  Marketing at KaBOOM! is part of our ongoing guest speaker posts highlighting dlvr.it's upcoming Content Marketing Strategies Conference, May 7-9, 2013 at The Claremont Hotel & Spa in Berkeley, CA.
Kerala shares a few key tips below on how to create content customers will talk about with limited resources and limitless creativity:
If you write it, will they come?
Create content. Share it. Watch it go viral.
Content marketing has been hailed by many as a 'magical' marketing solution, particularly for organizations with limited marketing budgets. After all, blog posts are free, and so are the social media channels we can use to promote them.
But are your content marketing efforts delivering the desired ROI? Do you end up investing significant amounts of time in blog posts that remain unshared and uncommented on, soon to languish forever in Internet purgatory?
You can write blog posts daily, load them with all the perfect keywords, and rush to cover trending topics, but at the end of the day, your efforts will be in vain if no one is visiting, sharing, or talking about them.
When creating content, one of the simplest but most effective questions you can ask yourself is: Would I share this with my friends?
Shareable content fits one or more of the following criteria:
It helps you see something in a new way. There's a lot of emphasis these days on racing to cover a trending topic, but think instead about what unique angle – based on your brand and expertise – you can provide. A thoughtful reaction that brings a new perspective to the table is worth more than 10 hastily churned-out, regurgitated posts.
It teaches you something new and useful. Don't create a top 10 list for the sake of creating a top 10 list. What specific information or tips can you provide that people can actually apply in their lives today? What specialized knowledge do you have that other people want to know?
It lets you in on a secret. Is there anything going on being the scenes at your company that people would be tickled to know about? Give them a backstage tour. It makes them feel special while personalizing your brand.
It provokes an emotional reaction. If being funny isn't your thing, don't try. (The result will be painful.) But if you can write something that makes people laugh, they will want to pass it on. If you can't make 'em laugh, make 'em cry. Or shock them. Inspire them. Surprise them.
It's consistent. You created a post that went viral. Good for you! Now, how do you get people coming back for more? If you're pressed for time (who isn't?), spend five hours each week creating one brilliant post, rather than one hour a day on a mediocre post. Develop a voice, a tone, a set of standards, and a strategy to make sure you're delivering content that is consistently excellent.
Want to better understand the difference between potentially viral and decidedly blah? Kerala Taylor will present examples and case studies from organizations with limited marketing budgets at dlvr.it's upcoming Content Marketing Strategies Conference, May 7-9, 2013 at The Claremont Hotel & Spa in Berkeley, CA.
About the Author:
As Senior Manager of Digital Engagement and Marketing at the national nonprofit KaBOOM!, Kerala Taylor builds online awareness around the importance of active play for our nation's kids. She oversees the organization's social media channels, email newsletters, and website content, including its blog, Play Today. Back in her 20s, she co-founded Glimpse.org, a storytelling site for young adults living abroad, and published her first novel, How Things Break, which won the Elixir Press Inaugural Fiction Award.
Debra Garber
VP of Finance & Operations, Chief Content Contributor, and backyard chicken farmer. I happily share my experiences traversing the wilds of social media. Will trade social media tips for fresh organic eggs. Motto: "Live the life you love, love the life you live."