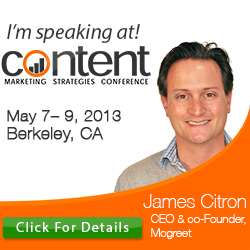 Best practices for mobile content distribution campaigns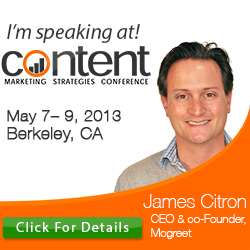 Guest speaker, James Citon, CEO & co-Founder of Mogreet, will be revealing the secret sauce behind a carefully strategized B2C mobile marketing campaign at dlvr.it's upcoming Content Marketing Strategies Conference, May 7-9, 2013 at The Claremont Hotel Club & Spa in Berkeley, CA.  Tickets are still available.  As an example of the practical 'how to' advice to be gained at the conference, James shares his expertise on the value of content in mobile distribution:
The role of content in text message marketing
The basis of any successful marketing program is a question of scale. If you can activate 40% of your fan base, the larger your fan base, the higher the potential of your program's ROI.  Yes, when it comes to marketing, bigger is better.
The bigger the size of the database, the bigger the results.
So just how do businesses entice customers to join a marketing database?  What makes a customer or prospect willing to share their personal information with a brand in exchange for content?  Value!
The more valuable your program content is to the end user, the more likely they are to engage and act.
Understanding Content Value
In each relationship between a business and a customer, there is a value statement.  For GLEE, FOX found that the most valued content their mobile fans wanted was the upcoming show's song list.  This makes perfect sense.  GLEE is known and loved for its amazing, musically-themed programming.  So when FOX noticed fans asking for this information on social and blog channels, they initiated a text marketing program as a way to distribute this content on a medium that allowed fans to receive and react with the content in real time.
Creating + Sharing Valuable Content
Not all brands have it as easy as FOX. After all, a TV show creates content every day! Teen retailer Charlotte Russe found coupons were always in demand, but simply distributing coupons did not deepen customer loyalty.  So, Charlotte Russe created programming to support coupon distribution.  In their Mystery Date campaign, the team at Charlotte Russe created a story arc that allowed fans to choose one of three perfect men (mystery dates).  Fans chose the man of their dreams by text and received a video by Mr. Perfect back, as well as a coupon for redemption.  By turning couponing into an engaging story-based program, CR found a much higher redemption rate (and increased their database dramatically at the same time).
Empowering advocacy with content
But businesses can do even more with compelling content.  When content is shared to consumers by MMS, brands have the option to include prompts to share the received information across social channels.  And there are major benefits to the brand for including social sharing in messages.
First, it empowers the customer to share the amazing, exclusive branded content with their friends and family.
Secondly, it activates word of mouth marketing, increasing the trust factor dramatically. Content shared by friends is much more likely to convert into higher database opt-ins than content shared by a brand, alone.
Each of these programs was designed with the customer in mind.  In each case, the brand managers understood their target audience and the types of interactions and content that resonated best with their audience. They were able to generate huge successes by creating programs their customers wanted, distributing it across a medium they use daily, multimedia support text messaging (MMS).  By employing a customer-first mentality with content creation, these brands succeeded in engaging, activating and creating loyal brand fans.
To learn more about content marketing, text message marketing or Mogreet, visit www.mogreet.com
======
Hear more from James on mobile marketing at the Content Marketing Strategies Conference, May 7-9, 2013 at The Claremont Hotel Club & Spa in Berkeley, CA.
About the author
Widely regarded as one of the country's foremost experts on mobile marketing, James Citron is the co-founder and CEO of Mogreet, the leading multimedia text messaging marketing platform. Over the past five years, James has created one of the country's most successful mobile marketing companies, serving marquee brands including Bloomingdale's, Jack in the Box, and FOX television, among others.
Debra Garber
VP of Finance & Operations, Chief Content Contributor, and backyard chicken farmer. I happily share my experiences traversing the wilds of social media. Will trade social media tips for fresh organic eggs. Motto: "Live the life you love, love the life you live."