What do you love about Content Marketing? Heather Meza from Cisco responds…
As part of our ongoing series on what the experts love about content marketing, we caught up with Heather Meza, Head of Digital Media Solutions Center of Expertise for Cisco Services Marketing & Communications. Heather is a high-energy and enthusiastic web marketing leader, truly passionate about the web, social media and especially content marketing. You can hear Heather speak on the reality of making the shift to content marketing within a large enterprise; what it really takes to ignite change and inspire at dlvr.it's upcoming Content Marketing Strategies Conference, May 8-9, 2012.  Content strategy is the first step along the content marketing lifecycle: Strategize, Create, Curate, Manage, Distribute and Analyze.
What do you love about Content Marketing?
Heather: The common sense nature of it. Give people what they need, in a way that they want and you'll be rewarded for it. Oh! And how "green" it is. Hee… Hee… Meaning, the whole concept around creating strong core content that can be leveraged, or "re-imagined", as Anne Handley & CC Chapman like to say. The crafter in me likes to think of it more like upcycling. You know where you take the elements of something and create a whole new thing that is better than just the core thing by itself.
What do you dislike about Content Marketing?
Heather: The buzz-word nature of it. Folks are always looking for "The Precious" (think: Lord of the Rings and the one ring). That all powerful thing that is going to solve all their problems and enable them to rule the world. Web 2.0, Social Media, now Content Marketing. I like to think of Content Marketing as more of a philosophy or an approach than a tactical solution. It's funny. I find myself applying the principles of good content marketing to just about anything (much to the chagrin of my husband. HA!).
1) Define what you want to achieve with whom;
2) Give them what they want, the way they want it;
3) Measure & tweak until you get what you want 🙂
Sadly, this is easier said than done. I think I'm more successful in the B2B space than I am with my husband. 😉  
Looking ahead to 2013, what does Content Marketing look like?
Heather: Wow. That's a tough one. I can only say that for me, 2013 is going to be about getting the organizational workflows outlined to truly support adoption so we can execute measure and optimize. I would expect to see change management and process rise to the top of the discussion. There is already a plethora of content out there on how to write a better blog. Honestly, that's the easy part. How do you get your business to truly adopt content marketing in an outcome-driven and measurable way? Whew. That's some serious work.
======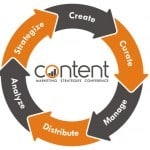 There is still time to register for the Content Marketing Strategies Conference. The conference is the only event to specifically focus on helping companies of any size understand the pivotal role content marketing plays in demand generation, sales, SEO and social. Attendees are guaranteed to walk away with an action plan to kick-start or enhance a content marketing program. The content is structured to walk you through the content lifecycle step-by-step: Strategize Create, Curate, Manage, Distribute and Analyze.