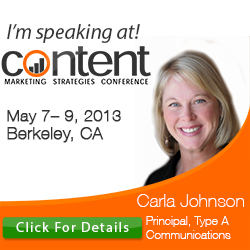 Is Your Marketing Content Scalable?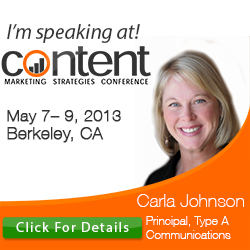 Content marketing has solid roots in marketing departments, while sales teams talk about enablement. Both sides battle to get the right content to the right people at the right time, yet neither takes responsibility for getting it there. Guest speaker, Carla Johnson, Principal, Type A Communications discusses how sales and marketing can work together to establish a process for managing content once it's created to ensure prospects and customers hear a consistent message regardless of their place in the sales cycle.  Hear Carla speak at dlvr.it's upcoming 2013 Content Marketing Strategies Conference, May 7-9, 2013 at The Claremont Hotel Club & Spa in Berkeley, CA.
5 Steps to getting the right marketing content to the right people at the right time
One of the biggest struggles between sales and marketing stems from understanding what sales needs to turn a prospect into a customer and what marketing has the bandwidth to produce.
It's a battle that repeats itself regardless of company size or industry focus. To help remove some of the animosity from the relationship, it helps to have everyone on the same page and understand the multiplication mindset.
Set Objectives – Traditionally, marketing has created content and handed it off to sales teams to use how and when they see fit; a "one-size-fits-all" approach that no longer works. Before marketing can better assist sales, both have to determine their main objective for content – brand awareness, lead generation, sales, customer retention, thought leadership, and so forth.
Know Your Buyers – Take time to identify the people with whom you want to connect and understand them intimately. By creating personas, both sales and marketing will identify and understand common characteristics of a group of people with whom you want to connect. It outlines their perspectives, fears, drivers, and content needs.
 Understand Your Buyer / Retention Cycle – Many companies focus on generating leads and closing the sale, then forget about customers until it's time for them to buy again. That's a big mistake. Sales teams need to think about retention and renewals as much as the original sale. What matters most to your persona during each phase? How does their content needs change?
Right Time. Right Place. Right Content.  – What marketing content you use when depends on the persona and where they are in the buyer / retention cycle. Now that you understand your personas, and the breadth and depth of content that you can create from a single source, it's easier to map that to the buyer / retention cycle and deliver the right content that engages them with the right message when they're most likely to pay attention.
The Multiplier Effect– This is where sales gains empowerment and marketing can catch their breath. On average, teams can create 12 additional pieces of content from a single white paper. Here are just a few examples once you have the main piece created:
Blogs: Generate multiple posts that cover why the problem is a problem, the solution (your unique point of view) and the impact the solution has on an organization.
Videos: Consider both internal and external. What does your subject matter expert have to teach about the subject? What's something that proved most valuable to a customer?
Webinar: Think "how to" and give hands-on information that allow attendees to listen, then immediately use what they learned.
Infographic: We all like pictures, and they help make statistics and new processes easier to relate to.
Publish an eBook: look for common themes and questions and then create an eBook that addresses them.
Develop an App: Can you help your customers by making life easier for them through an app?
Create a community: If you hear the same questions from customers over and over, this may be the time to bring them together. Connect them both online and off and help facilitate connections that prove valuable for them.

======
Hear more from Carla on "Understanding content's role in sales enablement" at the Content Marketing Strategies Conference, May 7-9, 2013 at The Claremont Hotel Club & Spa in Berkeley, CA.
About the Author:
Carla Johnson has a 20+ year career helping organizations build stronger brand engagement and sales through content marketing and storytelling. Her clients have included companies such as Motorola Solutions, Sybase, VMware, TeleTech, Encana Oil & Gas and the U.S. Army Corps of Engineers. She's a consultant to the Content Marketing Institute, a frequent speaker, contributing author to "Advice From The Top: The Expert Guide to B2B Marketing," and numerous high-tech, industry and business publications.
Debra Garber
VP of Finance & Operations, Chief Content Contributor, and backyard chicken farmer. I happily share my experiences traversing the wilds of social media. Will trade social media tips for fresh organic eggs. Motto: "Live the life you love, love the life you live."