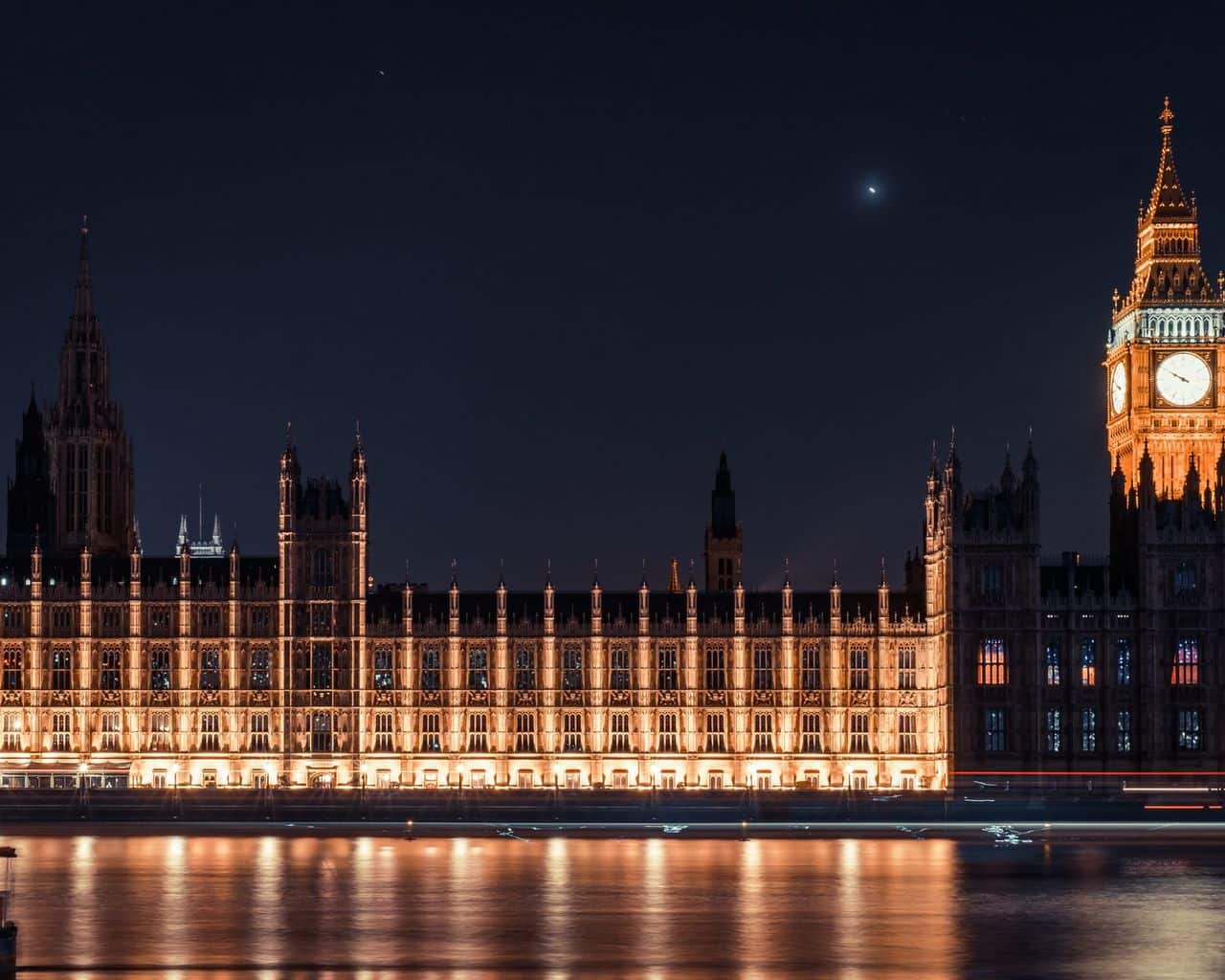 The Unscientific Guide to Determine Best Times to Post on Facebook, Twitter, Pinterest and More
What's the best time to post on Instagram? How frequently should I Tweet? What's the Facebook, Twitter, Blog, LinkedIn, Pinterest, Instagram post time sweet spot? How about the frequency?
First published in March 2015, we updated this post with new research and infographics.
My husband, a visual artist, wanted to promote his upcoming art opening on Facebook. He asked me for the best time to post on Instagram and Facebook to promote his event. Umm…is this a trick question? Seriously, it's hard to remember the ever-changing rules of social media engagement.
For all of us who don't have the golden rules of when to post or how often to post on social media memorized or scotch taped by our bedsides, HubSpotBlogs published an excellent cheat sheet by Quicksprout.
Quick links to the best times to post:
Use the quick links above to jump to the detail but if you have the time, here's a word of truth:
The real truth behind the best time to post on Instagram, Facebook and others
It's important to realize, the pronouncements as to the "best" time to post on social media are not based on science. Social media is always "on". The key is to find the right balance for you, your audience, and your content. Then mix it up. However, finding the right balance may not be easy, there are those who believe that the best postings times are counter-intuitive.
Step #1: Determine when the highest percentage of your social media audience tunes in – so when you share content, you'll get maximum exposure. This infographic from KISSmetrics is dated, however, the concept of how to look at your audience remains relevant today.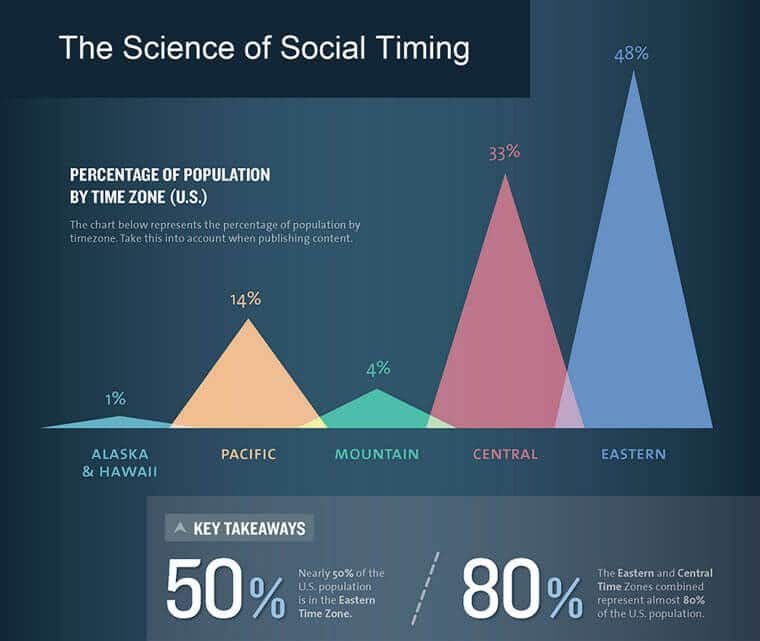 Predict. Measure. Test. Repeat.
In reality, testing, testing, and more testing is your best tool for determining optimal post times. With this in mind, vary your times and make sure to track your analytics closely to determine your optimal posting schedule. Furthermore, the same holds true for post frequency. Equally, you need to predict and monitor the performance of your social media pages continuously. There are no definite formulas for us to adhere to when it comes to posting on social media channels. Consequently, everyone's network dynamics, country, and industry are different. That is to say, unfortunately, there is no one size fits all model.
Deep dive into social networks: Fun facts and optimal post times and frequency
As promised above, here are some of the "Best" parts of the infographic from HubSpotBlogs post on When to Post on Facebook, Twitter, LinkedIn & Other Top Social Networks [Infographic]:

Best Time to Post on Instagram
Best Days to Post: Instagram engagement remains fairly consistent throughout the week with a slight spike on Mondays
Best Time to Post on Instagram: 2 am and 5 pm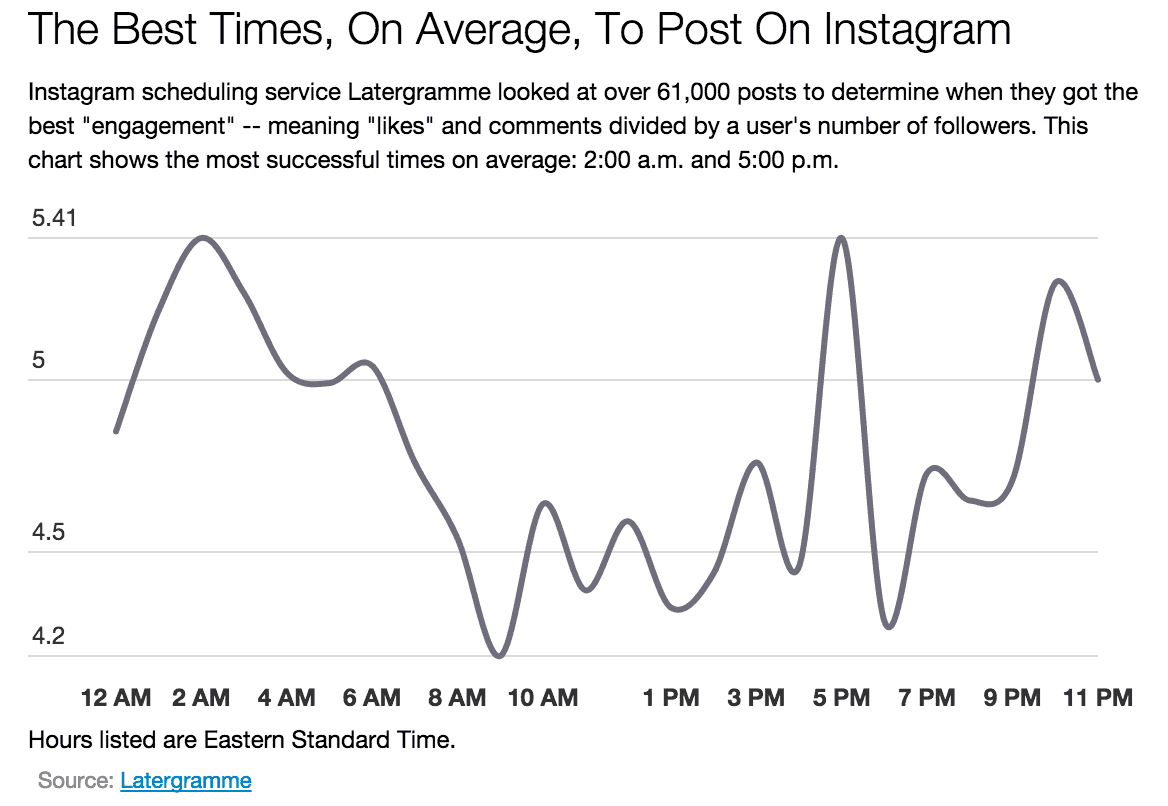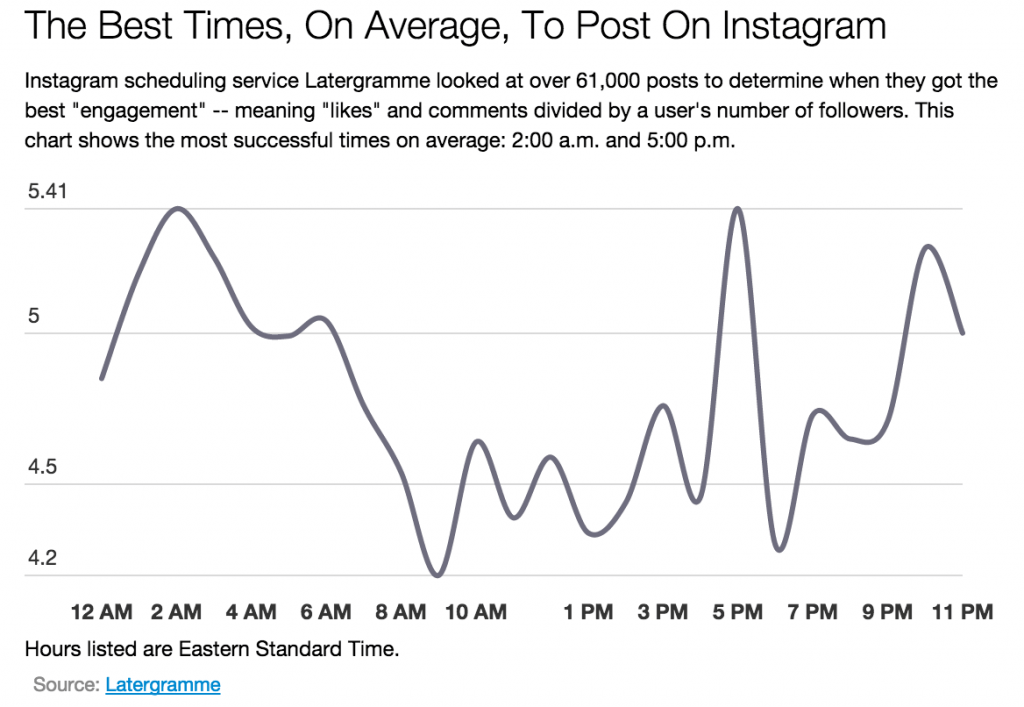 Best Post Frequency: 5 times per day
Best Engagement Fact: From The Huffington Post, posting at 5 pm is an especially good time to engage people who have hopped on Instagram at the end of the workday and are procrastinating before they leave for the evening.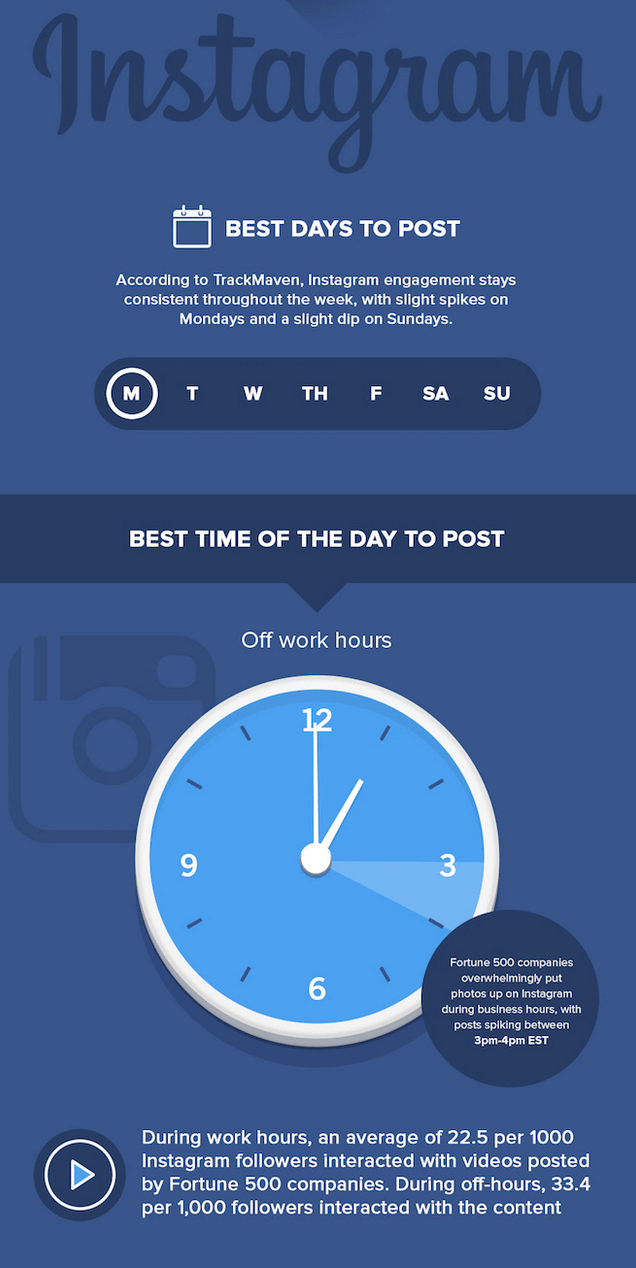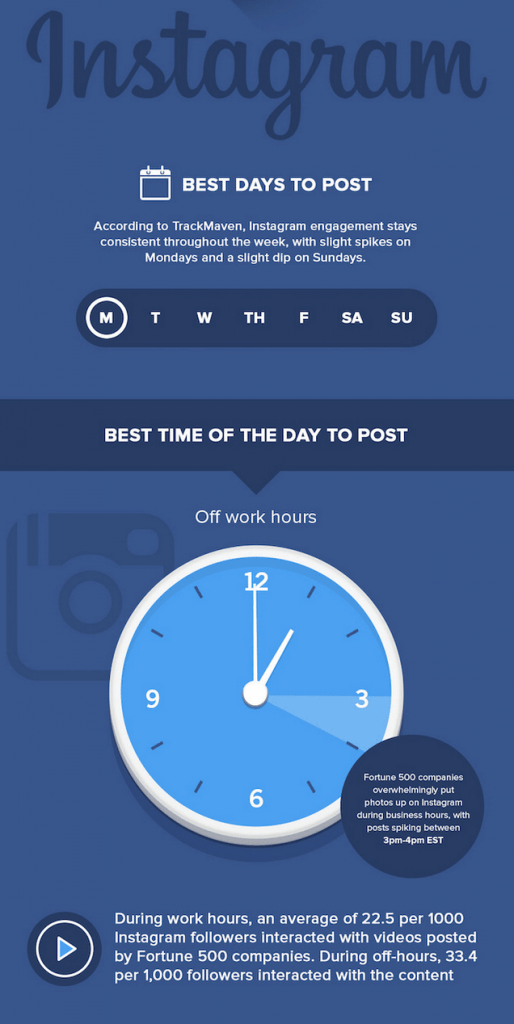 Best Time to Post on Facebook
Best Days to Post: Thursday and Friday
Best Time of Day to Post: Optimal time is early afternoon in the time zone with most of your audience
Best Post Frequency: Data from KISSmetrics indicates that .5 posts per day (1 post every two days) will achieve the most likes on Facebook


Best Quote: "The less people want to be at work, the more they are on Facebook!" – Buddy Media
Best Engagement Facts:
86% of posts are published during the work week with engagement peaking on Thursday and Friday
Engagement rates fall 3.5% below average for posts published Monday through Wednesday
For instance, the "Happiness Index" on Facebook spikes by 10% on Friday
Best Tool: Use Fanpage Karma to find the optimal time tailored to your audience
Best Time to Post on Twitter
Best Days to Tweet:
B2B: Monday – Friday
B2C: Wednesday, Saturday, and Sunday
Best Time of Day to Tweet: 5 pm for highest retweets. 12 pm and 6 pm for highest CTR.
Best Tweet Frequency: According to Socialbakers, the magic number for Twitter is three tweets per day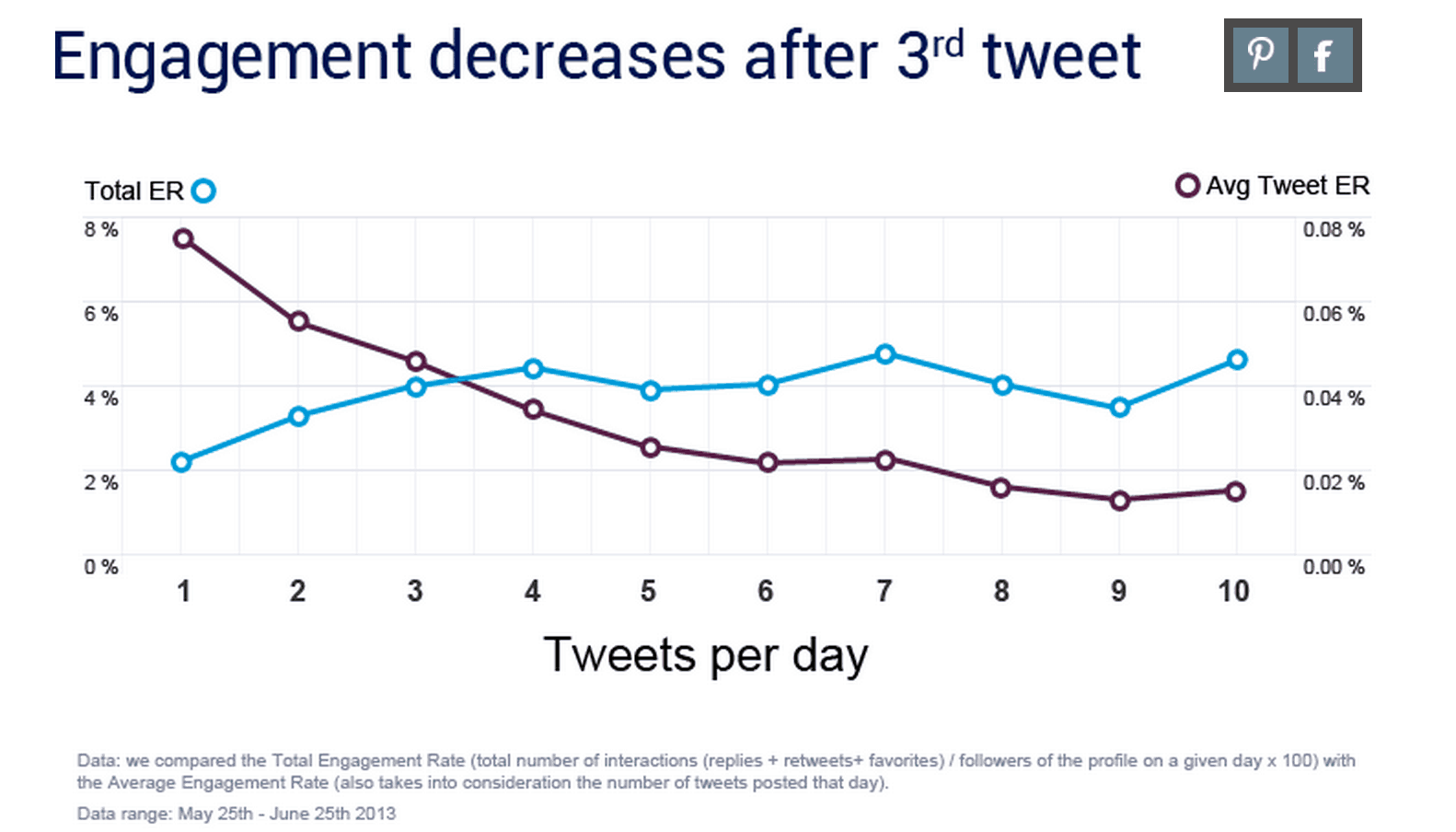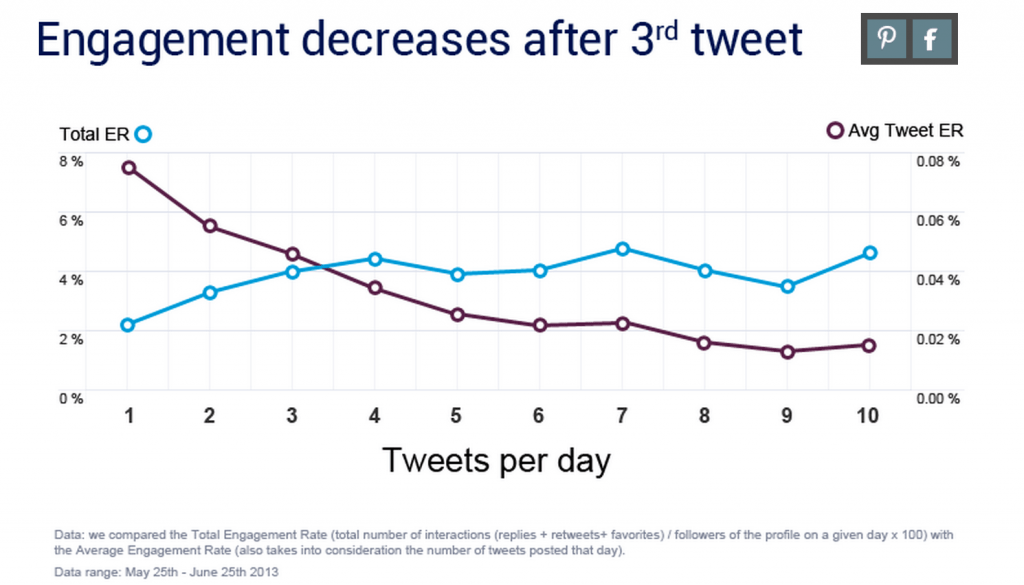 Best Engagement Facts:
According to Twitter, users are 181% more likely to be on Twitter during their commute
Users are also 199% more likely to use Twitter during school or work hours
Best Tool: Use Followerwonk to find the optimal time tailored to your audience
Best Time to Post on LinkedIn
Best Days to Post: Tuesday, Wednesday, and Thursday
Best Time of Day to Post: Weekdays during business hours
Best Post Frequency: Per "LinkedIn Best Practices", post at least 20 status updates per month to maximize reach to approximately 60% or more of our unique audience. The optimal posting frequency is the equivalent of one post per weekday.
Best Engagement Facts:
93% of B2B marketers rate LinkedIn as the top B2B social media lead generation source
According to Fannit, the best times to post are 7 am – 8 am and 5 pm – 6 pm. The worst times are Monday and Friday for US based time zones.
Best Time to Post on Pinterest
Best Days to Pin: Saturday
Best Times of Day to Pin: 2 am – 4 am and 8 pm – 11 pm
Best Pin Frequency: 5 times per day
Best Engagement Facts: Directly from the Pinterest blog, here's a look at the most popular categories on each day of the week:
Monday: Good intentions in fitness (CrossFit is becoming a Pinner obsession, along with Paleo challenges and Tough Mudder Boot Camps)
Tuesday: Gadgets are all the rage in technology
Wednesday: Inspirational quotes to get you through the week
Thursday: Threads lead Thursday with fashion
Friday: GIFs bring comic relief to the end of the week with humor
Saturday: Vacations are top of mind with travel (Recently popular: Hiking trails in Portland, museum crawls in DC, and summer road trips through Boston)
Sunday: Sunday Funday with food and craft ideas


To do social media right, save time by using an assistant
Now that you have determined the "right" time(s) to share your content, a key to social media success is having a consistent flow of content.
Step #2: Use dlvr.it to set up your queue up for optimal post times. Think of Q as your personal assistant. Q shares content when you cannot. As a result, you'll be able to save time, keep the conversations flowing on social media (and beyond) and boost engagement.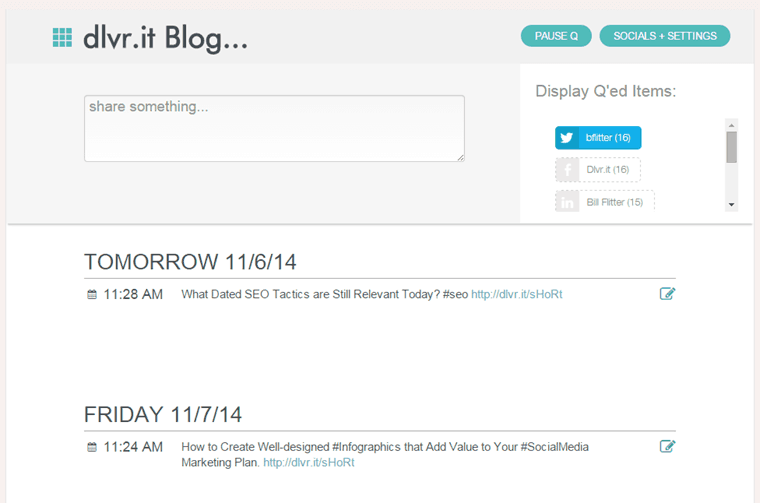 When have you found the best time to post on Instagram, Facebook, Pinterest and other social networks? We'd love your feedback.
Debra Garber
VP of Finance & Operations, Chief Content Contributor, and backyard chicken farmer. I happily share my experiences traversing the wilds of social media. Will trade social media tips for fresh organic eggs. Motto: "Live the life you love, love the life you live."