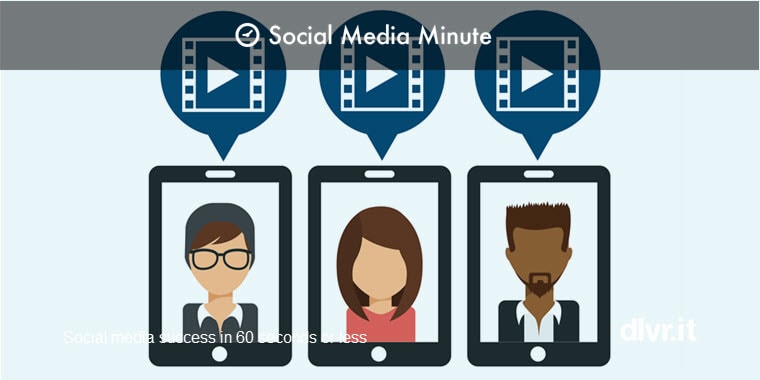 Simple and Inexpensive Video Solutions for Small Businesses [Research]
Lights, camera, action! Today, if a small business wants to create a video, all they have to do is reach in their pocket (and I'm not talking about taking out your wallet!).
There is no shortage of places to broadcast it either. From Periscope to Meerkat, to YouTube and Instagram, 78% of people online are watching up to 16 hours of video every month. Thought to be only for companies with deep pockets, small businesses can now take advantage of video in their marketing efforts with inexpensive tools and mass reach
__
I have to be honest. We don't spend a tremendous amount of time on creating original videos. We have a few videos showing how to use the dlvr.it app. When it comes to marketing dlvr.it via video, we need to do a better job. That void was the inspiration for this post.
We have several questions:
What are missing out on because we are not doing video?
What would we create?
How would we create it?
How much does it cost?
How would we distribute it?
Who would edit it or does it even need editing?
Our goal is to include video in our 2016 marketing plan. I am sharing our research with you to help you get a jumpstart on your 2106 marketing plan.
Should I Include Video Marketing?
One of the main reasons many small businesses steer clear from video production is because of the perceived time involvement, lack of expertise and cost. It's much easier to write a blog post than to create a storyboard, shoot and edit a video.
However, according to Forrester Research, the value of a one minute video is a whopping 1.8 million words! That's a lot of blog posts!
Consider the numbers: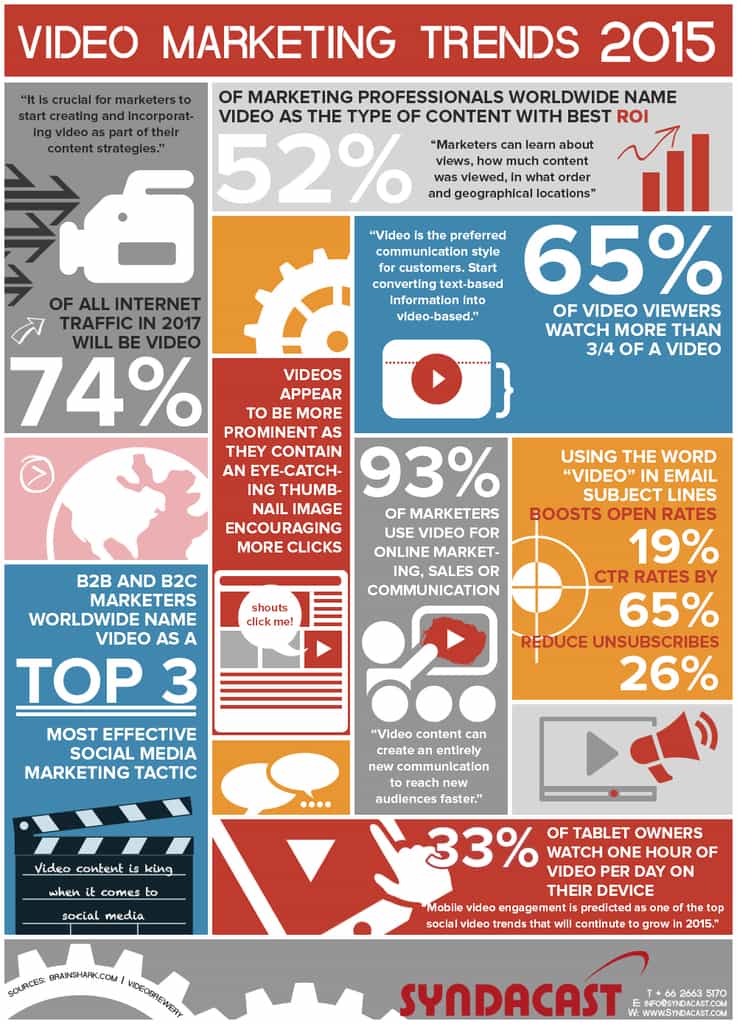 What's in the Perfect Video?
According to research, the length of a video is the biggest determining factor for its success.
You have 10 seconds to grab a viewers attention. 20% will click away from a video in 10 seconds or less. 60% of viewers will disappear by 2 minutes. [Visible Measures]
Post on Tuesday between 11 a.m and 1 p.m. The most active time of embedding, linking and sharing videos on YouTube. [Sysomos]
Keep videos to just 15 seconds. Videos that are 15 seconds or shorter are shared 37% more often than those that last between 30 seconds and 1 minute. [Jun Group]
Picking a Strategy and a Platform

Before jumping in feet first, create a video marketing strategy. Below are a few questions you should ask yourself. The answers to these questions will also help you determine which video distribution platform to use.
1 – What type of content you'll make?
Educational videos?
Entertaining?
Practical?
A mix?
Your brand's tone and audience needs should determine your approach here.
2 – Exactly who are you making this content for?
3 – What should your audience take away from your videos?
What's the value add of your content in particular?
What does it help your audience do?
If you are like most small businesses, you have limited time and resources. With that in mind, focus your strategy on one platform.
Learn it and grow it.
No matter the platform you focus on, you can cross post video to other platforms and social networks to take full advantage of your creative assets.
Vine (Owned by Twitter)

Estimate active users: 153 Million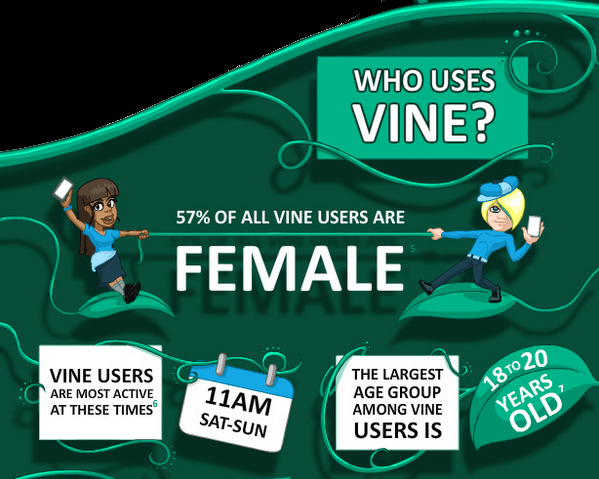 Who should use it: Small businesses who are looking to attack millennials
What to share:
Create a story and share through a series of short videos
Share customer testimonials
Highlight your best fans
Provide coupons and freebies
Vine Facts:
1oo Million people watch Vines every month [TechCrunch]
38% of people between 14-18 are on Vine [eMarketer]
Most Vines are sent between 10-11 a.m. and on weekends [SocialFresh]
Vines see 1.5 Billion video plays per month [Gigaom]
Branded Vines receive 400 percent more shares than branded videos
Short form video: 6 seconds
Cost-effective and easy-to-use
Think community and engage. To be successful get involved.
Requires more creativity given the short nature of the video
Show something fun, helpful and interesting
Additional resources to be successful on Vine: 
Instagram (owned by Facebook)
Instagram's per-follower engagement rate for top brands is 58 times higher than on Facebook and 120 times higher than on Twitter
Estimated active users: 400 Million active users posting 60 million photos and videos a day. [Instagram]
Who should use it: If you have a product that would be attractive to young males between 16-24, Instagram is the platform for your business. Specifically, if your product is related to fashion, you should be jumping on Instagram immediately. Over 96% of fashion brands are finding success on Instagram. Also, B2B brands are seeing success on Instagram.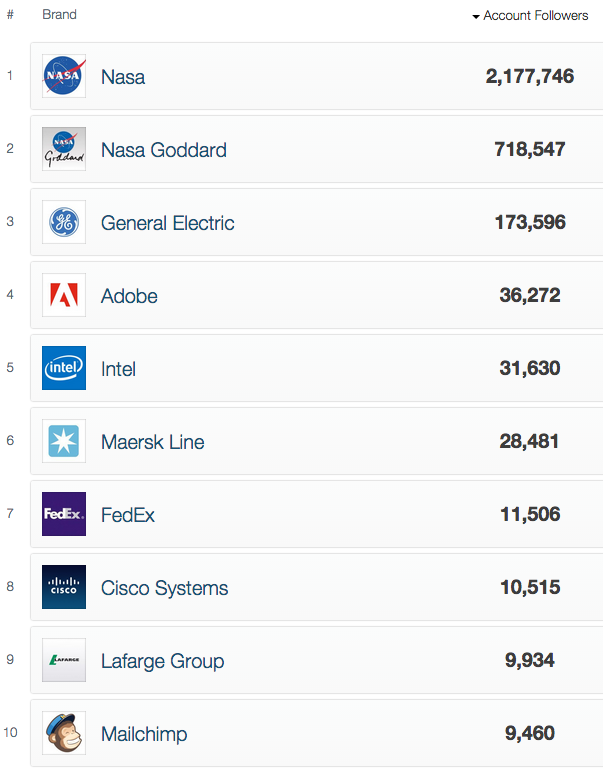 What to share:
Use Instagram to drive product sales by giving your followers the first peek at a new line or product and provide an easy-to-type link allowing them to be the first to buy.
Share photos with discount codes that are good for a small window of time to encourage purchases.
Do a contest or giveaway. Tell your followers what kinds of pictures or video to post and assign a specific hashtag to the campaign.
Instagram Facts and Stats:
51% of Instagram users are male [Adweek]
90% of Instagram users are under 35
Instagram's per-follower engagement rate for top brands is 58 times higher than on Facebook and 120 times higher than on Twitter
Short form video: 15 seconds
Cost-effective and easy-to-use
Think community and engage. To be successful get involved.
Requires more creativity given the short nature of the video
Show something fun, helpful and interesting
Hashtags are important for visibility
Additional resources that will help you be successful on Vine: 
YouTube (owned by Google)
YouTube is owned by Google! When it comes to boosting your SEO (Search Engine Optimization) ranking, videos are over 50 times more likely to appear on the first page of search results
Estimated active users: 1 Billion, 4 Billion views per day (last updated 3/20/13)
Who should use it: Small businesses interested in reaching the 18-34 market and have a bit more video expertise.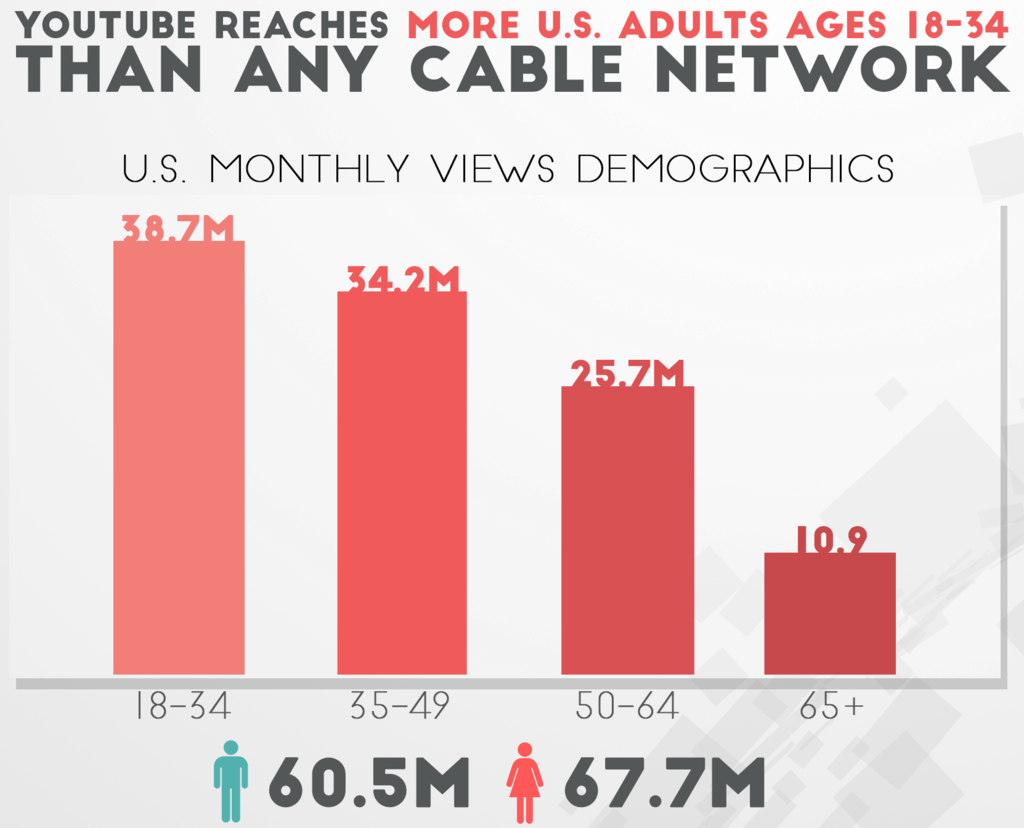 What to share: Short (less than 1.5 minutes) video content
Keep in mind: The YouTube market is competitive. It's a social media channel to choose if you have value videos that invite engagement, sharing and that users will enjoy. If your business can visually show how your services, products, and employees are different from all the rest out there, this social media channel is a winner. Note the costs and human resources involved in producing good, valuable videos before signing your business up.
Interesting YouTube stats:
Hours of video watched on YouTube per month: 6 Billion (April 2014)
Estimated amount of new videos uploaded to YouTube every minute: 300-hours per minute
Average time spent on YouTube per mobile session: 40 minutes
Percentage of U.S. internet users, aged 14-17 (teens) that use YouTube: 81.9% (October 2014)
Percentage of U.S. millennials that use YouTube: 72%
Most searched topic on YouTube for 2014: Music
Second most searched topic on YouTube in 2014: Minecraft
Additional resources to be successful on Youtube: 
Whatever video platform you choose or strategy, include a call-to-action and inform viewers what you want them to do next.
___
What's your video strategy?
We'd love t0 hear from you!
Debra Garber
VP of Finance & Operations, Chief Content Contributor, and backyard chicken farmer. I happily share my experiences traversing the wilds of social media. Will trade social media tips for fresh organic eggs. Motto: "Live the life you love, love the life you live."