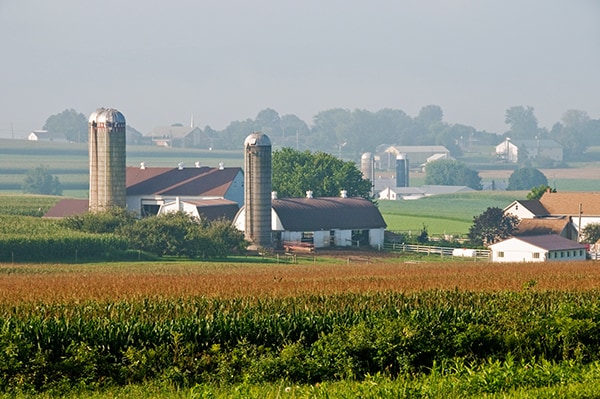 Brought Up to be an Entrepreneur: Early Life on the Family Farm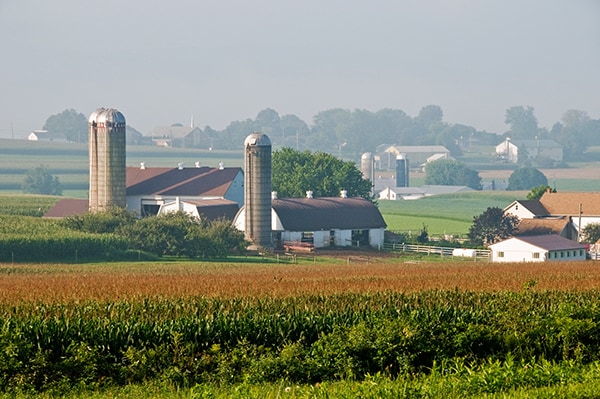 It was summer time. I had just woken up. The sun pierced through a crack in my bedroom curtain like a laser beam.  I had no idea of the time (nor date for that matter). I sat up in bed, pushed the curtains aside and looked out my window to see my dogs chasing one another. The smell of freshly brewed coffee was making its way up to my second floor bedroom. I could hear the crackling of fresh eggs being fried. My mom and dad were talking in the kitchen. My dad had already been up for hours doing chores.
I heard the call for breakfast. My sisters and I, barely awake, slowly shuffled across the hardwood floors, down the steps and into the kitchen.
I didn't know what the day had in store for me. I was only 8 or 9 at the time. We lived on several acres of land. My sisters and I always found something to do. Maybe I would ride my bike. Maybe I would go explore the acres of forest behind our house. Or maybe I would play in the hayloft in the barn.
I sat down at the table where my mother was serving breakfast (how I miss that) – two fried eggs, two slices of bacon, a piece of toast with butter and a glass of milk. What to do today, I was thinking. My fate would quickly be decided for me.
"Bill?"
"Yes, dad."
"I need your help today."
I didn't mind helping my dad. I was eager to just hang out with him (remember, i was under 10 and my dad was still cool.). He would sometimes let me drive "Big Bill". That was one of the  tractors on the farm. I would sit on his lap, he would push the pedals and I would steer. And yes, I had a tractor with my name on it!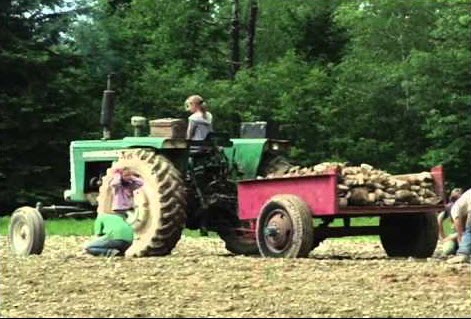 There was one job on the farm I dreaded more than any other thing – picking rocks from the freshly plowed fields. For those of you who have no clue what I am talking about, good for you. And for the small minority who do, you can sympathize. It was a labor intensive process.
 And then I heard those dreaded words come out of his mouth.
"I need help picking rocks."
I replied "Aw, dad."
He replied with just "the look."  The power that his look possessed would have made Super Man weak in the knees. That's all it took. I was picking rocks today.
"Be outside in 15 minutes," my dad said.
Just like the job implies, you pick rocks out of the fields so when it came time to harvest, the rocks wouldn't get caught in the machine that would harvest the crops. If a rock got caught in the harvester, it could quickly put it out of commission for days – until the mechanic could come fix it. You only had one machine – these were $100k+ pieces of equipment. You were always dealing with a small window of time when it came to harvesting. You have to harvest just when the crops are at their peek. Any delay could mean lower prices when it came time to sell them. That meant it was critical that stones were removed from the fields.
Growing up on a farm, I quickly learned what hard work was and the dedication it took to be an entrepreneur. Picking rocks was one of the hardest jobs there was on our farm. We managed over 3,000 acres of crops (that's a lot of rocks to pick), a couple hundred head of cattle and a fleet of trucks (to transport all the crops). It was a big operation at the time – the largest in Wisconsin.
As I look back on my childhood, it hadn't dawned on me until recently that I experienced a phenomenal transition in American history. For decades, America relied on the family farm for food. Nothing was more American than the small family farmer. Advancements in farming and crop output today has changed America's landscape forever. The family farm is quickly disappearing and being replaced by big corporate farms.  Drive around my old stomping grounds and you will see decaying barns and new housing developments where silos once stood.
The Last Farmer Standing
The 80's ushered in a new kind of 'farmer' – the technology farmer. I witnessed first hand the chapter close on the family farmer only to usher in a new era with the computer revolution and information age. Very few people can say they straddled two transformational eras in America's history.
My dad never pushed me into taking over the family farm. I went off to college to set a new path for my life. When I look back on the history of my family, I am the first son on my dad's side not to be a farmer. When I left for college I had no idea that I was not only setting a new course for myself but also changing the family's lineage and taking part in a massive transformation happening in American history. We've gone full circle from a time where most Americans where entrepreneurs during the Agricultural Age to the Industrial Age where only the rich could afford the large machines in factories to the Information Age where the cost to start a business is extremely low.
From the Family Farm to the Server Farm
The life lessons I learned growing up on my family farm in Wisconsin have helped me succeed as an entrepreneur and
provide perspective as I pioneer a new chapter in America's history. It takes the same hard work, passion and patience to be a technology entrepreneur as my dad possessed when he started his farm with just one cow (seed capital) and a dream. You have to dig in, get your hands dirty and realize some years you are going to have bad crops. You can control what you can but outside forces are playing against you like mother nature or a well funded competitor.
 Am I still picking rocks? Sure.  Every time I throw one into the pile, another one appears… intellectual property rights, SPAM, economic uncertainty, ever changing technology, new competitors cropping up.  Success means learning and adapting continually.  My life on the farm has prepared me well for the challenges of the new era.
As far as my family's farm? That has long been gone. My parents have retired from farming and moved to the 'big city' living comfortably in a condo about 30 miles from where I grew up. My mom still wakes up early and makes fried eggs, bacon, toast and coffee. When we get together, we talk about the 'old days" and reminisce about the times in the fields. And then my dad always turns to me and asks, "What is it that you exactly do again?"