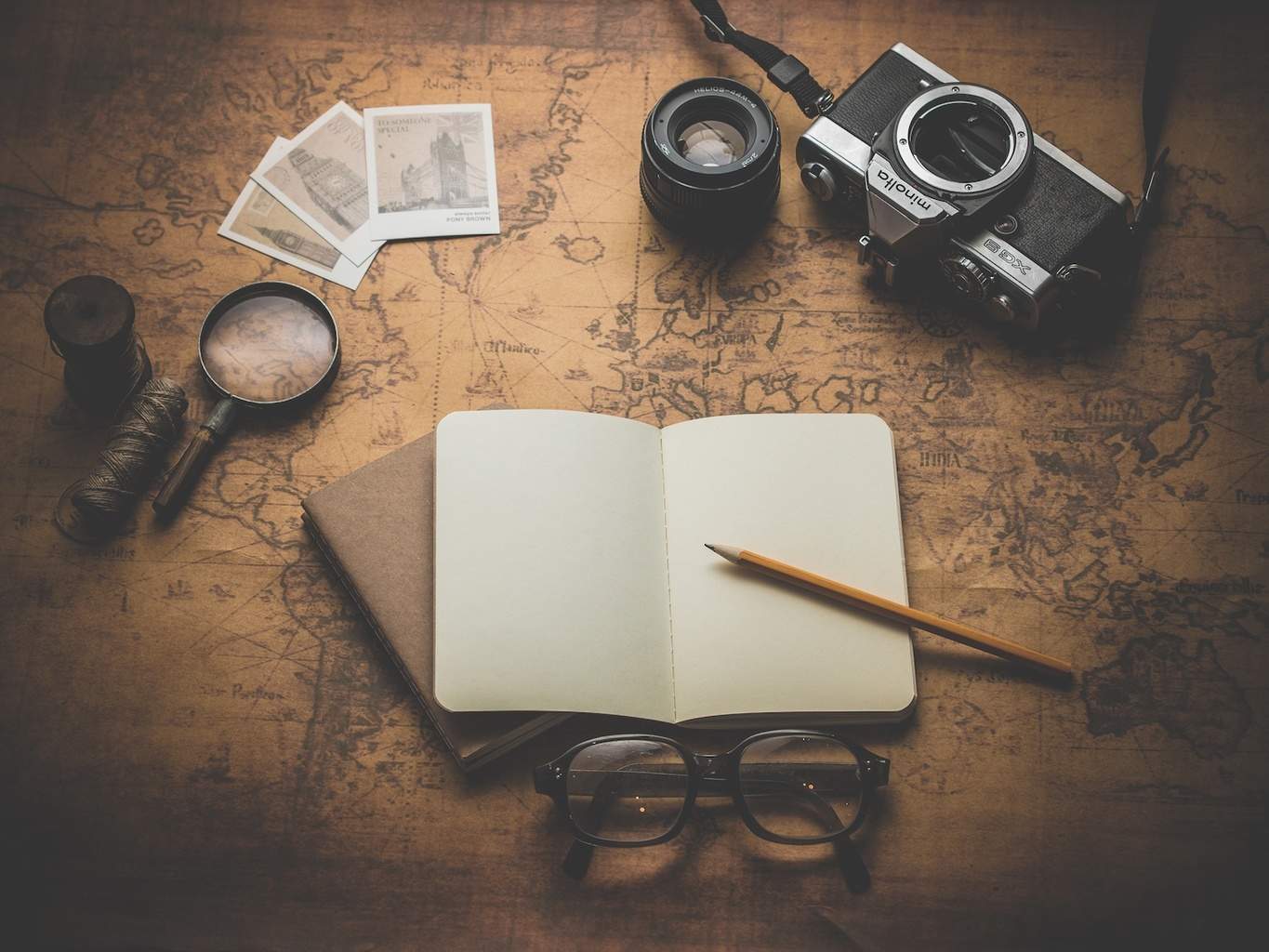 How to Find Content to Boost Social Media Engagement
Is your social media engagement slowing? Are you struggling to find time to create compelling content? Are you looking to find content to share? As a small business, how many times have you wished for a second set of hands to help with your social media?
How to Find Content to Boost Social Media Engagement
There is no shortage of places to find content. The real issue is where can you go to quickly find content that is new, unique and well written.
Without a magic genie or a body double and more time in the day, here are seven solutions to help you find content while saving you valuable time.
A content search tool that will show you the hottest tweets and content related to any search topic under the sun. Just enter a term – like "content curation", "cupcakes" or "Sonoma, CA" – and you can browse the most popular posts on that topic from the past 24-hours to the past year.
Benefit: With BuzzSumo, you can enter your topic of choice and refine search results to the most current and popular articles relevant for your business and then share them. You can also filter results by guest posts, infographics, articles, giveaways, interviews, and videos. When you know what content is most popular, you have a much better chance of overall engagement.
You can discover the most shared content:
For a topic on all sites, or on a particular site
By competitors
For a specific time period
And, you can discover what type of content is the most popular.
Here's an example of the results page from my search using the "Top Content" tab for the topic "cupcakes':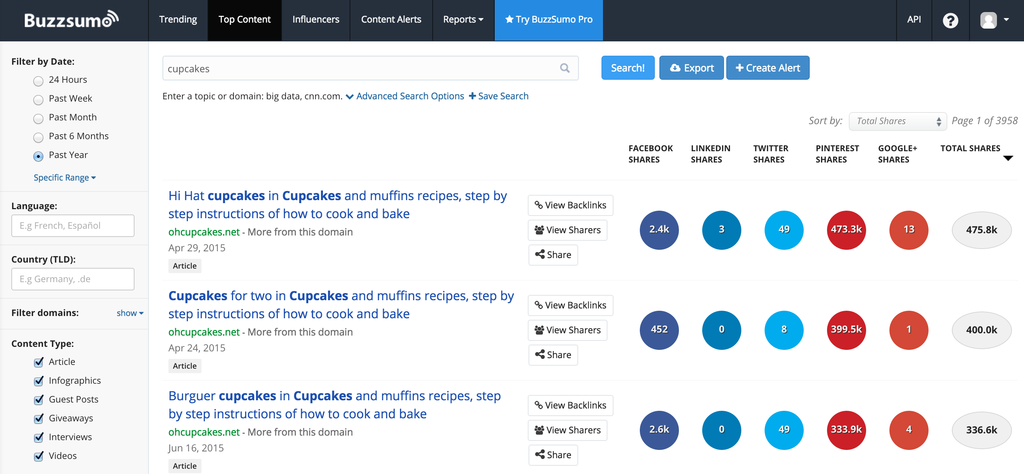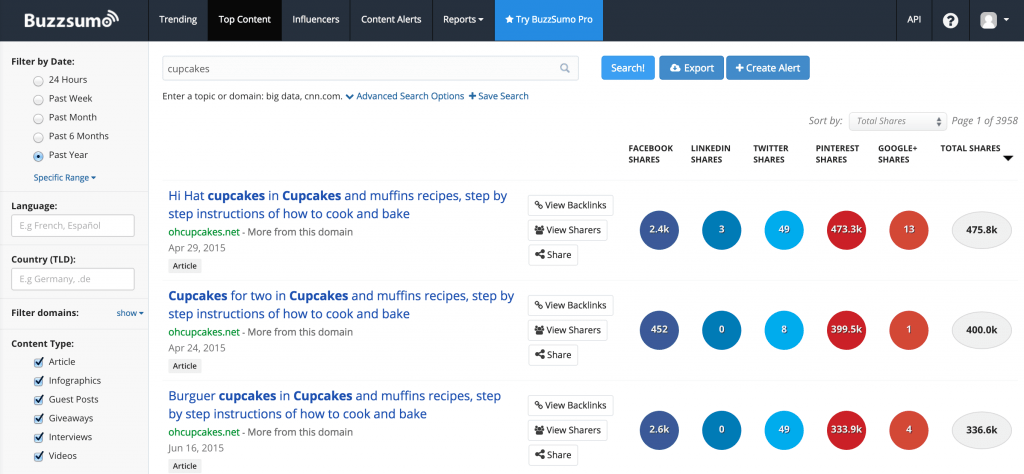 Service that finds blogs and articles that mention you or anyone you care about – colleagues, friends, business acquaintances or industry thought leaders – and notifies you seconds after they've published. Of note, LinkedIn acquired Newsle in July 2014.
While there are already "people search" sites and social news aggregators, Newsle does two things that haven't been done before:
Finds real news about (not by) your Facebook friends and LinkedIn contacts (no tweets, no status updates, no "social noise")
Combines this with news about public figures you select, in a single newsfeed
Benefit: When you share content about others, you'll find that it helps build relationships with them.
Here's an example from my Newsle homepage. First in the feed is an article quoting my LinkedIn connection, Les Vadasz, Intel co-founder and a fellow Sonoma Valley Education Foundation board member. More than likely, I would never have picked up this article (and shared it) if I Newsle hadn't notified me.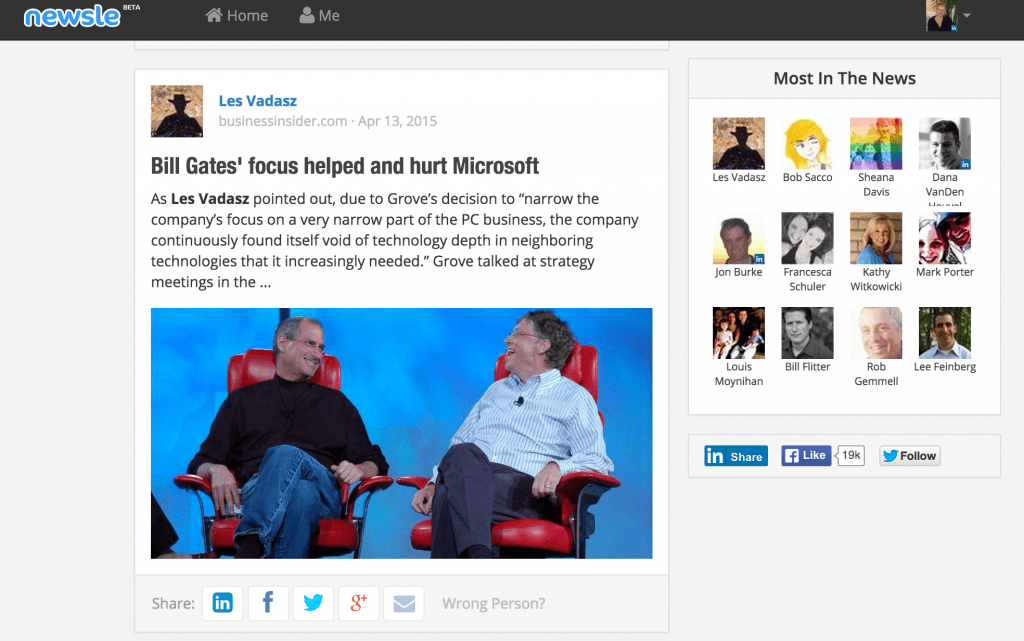 3 – Discovery Apps & Engines: Flipboard (formerly Zite), StumbleUpon, and Quora
Discovery apps and discovery engines find and recommend web content to their users. As far as curation goes, this is an easy way to cut out the legwork if you're not up for a big search to find something new.
A few favorites:
Zite (which shut down in December 2015) – Was a mobile app that let you follow topics and present content in a similar style to Flipboard. Flipboard collects quality content on your favorite topics from the world's most trusted sources and presents them in a beautiful magazine format.
StumbleUpon – One of the coolest places to find new stuff is StumbleUpon. Similar to Zite, StumbleUpon is tailored to your interests, and you can vote content up or down. StumbleUpon is a great place to go if you're looking for something new, but not sure what you're in the mood for. (But beware of its ability to suck you in!)
Platform to help discover, curate and publish great content to get visibility online.
Scoop.it lets you share ideas that matter and shine on the Web through beautiful topic pages. Collect relevant content and add your insight to attract an avid audience. As a social media and content curation publishing platform, Scoop.it gives you an effective and efficient way to build your online presence.
Benefit: Scoop.it provides an excellent way to find, track and share great content. If you regularly interact on Scoop.it, you will build a network of people who will find great content for you.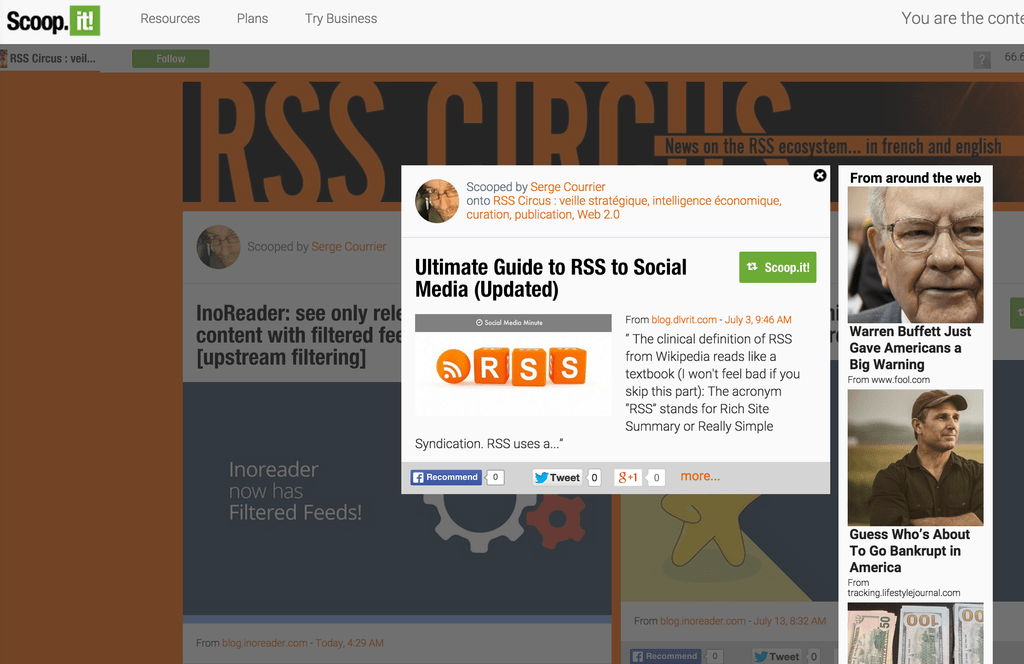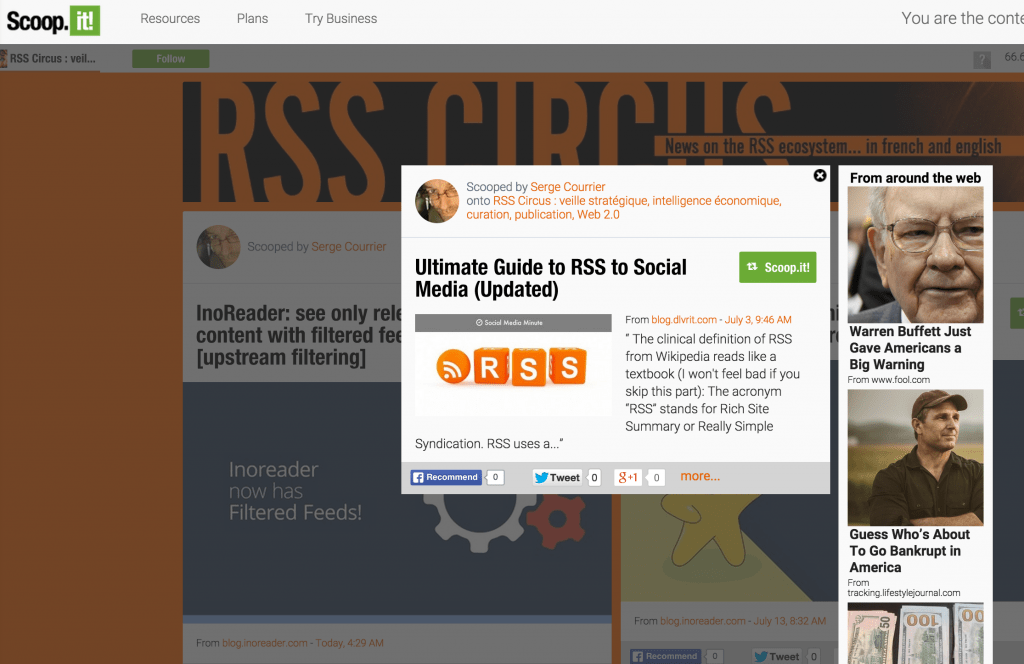 Last, but certainly not least…
BONUS: Blog Comments
I find some of the best advice in the comments of blog posts. There's always someone out there who's found something you haven't. When you come across a particularly interesting article, be sure to scroll down and check the comments. Chances are, someone has shared a related article or website that will interest you. I've found a lot of feeds this way.
___
We're always on the lookout for GREAT content sources. Please share anything of interest.
Learn more about content curation, how to find content, and ways to engage your social media fans and followers.
Debra Garber
VP of Finance & Operations, Chief Content Contributor, and backyard chicken farmer. I happily share my experiences traversing the wilds of social media. Will trade social media tips for fresh organic eggs. Motto: "Live the life you love, love the life you live."