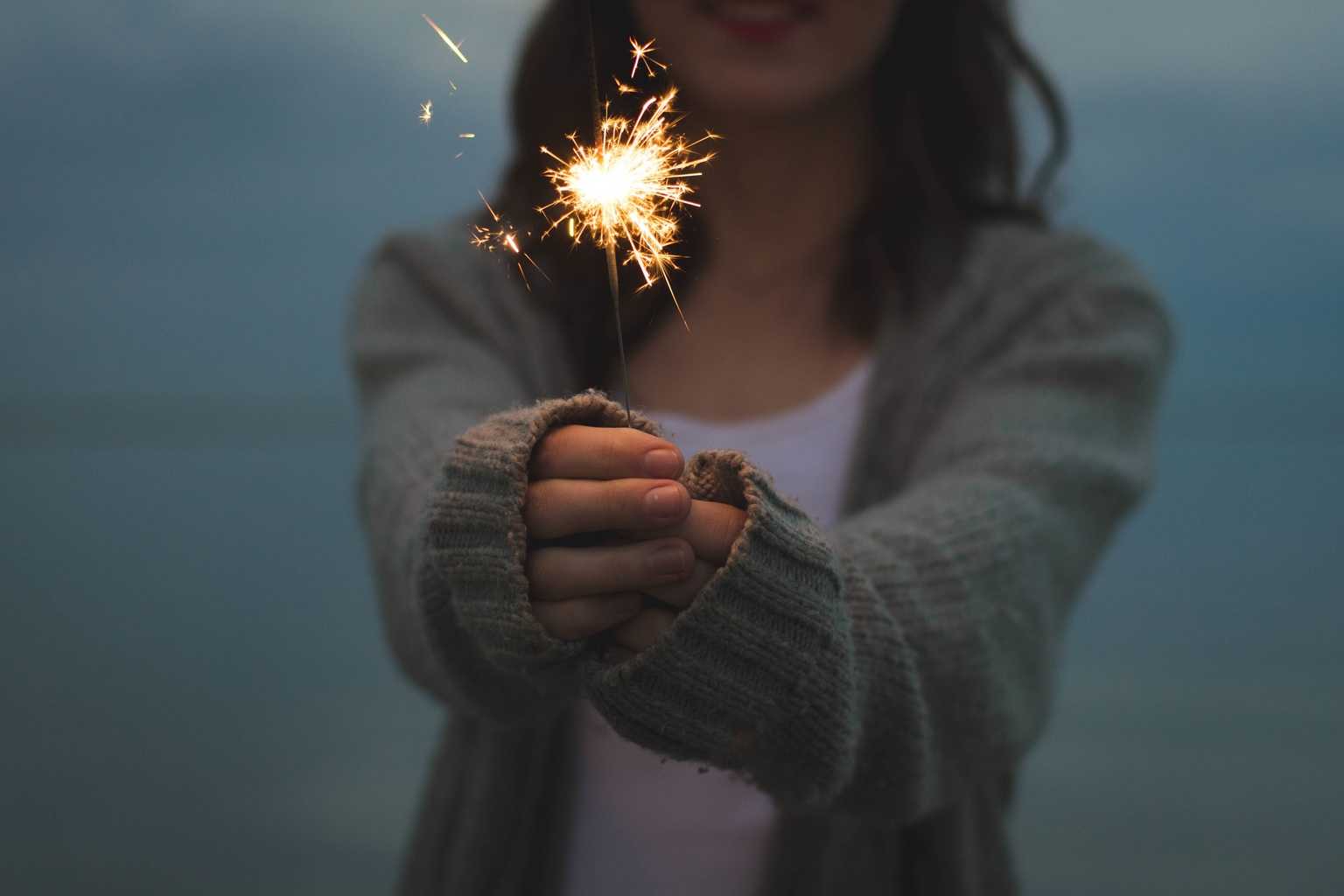 How to Create Good Instagram Bios: The Ultimate Checklist
Instagram can make your small business stand out in the crowd. Therefore, the first step is to create good Instagram bios. But, before we begin, it's worth knowing why Instagram can be an incredibly important social media platform for your small business.
Answer this question:
What's the connection between Instagram, your small business, and your customers?
In short, a lot of potential shoppers. Social Media Examiner drilled down on recent findings on Instagram users and their positive impact on social media marketing.
In brief, they found that:
1. Instagram users are shoppers
Unlike Facebook users who report that their primary reason for using that channel is to connect with friends and family, Instagram users may have more of a shopping drive. Specifically, 70% of the 16,000 users in Iconosquare's 2015 study reported that they have already looked for a brand on Instagram.
2. Instagram audience is more likely to engage
Socialbakers, a social analytics and research service, analyzed its Q4 2014 data and found Instagram's engagement rate far higher than Twitter's.


3. Instagram audience is young
Millennials use Instagram. A December 2014 study from Frank N. Magid Associates, a November 2014 study from Cowen & Company and a September 2014 study conducted by AVG, cited in eMarketer, found that 44% of 18- to 29-year-olds and 62% of 11- to 16-year-olds had used Instagram in the previous month.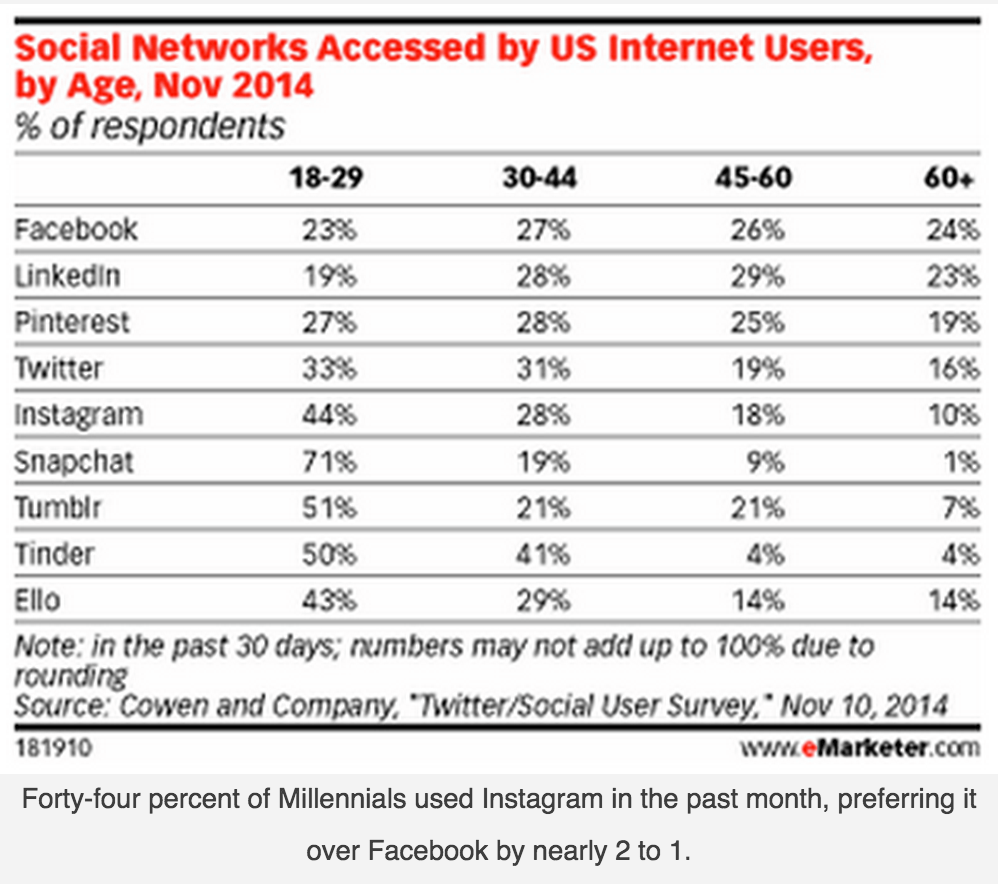 Let's revise the opening question: What should be the connection between Instagram, you and your customers? Short answer: a lot of engaged young shoppers.
It's important to realize, as one of the fastest growing and most engaging social media networks, Instagram can make your small business stand out in the crowd. However, it is a must to create good Instagram bios. Here are five important steps to follow when setting up Instagram to help you represent your business in the best way possible way to increase traffic to your profile and draw in followers.
How to Create Good Instagram Bios

The first thing to remember is Instagram bios are one of the first things customers and Instagram users see. On the whole, the first impression is what people remember. Instagram is no exception. In like manner, it's important to have good Instagram bios that draw in users and encourages them to follow you. Here are the five key elements of a perfect Instagram profile page with infographic help from setupablogtoday.com:
1. Use a unique but true Username.
This should be a no-brainer, but when picking your username – try to use your business name. These are the only elements of your bio that Instagram looks at in search queries so make sure your name and username are representative of your business or brand.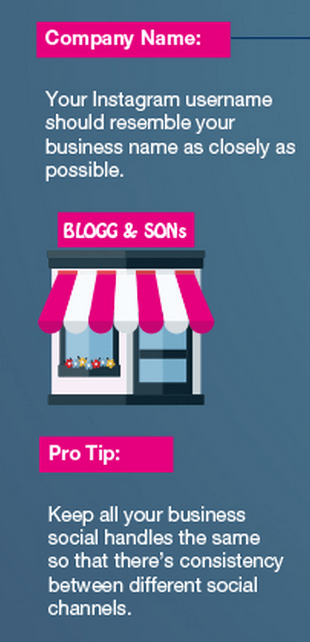 Pro Tip: Do you have a specialty? Is there something you provide? Are you known for something in particular? Do you have a specific job title or industry niche? Include this detail in your name!
And don't fret: From G/O Digital: Instagram is a fast growing platform, and you may find that your business name is already in use – but don't worry! Rather then giving up hope, think of creative ways to incorporate your location into your name, or break up multiple words by using a period. Instagram may give you suggestions of adding numbers to the username that you requested, but using a location or punctuation comes across as a more professional representation of your business.
Find a unique way to stand out, but that still represents your brand professionally.
2. Create Good Instagram Bios. 
You do something – and you do something that sets you apart from anyone else. Consequently, tell this side of your brand in your bio. Explain what makes you unique. Explain what you can do for them. Explain what you share on Instagram. Tell users what you do and who you are.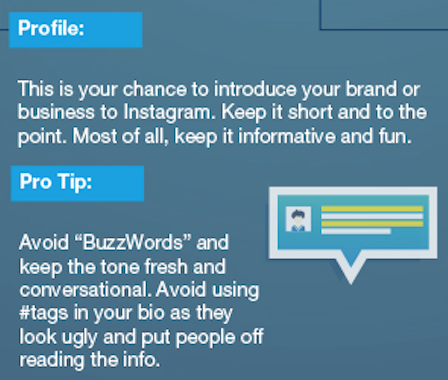 Pro Tip: Instagram is about having fun. Your bio should reflect that fun side of your personality. Don't make your bio too stuffy or formal. Include emojis or symbols in your bio. Use humor. Ask a rhetorical question. Make people laugh. Know your audience.
Another pro tip: You have 150 characters to work with, and I suggest using as many of those characters as possible. Be sure that your bio includes keywords from your industry to help make your account easy to find through in-app searches. – G/O Digital
3. Profile Photo – Are you Smiling?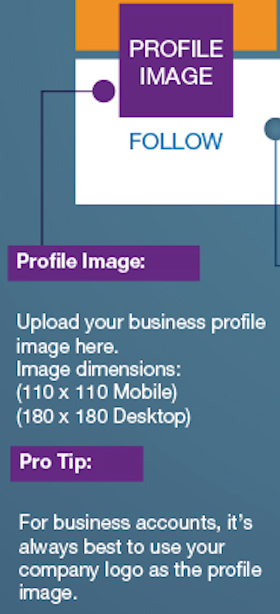 Visual content is a critical piece of any solid social media strategy.
You've seen the stats on the power of images in our social streams – how images can double and even triple your engagement, retention and recall rates compared to plain text. If a picture is worth a thousand words, then the quality of the image needs to communicate the quality you put into your work or business.
Pro Tip: Always use high quality, sharp images to convey a professional image. Be consistent with the things that you are posting – keep business and personal separate. Determine the visual style of your brand – is there a particular filter or angle that you always use, or a certain photo style? Your posts should be consistent, so your audience becomes able to identify your brand's images without any problem!
4. Include a URL link to your website.
Very important! Don't forget to make sure you have your website in the URL link in the bio – this is the only place on Instagram where you can have an active hyperlink.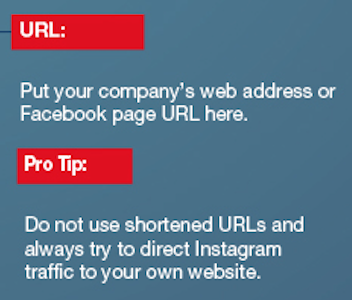 Pro Tip: You can change the link whenever you choose to promote different aspects of your business, for instance, a newsletter sign up or your Facebook fan page. – Business 2 Community
5. Include a #hashtagthatmakessense. 
Create a Hashtag Strategy (that is hyper-focused on your niche). You are allowed up to 30 hashtags in the caption of an Instagram post, so take advantage of it. Create a custom hashtag for your business to curate the images you and your customers share.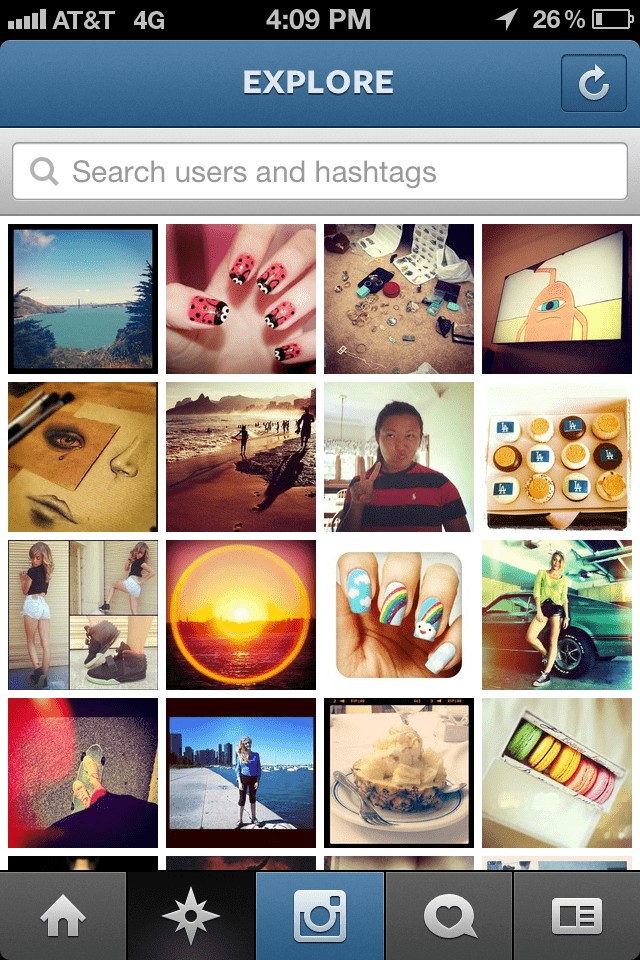 Pro Tip: To get more hashtag ideas, go to the 'explore' section (the compass button) and try typing in different keywords to see what yields content that most closely aligns with your brand. To extend the life of your post, add the hashtag as the second comment on your post. If you want to refresh your post, delete that comment and add new ones. Remember never to add punctuation to your post, because the hashtag will not be live. Use these tips to cure your Hashtag Headache. – Business 2 Community
Bonus Step: Set your profile to Public (not Private).
Duh! Obviously, the more accessible you are, the more people will reach you.
Here's the full infographic from setupablogtoday.com on the elements needed to create the perfect Instagram profile page: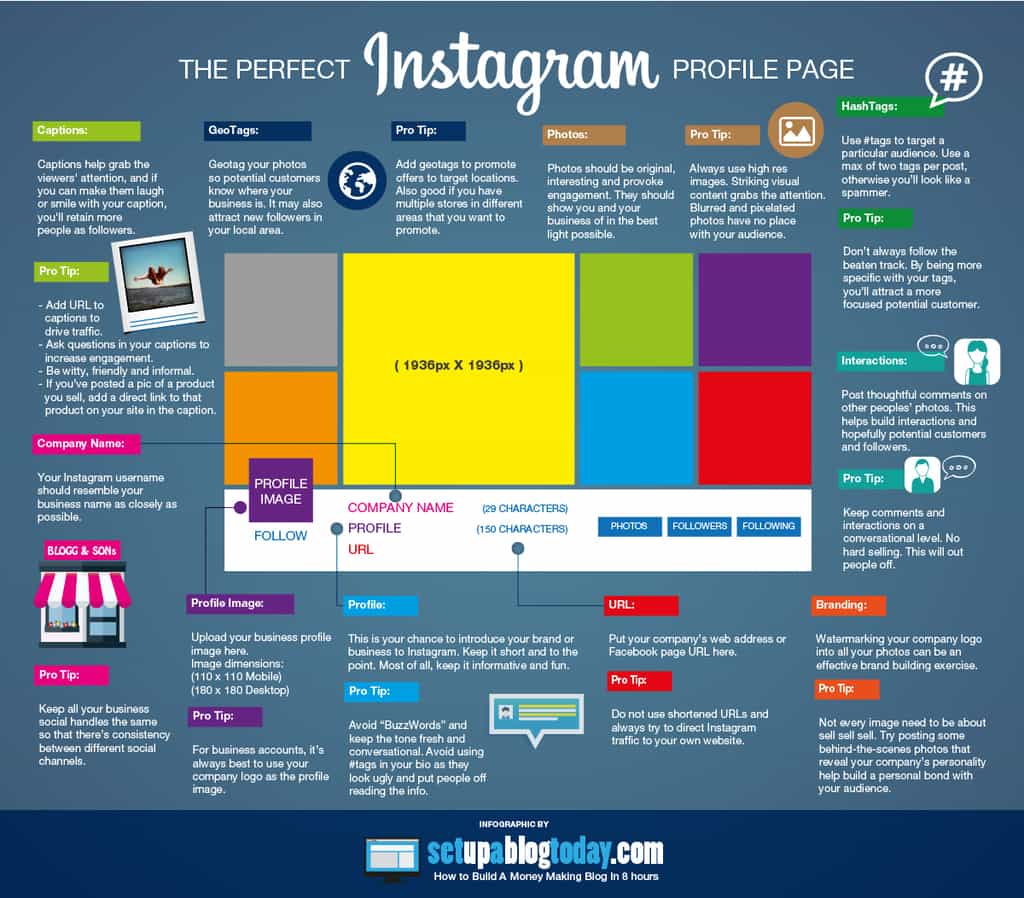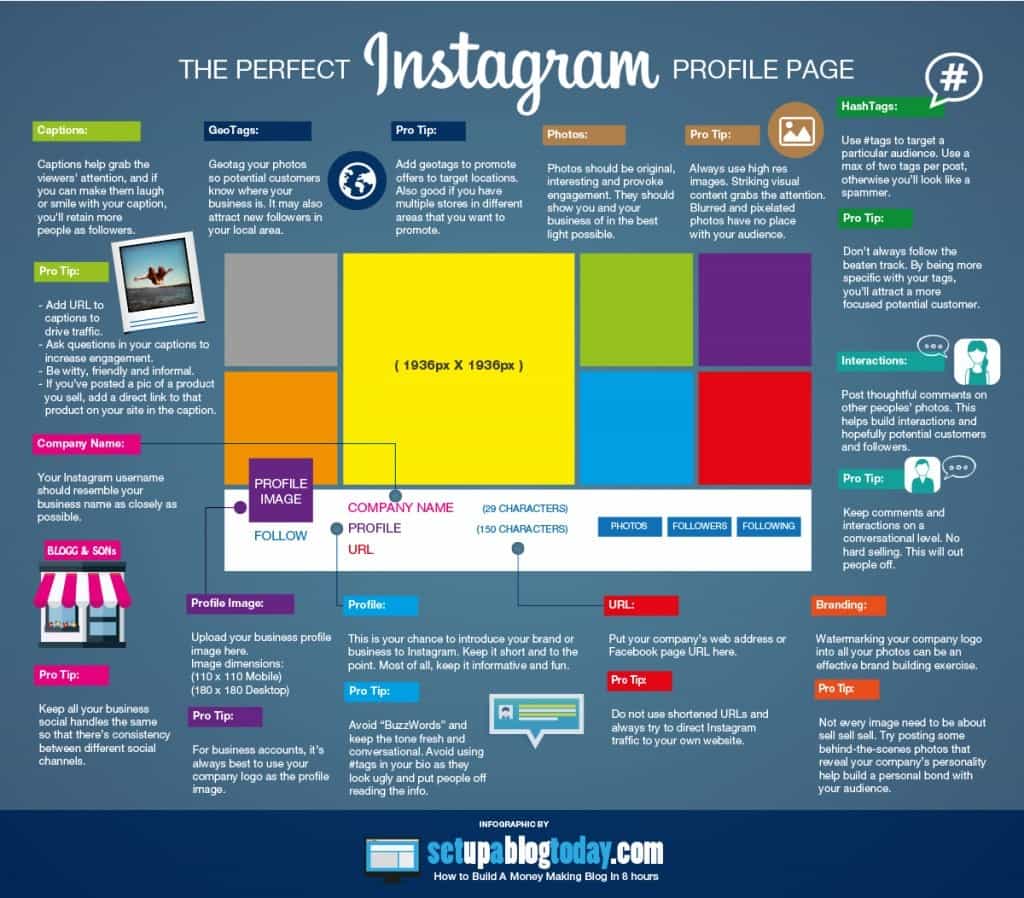 Want to see a real example of one of the best-branded companies on Instagram?
Annie's Homegrown has done an excellent job following the five steps listed above in creating the perfect Instagram bios.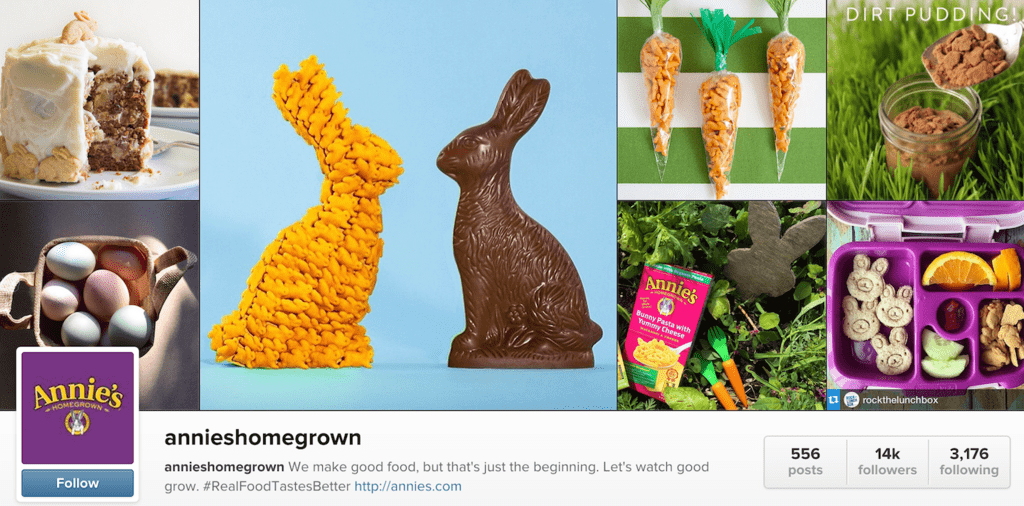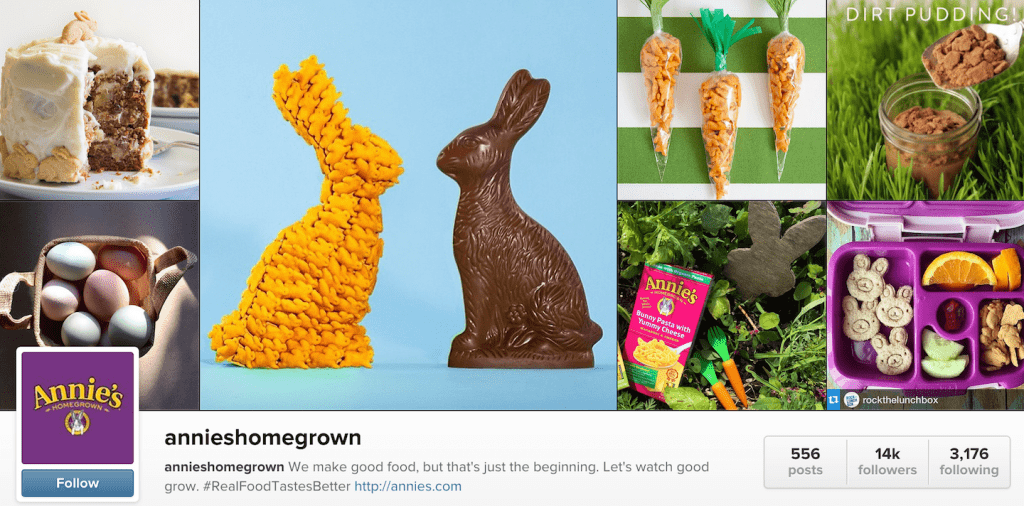 To sum up, for the perfect Instagram profile page, include the following:
Username: Your Instagram username should resemble your business name as close as possible.
Bio: Keep your bio short and to the point. Above all, keep it informative and fun.
Profile Image: For business accounts, it's always best to use your company logo as the profile image.
URL: Don't forget to put your business's website or Facebook (or other social media) URL page link in the bio
Hashtag: Include a clever hashtag that makes sense for your business.
For additional Instagram pro tips, read our popular post on How to Create an Instagram RSS Feed and 3 Ways it can Instantly Boost Traffic.
Debra Garber
VP of Finance & Operations, Chief Content Contributor, and backyard chicken farmer. I happily share my experiences traversing the wilds of social media. Will trade social media tips for fresh organic eggs. Motto: "Live the life you love, love the life you live."