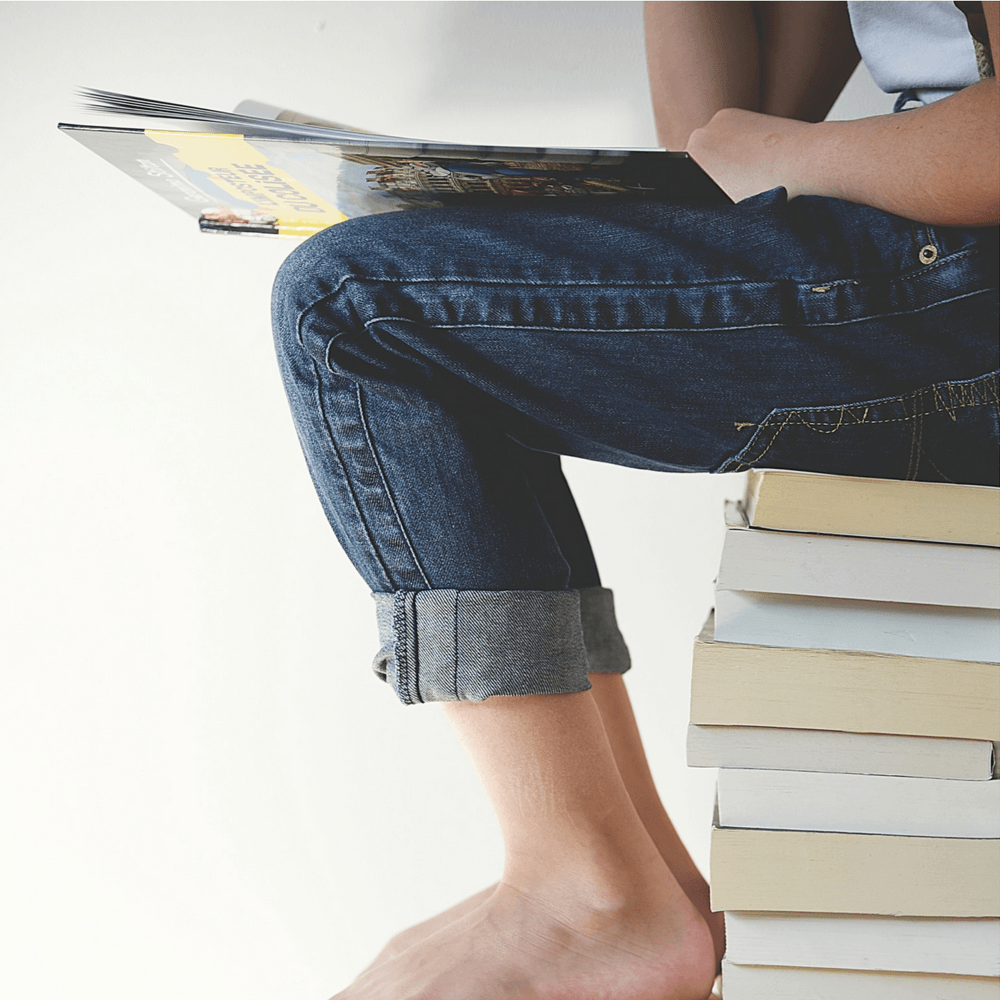 Ultimate Guide to Emoji Meanings and How to Use Them in Social Media
Do you know the science behind emoji meanings?
I have a confession. Nothing earth shattering but here it is – I've been known to use an emoji are two in texts, on social media and email. In spite of myself, I admit it! After quickly scanning my recent correspondence, it appears that I frequently use smileys and red hearts.
What does this say about me? What are these emoji meanings?

In this guide, we'll cover everything you need to know about emoji meanings and the psychology behind emojis.
1 – Why do we use emojis?
2 – The psychology of emojis
3 – 10 emoji meanings that might surprise you
And, the highly anticipated (click on the jump through to skip the above):
4 – Examples of cool things you can do with emojis or in upside down words: 
sıظoɯǝ ɥʇıʍ op uɐɔ noʎ sbuıɥʇ ןooɔ
___
Why Do We Use Emojis
Sometimes a picture is worth a thousand words.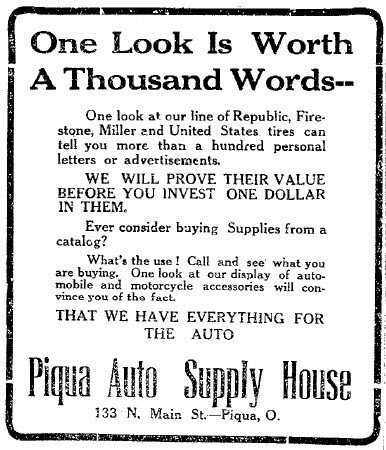 Emojis are those small icons—smiley faces, winking eyes, hearts of all shapes, sizes, and colors—that we use in text messages, emails and social media.
They are everywhere these days because they increase the precision and nuance of our often super-brief and open-to-misunderstanding communications. – Alizah K. Lowell, Psychology Today
In a recent study by Appboy, they discovered emoji use in emails had increased an unprecedented 7,100 percent compared to last year.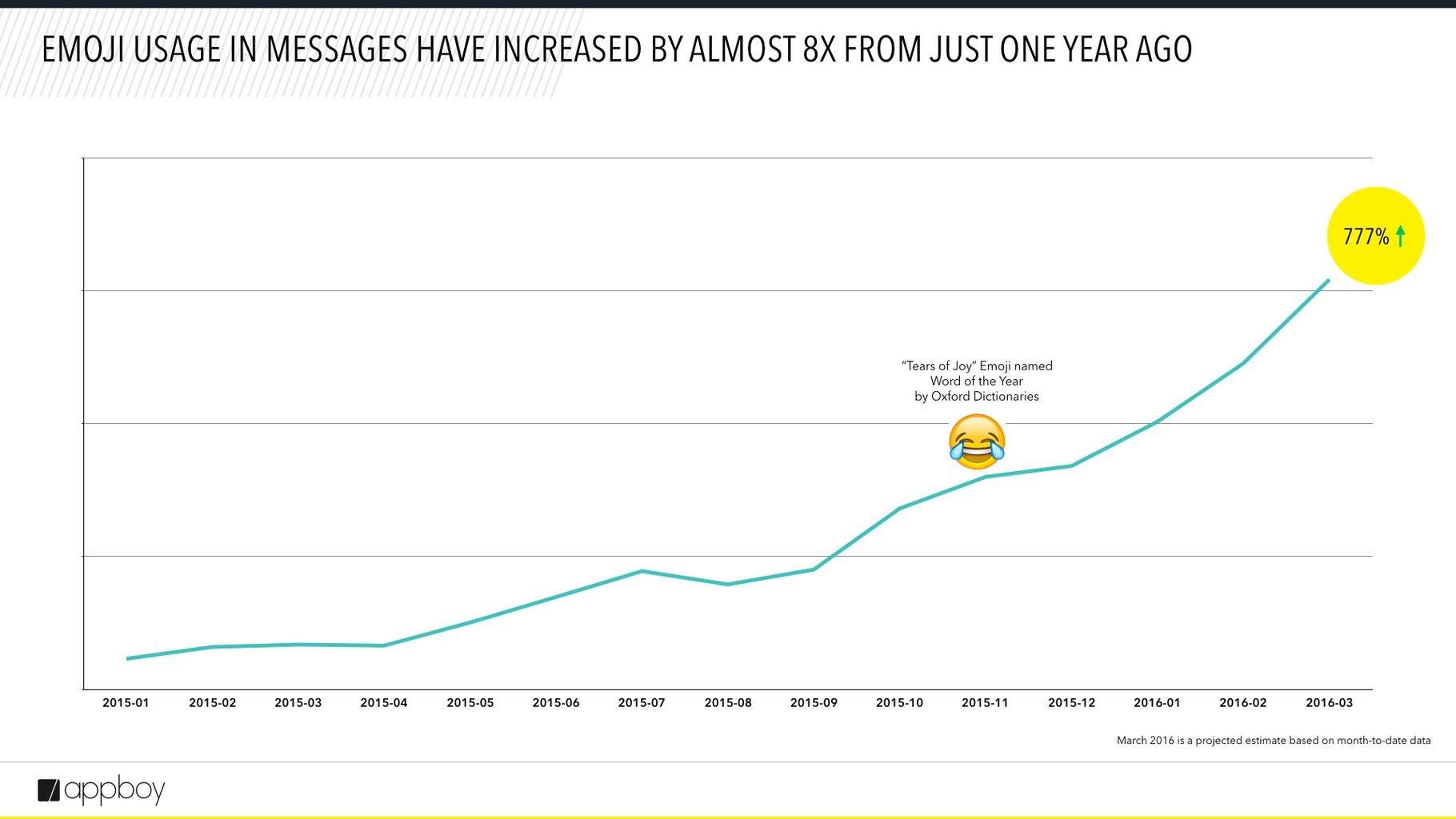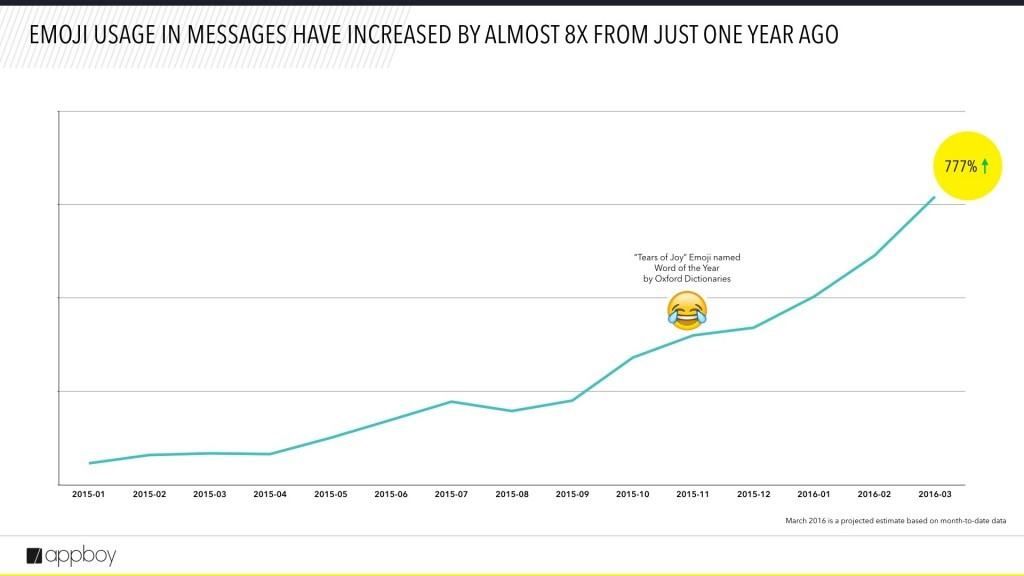 Why?
In today's digital age, communicating your marketing message is all about being clear, concise, and direct.
→Twitter gives you 140 characters to get your point across; to do that, we abbreviate "OMG," "LOL," and "OMW," for text messages.
→Crowded inboxes require standout subject lines for readers to open your campaign.
→Instagram now allows you to hashtag emojis. (Instagram reported that as of April 2015, 40% of all messages posted on Instagram consist of emoji.)
You can use emojis in an infinite number of ways. You can use them to:
Lighten the mood by introducing sarcasm or humor
Soften a blow
Find a more comfortable way to express ourselves
Communicate when words fail us
And surprisingly, emojis are now used for banking passwords!
Consider this infographic published by Social Media Today on Emoji Marketing: Are We Speaking the Same Language? :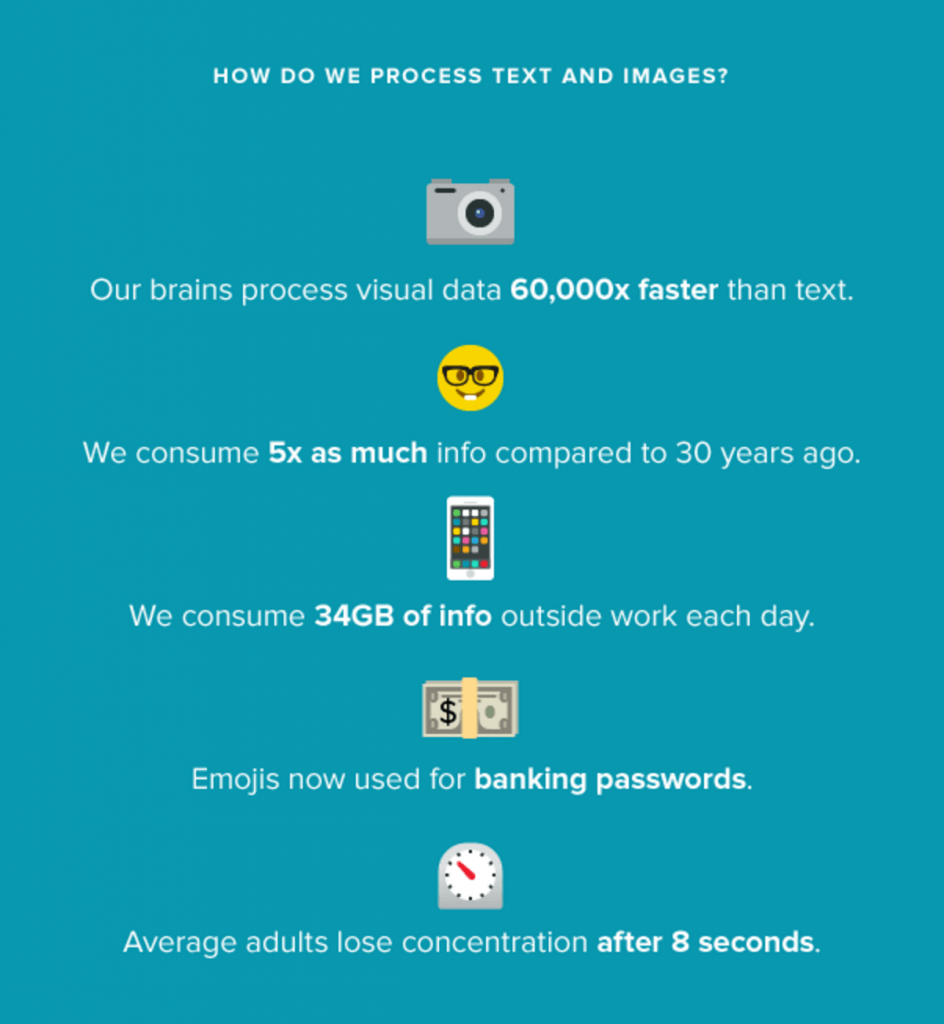 Today 63% of social media is made up of images. The use of emojis has opened up many creative opportunities for marketers.
___
The Psychology of Emojis in Todays World
1 – In short, emojis are changing our brains!
Emoticons are a new form of language that we're producing, and to decode that language we've produced a new pattern of brain activity. – According to researcher, Dr Owen Churches, from the school of psychology at Flinders University in Adelaide.
Back to my usage of the smiley face emoticon 🙂 …
The smiley face emoticon first appeared in a post to Carnegie Mellon University computer science general board from Professor Scott E. Fahlman in 1982. Since then, the same pattern of activity as evoked by faces has become attached to what was previously just punctuation.
"There is no innate neural response to emojis that babies are born with. Before 1982 there would be no reason that ':-)' would activate face sensitive areas of the cortex but now it does because we've learned that this represents a face," says Churches.
This is an entirely culturally-created neural response. It's really quite amazing.
You knew that 34 years later and our brain is now fully capable of recognizing and decoding emoticons and emojis as a new language, primarily because social media fully embraced and spread this trend.
2 – Emojis are also changing our speech patterns!
While emoji is not, strictly speaking, a language, in the way that English, French or Japanese are languages, it is certainly a powerful system of communication.
Today emoji is seemingly everywhere, having spread far beyond their original messaging systems.
For example, the New York Subway has now introduced a system, using emoji, to advise passengers of the status of particular subway lines – whether trains are running on time or not.
As the NY City website explains:
"We're trying to estimate agony on the NYC subway by monitoring the time between trains and adding unhappy points for stations typically crowded at rush hour."
Here's an example: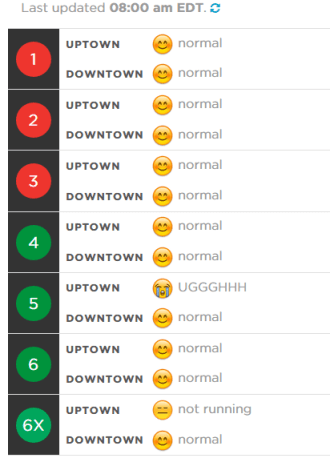 What Are All The Emoji Meanings, Anyway?
Rather than saying "this makes me happy," you can use 😃.
Rather than saying "I agree with you," you can use 👍.
Emoji use has skyrocketed as both individuals and brands embrace them—so much so that Oxford Dictionaries named an emoji Word of the Year after seeing over a 3x increase in use in 2015 versus the previous year.
Surprisingly, though, according to Appboy, when they looked at the most frequently used emojis by brands, they were surprised to find that the "tears of joy" emoji wasn't the top one used by brands in their marketing messaging – it wasn't even in the top ten!
They found that emojis most frequently used by individuals differed from those used by brands.
→Individuals using emojis in their Tweets, often use face emojis, including "tears of joy" to express how they're feeling.
→Brands, on the other hand, use more eye-catching emojis and those that evoke emotional responses. This usage makes sense since brands are trying to grab attention and communicate more with less.
Check out Appboy's infographic on the Most Popular Emojis Used by People Vs. Brands: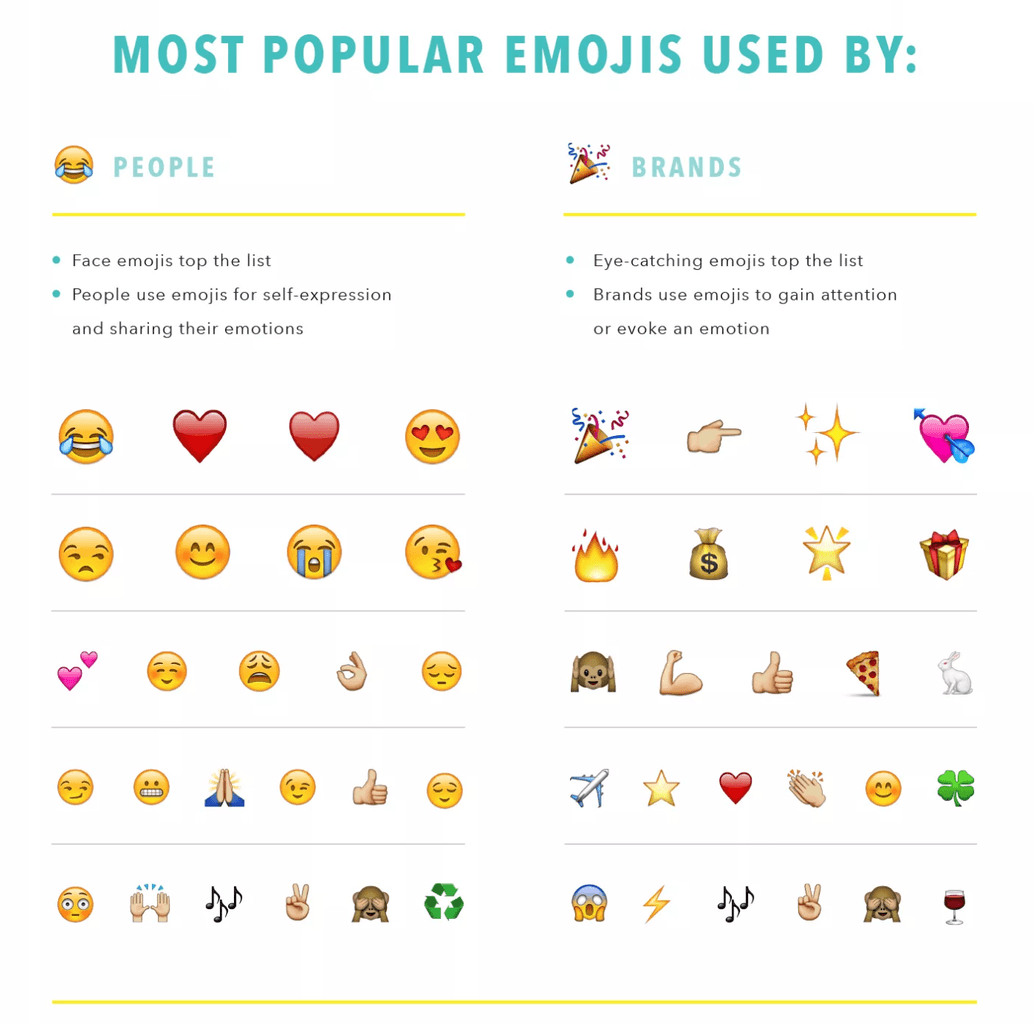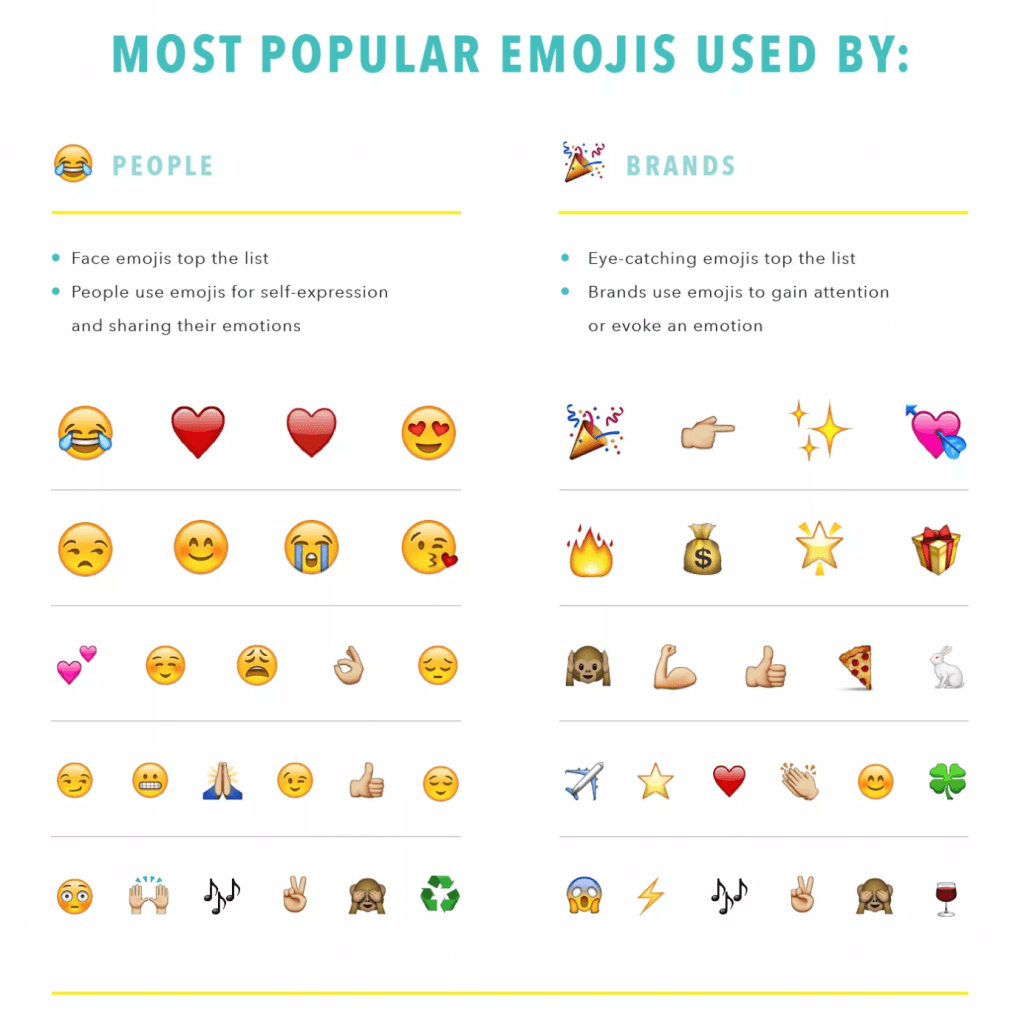 Still confused?
Emojis Have Secret Meanings
Even though older people (I'll place myself in that category) use emojis, apparently some of them have secret meanings for teenagers that the rest of us don't know. Beware…
1. The frog emoji. It's a way of calling someone ugly.
2. A dog emoji. It's a way of calling someone the "b-word" without actually saying it.
3. A knife, followed by a face, followed by a showerhead. It means they're calling you a psycho.
Hum.
And, if you use Snapchat regularly, you may have noticed in your chat window there are emojis displayed next to some of your friends. Well if you didn't know – apparently emojis change over time, depending on how you interact with your friends.
What are the Top Emojis on Social Media?
From Sprout Social, here is an infographic on the top emojis used on social media:
On Twitter: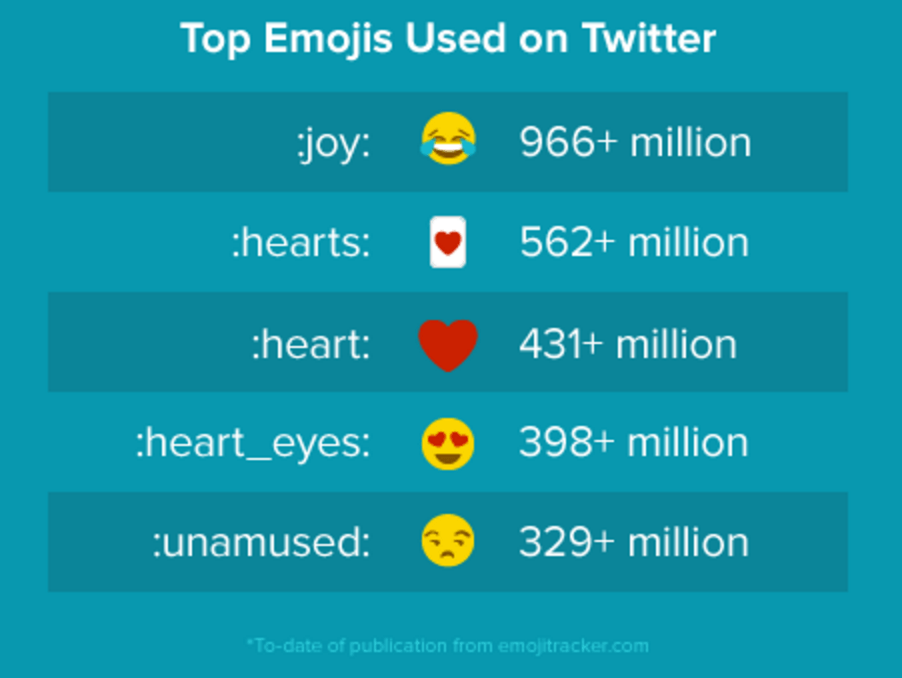 Emojis used by brands on Twitter: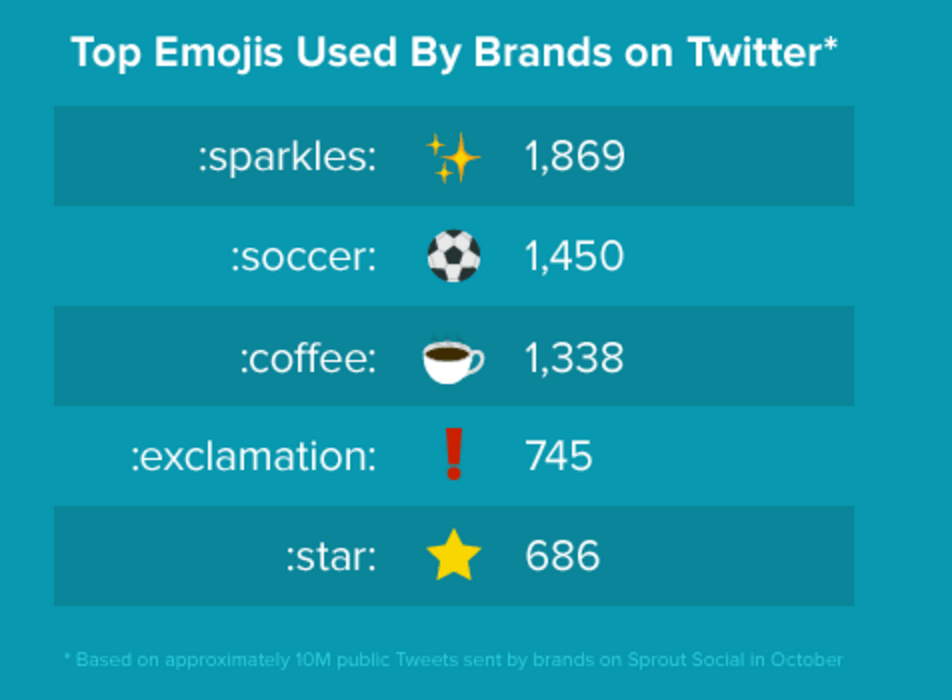 Emoji hashtags used on Instagram: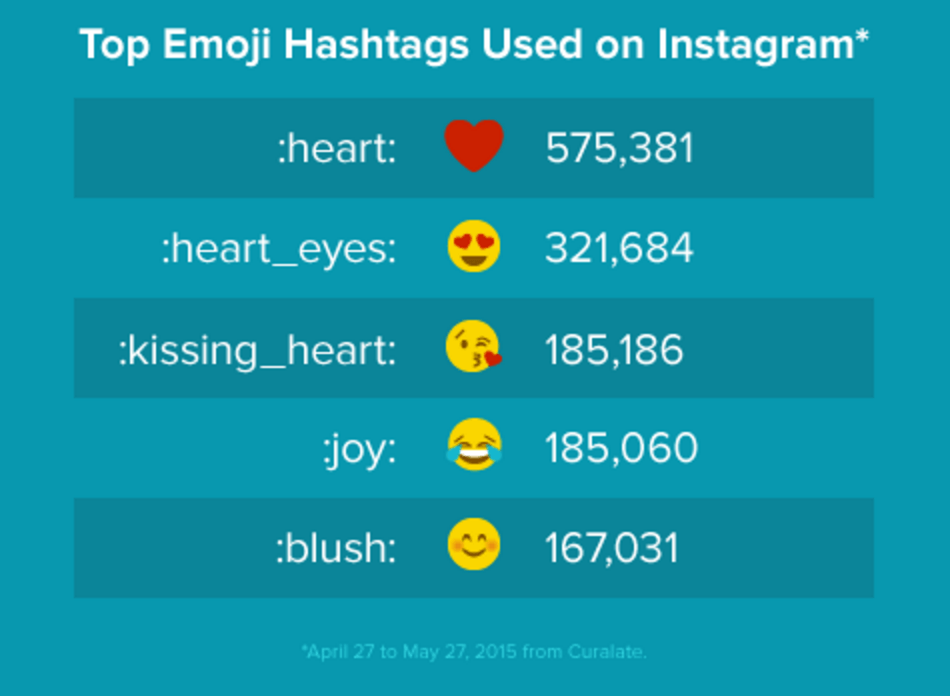 What's that Emoji?
Did you ever see an Emoji and had absolutely no idea what it was supposed to mean?
1 – WhatMoji.com will search any text you enter for Emojis and translate them to text.
Here's the result of my search on the confused face emoji (opposite of my most often used smiley face):

Along with fellow graduate students, Sanjaya Wijeratne, one of our blog readers, created a dictionary of emoji meanings. If you have the time, this research paper explains how they created the emoji meaning dictionary. Make sure to check out the results of their EmojiNet project at:
2 – EmojiNet: A Machine Readable Sense Inventory for Emoji. Without rigid semantics attached to them, an emoji symbol can take on different meanings based on the context of a message.
The goal of this project is to build tools and algorithms to improve machine understandability of emoji. We built the first machine readable sense inventory for emoji called EmojiNet.
In the example below, I used the 'Search Emoji by Sense' field for the word Love as a Verb.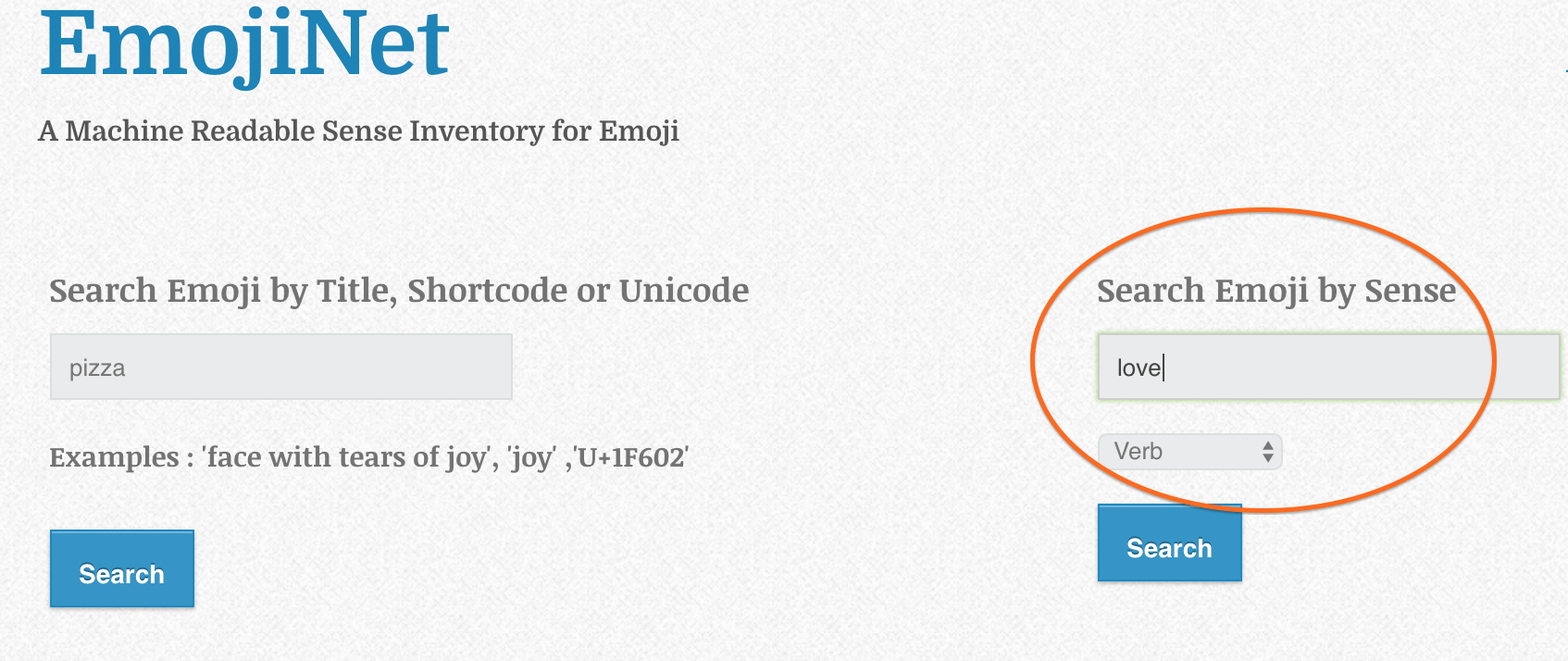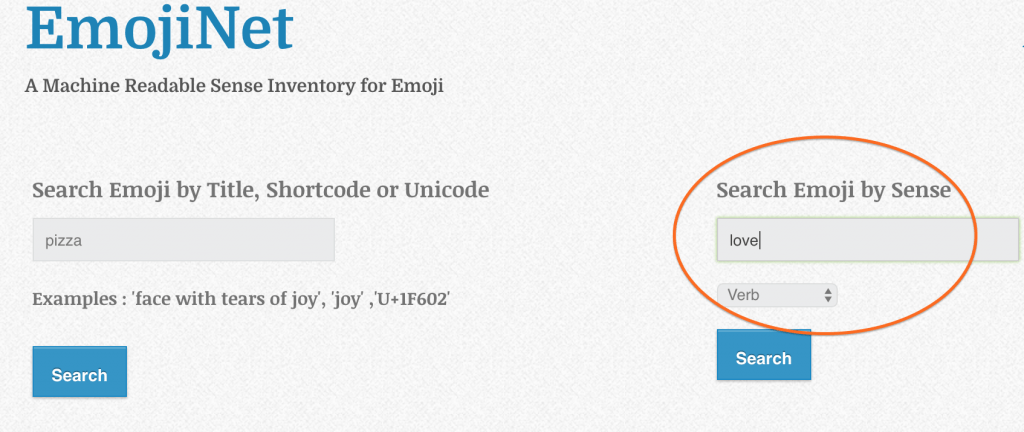 EmojiNet returned the "Green Heart" as the appropriate emoji. The system lets you drill down into the detail of the emoji meaning. Very cool.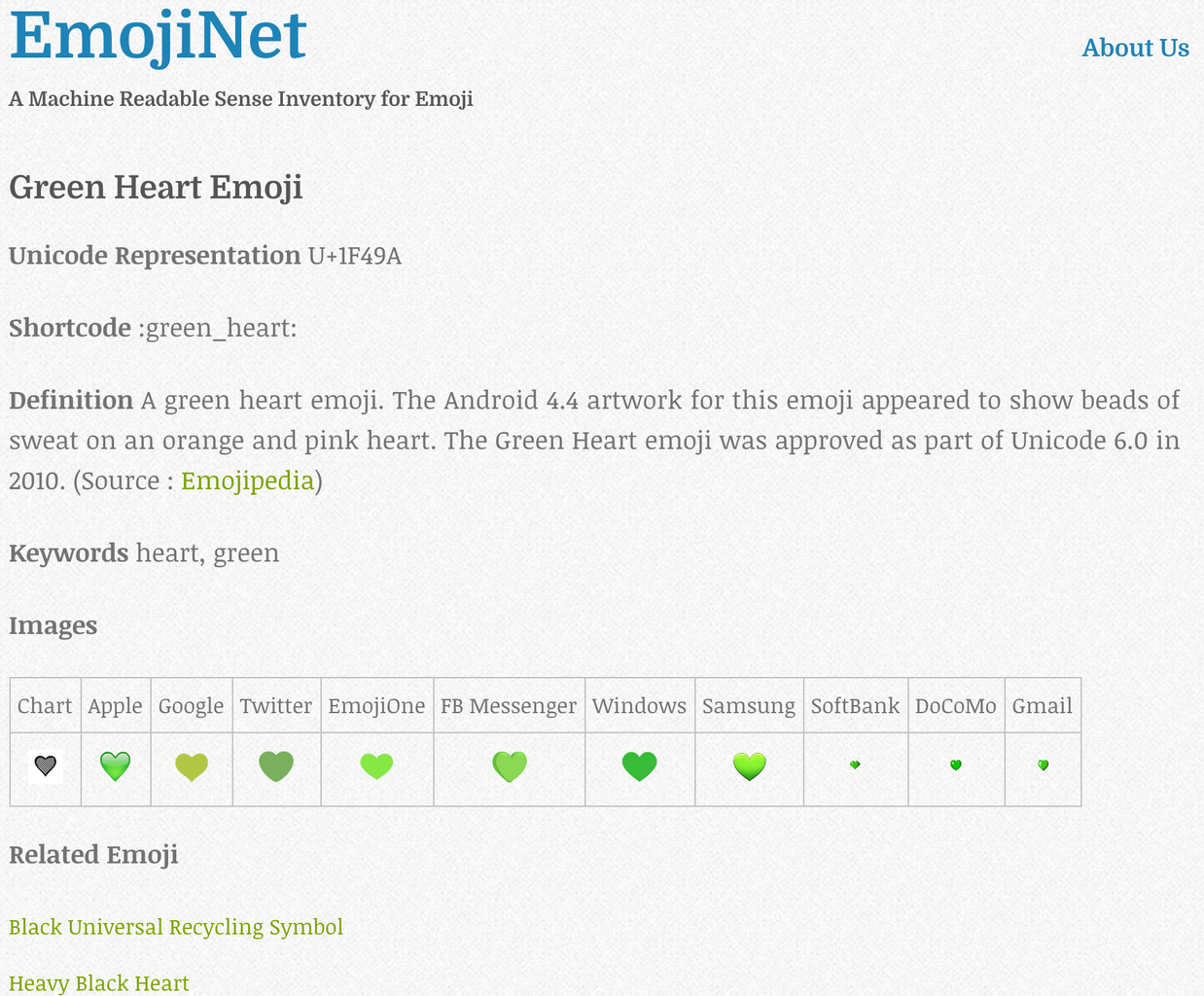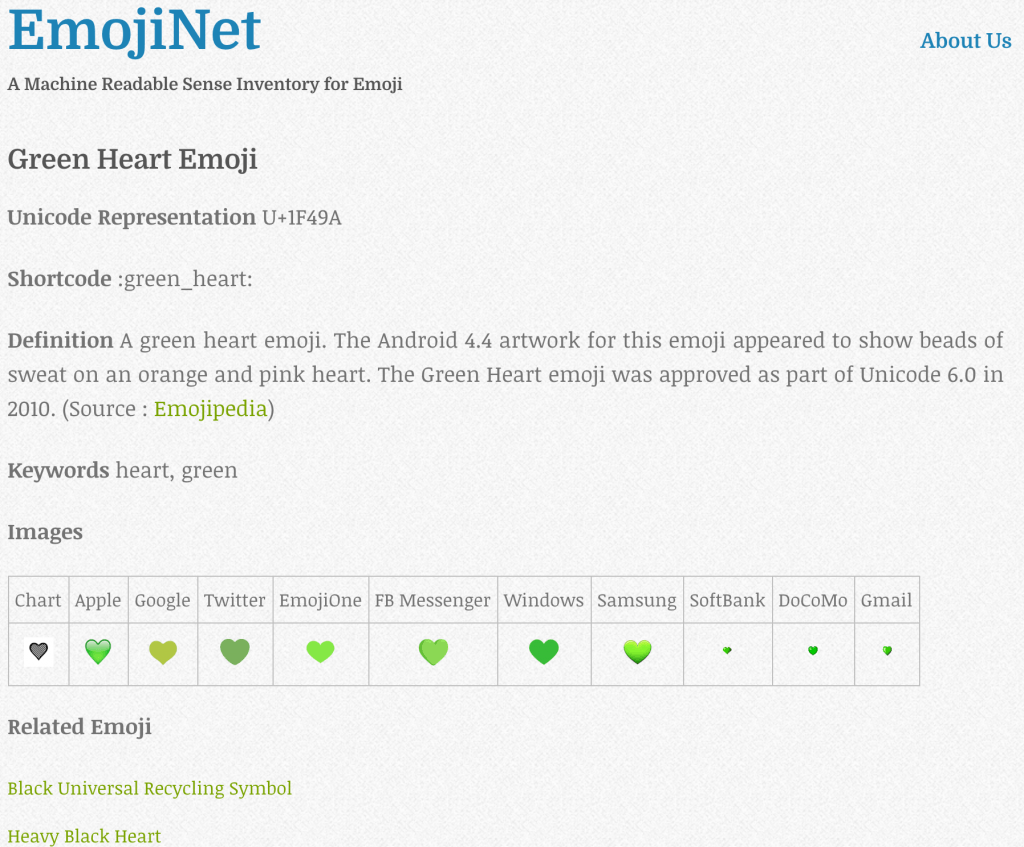 So, What Are Some Cool Things You Can Do With Emojis
1 – Dango: Teaching Robots to Feel: Emoji Meanings & Deep Learning 👾 💭 💕
Dango is a floating assistant that runs on your phone and predicts emoji, stickers, and GIFs based on what you and your friends are writing in any app. This virtual assistant lets you have the same emoji-rich conversations everywhere: Messenger, Kik, Whatsapp, Snapchat, whatever.

2 – linkmoji: The emoji URL shortener (🍕💩.ws) turns any link into an emoji!
3 – imojiapp: Turns selfies or any photo into stickers you can text.
4 – Emoji Translate: Turn your text into emoji automatically.
5 – Bitmoji is your own personal emoji. Create an expressive cartoon avatar. 
Snapchat bought Bitmoji maker Bitstrips in March 2016. Snapchatters can now link their Bitmoji account with their Snapchat account with a few simple steps. This functionality gives the app more personalization – making the Snapchat experience better all around.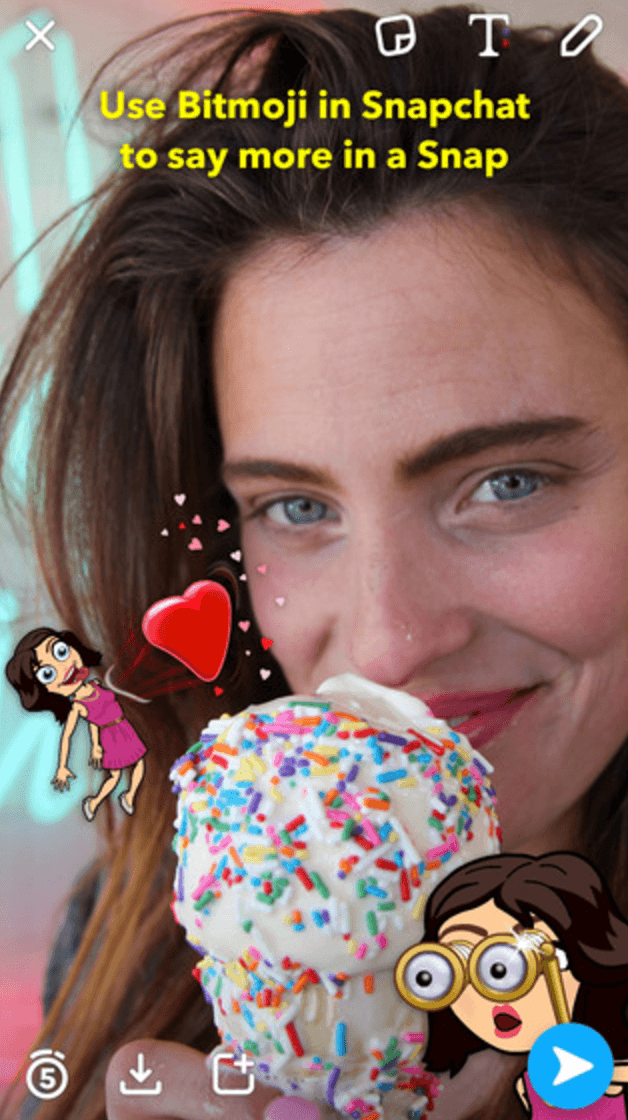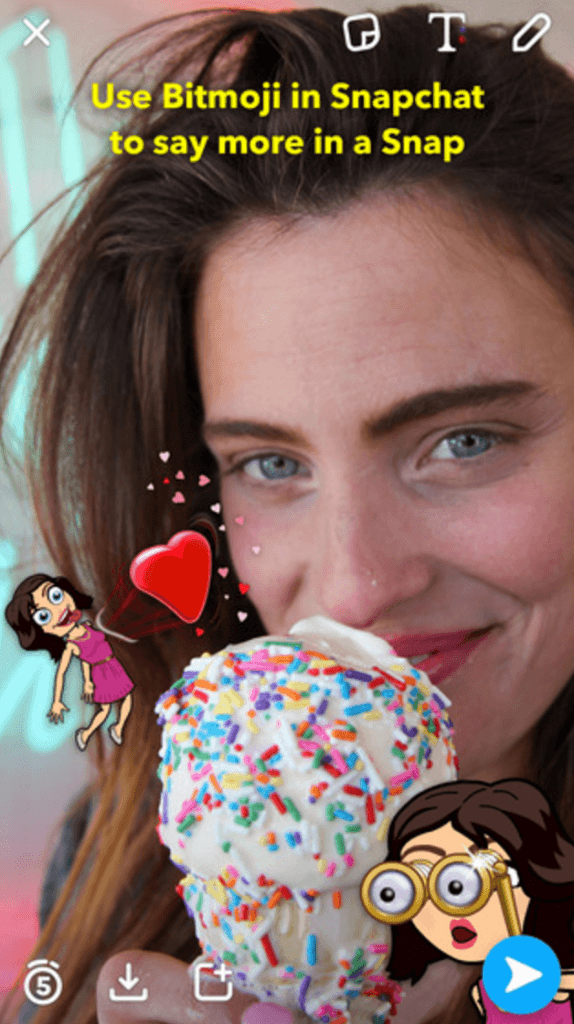 6 – Fliptex: Allows you to write upside down on Facebook, Twitter, or your Blog. Type in your text and push the "Flip Text" Button. It's cool!
___
Make sure to read our other popular posts on emoji usage for:
We 💖 love emojis.
You 💙 love emojis.
Let's 🎉 celebrate them!
___
What's your secret emoji meanings? I shared mine. We would love to hear from you.
Debra Garber
VP of Finance & Operations, Chief Content Contributor, and backyard chicken farmer. I happily share my experiences traversing the wilds of social media. Will trade social media tips for fresh organic eggs. Motto: "Live the life you love, love the life you live."