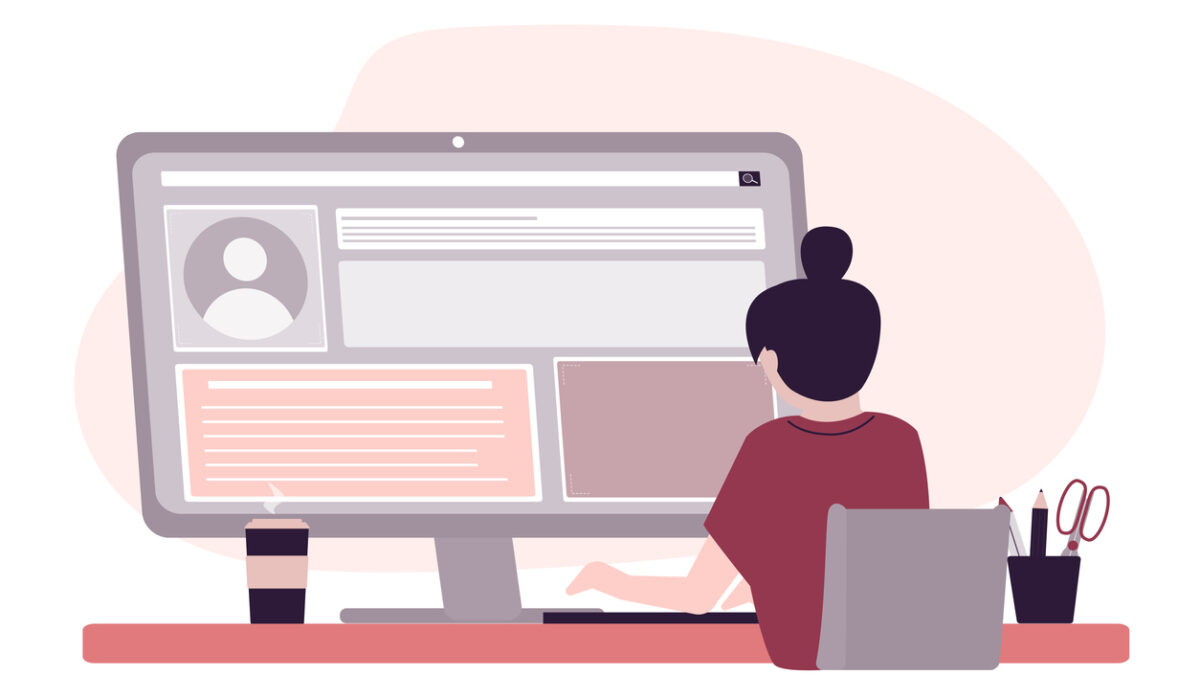 Facebook Bio Examples – Ideas to Create a Cool Bio
When someone asks us what we do for a living, we rarely consider writing a bio. Even then, we are unsure of what to say. But here are some excellent Facebook bio examples I've have on online.
1. "I'm a writer."
2. "I take pictures."
3. "I'm a creator of graphics."
4. "I play the guitar."
5. "I work as a comic."
6."I work as a teacher."
Personal or Professional Bio?
Many of us have trouble writing our bios. We don't sure where to begin, but we want to make it intriguing enough to draw someone in. Or perhaps we simply don't feel the need to compose one. However, the following advice will help you write a fantastic bio that will make you stand out from the throng.
1. Keep it Brief and Simple
More than 150 words should not be used for your bio. You don't want to overwhelm people with information. Keep it brief if you do decide to write more than 150 words. Nobody wants to read a novel about you, so refrain from waxing lyrical about oneself. They merely wish to learn more about you.
2. Be Yourself
Make no attempt to sound like someone else. Try to identify a quality about yourself that sets you apart from other people. For instance, I write. I therefore mention my writing abilities in my bio. By doing this, I can let people know how enthusiastically I support their online success.
3. Demonstrate Your Unique Qualities
Anything that makes you stand out from the competitors should be included. Perhaps you've put a lot of effort into developing your brand over the years. Put that in your biography. Perhaps you have a unique skill set that you employ to support business expansion. Describe that in your summary.
Personal Facebook profile
You should put information about yourself that accurately represents who you are in your personal Facebook profile. It ought to include things like your passions, accomplishments, and motivational quotes. It makes you more comprehensible to readers by providing these components.
The Organization Facebook Bio
Facebook has made adjustments to the way companies are presented on its social network. The social media behemoth updated its algorithm and added a brand-new function called "business profiles." These are essentially comprehensive biographies of a certain company. They're designed to make you stand out from the crowd of rivals.
A good company Everything you want to say about your company is in your Facebook bio. Make sure it has a crystal-clear call to action, such as adding a coupon code, requesting followers on Twitter, or providing a unique offer. Include the CEO and founder along with other important individuals and their titles. This gives your actions some context. Add a photo as well, don't forget.
Write a compelling profile to start:
Your social network bio should start out with an attention-grabbing headline that draws the reader in.
In the opening paragraph, state why hiring you would be a good idea.
Your bio should contain keywords that define what you do. This aids Google in comprehending your mission.
1. Write About Yourself and Use Your Name
Visitors will read this first while learning about you. Make sure to give your full legal name, including middle names and maiden names, as well as your name. The basis of your identity is your name, so pick something memorable and distinctive. If you have several names, you might want to list them all separately.
What Do You Do First?
There are numerous approaches you can take when writing about oneself online. You might either write a lengthy or brief bio. You can include each job you've ever held, or you can only mention your most recent full-time position. Or perhaps you'd like to concentrate on your present professional path. Whatever strategy you choose, make sure it's understandable. Make it simple for readers to understand what you write if you want to promote yourself as a writer.
Consider including some of your prior positions in addition to your current one if you want to highlight your professional experience. In this manner, prospective employers are fully aware of your qualifications. You might even discover common ground with someone in your field if you worked in other fields. For instance, if you worked in web design, you may mention how you contributed to the creation of a website like Amazon.com. If you handled residential or commercial properties, you may narrate tales about your management style.
Of course, there's no reason why you can't use both strategies simultaneously. You might state, "I'm a freelance writer with a focus on travel pieces." Then, you may include samples of your work that are more particular, such as "My most recent post explored the greatest locations to enjoy fall foliage in New England."
Here, simplicity is the key to success. Avoid using excessive jargon or trying to explain things in a way that is difficult for others to understand. Stick to the fundamentals instead.
Make sure that your profile is simple to read and comprehend.
2. List Your Interests
You ponder this question every day: "What is my daily schedule?" You may be considering which hobbies to list in your Facebook page. Following are some suggestions if you're not sure where to begin:
Activities you enjoy doing outside of work are called hobbies. They might be doing anything, including playing sports or reading literature.
Make careful to list interests that are compatible with your career objectives. For instance, be careful to highlight that you have led teams in your community if you hope to become a manager someday.
Remember to keep your interests in mind. Some individuals might believe that hobbies are only activities you engage in when you're bored. But there are numerous varieties of hobbies. Spend some time considering what you want to do. Perhaps you've always wanted to give it a try. Or perhaps you have never tried it before. In either case, be sure to add it to your profile.
Avoid making up fictitious hobbies, too.
Things like "I enjoy watching movies" fall under this category. Be sincere and precise.
Keep in mind that your activities reveal who you are. So be sure to showcase who you really are.
3. Remember to Include Your Pets!
The largest social network in the world, Facebook has over 2 billion users who are active every month. As a result, it is among the most widely used platforms for companies looking to connect with potential clients. When writing about your brand on the website, there are numerous things to take into account. Your pets should always be brought up since they are excellent conversation starters.
Recent studies have shown that pets are playing a bigger role in our lives. According to a Harris Poll report from 2018, nearly half of Americans say owning a dog or cat keeps them happy and healthy. In fact, since 2016, there have been 10% more homes with pets.
According to a 2017 study, Facebook postings on pets receive more likes, comments, and shares than those about politics or famous people. A post about a family member's birthday party, for instance, drew three times as many replies as one concerning President Trump. Additionally, a post about a dog getting adopted received almost twice as many comments as one about a famous person.
Why then do we fail to incorporate our cherished pet pals into our online marketing initiatives? It seems that posting pictures of our pets to Facebook actually boosts engagement. According to research in the Journal of Consumer Research, posting pictures of dogs and cats on Facebook results in an increase in likes, comments, shares, and even visits to the profile owner's website.
The manner in that people interact with animals may be the cause of this occurrence. Depending on how much we care about someone, we prefer to like and trust them. People are inclined to show their affection for us by taking images of our pets. Therefore, the next time you want to advertise your brand, be sure to include a few pictures of your preferred canine companion. You never know, it might become popular.
Quick Tips for Writing Your Business's Ideal Facebook Bio
Facebook has made adjustments to the way that bios are shown in search results. While some individuals are happy with the change, others think it can be detrimental to businesses because it makes it more difficult to rank well in searches. In fact, according to one study, a post with a bio had an average CTR of just 0.25%.
The good news is that you can take steps to ensure your biography is optimized for social media sites like Facebook. The following five suggestions will assist you in creating the ideal Facebook bio for your company:
Put in a "Call to Action"
Every area of your Facebook bio should have a call to action if you want to increase conversions. Say, for instance, that your business sells widgets. Consider writing "Shop our selection of widgets" or something similar. Visitors will always know where to go next in this manner.
Mention the Mission and Values of Your Company
Keep it brief—no more than 200 words—and stick to the essentials, including your company's objective. If you're tempted to include more details, think about removing any extraneous filler. Instead, concentrate on giving your viewers something useful.
Several of the Most Popular Facebook "bio" Errors:
Your biography should explain your significance to readers. You shouldn't just say, "I'm a writer," in your bio. Say something more precise, such as "I am a food writer because I feel that memories of food from our childhood towns connect us to one another and to our world," instead. A link to your website should also be included so that visitors can learn more about you elsewhere.
Don't forget to link to your website from your social media profiles. One of the finest strategies to get more people to your website is by doing this. People will undoubtedly click the link if they want to learn more about you.
Make sure your summary doesn't go on for too long. There is a limit to how long profiles can be, so don't go over it. A reasonable guideline is to keep it at 300 words or less.
Excellent Facebook Bio Concepts and Examples
One of the most widely used social networking sites is Facebook, and it's simple to understand why. There are many methods to connect with friends and family, and the UI is easy enough for anyone to use. Although many companies have Facebook profiles set up, few actually know how to use them. Even fewer people actually see the value of having a strong Facebook profile or bio.
A Facebook bio serves as your account's equivalent of a CV. It provides a brief overview of who you are and what you do for potential consumers. Someone will probably look at your profile if they want to know more about you. A professionally written bio will increase your credibility and make you seem more reliable, which will increase your chances of landing a job.
A strong profile or bio can not only make you stand out from the competitors but also increase traffic. Links to your website, blog, and other online resources are acceptable. People will find you more quickly and readily as a result, which will make it simpler for them to become fans of your page. – and of course, be sure to include your contact details.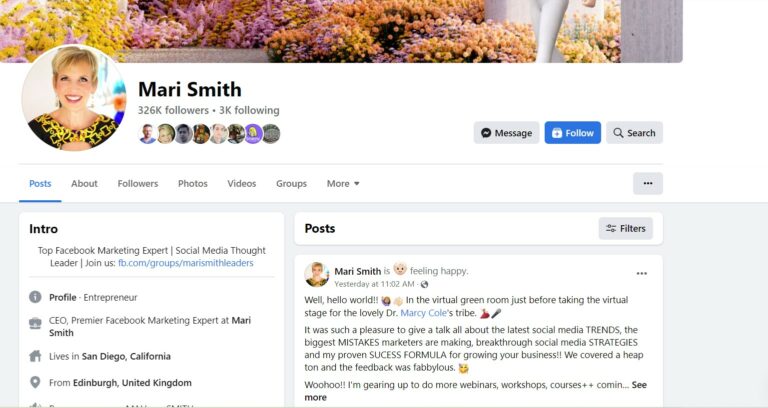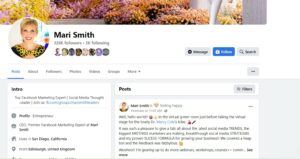 1: Mari Smith
Mari Smith is the founder of Mariposa Media Group, a San Francisco-based digital marketing firm. She recently discussed how she connects with potential clients via Facebook and other social media platforms. Mari says, "I utilize LinkedIn to locate people I want to work with. I research the companies where I want to work and post messages on social media asking if anyone knows someone there.
Facebook is one of Mari's most effective tools since it enables her to connect with experts in her industry. Mari, however, advises against viewing social media as a purely networking tool. She clarifies, "You don't want to just hop on LinkedIn and start sending out inquiries. Instead, pay attention to developing relationships with people you already know and make sure those ties are valuable.
 
2: New York Times
One of the most reputable news sources in the world is The New York Times. It publishes some of the most significant articles ever written and has some of the top correspondents in the industry. The paper has been published online since 1996, though, didn't you know? And that a free daily email newsletter is now available? or that in 2013 it started a podcast? In fact, the Times has taken practically every step imaginable to make readers aware of its existence.
Today, we'll look at illustrations as a different method the newspaper has used to grab readers' attention. A simplified method using illustrations makes it simpler to learn, much simpler to remember, and much less scary than reading text.

3. Three Fat Guys
The brief description is used to explain a person's line of work. The extended version provides extra details about the subject. In this illustration, three overweight guys wine is being discussed. "Tony works in marketing," we may say. Alternately, "Tony writes." But it doesn't actually provide much context. So let's provide some background.
A boutique vineyard called Three Fat Guys Wine is situated in California's Napa Valley. Making excellent wines at fair pricing is our aim. We think that tasty food and beverages go together. We like to bring bottles of wine home from our favorite restaurants to savor later. We hope you'll share our enthusiasm for good wine with us.
That's much more intriguing now. You've provided some background information and some insight into your process. The time is right at this point to use keywords. You might use the following language to target the keyword term "three overweight guys":
"We enjoy dining and drinking together. Additionally, we enjoy bringing bottles of wine home from our favorite places to drink later. We'd like to occasionally share those experiences with you. Come and share our enthusiasm with us.
You can see how simple it is to add keywords to the summary.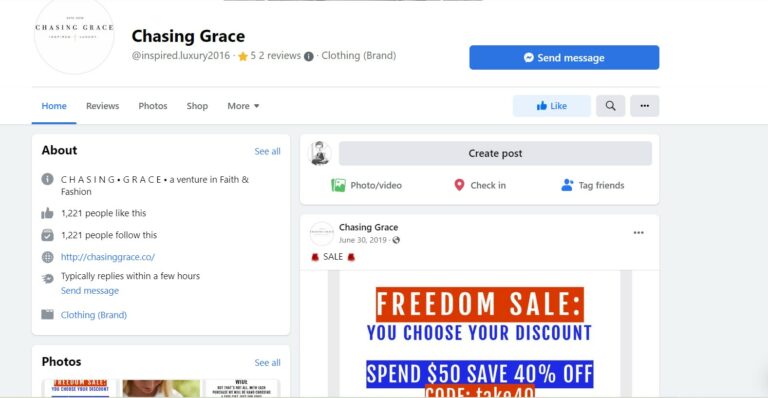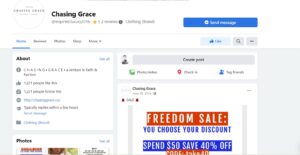 4. Chasing Grace
Jewelry crafted by hand is available here. Their product images are stunning and do a fantastic job of showcasing each item. They make it simple to find what you're looking for by using a distinctive color scheme and adding some entertaining typography. Customers can freely browse the website because there are no prices posted anywhere on it. Even additional discounts are available to those who register for emails.
The website does an excellent job of showing their work, demonstrating that they provide high-quality items. Additionally, since they don't specify prices, clients are free to browse and see what appeals to them. They can buy something right away if they think it looks excellent.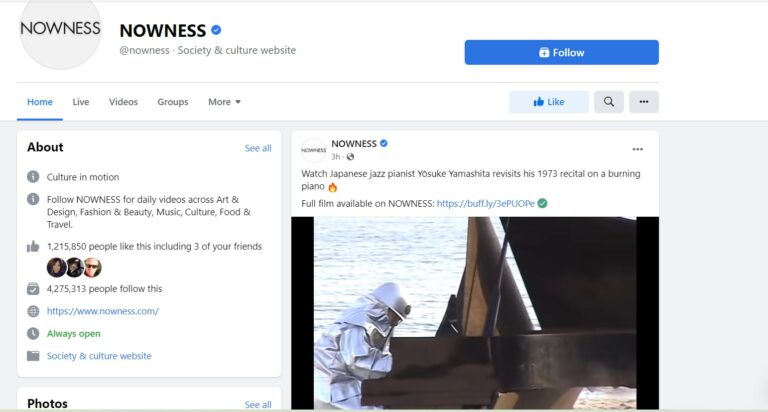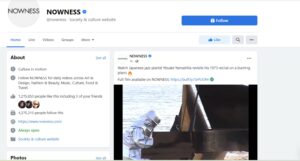 6: Nowness
When I was employed by a digital marketing company, one of our clients wanted to introduce a new product. They enquired as to what would be required to ensure that people were aware of it. We created a collection of items, such as blog entries, press releases, and social media posts. There was a video missing, though. So that's what we did.
We produced a 30-second video describing why this product was great and how it might be used to address various issues. Then, we distributed it widely. Our YouTube channel received over 20,000 views in only 24 hours. And we had more than 50,000 in just two weeks.
It is easy to learn from this. Start talking about yourself if you want to expand your audience. People enjoy hearing other people's stories. They care about you, thus they want to know more about you. People will react when you put yourself out there.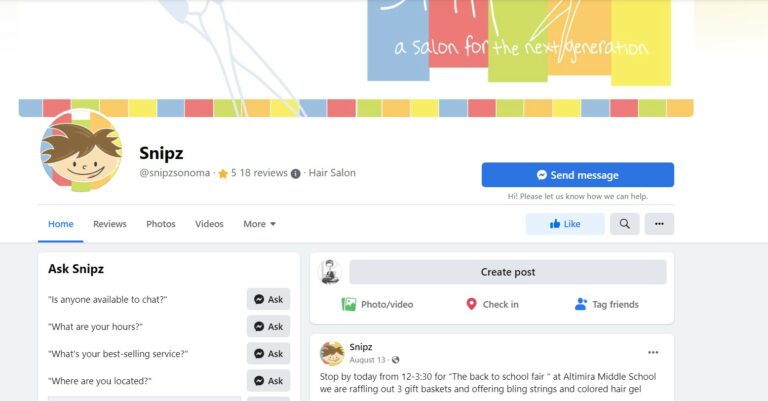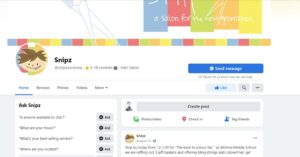 7. Snipz
One of my favorite tools is Snipz since it makes creating an about page better. Snipz is a tool that enables you to quickly add a call-to-action button to your About Page if you haven't heard of it.
Recap: How to Stand Out on Facebook Using Your Bio
One of the most crucial places for businesses to establish their brand identity is in their Facebook profiles. They must be well-written and interesting because they frequently provide people their first impression of your company. But how can you distinguish yours from the competition in a way that makes it stand out? What we suggest is as follows:
1. Create a Succinct Bio for Yourself
A Facebook bio serves as a short resume. It shouldn't be too long because that makes it hard to read. Around 200 words is a good length, while some individuals prefer shorter ones.
2. Add Essential Phrases
In order to find goods or services online, consumers enter keywords into a search bar. In your Facebook bio, you must use pertinent keywords if you want to appear higher in search results. Use your keywords wisely throughout your writing rather than cramming your bio with them. If you sell shoes, for instance, include keywords related to shoes in your description.
3. Maintain Consistency
It's likely that you won't need to edit an excellent bio once you've written it. You will, however, lose credibility if you consistently start writing something altogether different. Over time, keep your bio up to date with your newest accomplishments.
.
Debra Garber
VP of Finance & Operations, Chief Content Contributor, and backyard chicken farmer. I happily share my experiences traversing the wilds of social media. Will trade social media tips for fresh organic eggs. Motto: "Live the life you love, love the life you live."