Given the character limitations, your Twitter bio by default is a very succinct, clear way of stating who you intend to be on Twitter. How you craft yours may reveal a thing or two about your true self – or at least your personal branding goals. Are you looking for a few good bio ideas? Do you like funny bios? Or, are you more presidential?
Remember: your bio is usually the first thing people see when deciding whether to follow you on social media. Like it or not, it's your elevator pitch that is immediately judged by what you write in your bio.
This post is the fourth in our series on how to write impressive bios for social media. To catch up, here are our first three:
✓Blog: 9 Steps to Write a Killer 'About Me' Blog Author Bio that Doesn't Suck
✓Facebook: How to Write an Awesome and Succinct Facebook Bio
✓Instagram: How to Create Good Instagram Bios: The Ultimate Checklist
What does your Twitter Bio Say About You
Whether you're treating it earnestly, opportunistically, or as a complete joke, your Twitter bio is your elevator pitch for who you are. – Lara Cohen, Twitter's head of entertainment talent and lifestyle partnerships
From Vogue and HubSpot, here are a few things your bio can say about you:
1 – The Fuzzy Family Bio
Used by: Politicians, Public Figures, VIP's
What it means: You're a VIP and have no need to introduce yourself. Putting family first "is a way of politicians and public figures humanizing themselves," says Cohen. "It makes these massively public, superhuman figures seem approachable, which is what Twitter does for public figures."
For example, on Twitter, President Obama puts family first: "Dad, husband, and 44th President of the United States."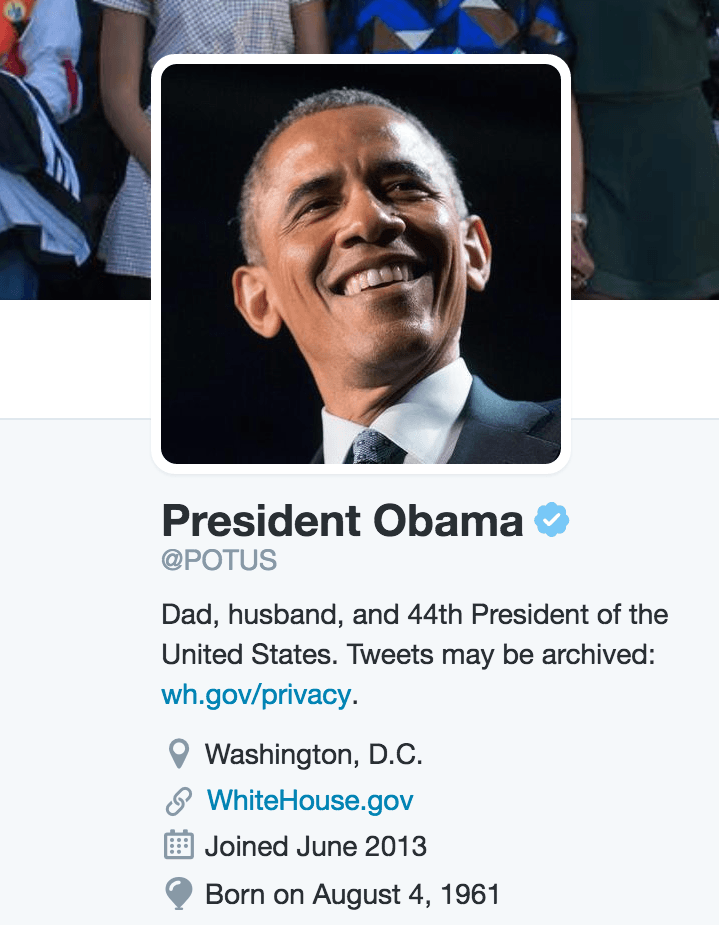 2 – The Résumé
Used by: Writers, Professionals and those using Twitter as a venue for self-promotion
What it means: You're hustling—and, according to Cohen, there's no shame in that. "For the real people among us, especially someone like you who is a writer and is putting your work out there, people use Twitter and, by extension, their Twitter bio to announce who they are in this very public universe."
3 – The Autobiography
Used by: CEO's, Business Owners, Entrepreneurs
What it means: You hardly ever sleep. This Twitter bio art form, tweeters tell their life story in the space of 160 characters.
Here's an example from our very own dlvr.it CEO, @bflitter: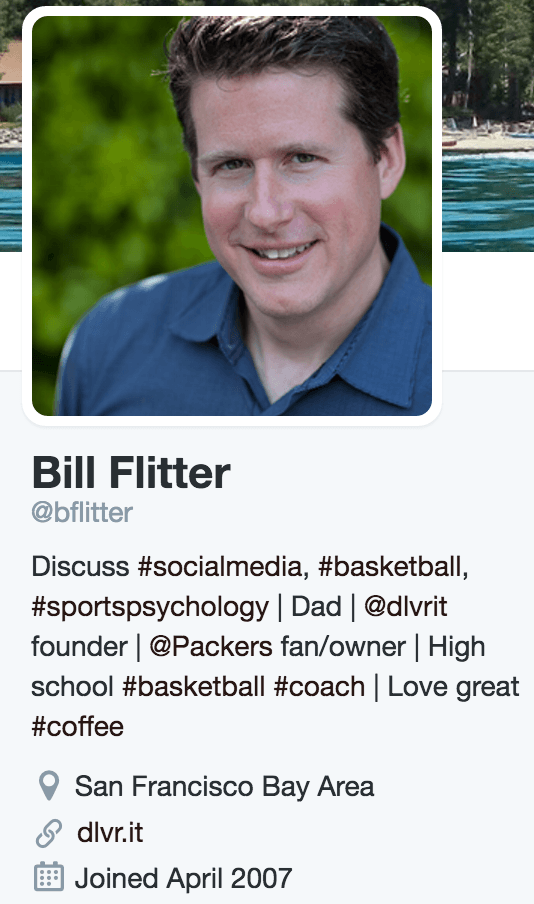 4 – The Minimalist
Used by: Celebrities, Comedians, some of Twitter's most popular kids
What it means: You're "untouchably" cool, and everyone wants to be you. Bonus points when your minimal bio also happens to be funny. According to Cohen: "Announcing that you have a sense of humor about yourself as a celebrity is a good look."
@katyperry: Growing…
@taylorswift13: Born in 1989.
@SarahKSilverman: We're all just molecules, Cutie.
@jimmykimmel: eccentric billionaire
@arnettwill & @batemanjason: Jason Bateman's sponsor and Friend of Will Arnett's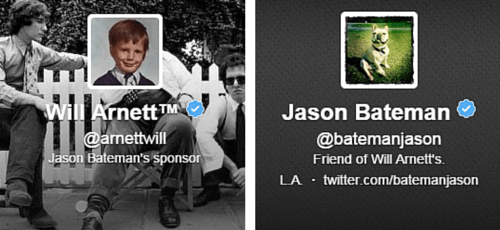 5 – The Disclaimer
Used by: Considerate tweeters who have a way of warning about their tendencies, like a political reporter warning about her numerous Red Sox tweets. Bio disclaimers can also come from a place of self-preservation: Shonda Rhimes tells her 1.2 million followers: "I make stuff up for a living. It's not real, okay? Don't tweet me your craziness."
What it means: You have a considerable following and impeccable online etiquette, and you'd rather not weather the backlash when you tweet obsessively about something.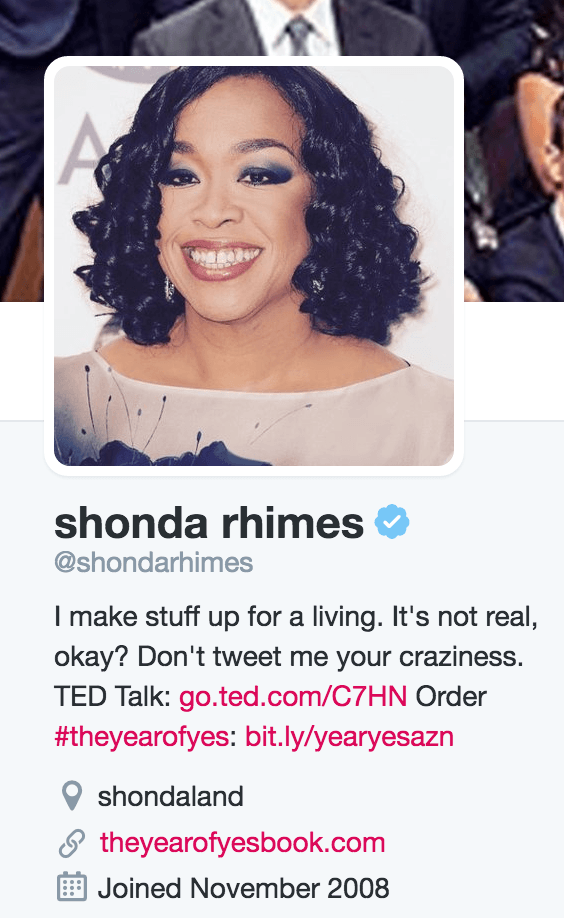 How do I write my Twitter bio?
You have exactly 160 characters (thanks Twitter for the extra 20) to explain to the Twittersphere who you are, what you do, and why your Twitter is worth the follow.
First step: Figure out how you are going to stand out.
A good bio has a mix of a profession as well as personal. Share something that will connect you with your audience.
Mix parts of #1 – You as a real person (use your true identity/profession): Chef, Journalist, CEO, Student, Artist, Lifestyle Coach
Mix parts of #2 – Your personality: Coffee snob, surfer, yoga lover, backyard chicken farmer, chief cook and bottle washer, Dad, Minecraft geek
The key is to find the right balance between personal and professional. The professional side gives your credentials while the personality side shows an insight into who you are as a human being. It gives a potential follower something they can latch on to talk to you about.
Taking Bill Flitter's Twitter bio example from #3 above:
Discuss #socialmedia, #basketball, #sportspsychology | Dad | @dlvrit founder | @Packers fan/owner | High school #basketball #coach | Love great #coffee
You can tell Bill is a professional person: Founder of dlvr.it and passionate about social media and sports
You can relate to Bill via basketball, the Green Bay Packers, being a Dad and coffee
Putting it all together:
Bill = a real and relatable person to follow on Twitter (I'm sure he wouldn't mind the extra attention, follow @bflitter)
Other tips to follow: Remember to always
Tweet as yourself
Show your face
Be proud of what you do
8 Engaging Twitter Bio Ideas
We've discussed the mix of being professional and personal in your bio but how do you REALLY stand out against the other 310 Million active Twitter users in just 160 characters. From Post Planner, Buffer, and SocialTalent, here are some ideas to craft an excellent Twitter bio to engage and entice a Twitter following:
1.
Use Keywords
Keywords are super important when people search for you on Twitter. That means the strongest Twitter bios usually contain targeted keywords.
What is your target audience searching for?
What is it about you that will attract them to want to follow you?
Tell them what you do. Don't make anyone figure what you do – unless you're a mega-celebrity (e.g., @

StephenCurry30

, @

Beyonce

)
Write a bio that will motivate others to follow you on specific topics, those you most often tweet. Use keywords and be direct. – Michael Dobbs, Group Director of SEO at digital marketing agency 360i.
2.
Embrace the Space!
Your Twitter bio is only 160 characters long! Not a period more. It's your elevator pitch on steroids. Don't waste it! Ask yourself, do you really need to mention your passion for #lovebacon?
Here's some great advice when approaching your bio's blank slate:
Keep in mind that you don't need to use all 160 characters!
Talk about yourself – don't worry, it's not considered bragging in the Twitter world. That's "sort of" the idea of a bio.
Don't worry about not following conventions – be yourself.
You don't have to use descriptors. You can use sentences.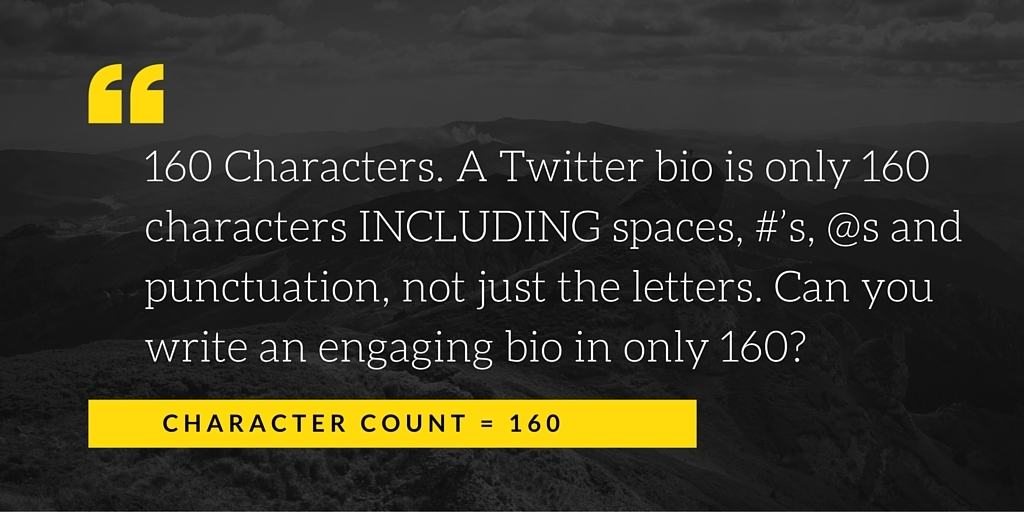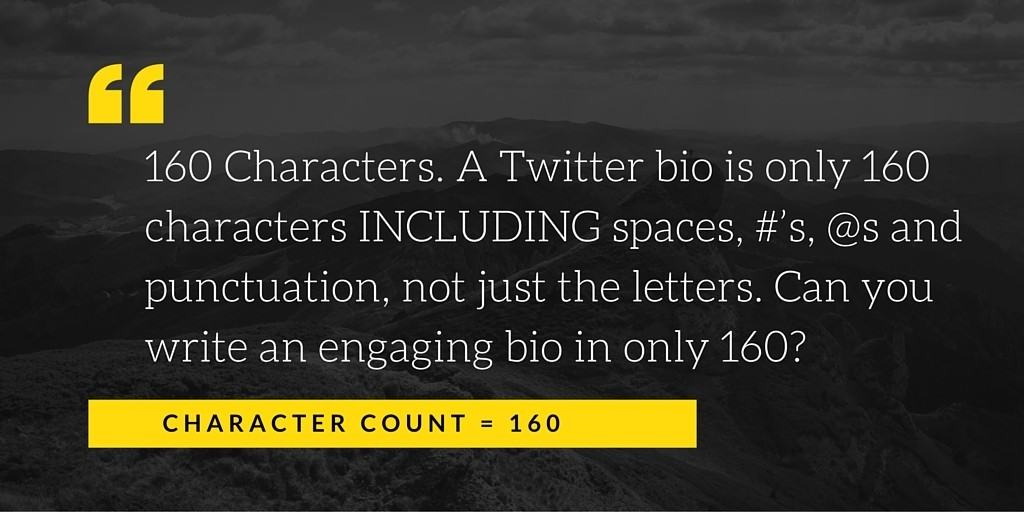 3 – Use Emojis, Hashtags, @s, or Links
Twitter bios can help people branch out into various facets of your identity.
Emojis: Twitter, like Facebook and other social networks, allows you to enter any emoji supported by your device in posts through their native Android and iOS apps. You can use any emoji in the body of your tweets. However, you can only use a certain number of emojis in your Twitter name and bio. Click here for a list emojis that will work in your Twitter name and bio.
Hashtags: For example, if you are an "SEO" expert, you can add "#SEO" to connect your bio to mentions of #SEO on Twitter.
@s: If you work at a company, have started a business, or are otherwise related to some other Twitter accounts, link to them.
Links: You can add outbound links to your Twitter profile, too. Be aware that they can take up valuable character space.
4.
Tell Us What You Do or Believe in
Use your bio to tell everyone on Twitter exactly what you do — or even better, what you believe in! Instead of telling people about your work, tell people what you do.
Differentiate yourself from others in your field. Here's an example of Ayesha Curry's Twitter bio. You would be pressed not to know what Ayesha is passionate about.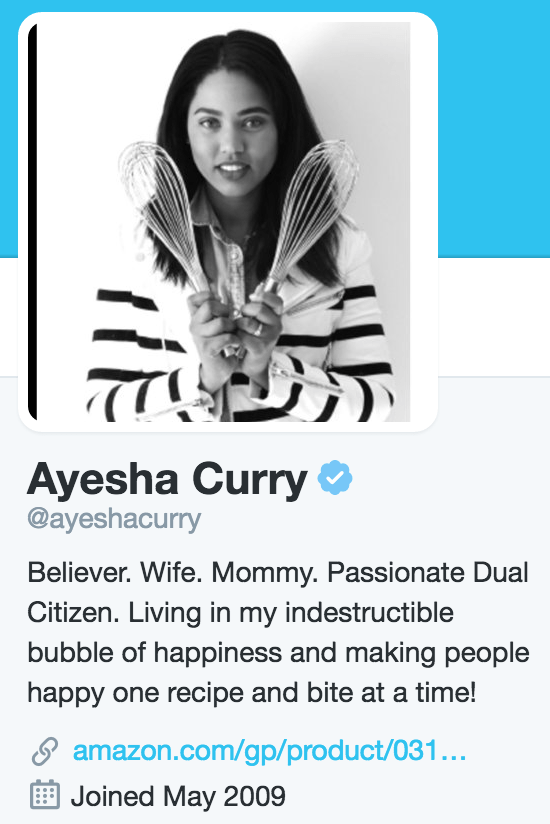 5.
Include the Name of Your Employer
Including your business name is very useful when potential customers search for your company on Twitter. Your business name is also useful when candidates search for your company. If your bio contains your employer's name or Twitter handle, you'll appear in the search results when people search for that business on Twitter.
6. Avoid Meaningless Buzzwords
Twitter is a place to generate excitement and buzz. If you consider yourself boring, Twitter is not the place to show it. Add some pizzazz to your bio with an upbeat tone and optimistic verbiage.
However, get rid of the buzzwords! You are not going to stand out. Take time to come up with something better than any of the following:
Social media expert

Marketing guru

Growth Hacker

Networking ninja

Lean entrepreneur

Hustler 
7.
Add Social Proof
What are your greatest accomplishments?
Make sure to mention significant awards and recognition in your Twitter bio (e.g., best-selling author).
You can write about:
Your successes
Your awards
Books you've written
Lists you've been on
etc.
This social proof can be a great conversation starter.
8.
Use Humor
A little humor will go a long way for getting people to remember you on Twitter. For inspiration, check out these 38 Incredibly Amusing Twitter Bios from HubSpot.
Here is an example from @tomhanks: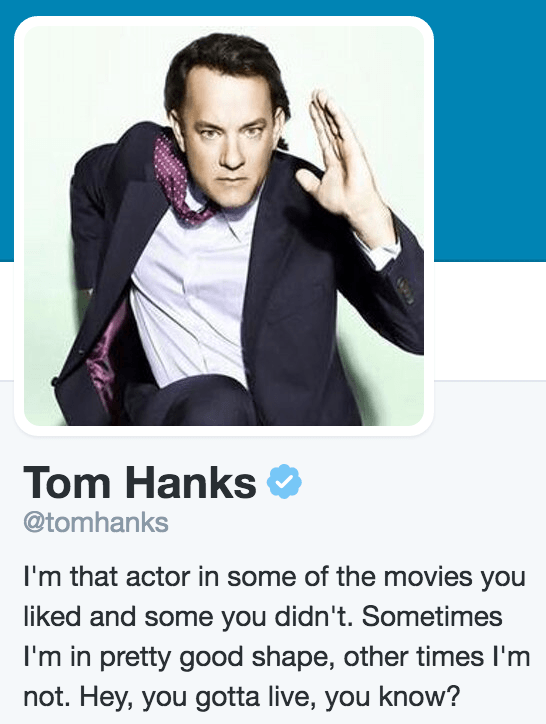 Need some extra help? Check out the following Twitter bio generator.
Easy Route: Twitter Bio Generator
1 – The Bio Generator
Just click "Generate Bio," and voila—out comes your canned description. Here's what I got:


I wouldn't put much stock in the outcome (it always changes) but it's fun to try and may get your creative juices flowing.
Here's another fun one:
2 – This one from College Humor is similar to the word game Mad Libs: The Ultimate Bio Generator
Having trouble coming up with an informative yet whimsical Twitter bio? Just use this handy three-step guide and you'll be a Twitter Pro in no time!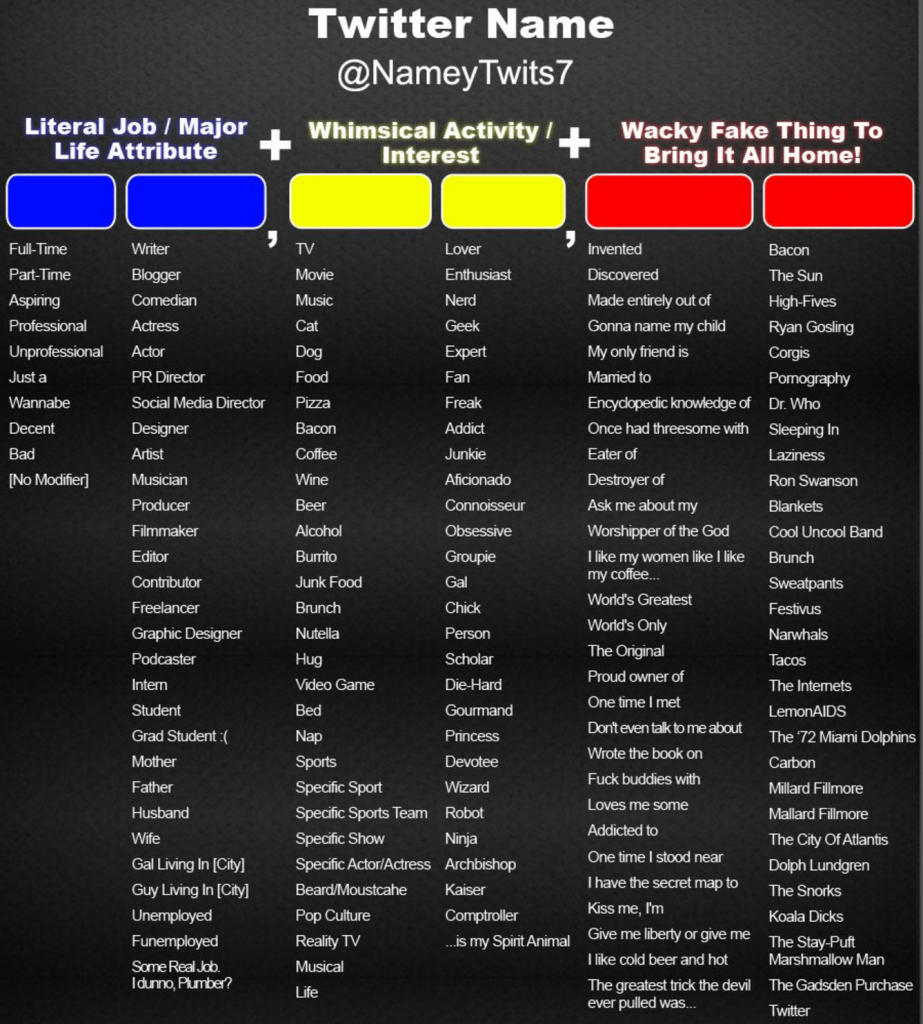 ___
So, that's it.
Does your Twitter bio tell your story? We'd love to hear from you.
We also like funny bios. Truthfully, any great bio ideas. 
Please share bio examples in the comments!
___
Save hours each week with dlvr.it's powerful Twitter Automation