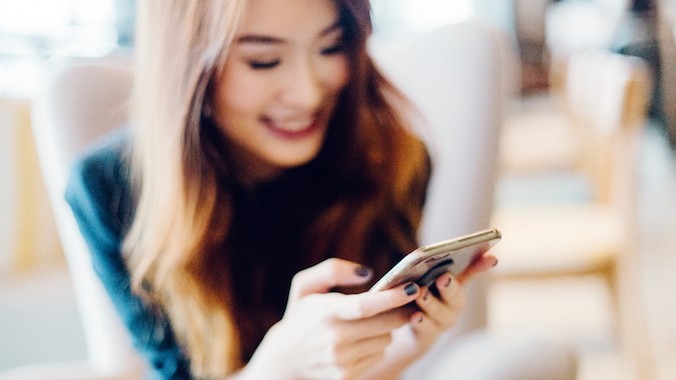 Facebook Mobile: 1.5 Billion Reasons It's Important to Get Right
What do Facebook mobile and social media have in common?
Every day millions of people use Facebook to engage with businesses – look up an address, a menu, customer reviews, comment on a post, send a message or to check in, etc.
According to Venture Beat, over 50% of those people are checking these pages only from their mobile device. As a result, users are not only interacting with businesses on Facebook mobile but, they're also discovering new business pages.
A survey conducted by market research firms Sterling Research and SmithGeiger found that:
Two-thirds of smartphone users said that a mobile-friendly site made them more likely to buy a company's product or service. Half of respondents went on to say that even if they like a business, they'll use its site less often if it doesn't work well on their smartphone.
Are you looking to optimize your Facebook mobile site or how to make your Facebook mobile login page more friendly?
Read more on the following:
Latest Facebook Mobile Stats
Mobile Marketing Tips
Facebook Mobile Marketing While on the Go Using Mobile Apps
Facebook Mobile Stats (always up-to-date)
✔1.65 billion monthly active users (up 15 percent year over year) and 1.51 billion mobile users (up 21 percent year over year) use Facebook. – VentureBeat (4/27/16)
Breaking the numbers down:
66.1 percent of all Facebook members use the service daily
65.5 percent of mobile members use it daily
54.2 percent of Facebook users now access the social network exclusively from a mobile device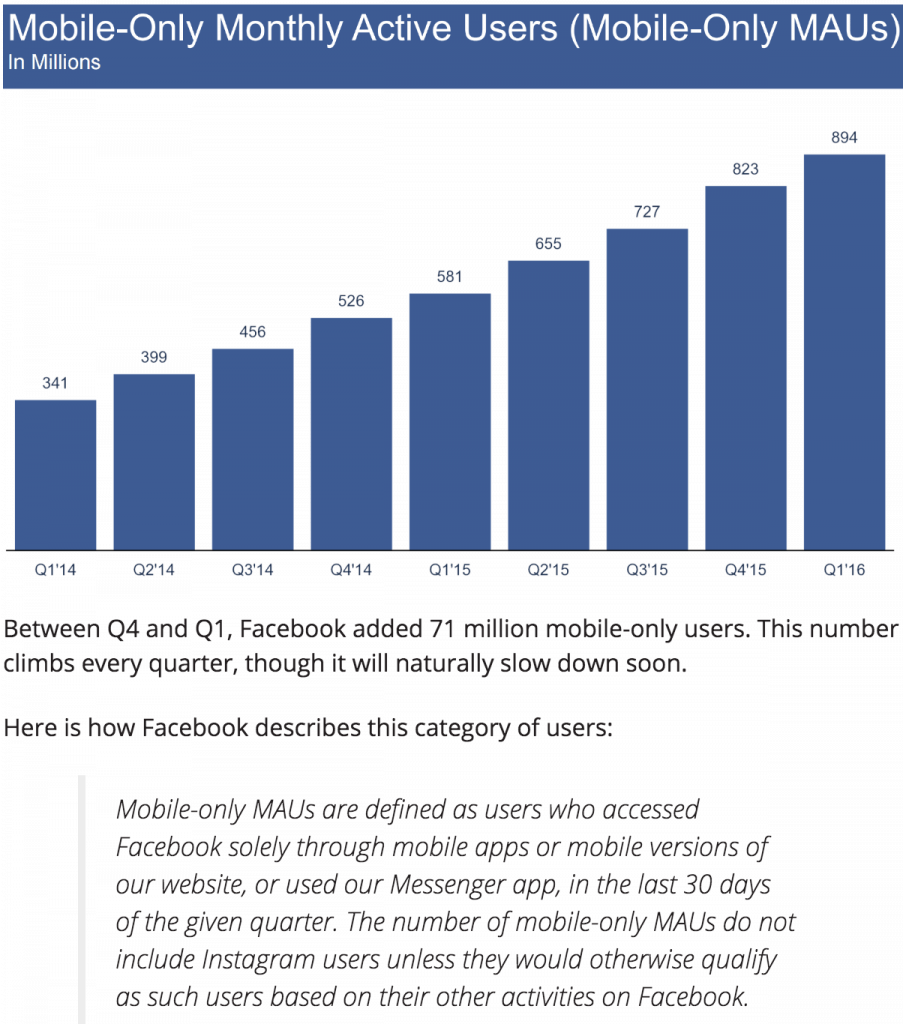 What this means for you:
In case you had any lingering doubts, statistically, Facebook mobile is too big to ignore.
✔Facebook sends by far the most mobile readers to news sites of any social media site. – Pew Research Center (May 2016)
This gap holds true for both longer and shorter news articles.
Mobile users spend more engaged time with long-form (1,000 words or more) than short-form (101-999 word) news stories – 123 seconds compared with 57 – and this gap holds true across all the different ways visitors arrive at news articles.
However, there are noteworthy differences between Facebook and Twitter:

Facebook sends the vast majority of social media traffic to these news stories.
But mobile users arriving at these news stories from Twitter spend more time there than those from Facebook: an average of 133 seconds for longer content and 58 seconds for shorter content.
See image below: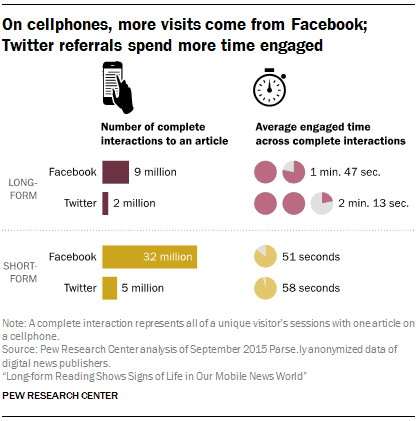 ✔Android and iOS account for nearly 90% of smartphone browsing in the US, UK, Germany, France, Japan, and China. – Adobe Digital Index
How does this affect you:
As the market consolidates around iOS and Android, focus your Facebook mobile experience on these two major players.
✔One in every three new page "likes" occur via Facebook mobile. – State of Mobile Benchmark
According to a study from Syncapse, the most popular reason why people Like a Facebook Page is to support the brand. This support is notable because it means that some people are willing to align themselves with businesses and endorse their products without any financial incentive. These are the people you want to identify when looking for brand ambassadors.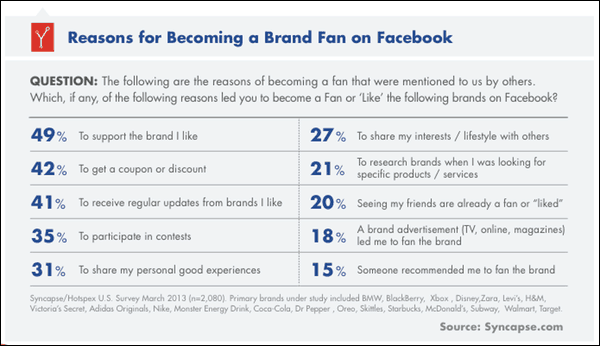 Facebook Mobile Marketing Tips
Take advantage of the huge mobile marketing opportunity by making sure your Facebook mobile site is "up to snuff" by following these tips from Constant Contact and Social Media Examiner:
Tip 1: Understand how your page looks on a mobile device.
Look at how your Facebook Page is rendered on a mobile device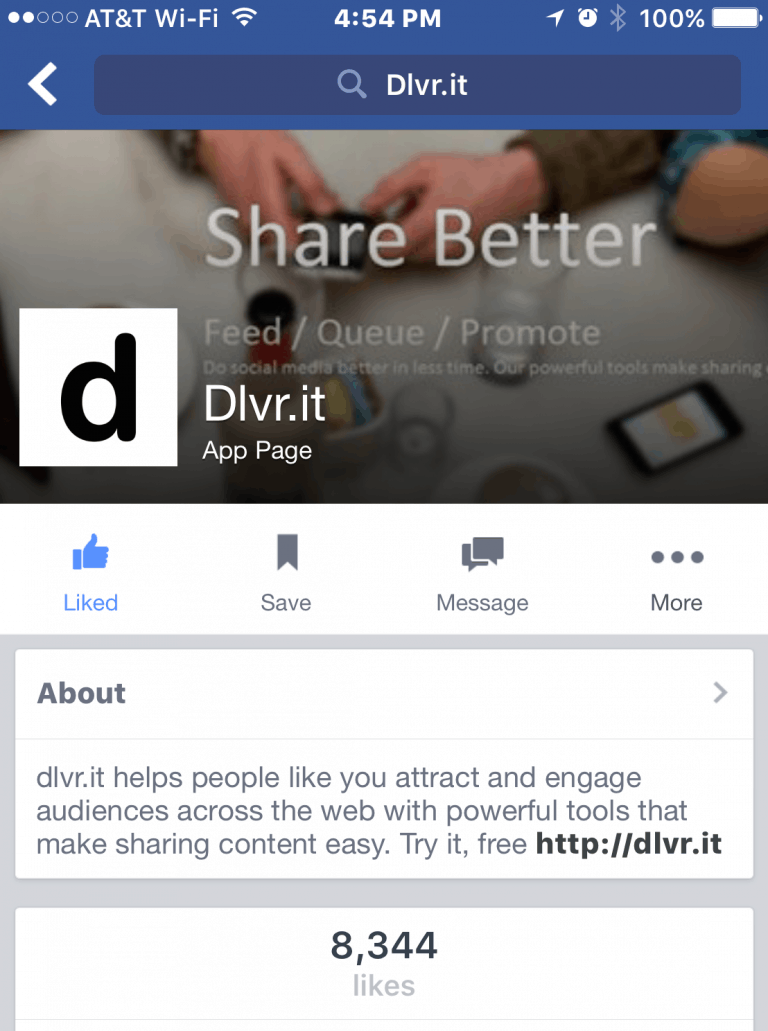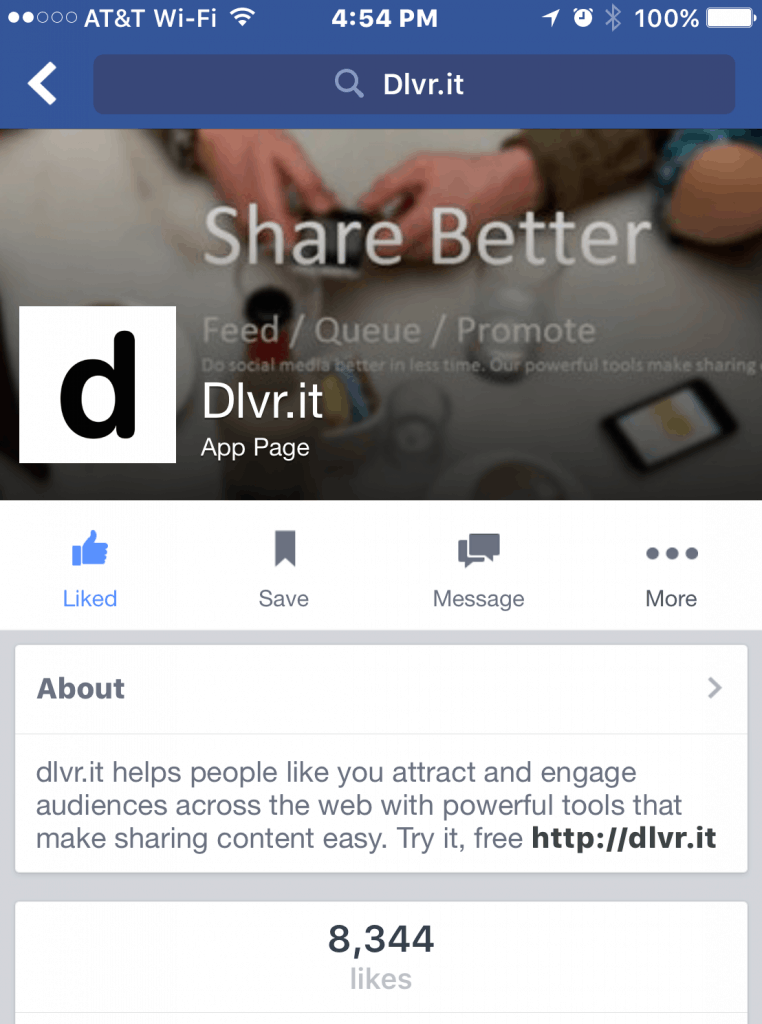 In the "Public" view (see a snapshot of dlvr.it's Facebook mobile page above), the Facebook mobile summary doesn't show your complete Timeline.
It's important to have a pinned post to highlight your content.
✔Make sure you have a "pinned" post first so that it will be featured first and most prominently. After this is the Recommendations and Check-Ins section, and then photos, and finally, your most recent post.
What is a Facebook Pin? 
A pinned post means it will not slip down your brand page as you create and publish more post updates to your page. Pinning a particular post at the top of your Facebook page will increase its performance. A small orange ribbon marks a pinned post. See an example in the upper right-hand corner in the image below.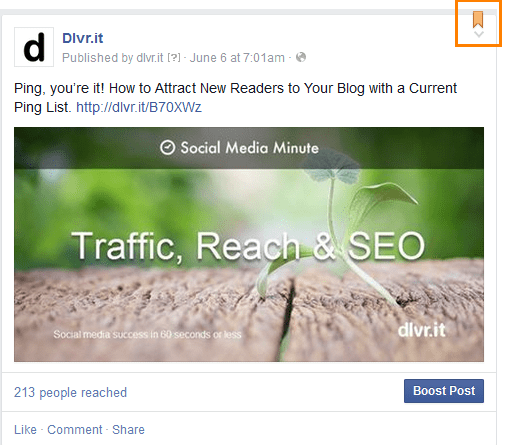 Keep in mind that you have much less time and space on a mobile device to acquire the attention of your visitors so take the time needed to find and optimize eye-catching photos, and remember not to mince words! Be concise and direct in your text and any calls to action.
Log into your Facebook page from a mobile device and see that your relevant info is not only present but correct. You want people to be able to find you! You can do this using Nearby Friends.
One way to increase your social "word of mouth" is to stimulate check-ins from your location. Having customers check-in at your location makes a big difference with Facebook. ***To let people check-in at your business, you'll need to choose Local Businesses for your Page's category.
Engage with your visitors while you are on your mobile device, which is not only convenient for you but helps you easily keep on top of the activity on your page.
Pro Tip:
Your Facebook page cover photo has to look good on both desktop and mobile. But, they're not the same size! Designing an image that fits both formats is a little tricky, but not impossible. Read: How to Make the Perfect Facebook Cover Photo Size for Both Desktop and Mobile
Tip 2: Make sure your customers can find your Facebook Mobile Site through mobile searches.
Make sure your Facebook Business Page is ready by always keeping it complete and up-to-date. Mobile Facebook users can search by
Business name
Category
Based on their location
1 – Check your category to make sure it's correct.
2 – Update your hours of operation and contact information.
3 – Try "Nearby Friends" on a mobile device to ensure that the map and directions are accurate.
It's important for your Facebook mobile site to be visible through mobile searches.

Tip 3: Encourage check-ins. They matter.
✔Encourage customers to check-in on Facebook at your business location because recommendations from mobile user's friends will also appear first. Having check-ins serves as an excellent tool for word-of-mouth recommendations.
✔Facebook already promotes mobile users who recommend your page, but it doesn't hurt to nudge customers a little more by asking for recommendations through signage or a promotional incentive.
Facebook Mobile Marketing While on the Go Using Mobile Apps
Tip 4: Manage your page on-the-go
Manage your page using Facebook's Pages Manager app. The app lets you manage up to 50 pages from your smartphone or tablet, and it's available for both iOS and Android.
The "Facebook Pages Manager" app helps page admins:
Post updates and photos and respond to comments on your Pages
Get push notifications for new activity, tips, and reminders
View your latest Page Insights
Assign five different types of admins: Editor, Moderator, Analyst, Advertiser, or another Admin (full access).
View and reply to private messages sent to your Pages
This feature is especially helpful for pages that receive comments of a particularly sensitive or negative nature at times. You can quickly defuse the situation by taking it offline. Becasue of this, I also recommend that you leave a comment so anyone viewing the comment thread can see you've clearly taken steps to start a private discussion. – Mari Smith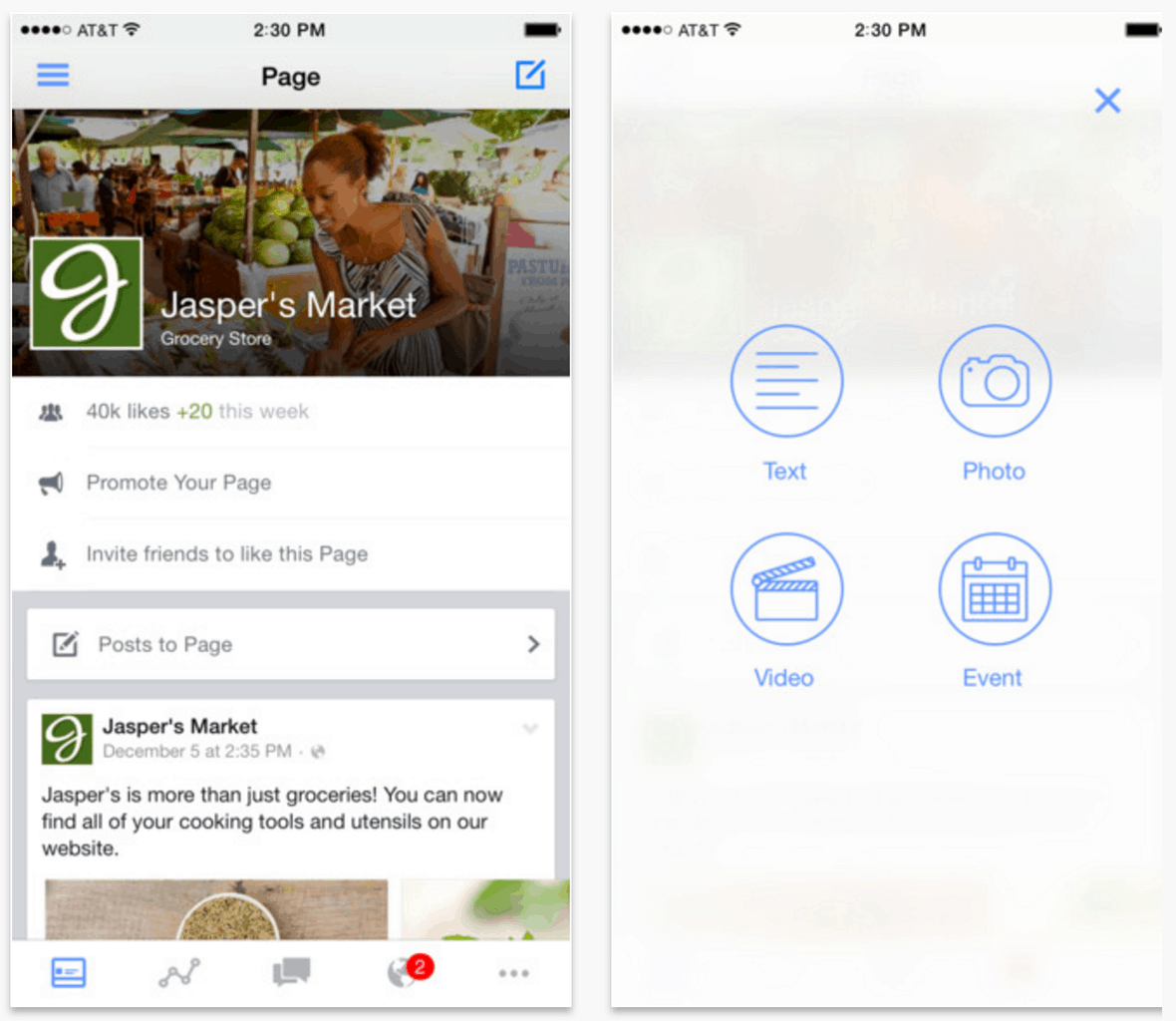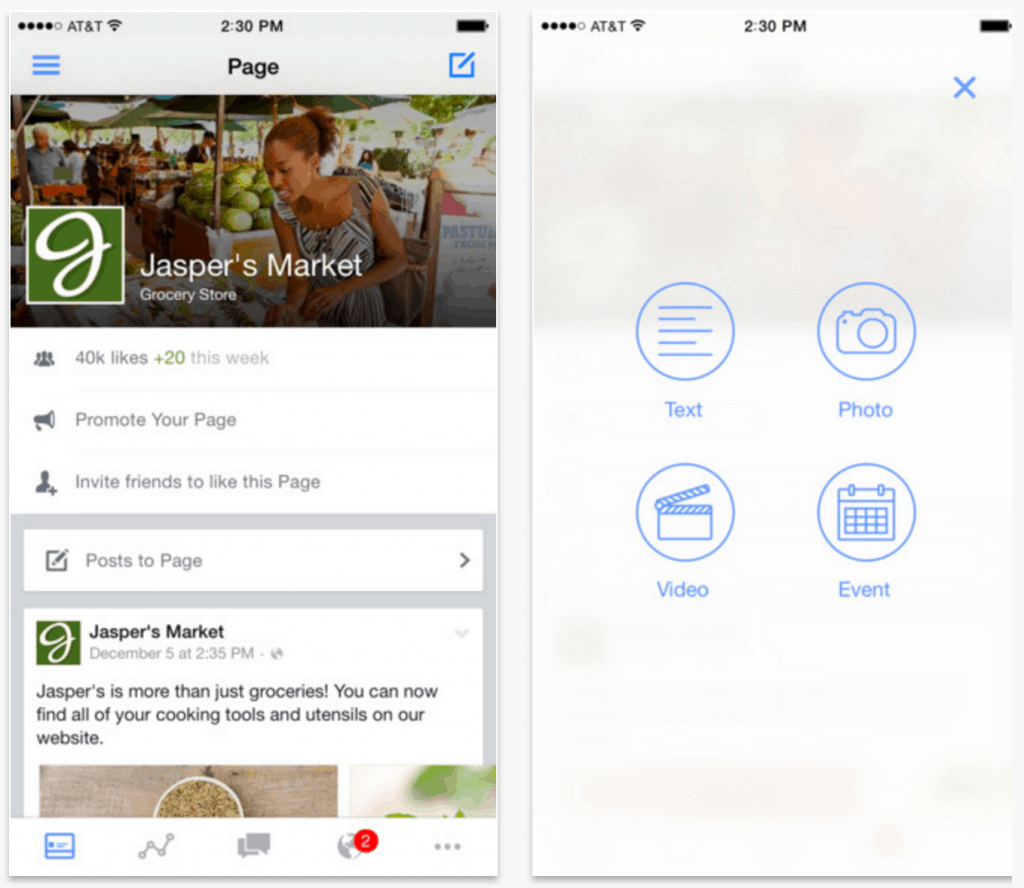 You can also adjust immediate notifications for your page within the settings of the app or within "Your Settings" in the dashboard desktop:
Desktop: Edit Page > Edit Settings > Mobile
Tip #5: Broadcast via Facebook Live
Facebook Live is finally live!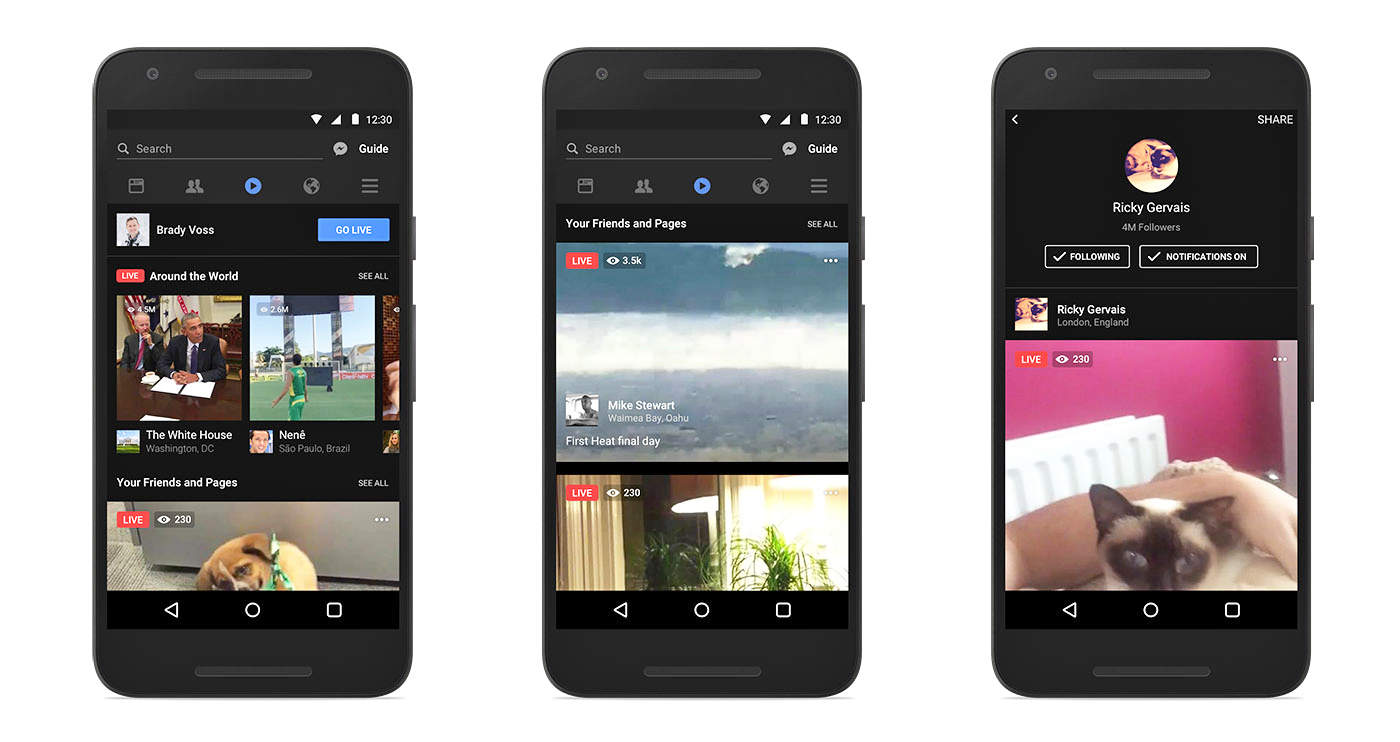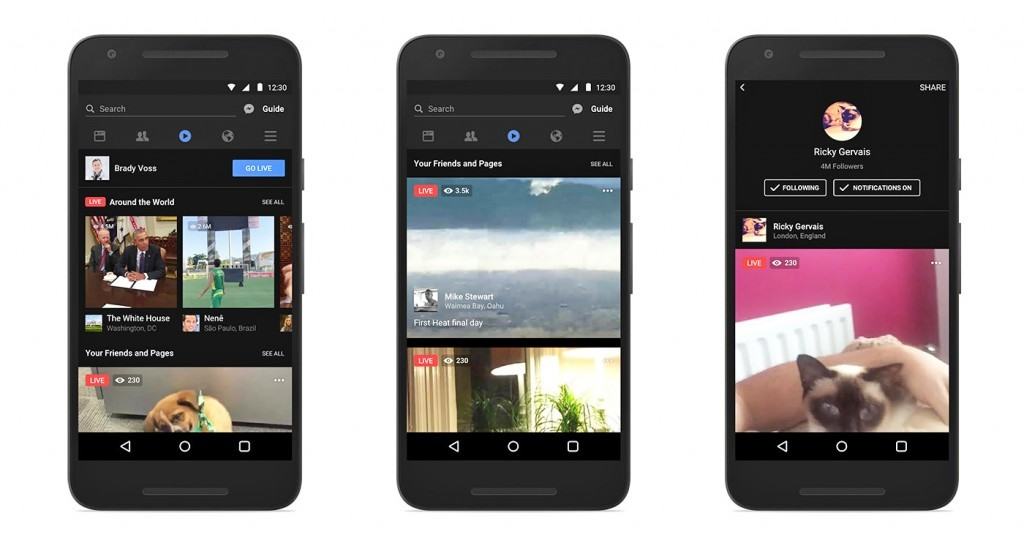 ✔Facebook Live has the potential to change the way marketers and consumers approach the platform—not to mention influencing most of the platform's contemporaries. – Forbes
Facebook Live allows you to have "face-time" conversations in real time with your friends, fans, and followers. Once your live broadcast is complete, the video posts to your wall like a regular native video. Live video is an excellent way to build a more intimate relationship with your audience. The stronger the connection to you and your business, the more loyal and engaged your following.
Not surprising, according to a recent post on Engadget:
Facebook will soon let viewers skip straight to the good parts when replaying video footage.
Based on reactions and comments, Facebook will show you when the best portions of a video take place in the form of a visual timeline.
Facebook says that two-thirds of Live video views are replays after a broadcast has ended. With that in mind, this so-called engagement graph is meant to help guide viewing by pointing out highlights, especially clips that are several minutes long.
Pro Tip (or frankly a tip for any business thinking about using Facebook video as a marketing tool): 
Keep this not-so-surprising stat in mind when producing Facebook video:
✔85 percent of Facebook video is watched without sound! – Digiday
According to MEC North America, branded videos from its clients average 85-90 percent silent video views. But that doesn't mean consumers are less engaged. Internal studies showed that KPIs like brand lift and intent to purchase were not affected by whether the viewer watched the video with the sound on or off, said Noah Mallin, head of social for the agency.
___
In conclusion, don't be fooled into believing marketing on Facebook is not important. With over 1.65 billion monthly active users and more than half of them using mobile only, having a solid Facebook mobile marketing strategy is critical to your business success.
What's your Facebook mobile marketing strategy?
How do you optimize your Facebook mobile site?
We'd love to hear more from you!
Debra Garber
VP of Finance & Operations, Chief Content Contributor, and backyard chicken farmer. I happily share my experiences traversing the wilds of social media. Will trade social media tips for fresh organic eggs. Motto: "Live the life you love, love the life you live."