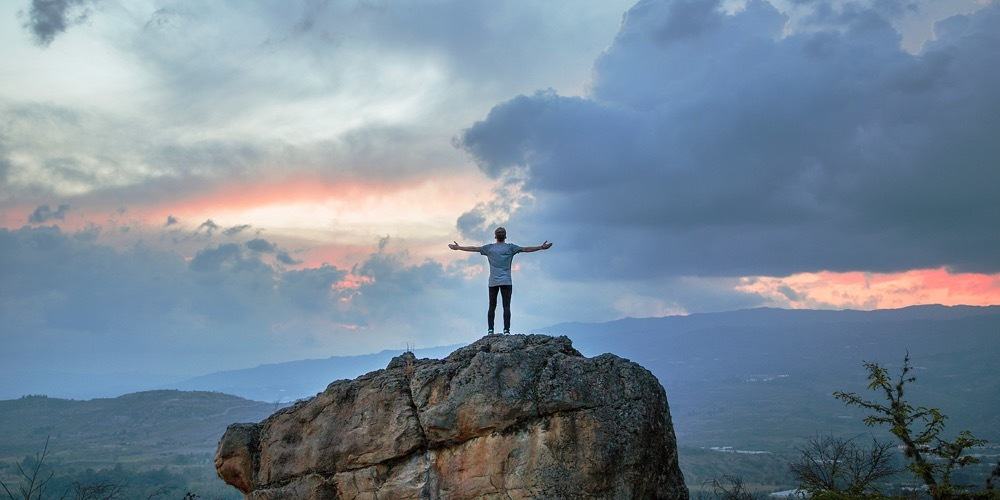 How to Find Content For Social Media That Will Energize Fans
Content (text, images, and video) is the common currency of social media. Moreover, content is a must have for happy, active fans. In other words, regular posting is critical to remain relevant. But, how do you find content for social media when you have limited time?
The Social Media Dilemma
More so than ever before, small businesses are under pressure to create original content.
Consequently, do any of these three content creation facts ring true for your small business?
62% of their time each month is allocated to content production (according to a Kapost survey)
71% say they're under pressure to create ten times more content due to the desire to support all of the different social media channels (IDC study)
85% are under pressure to create assets, while at the same delivering campaigns more quickly (the same IDC study found)
___
Question
How can you energize fans and followers with fresh content when you don't have time to create original content?
Answer:
Embrace the content your audience is already making and sharing.
___
Content curation helps you find content to share on social media.
How to Find Content For Social Media
The benefits and ROI of original content creation are evident. However, consistently creating original content can be:
Difficult
Time consuming
Expensive
To illustrate the issue, see the results of sporadic posting in the "Engagement Gap" illustration below.
To explain, the Engagement Gap is extreme dips in the number of clicks, retweets, shares, likes, and repins. This gap typically occurs between the engagement spikes realized when you post original content.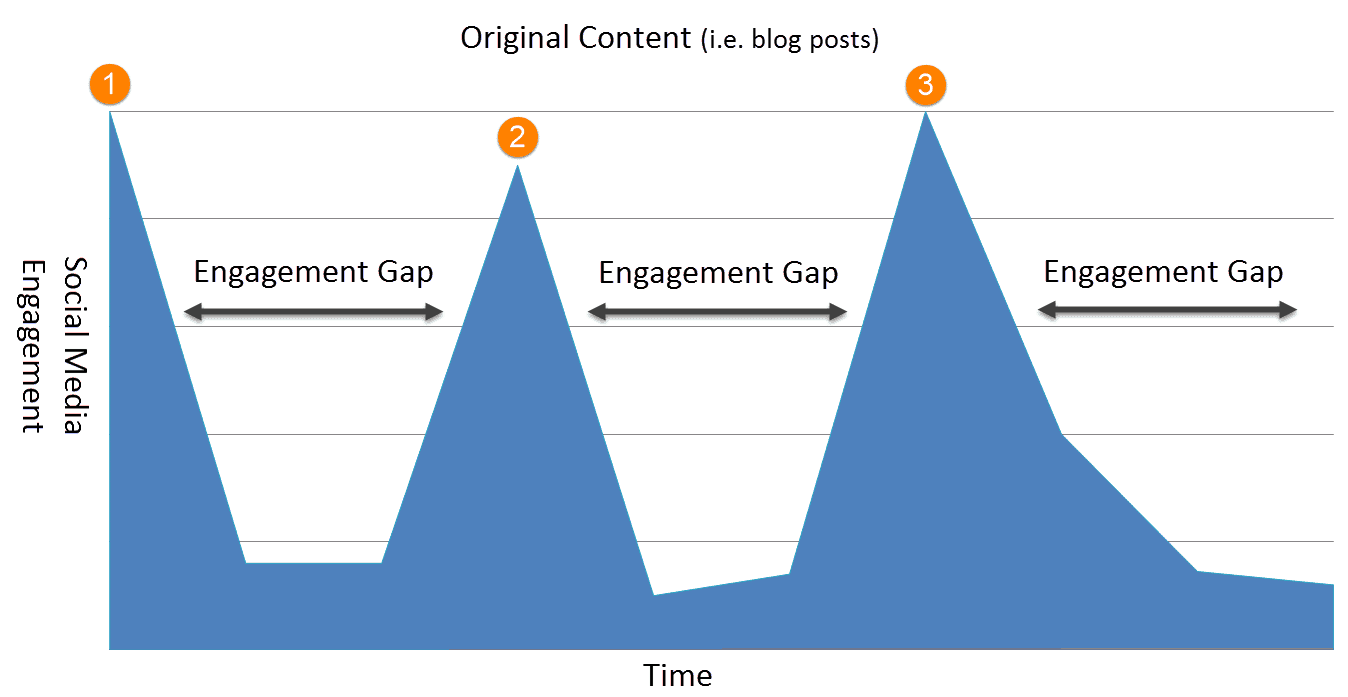 To put it differently, to keep followers engaged, you must keep your social media feed – active.
Close the Gap with Content Curation Tools by dlvr.it
It's important to realize that the optimal amount of content to share per day, depends on upon the social network.
For example, the infographic below from SumAll shows the optimal frequency of posting on social platforms.

The most painless way to find content for social media is with content curation.
Content curation guarantees you won't experience a gap in engagement. Therefore, your social media feed will always have fresh, relevant content. As a result, fans and followers stay engaged.
dlvr.it's content curation tools help you win big on social media. You will engage more fans and followers and save you a ton of time.
With dlvr.it, you not only share your original blog posts, but you can also find content to share on social media from over 100,000 sources. In particular, these sources include blogs, journals, magazines, news services, videos, and podcasts.
dlvr.it's extensive content library makes content curation highly scalable!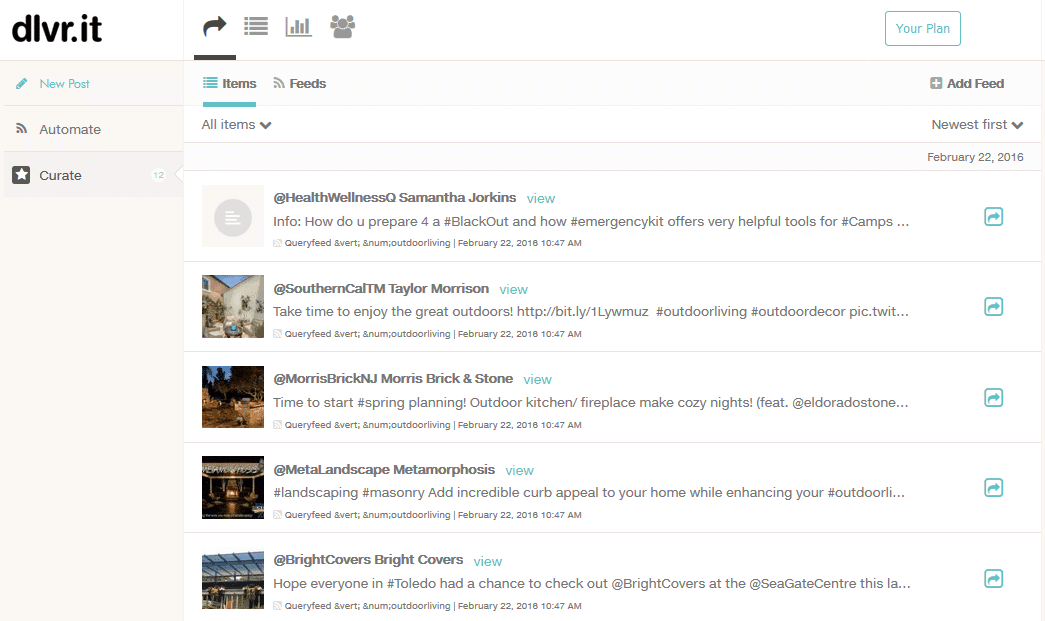 Before we dive into the Content Curation tools from dlvr.it, let's look at the benefits.
92% of Consumers Trust Curated Content
An essential element of a successful social media presence is a consistent flow of content. Regular updates remind your fans that you are still around.
According to research by Nielsen, it's best NOT to create original content all the time.
92% of consumers trust recommendations more than your original content.
Content curation has many benefits:
Establishes credibility and trust
Scales when you cannot
Increases visibility, reach, and engagement
Decreases time and cost
dlvr.it's Content Curation Tools Fill the Engagement Gap
When you use dlvr.it to find content for social media, you have a better opportunity to get more likes, repins and retweets. Not to mention, you build brand awareness between original content posting.
As illustrated below, the dips in engagement experienced between original content posting are now leveled out with dlvr.it's content curation tools.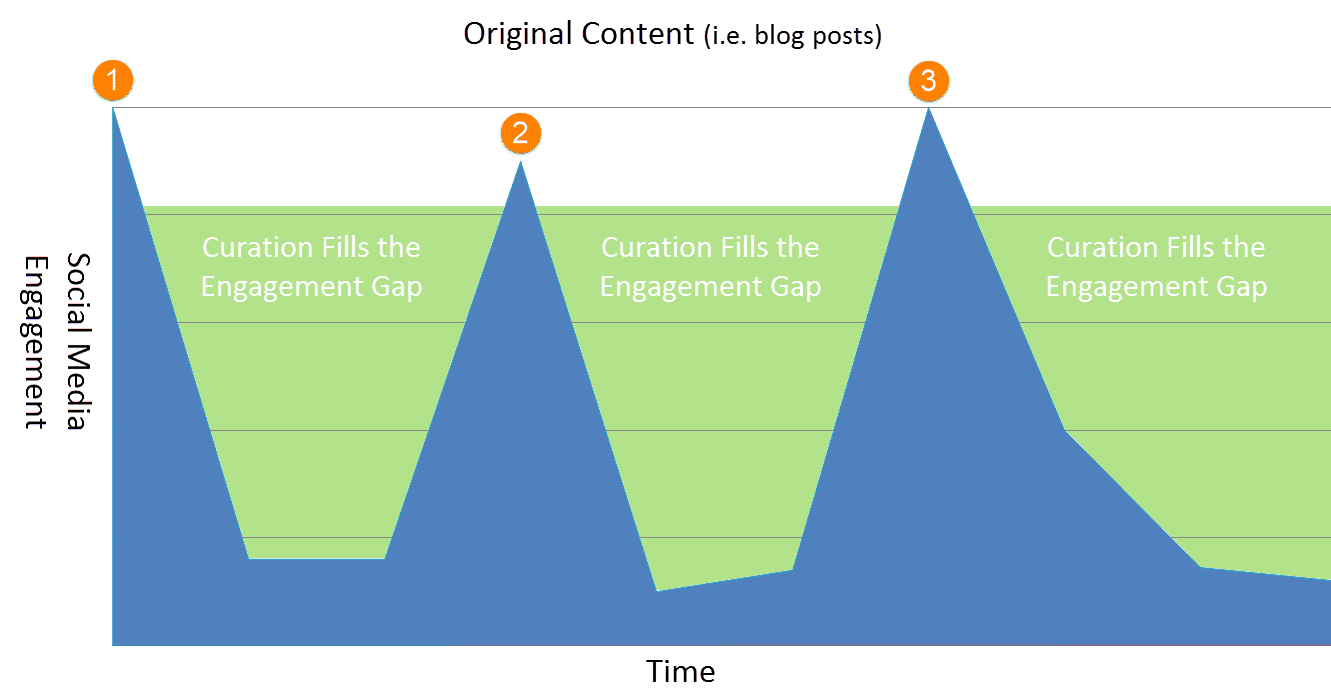 What's the Right Content Mix?
Striking the balance of original content and finding content for social media takes experimentation.
However, there are some best practices.
According to a recent study on social media, businesses use a mix of:
65% original content
35% content from 3rd party sources
Another study suggests a much more aggressive ratio of up to 10 pieces per day.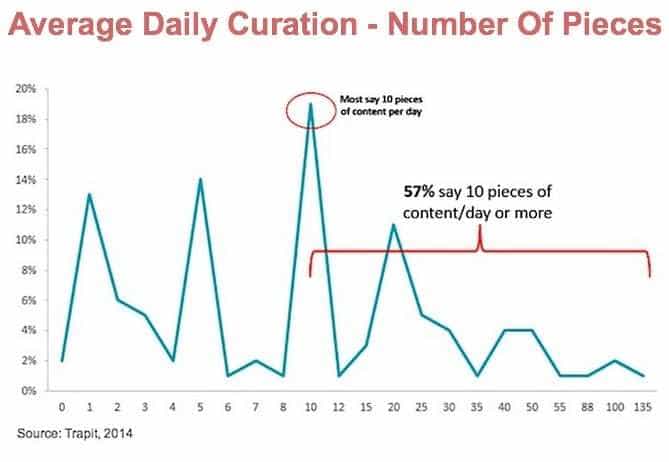 Another option many small businesses follow is the rule of thirds:
⅓ of your social content promotes your business, converts readers, and generates profit.
⅓ of your social content should surface and share ideas and stories from thought leaders in your industry or like-minded businesses.
⅓ of your social content contains personal interactions to build your own brand.
There is no right way of sharing content on social media.
You need to discover the right ratio for your business:
1 – Set goals or have an idea of an outcome.
2 – Monitor the stats to see if you are reaching the desired result.
Use Automation to Find Content for Social Media
dlvr.it now empowers you with a complete set of tools:
You have the option to share original content and find content from high-quality 3rd party sources.
You can create an effective social media program in less time.
Content Curation by dlvr.it is perfect for small businesses and nonprofits who are too busy to blog.
dlvr.it does all the heavy lifting, so you don't have to.
Our content library makes it easy to find content. Additionally, a smart workflow makes it a breeze to review, edit and publish posts quickly.
Key Features:
Easily find, annotate, and post content tailored to your audience with just a few clicks
Get the most relevant and updated text, images, video, and audio content delivered automatically and in one place from hundreds of thousands of sources
Add your own RSS feed, Google Alert or Twitter Feed or use our browser add-on to add content you discover throughout the day
Immediately share the pre-populated curated post or add your creativity and opinion
Deliver fresh, relevant content automatically or on your schedule weeks in advance

Discover Relevant Content from Thousands of Sources
✓ Centralized content library
The content library provides the flexibility of finding relevant content:
Type in a keyword
Point us to a URL
Add an RSS feed
Pull in a Twitter feed
Use an Instagram source
Enter a Pinterest Board
We continually update your queue with fresh content. So, your feed will always be up-to-date! Our robust content search feature gives you the precision to find just the right content. We draw from more than 100,000 content sources, including blogs, professional journals, news services, magazines, video feeds, and podcasts.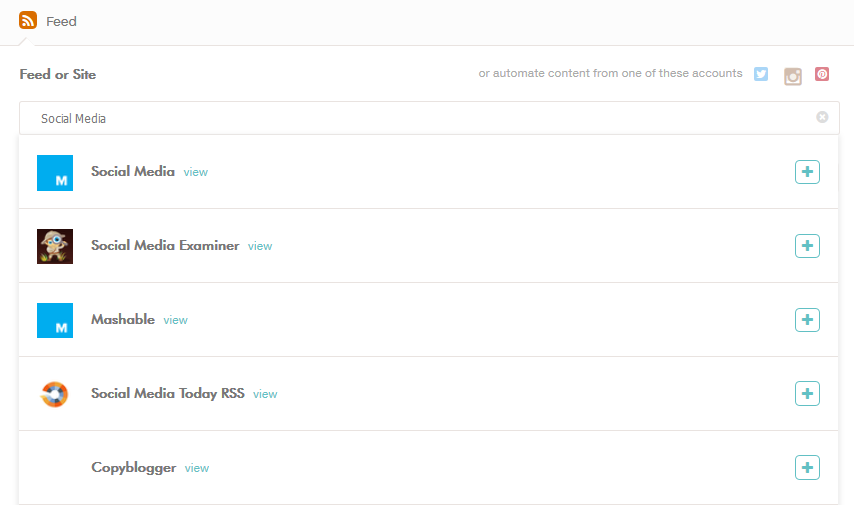 Organize, Curate, and Schedule Content You Find
✓ Intuitive interface
✓  Customize each update

New to social media and not sure what to say? No problem. We automatically populate the social media update with a sample message (2) that you can use as is or add additional commentary (1).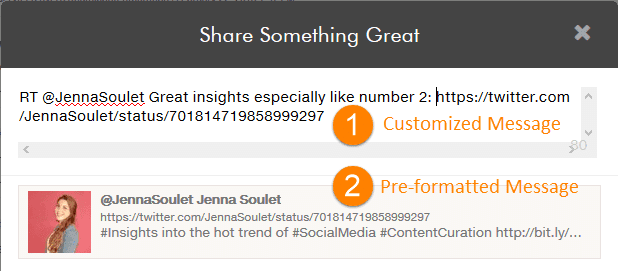 Publish With One Click
✓  One-Click Publishing to Anywhere
With a single click, you can publish from your content queue to any major social network.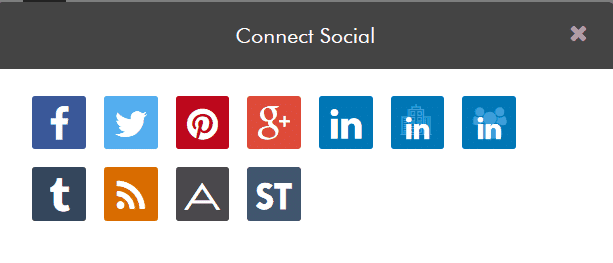 ✓  Schedule Your Posts
Schedule posts throughout the day to keep your fans and followers engaged. Schedule posts in advance to free up time later.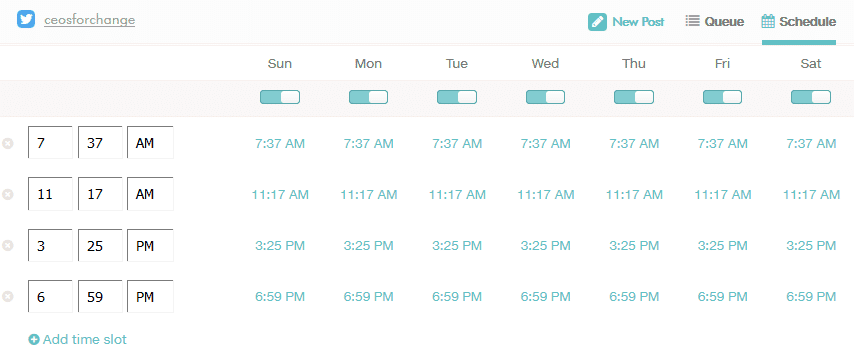 ✓  Organize

Deliver the right content to the right social network at the right time. Customize and share content that's specific to each audience. Now, your social media audience will have the most timely and relevant content.
Analyze Your Most Popular Content
✓  Measure Engagement and Amplification
Stay on track with built-in analytics. Quickly understand how your audience is responding to the content you share. Gain guidance to shape your curation strategies while keeping your audience energized.
Our platform integrates with analytics tools like Google Analytics. For instance, you can automatically append each curated link with unique tracking codes. With this in mind, the publisher knows who referred the traffic.
Using analytics is of particular importance for building social currency. Not only is it a best practice but you'll start building influence in your niche. Not to mention you'll gain followers. As more people recognize you for sharing their content the more likely, they will share your content.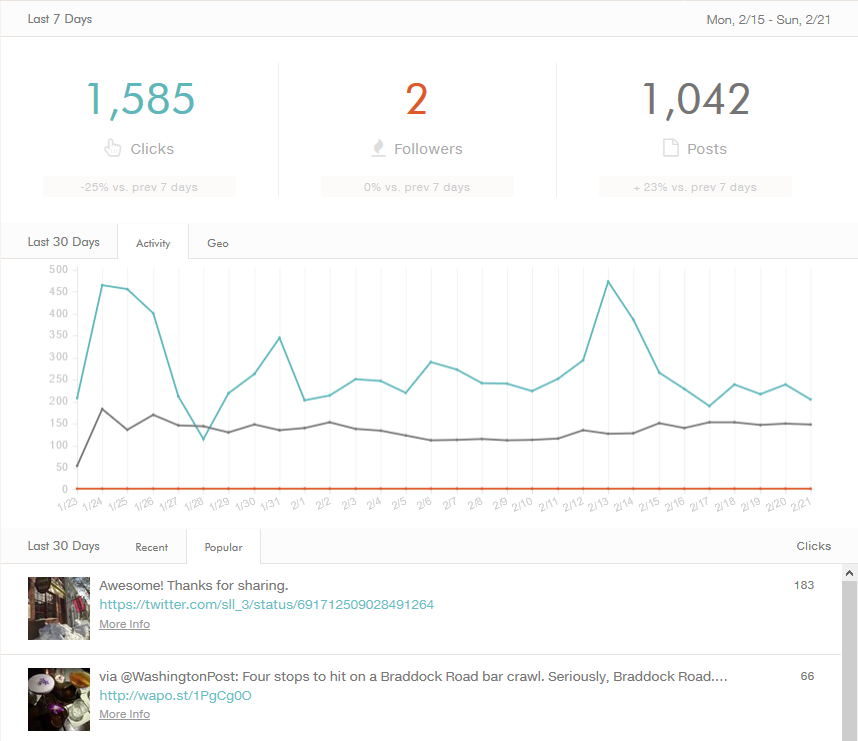 In as little as five minutes a day, you can easily find content for social media to engage more fans and followers while spending less time.