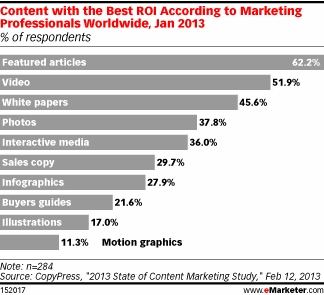 What content marketing tactic drives the best ROI?
Videos, Infographics, Whitepapers; so many different types of content to create in so little time with limited resources. Looking for one content marketing tactic that can drive the best ROI? According to a study by CopyPress, look no further than the "featured article".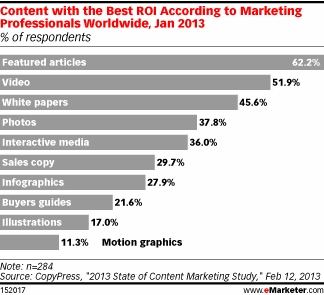 The featured article gives birth to a new concept in content marketing called "News Marketing" coined by David McInnis. News Marketing fits in this transitional stage between the press release and content marketing. As public relations professionals expand their services to include content marketing, News Marketing allows them to leverage their in house talent and connections within the media. Public relations professionals are in the business of creating topics of public interest and news items. News Marketing will force them to include a marketing strategy behind their featured story.
According to McInnis, News Marketing highlights your company or it may include your news within the context of a broader feature that covers your industry, product or service category. However, News Marketing is not just the tactic of writing an article. It incorporates building an audience for the feature article and tracking the performance.
More so now than ever, with the shrinking staff of the news media, a well written, researched piece of content, has a better chance of being accepted at a news outlet as a featured article.
Tips in Creating Featured Articles
Think beyond your brand. Understand what ecosystem your business lives in and ask yourself why readers should care to learn more about your industry, or service/product category.
Conduct research. Feature articles require more time and research. You need to be authentic and care about the greater good of promoting your industry. This is where hiring an experienced journalist or public relations professional can come in handy.
Promote. Write and they will come no longer works. You are investing the time and resources to create a featured article. Create a distribution plan – niche media journalist, social media, paid placements, and guest blogging.
Featured articles take more time and research to be successful but as the research shows, the results speak for themselves. They are one part of a well executed content marketing strategy.
Learn more about News Marketing from David McInnis at the 3rd annual Content Marketing Strategies Conference May 7-9, 2013 in Berkeley, CA hosted by dlvr.it.