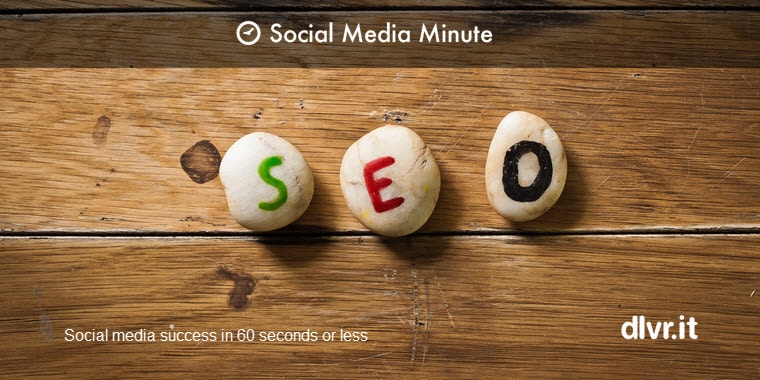 How to Boost Your SlideShare SEO to Drive More Traffic
Do you use SlideShare as part of your social media marketing strategy? Do you know how to optimize your SlideShare SEO?
At dlvr.it, we convert our blog posts into PDF's and upload them to SlideShare. Read this two-minute tutorial on how we do this.
We don't spend time creating original content specifically for SlideShare, but the traffic spikes we see from this simple method of uploading blog content leads me to believe we could be doing a better job of maximizing our exposure.
This extra exposure is where the potential of SlideShare SEO comes into play.
How to Improve SlideShare SEO
Step One: Identify target keywords
Off-page SEO includes anything done outside of your website, proving to search engines that your digital footprint is relevant for certain keywords and phrases. This includes SlideShare SEO.
To start, Google is the first place I go when I need to do keyword research.
Google's Keyword Planner: It is mostly intended to help Adwords advertisers spend money efficiently when purchasing ads from Google but you can still use the data to find higher traffic keywords that are more likely to send organic traffic.
Google Analytics: Although most keywords will be displayed as "not provided", Google Analytics does still show some of the most relevant keywords that are sending you traffic, as well as which pages, are performing the best.
Google Webmaster Tools: Provides a wider range of keywords than Analytics if you want to get even more data from your current content.
Other (non-Google) keyword research tools:
Keywordtool.io: With a single search, this tool can generate up to 750+ keyword suggestions from Google, YouTube, Bing and even the App Store. It's free, reliable and pretty fast!
Übersuggest: Created by an Italian SEO guy and touted as one of the best free keyword tools for getting lots of keyword suggestions. Check it out!
Step Two: Give your upload file an SEO-friendly name
The name of the file you upload to SlideShare becomes the URL slug. So when you name your file, choose something SEO-friendly with your keywords (from Step 1).
Your SlideShare presentation will have a better chance of ranking in SERPs, which drives more reliable and continuous traffic to your deck.
For example: Using our simple technique of uploading blog posts to SlideShare as a PDF, we save the PDF using keywords in the filename.


Step Three: Write SEO friendly descriptions
Don't ignore SlideShare's description field. The text you include here is what the search engines see.
What you say and how you say it can improve your SlideShare natural rankings dramatically. When someone does a search on SlideShare, the search terms appear bold in the results, which draws more attention to them.
More attention quickly translates into more clicks and make sure to include:
Your main keyword in the description, ideally in the first sentence.
Make sure to include a link back to your website or reference the URL to your blog post.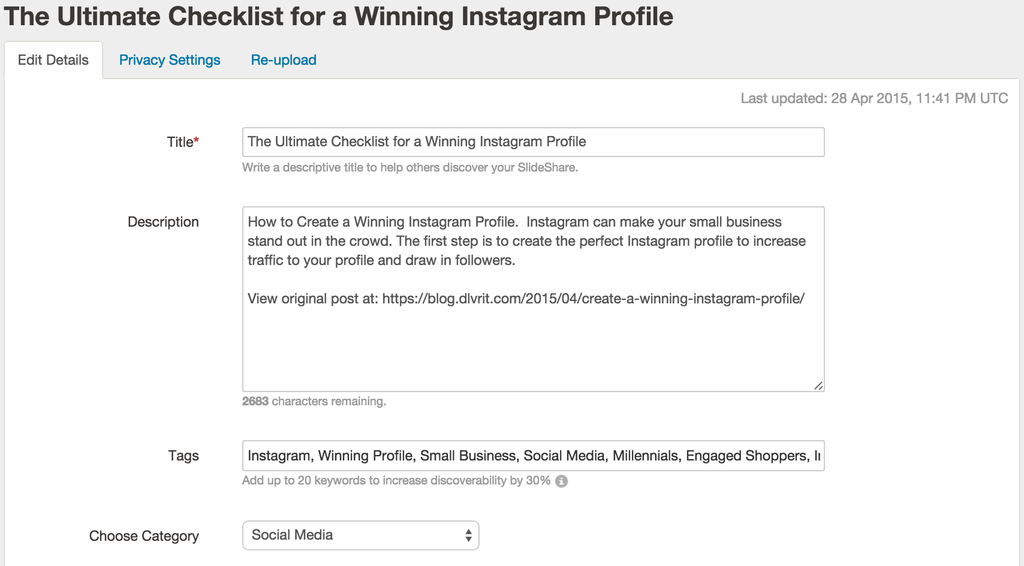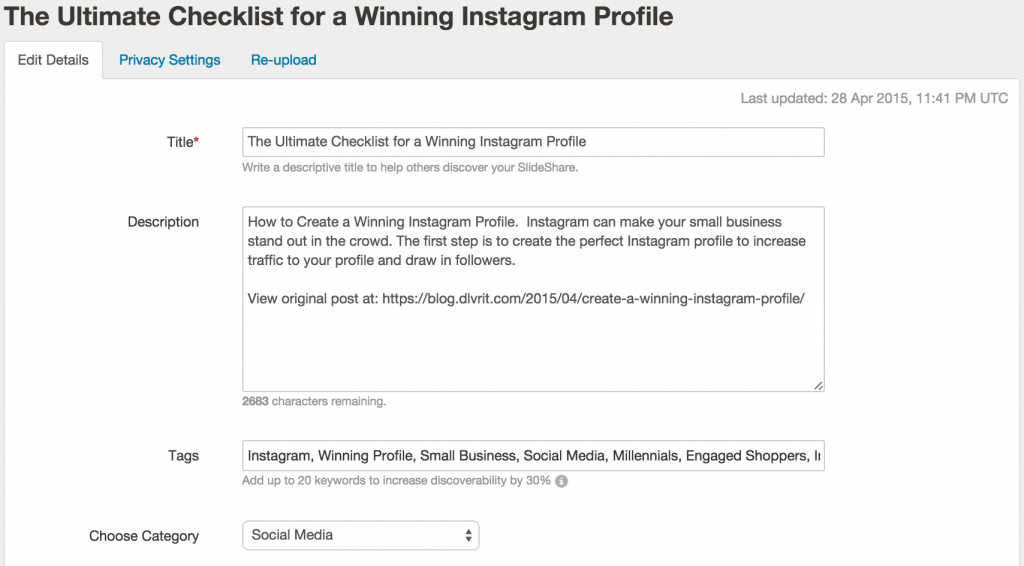 Step Four: Don't forget to optimize the Tags
In addition to using your keyword or phrase in the title and description of your SlideShare, make sure you include the tags as well.
Pro tip: Make your keyword the first tag for the presentation, and then choose closely related tags to follow. Notice in the example above the use of our keywords: Instagram and Winning Profile.
Step Five: Use SlideShare Analytics
For deeper insight into your content, SlideShare offers a robust analytics feature allowing you to track the daily progress of all your content.
You can see the geographical distribution of views to find out where your content is accessed, traffic sources to evaluate which channels are bringing the most viewers, and timing to measure what days of the week and months content performs best. There is a lot of great information packed into this feature.
On your dashboard, you can choose to see stats for each upload by clicking the 'uploads' drop-down menu. From, here you can see daily details of Views, Sources, and Geography.
You can also see stats for:
Top Content
Top Countries
Traffic Sources
SlideShare Actions
Recent Viewers
An Example:
The image in the picture below is the analytics view for one of our more popular posts on SlideShare: 21 Unique Gift Ideas a Small Business Owner Would Love and Appreciate.
We posted this to SlideShare on December 22, 2014 – just in time for the holidays. The data shown below is from the period (March 29 – April 28, 2015) – almost 4-months later.
This data proves that posting content to SlideShare is an easy way to get more eyeballs on your content and ultimately, traffic back to your site.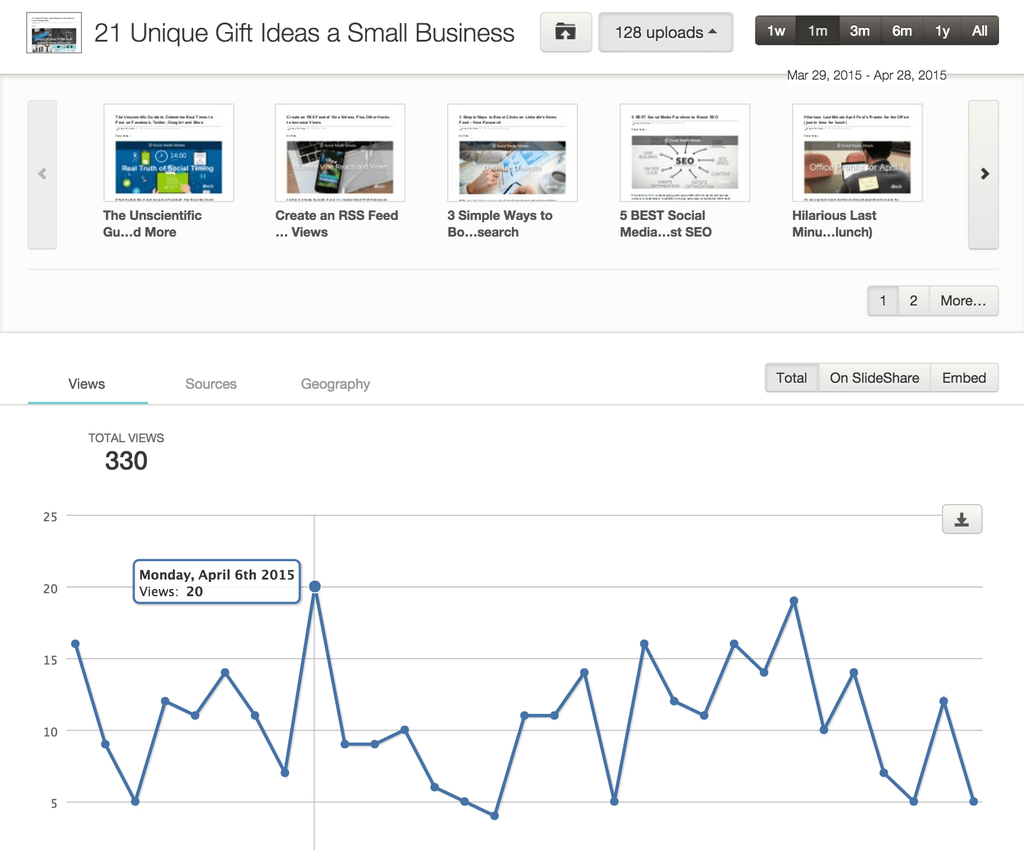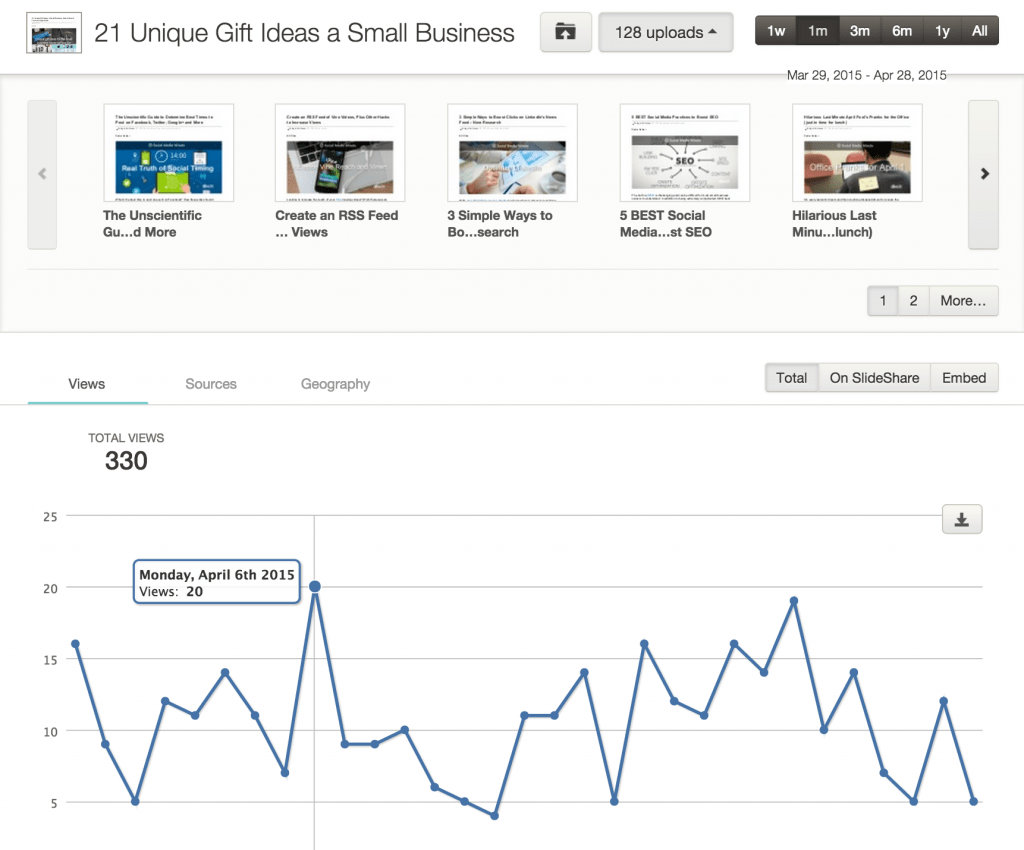 ___
Now It's Your Turn
How do you use SlideShare?
How do you maximize your SlideShare SEO?
We'd love to hear from you.
Debra Garber
VP of Finance & Operations, Chief Content Contributor, and backyard chicken farmer. I happily share my experiences traversing the wilds of social media. Will trade social media tips for fresh organic eggs. Motto: "Live the life you love, love the life you live."