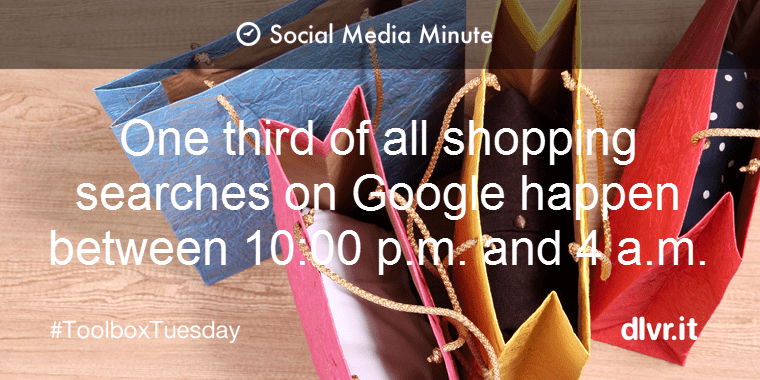 Single Best Tool to Stay on Top of Shopping Trends (and it's FREE)
(#ToolboxTuesday) As a small business owner, the idiom "no rest for the weary" takes on extra meaning during the holiday season. Were you hoping to take a break after Black Friday, Small Business Saturday and Cyber Monday? Think again. According to the 2014 Google Holiday Shopper Research study, there is no time to rest as consumers are using social media and mobile for their online shopping in record numbers and in stores well past Black Friday and Cyber Monday.
The Biggest Days for Shopping
Google's calendar (below) shows 2013's peak U.S. shopping days. Days in red saw the most online shopping while those in green saw the most shopping in stores.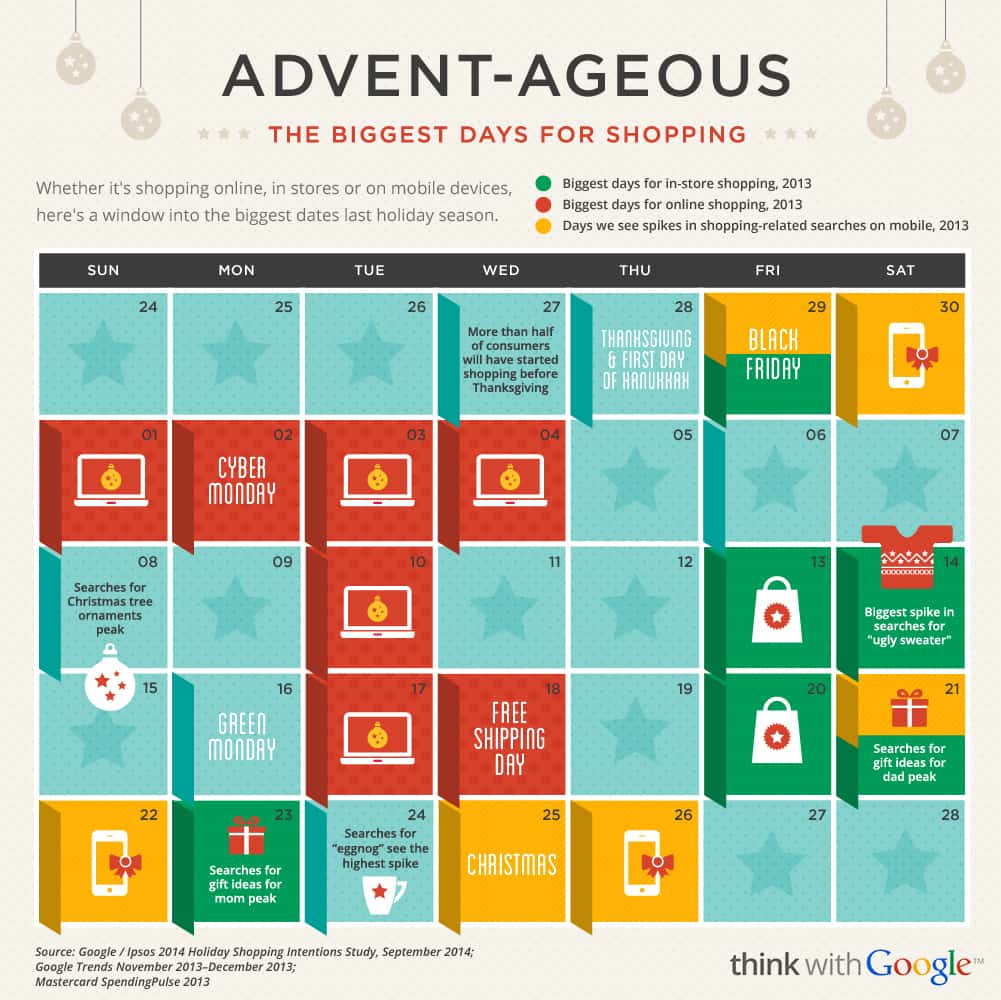 The sum of the biggest online shopping days (7) and the days with spikes in shopping-related searches on mobile (6) is a whopping total of 13 days where social media and mobile played a significant role in a shopper's life. These search trends are not expected to change anytime soon especially if you add in non-US holiday online shopping days such as Boxing Day, the biggest day for online retailers in the UK.
According to a Google/Nielsen study on the Mobile Path to Purchase:
On average, consumers spend 15+ hours researching on mobile sites and apps.
Mobile influences shoppers' purchases across channels; 93% of those who research on mobile end up buying a product or service, and most of these purchases happen in a physical store.
But do they know where to go? Proximity matters to these mobile consumers. In fact, 71% of smartphone shoppers used a store locator to find a shop location.
There's a sense of immediacy for these shoppers. Over half (55%) of the "I want it now" crowd who use mobile to research want to make a purchase within the hour (83% within a day).
Shopping Never Sleeps
Note to all small businesses this holiday season: Shopping never sleeps!
Small businesses that sell their products or services online need to know that the buying experience is no longer confined to daytime or normal business hours. 
In fact, one third of all shopping searches on Google happen between 10:00 p.m. and 4 a.m. That's because shopping doesn't stop once the mall closes. Today we're researching purchases online at all hours of the day.

And night owls are not just window-shopping. People are buying in the middle of the night, too. "Roughly one in seven orders happen between 10 p.m. and 4 a.m.
Free Tool to Help Identify What Shoppers Want 
As a small business owner, do you have a sense of what is popular in your community and what is trending this holiday season? How can you tweak your advertising strategy for the sleepless shopper? Think of the over-tired Mom up late with her newborn or the college student looking for an affordable gift or the tech-savvy entrepreneur researching the newest trends in smart cars.
One easy solution: Google Trends is a free service and is one of the best and most versatile tools available for a small business. It is the marketing equivalent of the Swiss Army knife.
What you can do with Google Trends:
Google Trends can help you get a sense of the most popular searches by region, or help you identify searches that are just beginning to take off. Understanding search trends and where they're coming from can help you focus your campaigns on the most meaningful terms for your audience.
How to start: First, search for your brand name and product names to see when and where people are searching.
When performing a search on Google Trends, you have the option to set four variables or parameters (default shown in bold):
Worldwide: Option to choose a specific Country. Google Trends also breaks down the search data by region, which is invaluable if you're looking at trends in your local community.
2004-Present: Past 7 Days – 30 Days – 90 Days – 12 Months – Choose a Year
All Categories: Arts & Entertainment – Autos & Vehicles – Beauty & Fitness – Books & Literature – Business & Industrial – Computers & Electronics – Finance – Food & Drink – Games, etc.
Web Search: Image Search – News Search – Google Shopping – YouTube Search
If your brand is not yet well known enough to show up in Google Trends, Google suggests looking for the search terms relevant to your business. You can see which terms, including related terms; shoppers are searching for, what country or region they are from, what days they search, and other insights. Learning that can tell you what kinds of search terms to use in your website copy, in your AdWords ads, in email messages, social media and other selling activities.
Google also displays Hot Searches and Top Charts in Google Trends, listing the top searches of the day as well as popular searches by category.
Below is a snapshot of the HOT trends today in the United States: College football – not a surprise – followed by Cyber Monday deals and, coming in at number 5, Snooki – a disappointment, but not necessarily a surprise.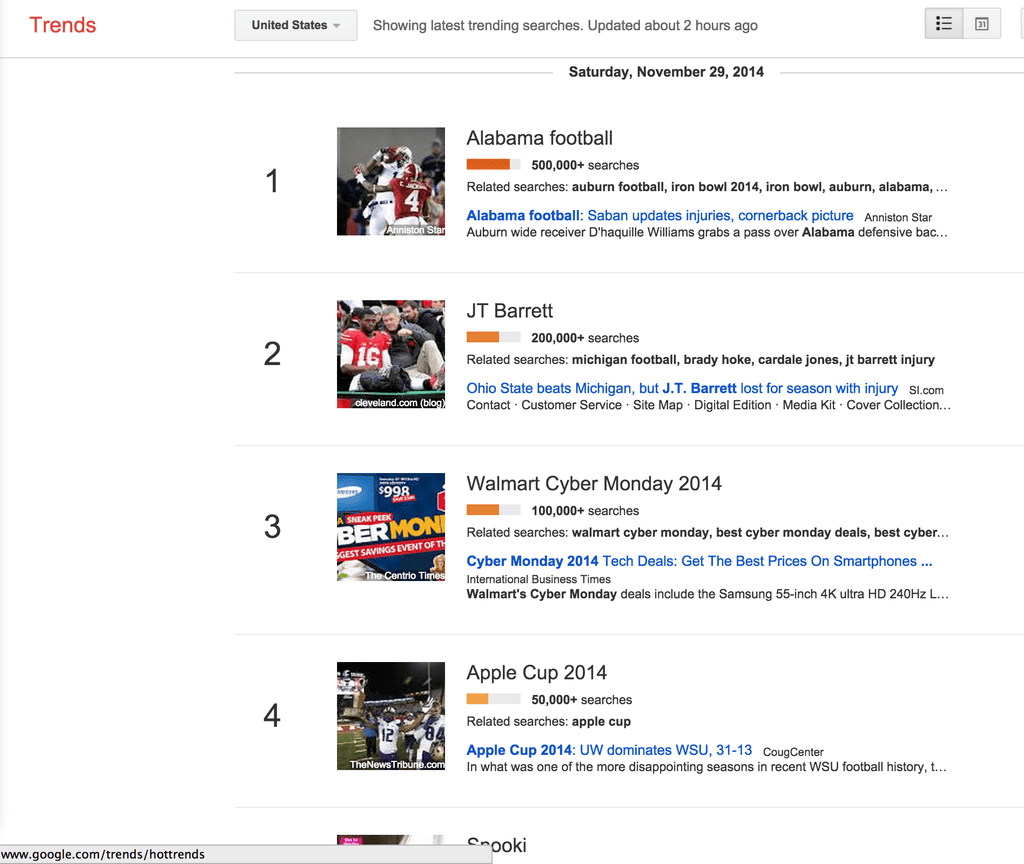 For all sleepless small business owners, Google Trends is a great tool to help connect with more holiday shoppers as they hunt online for deals around the clock. If you haven't been using this tool, you should check it out now. And, did I mention, it's FREE.
Debra Garber
VP of Finance & Operations, Chief Content Contributor, and backyard chicken farmer. I happily share my experiences traversing the wilds of social media. Will trade social media tips for fresh organic eggs. Motto: "Live the life you love, love the life you live."