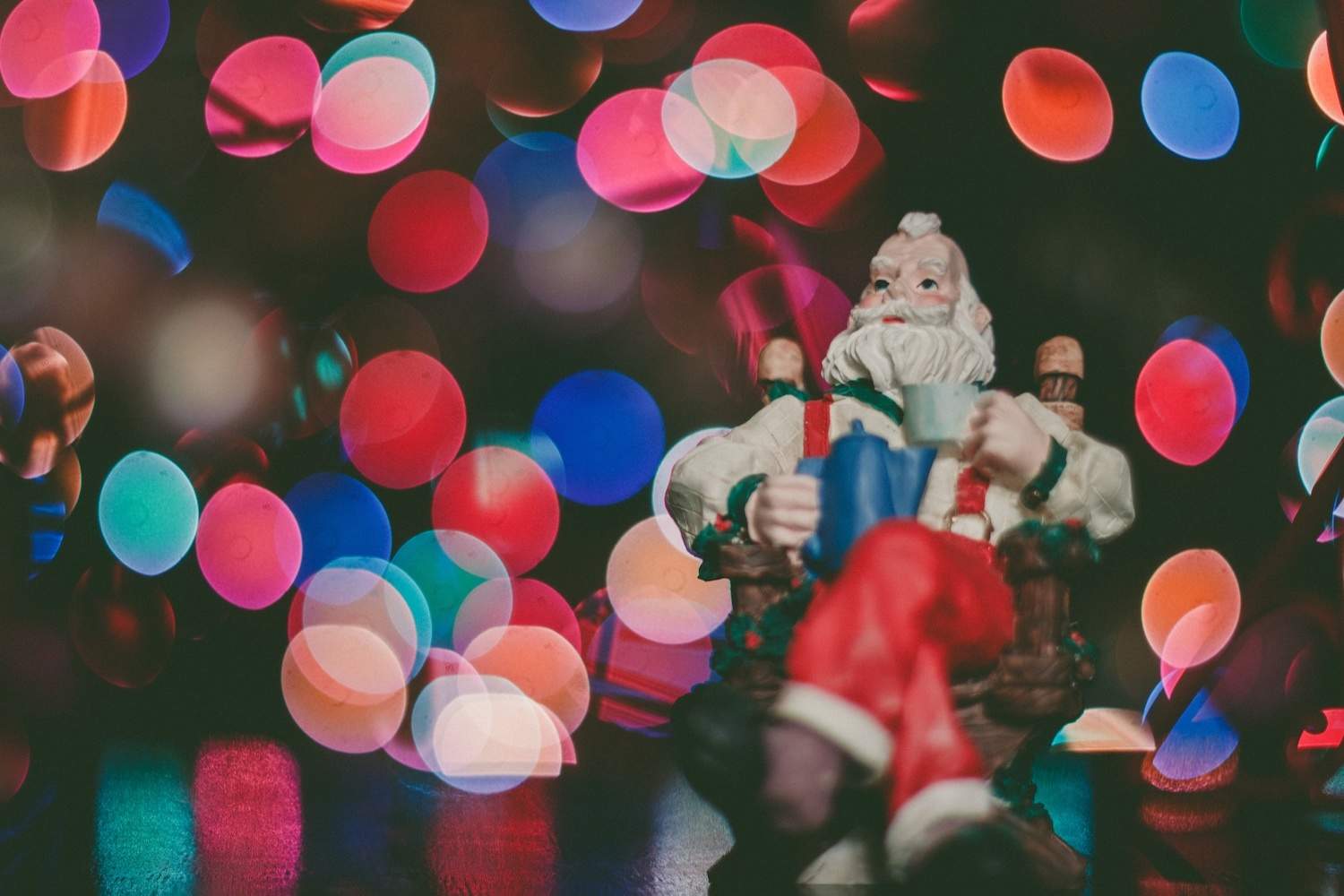 7 Vintage Holiday Ads That Would Be Banned Today
WARNING: This blog post may cause addictive habits. When viewing these vintage holiday ads, proceed with caution.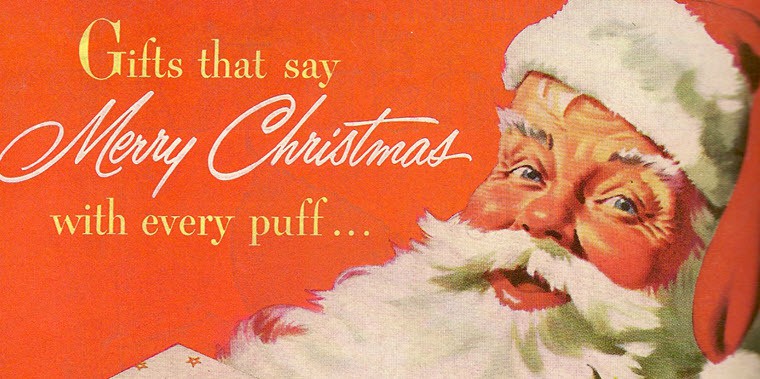 Nothing says Christmas like a pack of smokes. Apparently, at one point in our history, that was true. Cigarettes helped you get through the holidays. If you're struggling with hanging those lights, take a break and have a smoke. Opening presents too stressful? Cool down with a Lucky Strike. Looking for last minute stocking stuffers? How about a carton of Chesterfields?
Today, tobacco advertising is now one of the most highly regulated forms of marketing. Some or all forms of tobacco advertising are banned in many countries. Here are some surprising tobacco advertising facts through history:
The first known advertisement in the USA was for the snuff and tobacco products of P. Lorillard and Company and was placed in the New York daily paper in 1789.
The first real brand name to become known on a bigger scale in the USA was "Bull Durham" which emerged in 1868, with the advertising placing emphasis on how easy it was "to roll your own."
Modern advertising was created with the innovative techniques used in tobacco advertising beginning in the 1920s. Much of these advertisements sought to make smoking appear fashionable and stylish to men and women.
In 1954, tobacco companies ran the ad "A Frank Statement." The ad was the first in a campaign to dispute reports that smoking cigarettes could cause lung cancer and had other dangerous health effects.
In the United States, in the 1950s and 1960s, cigarette brands frequently sponsored television shows—most notably To Tell the Truth and I've Got a Secret and popular TV shows such as The Flintstones and The Beverly Hillbillies, which were watched by many children and teens.
In 1964, after facing much pressure from the public, The Cigarette Advertising Code was created by the Tobacco companies, which prohibited advertising directed to youth.
In 1970, Congress took their anti-smoking initiative one step further and passed the Public Health Cigarette Smoking Act, banning the advertising of cigarettes on television and radio.
Since 1984, cigarette companies have also been forced to place Surgeon's General warnings on all cigarette packs and advertisements.
Today, both Google and Microsoft have policies that outlaw the promotion of tobacco products on their advertising networks.

 
7 Vintage Holiday Ads That Would Be Banned Today
Given the restrictions levied on tobacco advertising today, it's hard to imagine these ads ever existed:
Vintage Ad #1: This Christmas give cartons of Luckies. Luckies Taste Better.
Today's take: This Holiday season, give the gift that keeps on giving lung cancer.

Vintage Ad #2: So gather around…light up and share the very best at Christmastime. Always Buy Chesterfield.
Today's take: Deck the Halls with cig-a-rett-es, Fa la la la la, la la la la.

Vintage Ad #3: Chesterfield. Buy the beautiful "Christmas-card" carton.
Today's take: "Mr. Gorbachev, tear down this wall and light up a Chesterfield!"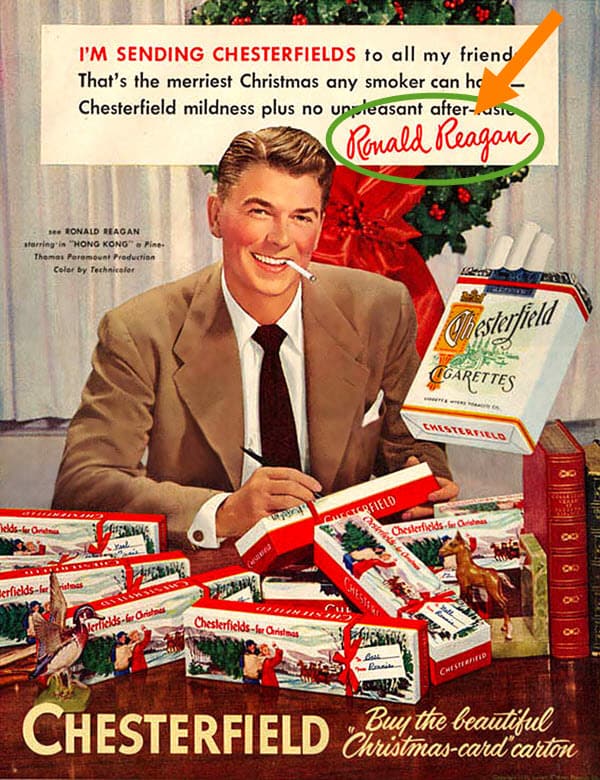 Vintage Ad #4: Make it a "Happy-Go-Lucky" Christmas! Give cartoons of Luckies!
Today's take: How many open containers of Eggnog do you think are being transported?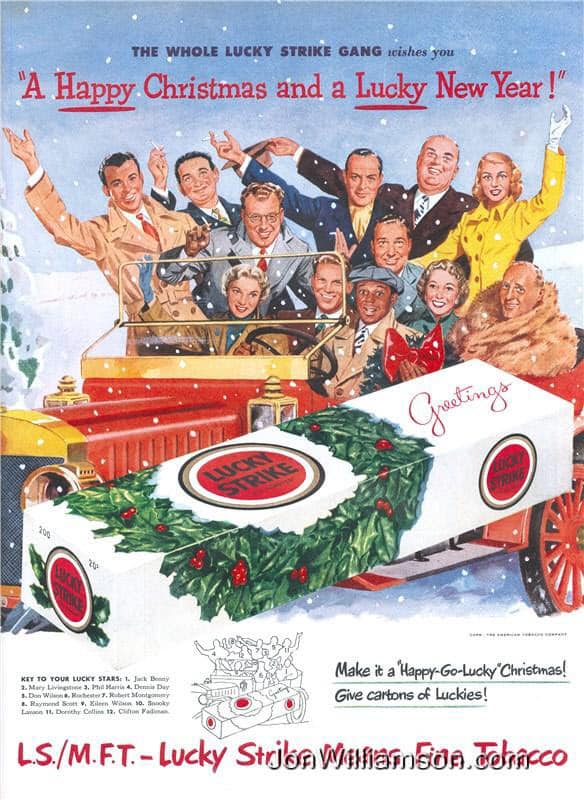 Vintage Ad #5: More men have enjoyed White Owl than any other cigar ever made in the United States.
Today's take: The quickest way to a man's heart…is through his lungs. And kids, that is how Mrs. Claus, wooed Santa Claus.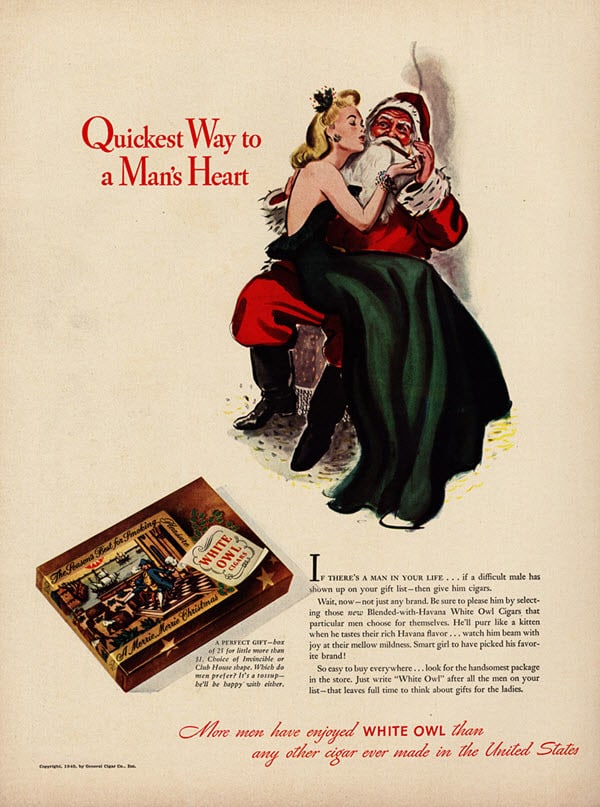 Vintage Ad #6. A gift of pleasure – Luckies, A Light Smoke.
Today's take: When they say "It's Toasted" do they mean, Santa's lungs?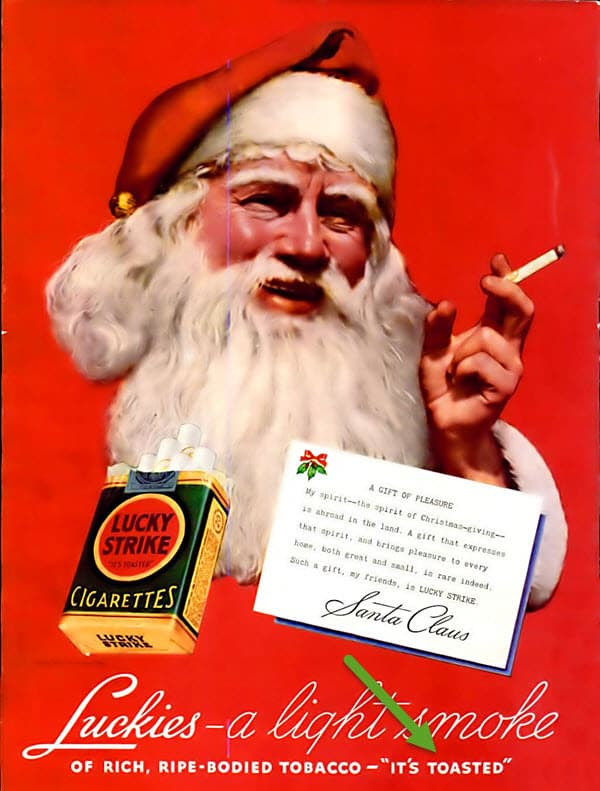 Vintage Ad #7. Luckies Taste Better. So nice to give…to get…to serve…to enjoy!
Today's take: Cigarettes make great white elephant gifts and stocking stuffers!

Bonus:
Ho-ho-cough-ho…The end of a cigarette he held tight in his teeth, and the smoke it encircled his head like a wreath.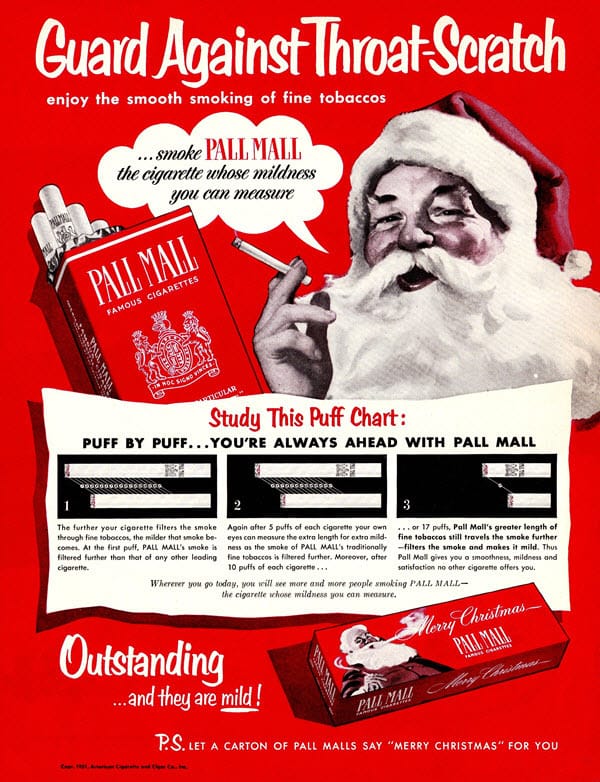 Have a safe and happy smoke-free holiday season.