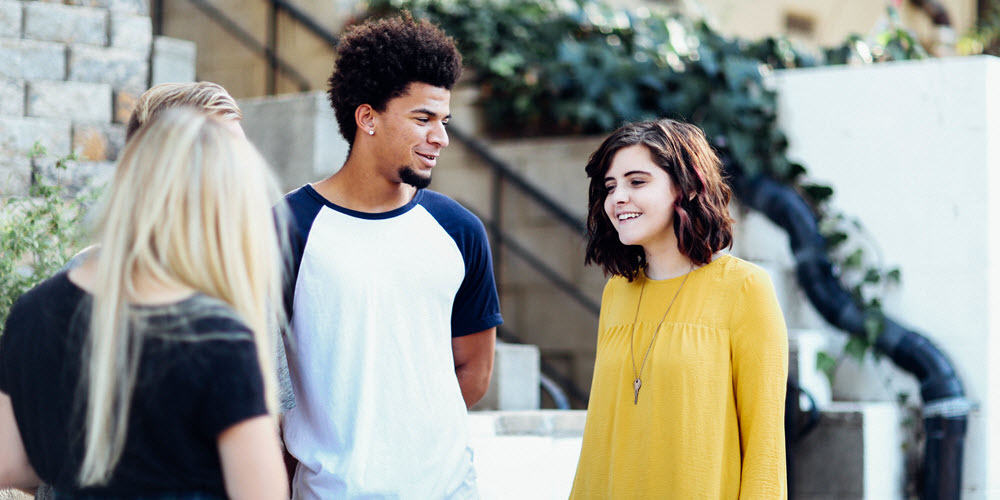 2 Influencer Marketing Strategies That Will Give You a Boost
(#ToolboxTuesday) Every niche has them; "brand influencers", people considered influential within their domain. If they mention your business or website, you should expect your sales and traffic numbers to skyrocket. If you search Google for influencer marketing tips, you will find no shortage of opinions on how to find and 'influence' the influencers. Today's social media tools make locating influencers easy.
However, given your small business' limited time and budget, is spending time trying to connect with a person with a high influential social score (a.k.a. Klout score), the right approach?
Influencer Marketing: Two Schools of Thought

Influencer marketing should be a core part of your social media strategy and requires you to focus on a small subsection of your audience.
There are two conflicting schools of thought when it comes to influencer marketing. Although many will focus on one of these two methodologies, both have their place in marketing strategies.
The Law of the Few: Malcolm Gladwell's theory of the Law of the Few, states viral marketing is heavily dependent on the involvement of a few highly influential people; the Noteworthy in their niche, the Kings of Klout and the Mavens of Media.
Peer Influence: Duncan Watts' Peer Influence theory states that everyday people, our friends, followers, and parents influence what we read and buy.
I view the conflicting theories on influencer marketing as similar to the story of the tortoise and the hare. Both can reach the finish line but at different speeds and at different times.
Hare: The Law of the Few. You benefit from a huge immediate impact on traffic. You might use this tactic for a new product launch.
Tortoise: Peer Influence. Slow, growth over an extended period. You likely are already doing this with your everyday marketing.
Regardless of which methodology you decide to employ, to be successful at true organic influencer marketing (vs. paid) you need to have both a great product, service or content worth talking about AND patience and persistence. Both strategies have the potential to create viral marketing opportunities. What's different between them is the marketing strategy you apply.
Gladwell's Law of the Few Strategy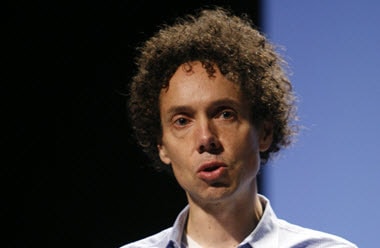 You have one opportunity to make a first impression. When applying Gladwell's theory, the stakes are higher, especially if you are in a small industry with a few big influencers. You need to have a plan and be methodical in your one-to-one marketing outreach.
Law of the Few: Tightly focused relationship-building process.
Step 1. Identify a Dozen Influencers. Don't go overboard. Don't worry about reaching a mass of people. Identify a few key people in your niche. Here are three web tools to get you started:
Step 2. Create and Send Personalized Messages.
Get Acquainted. Research each influencer, read their blogs, follow them on social media, comment on their blogs, retweet something they write. Gently let them know you exist. Getting acquainted doesn't happen overnight. Be patient.

Make the first move. Create a short customized email containing relevant information you discovered. Be personable. Offer to send them your product or offer a free trial. Keep the message brief and warm.
Step 3. Measure your Success.
Are the influencers following you back on social media?
What's the response rate of your email? Send out a few emails and wait to see the reaction. Tweak as needed and send to the other influencers not yet contacted.
Always respond with a thank you when you get mentioned in their social media stream or when they write a blog post about your company.
A good mention by a niche influencer can do wonders for your brand regarding growth and new customers.
Watts' Peer Influence Strategy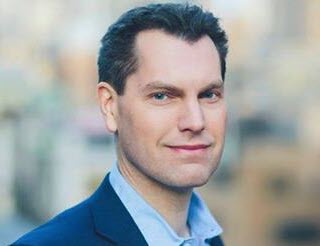 Peer influencing is likely something you are already doing as part of your social media strategy. I view the Peer Influence theory as the everyday things that create an enjoyable customer experience. For example, the Social Media Minute is about crafting content our customers will enjoy and benefit from. We want to understand their top pain points and do what we can to help them out. This strategy is marketing to a few vs. the one-to-one strategy discussed above.
According to the Harvard Business Review, Duncan Watts peer influence model also called big seed marketing…"does not rely on identifying a small number of special people, but rather on harnessing the power of a large number of ordinary people.  By reaching a mass audience, and encouraging them to share, you increase the likelihood that a viral chain emerges and, even if it doesn't, you still improve performance."

Crowdtap, an influencer marketing company, discovered that 92% of us rely on people we already know for recommendations. Nielson backs up the claim:
Ninety percent of consumers surveyed noted they trust recommendations from people they know, while 70 percent trusted consumer opinions posted online.
As a business owner, we want to add fuel to our online growth. The Peer Influencer marketing approach is more like a pot of boiling water. The water doesn't boil as soon as you add a heat source. It takes time. The benefit of time is loyalty and a source of new customers.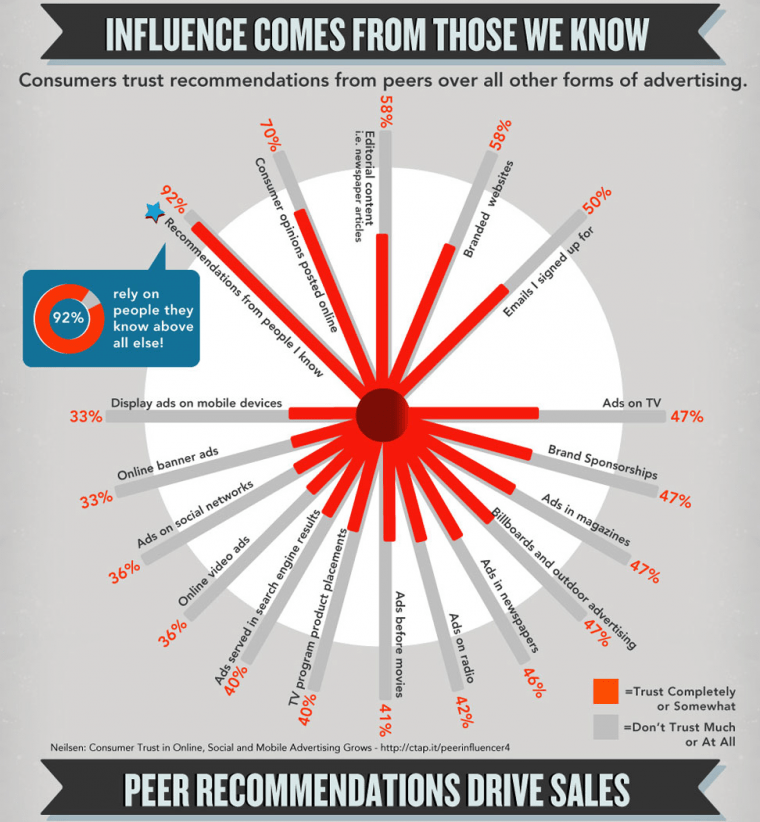 Step 1. Identify Brand Advocates. These are people who are talking about you in social media, writing positive reviews on Yelp, or taking the time to send a written letter.
Step 2. Say Thank You. Sounds obvious. Thank them for retweeting your blog posts, send them a personalized letter. Invite them to participate in a special program or give them and a friend, a coupon.
Step 3. Measure. If you are creating a compelling product, service or content, and acknowledging brand advocates, a simple measure is to look at the lift in retweets, positive feedback and overall customer satisfaction – positive responses. Also, consider more granular data:
What content is shared most often and where?
What's the level of the advocate's commitment? Are they responding to survey requests? Are they participating in further dialogue?
Do you see a lift in sales or traffic? Turn to Google Analytics. For example, look at the time on site and bounce rate to see if engagement in your brand is increasing.
Now it's your turn. Which influencer marketing strategy do you believe in? Are you a Gladwell or Watts believer?