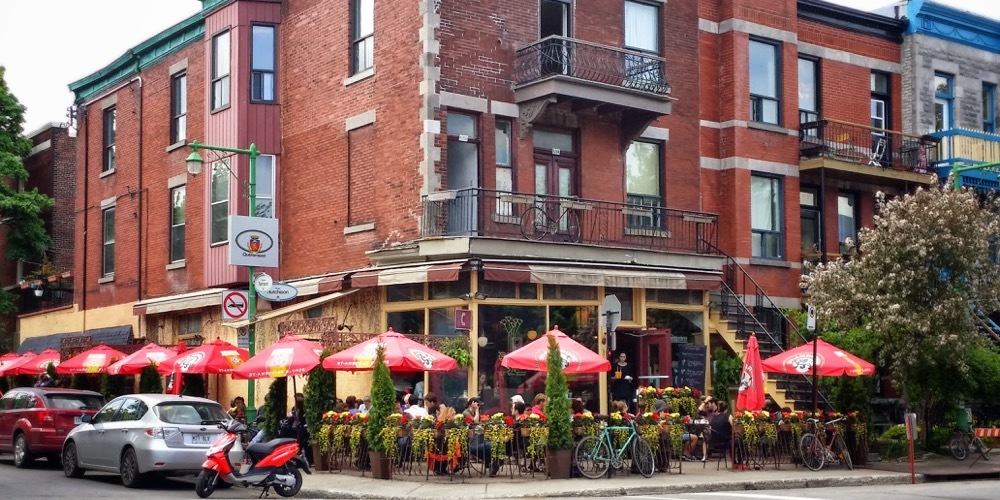 How to Use Google Plus Local the Right Way to Boost Traffic
As a small business owner there is always something to do. Not only is there always something to do but also some new marketing strategy to test. Not to mention, you can easily be overwhelmed just navigating the plethora of online social networks, websites and mobile apps where you have to update your business details – Google Plus Local, Yelp, Citisearch, TripAdvisor, Urbanspoon, Angie's List, Foursquare, Facebook, to name a few.
There may well be over a hundred plus such sites making up this list, but which one really matters?
Benefits of Google Plus Local
Your business has to be on Google Plus Local if you want it notice. There I said it!
According to Brett Nuckles, Tech Editor at Business News Daily:
The search giant's social network is increasingly integrated with the entire Google ecosystem, from search to Maps to YouTube. Engaging with Google Plus isn't just a way to share updates and deals with your customers; it's also the best way to ensure they find your business in the first place.
Why is Google Plus Local Vital for my Small Business?
Being on Google Plus is a must for any small business because the platform works hand- in-hand with Google Search. Below are three reasons why this is important.
Most importantly, Potentially ranking higher on search results
Equally important, Integration with relevant Google+ for Business services
Not to mention (for local businesses): Ability to draw customers in by providing key business information — such as location and directions, phone number, photos, reviews and more — right on search pages.
Here's a screenshot of my Google search for 'Community Cafe Sonoma' where I am currently enjoying breakfast while writing this blog post (if you ever happen upon this fabulous cafe, I highly recommend the Truffled Eggs & Toast). As can be seen, the search results and Google review links are pretty prominent.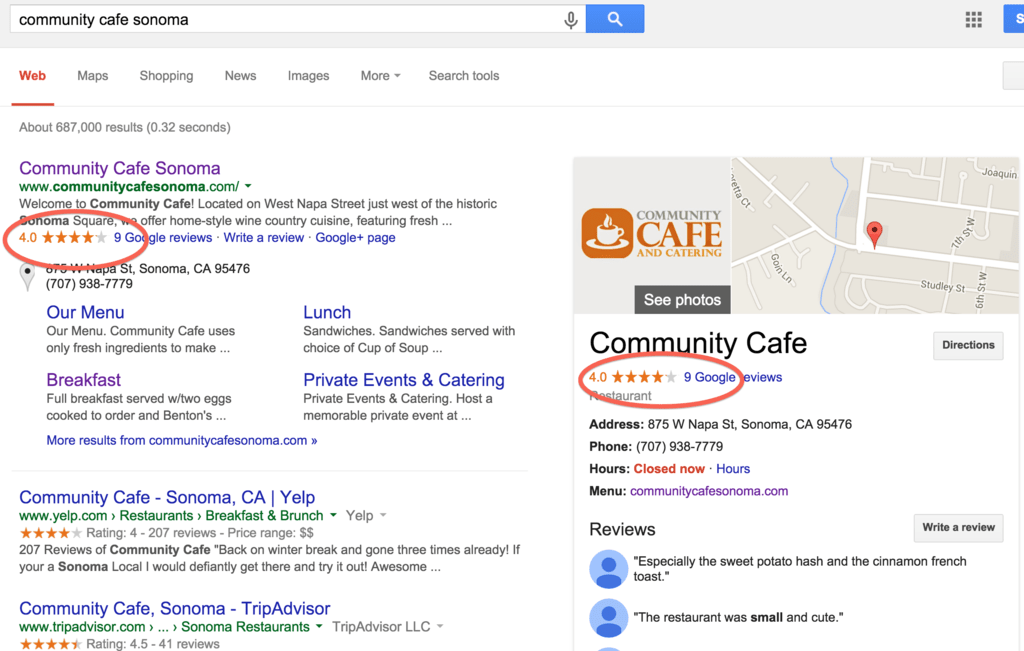 Drilling down further, I searched within Google Plus itself for the Community Cafe. The results below show a screenshot of the Community Cafe Sonoma's Google Plus Local page. First thing I noticed are the enticing images. Then all the relevant decision-making information quickly pops out for the business:
Address
Phone number
Business hours
Map pin
Reviews
Arguably, reviews are one of the more important pieces of information. What is missing? Glance at the image above and the one below – gone from the Google Plus Local page are the ads and other search results that appear in a regular Web search!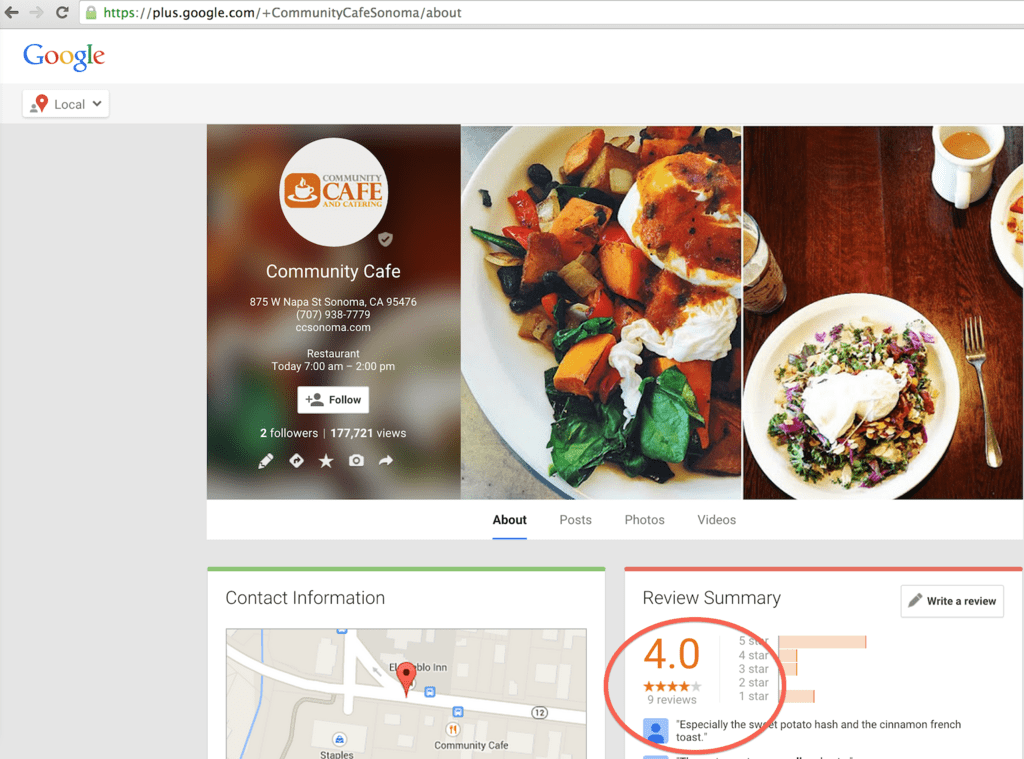 What is Google Plus Local?
According to Google, Google Plus Local helps users discover and share places. Google's 5-point scoring system gives you detailed insight into businesses before you visit, and Zagat summaries of user reviews help you decide where you want to go.
With Google Plus Local, you can:
Get place recommendations based on your circles, your past reviews, and your location
Publish reviews and photos of your favorite places
Read Zagat summaries of user reviews for a place
View the local Google Plus page for a business to see reviews, photos, posts, and other useful information
Find reviews from people you know and trust highlighted in your search results
In other words, now you know why it's important to have a Google Plus Local page. Getting starting on Google Plus can be confusing and time consuming, especially while juggling a Facebook page, Twitter account and other social media networks. What is the most direct route to setup Google Plus Local?
How To Navigate Google's Web Ecosystem?
Google certainly has not made it easy to understand and navigate through the maze of Google platforms – Google Plus Business, Google My Business, Google Plus Local, Google Pages, Google Insights, Google Places — these are all platforms launched by Google in the past few years to help customers find local businesses and insights into your own business. Leading to the questions – What is obsolete? What is current? Where do I start?
Direct from Google's mouth: If you previously used Google Places for Business or Google Plus Pages Dashboard to manage your business information, your account has been automatically upgraded to Google My Business. Google My Business makes it easier than ever to update business information across Google Search, Maps and Google Plus.
Google My Business is the place to start. Here is the quickest route from the starting point to Google Plus Local page success:
Step 1: Signup for Google My Business
Assuming you have a Google account, Click the 'Get on Google' button at the top of the page, and follow the steps to add your business information to Google. Please note that any edits will not appear on Google until you verify your business.
Cost: FREE
Extra Help Needed? Follow these: Basic Guidelines for representing your business on Google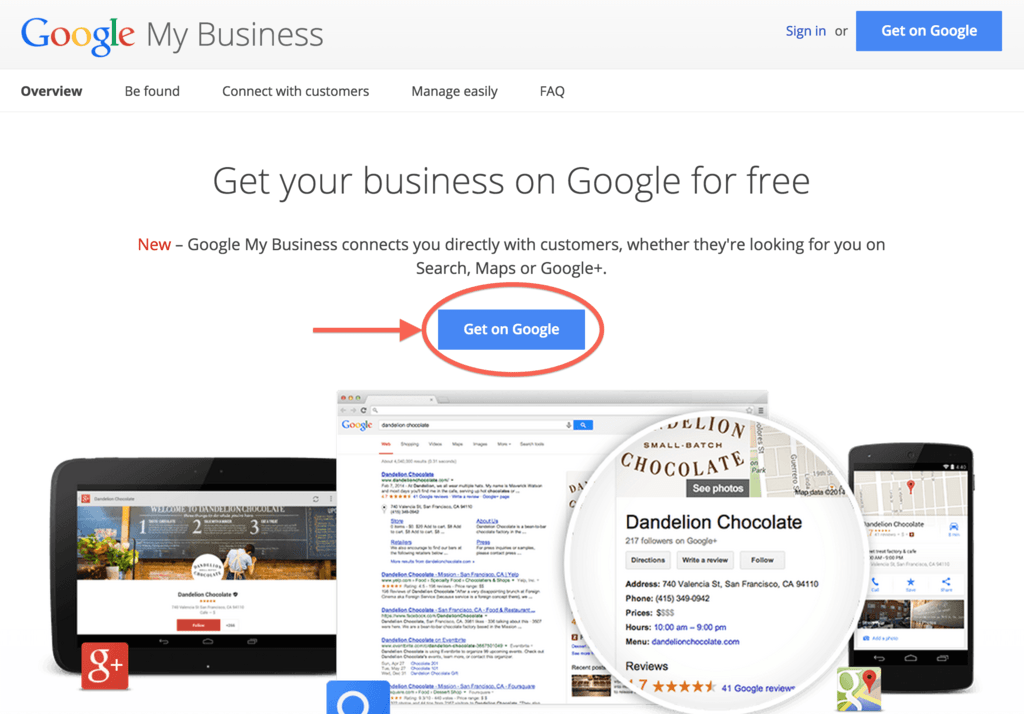 Step 2: Complete your business information
You have two choices:
A. Get started by taking the Google Tour or
B. Skip the tour and dive right in
You'll see a dashboard similar to the example below and suggestions by Google to make your profile as complete as possible such a 'Add photos' or 'Add virtual tour'.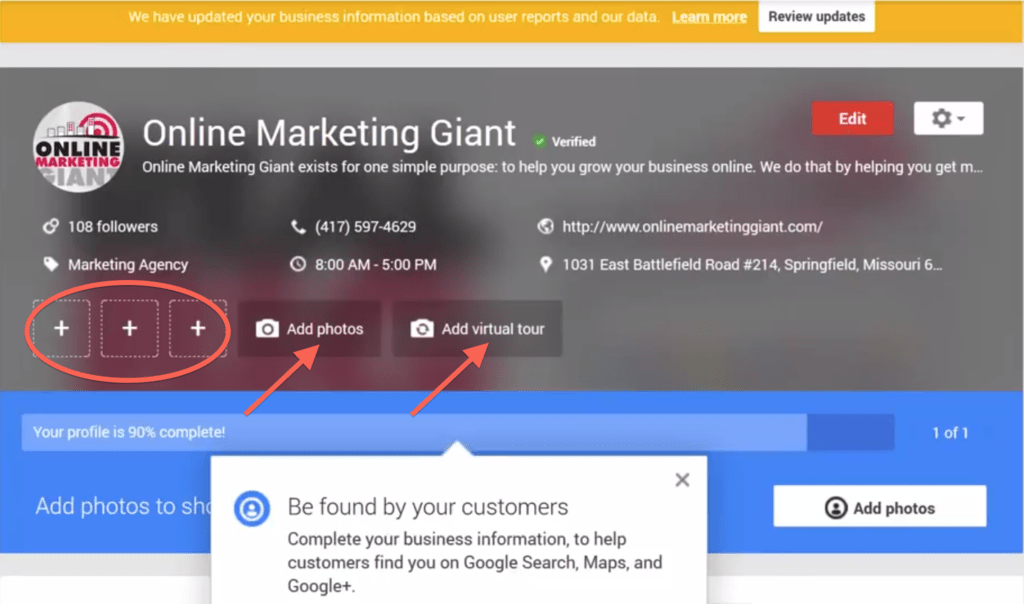 Pro tip: Another key point, for best results using Google My Business, make sure your profile is complete. Double check for accuracy and write a detailed but effective description of your business and services.
Represent your business as it's consistently represented and recognized in the real world across signage, stationery, and other branding.
Make sure your address is accurate and precise.
Choose the fewest number of categories it takes to describe your overall core business.
Pro tip #2: Add as many photos as possible and include your logo first.
Make sure you have titled your pictures correctly.
Make sure you have inserted an alt tag correctly that fits with the keywords that you want to optimize for your business.
Step 3 – VITAL: Make sure that your "NAP" is consistent across all directories: Name, Address and Phone Number
Using dlvr.it's name and address as an example, look at these variations and inconsistencies:
Dlvr.it, 1631 NE Broadway St. #511, Portland, OR 97232
dlvr.it, 1631 NE Broadway Suite #511, Portland, OR 97232
Dlvr,it, Inc., 1631 North East Broadway #511, Portland, OR 97232
A point often overlooked is inconsistencies make it extremely difficult for search engines to index your business.
Step 4: Click 'Submit'
Google may review what you have submitted and any future edits from time to time. At this point, you will be taken back to your dashboard.
Pro tip: Equally important, if you drive foot traffic to your business, consider adding a 'Virtual tour'. Google helps by allowing you to search for assistance in creating a virtual tour on 'Find your local Trusted Photographer or Agency'.
Step 5: Last Step. Verify your business.
Google will ask you to verify your business to make sure the information they have is accurate. You may see one or several types of verification depending on the type of business you manage:
1. Verify by postcard. Google will send a postcard with a verification code to the business address you provided. Make sure your address complies with the address entry guidelines.
2.  Verify by phone. Phone verification isn't available for all businesses. If you don't see this option when you attempt to verify, request a postcard instead.
3. Instant verification. You may be instantly verified to manage your business if you've already verified your business's website with Google Webmaster Tools. To emphasize, make sure you're signed in to Google My Business with the same account you used to verify your site with Webmaster Tools. With this in mind, some business categories may not be eligible for instant verification.
Final Step: Once you've verified, you may see a banner asking you to review your information and make any final changes. Click 'Done editing' when you're certain everything is up to date.
To summarize, Once you've verified your business information, updates you make to your local business – such as contact details, description, photos and business hours – are eligible to show up on Google Maps and other Google properties.
Debra Garber
VP of Finance & Operations, Chief Content Contributor, and backyard chicken farmer. I happily share my experiences traversing the wilds of social media. Will trade social media tips for fresh organic eggs. Motto: "Live the life you love, love the life you live."