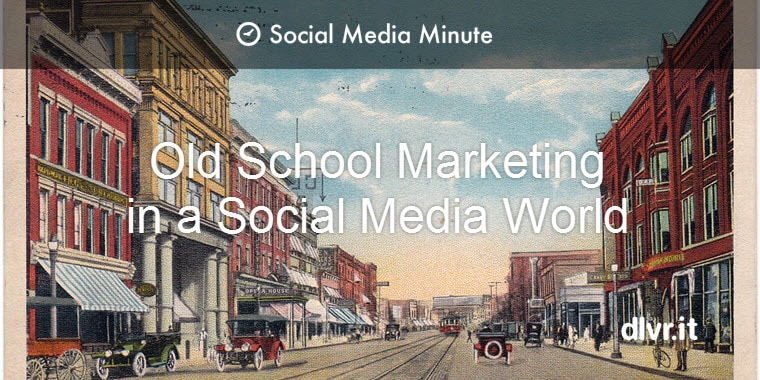 Successful Old-School Marketing on a Shoestring Budget in Today's Social Media World
To quote Mark Twain, "Many a small thing has been made large by the right kind of advertisement." But advertising can be expensive. In reality, most small businesses share a dirty little secret. If you own a small business, you know what we're talking about: You don't really have a marketing budget.
Back in the early-40's my grandparents owned a grocery store on Broadway in Lorain, Ohio. The grocery store soon became an entire block of stores including a butchershop, soda fountain, barber shop, hardware and electronic store and eventually, a gas station. My grandfather grew these successful businesses by being very frugal and I doubt he ever spent much more than a dime on advertising. My grandfather followed the old-school method of marketing:
Honesty + Hard Work + Customer Service =
A Loyal Customer = A Referral = A Relationship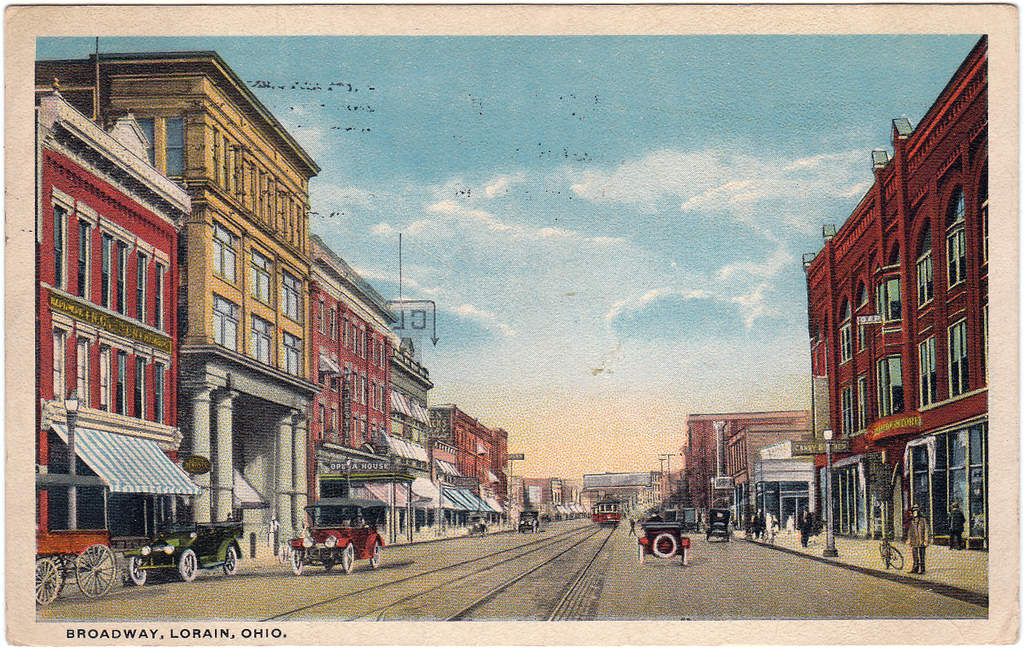 In today's world, social media is undoubtedly one of the most effective and affordable ways to engage your customers and keep your business top-of-mind, but it's not the only way. Following in the footsteps of my grandfather and many others, here are ten tried and true marketing strategies from Constant Contact that can help you market your business on a shoestring budget.
***One note: The following "old-school" strategies have been peppered with an occasional "new-school" social media tip.
1. Craft an Elevator Pitch
You should be marketing all the time — wherever you are. Therefore, you need a compelling elevator pitch. Research shows the average attention span of an adult is about 6 to 8 seconds. That's all the time you have to grab someone's attention. If you successfully engage them, then you only have a little over a minute to really sell them on your product or service. Invest the time to craft a killer elevator pitch. The return on your investment will pay huge dividends in terms of creating business opportunities.
2. Leverage Your Community
You don't have to think big when it comes to your marketing efforts. Think locally. What's going on in your community? Sponsor a Little League team or a 5K charity walk/run. Print bookmarks and leave them at the local library. Get to know your ideal customer and think about how and where they spend their time. Then search for opportunities to get in front of your customer with your marketing message.
3. Network, Network and Network Again
There is no better way to build a business than to get out there, shake some hands, and get to know people. Networking requires a time commitment and it doesn't provide instant gratification, but a strong network is one of the greatest assets any businessperson can have.
Social Media Tool: Meetup.com is a great way to start a community or find neighbors to network with who share the same interest. The image below is of The London Pugs meetup group. If you own a pet shop, love dogs and have a Pug, I can't imagine a better way to network than with a group of like-minded folks and furry companions located in your community.

4. Collaborate
Put together a group of synergistic, non-competitive businesses in your area and agree to cross-promote. You can use coupons, fliers, reciprocal website links, bundled promotions or social media platforms (not the traditional old-school approach but just as effective). By collaborating with each other, you can expand your customer base because you'll be reaching new people.
Social Media Tool: Meetup.com. See description above in #3 – Networking. Meetup.com is a great way to find Meetups about Collaboration and meet people in your local community who share your interests.
5. Give a Speech
A lot of people hate public speaking. However, there are many organizations looking for qualified, subject-matter experts who can present to their groups. Start with your local schools, Rotary and the Chamber of Commerce. Take a deep breath and volunteer. You don't have to be a pro as long as the information you share is helpful to the audience. And the upside — the more you do it the easier it gets. Plus, it positions you as a credible authority in your field.
Have stage fright? No worries. Signup as an expert and share your knowledge on Quora. Quora is built by people who write answers to share their knowledge. You can read millions of fascinating answers about every subject. Here's one answered by dlvr.it's own, Bill Flitter: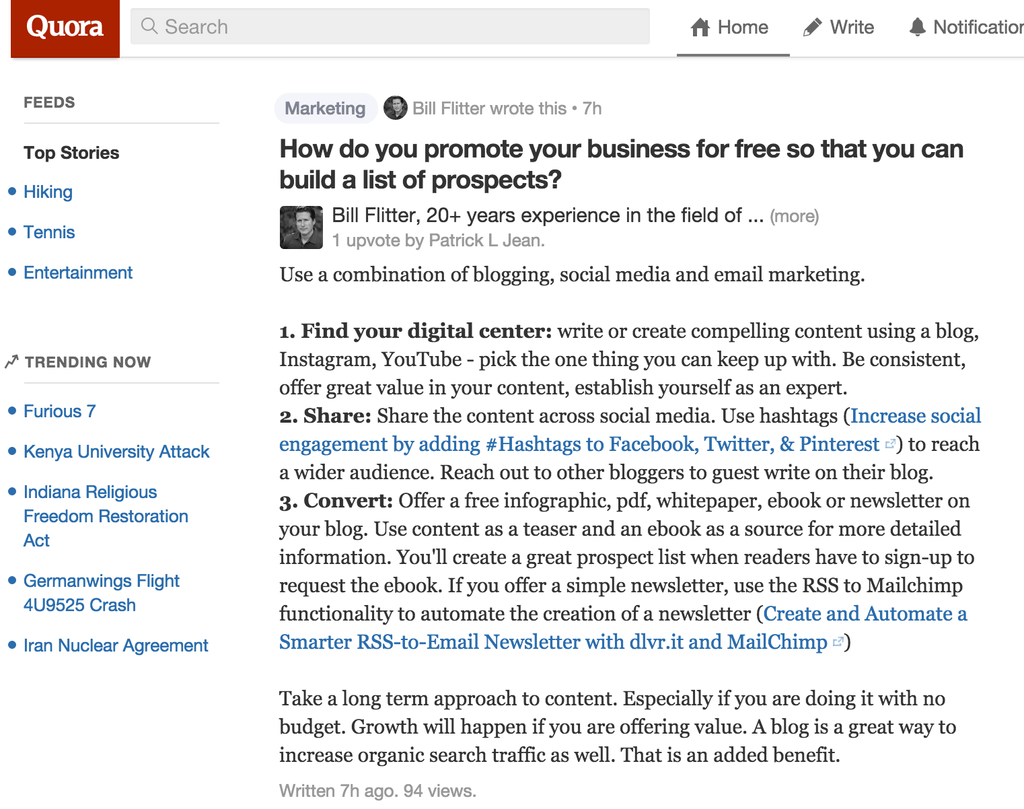 6. Create Buzz – It's FREE
This one requires expertise, but it doesn't require hiring a PR firm. Sign up with Help a Reporter Out (aka: HARO). You can respond to reporters' queries searching for story ideas and resources. Some are small media opportunities, but others are major media outlets that use this service too. HARO is a powerful tool that any small business owner can leverage to get free exposure in the media.
According to Kari DePhillips, owner of digital PR firm The Content Factory, HARO is, hands down, the best tool you can use to regularly get in front of journalists who cover your industry. If you regularly read and respond to HARO queries, you WILL get coverage—if not of your business or service, of your expertise in your industry. We've used HARO to get our clients in publications like the Wall Street Journal, Huffington Post, CNN, the Today Show and many, many more. And it's free. What's not to love about that?
7. Ask for Referrals
Don't be shy about asking for customer referrals. The majority of people say they are willing to provide a referral if asked, but very few take the initiative to do it on their own. Referrals make it easier to get in the door with new customers. If you aren't asking for them, you are missing opportunities.
As shown by the graph below, 92% of consumers trust recommendations from peers over all other forms of advertising.
Good read: Which Influencer Marketing Strategy Results in More Customers?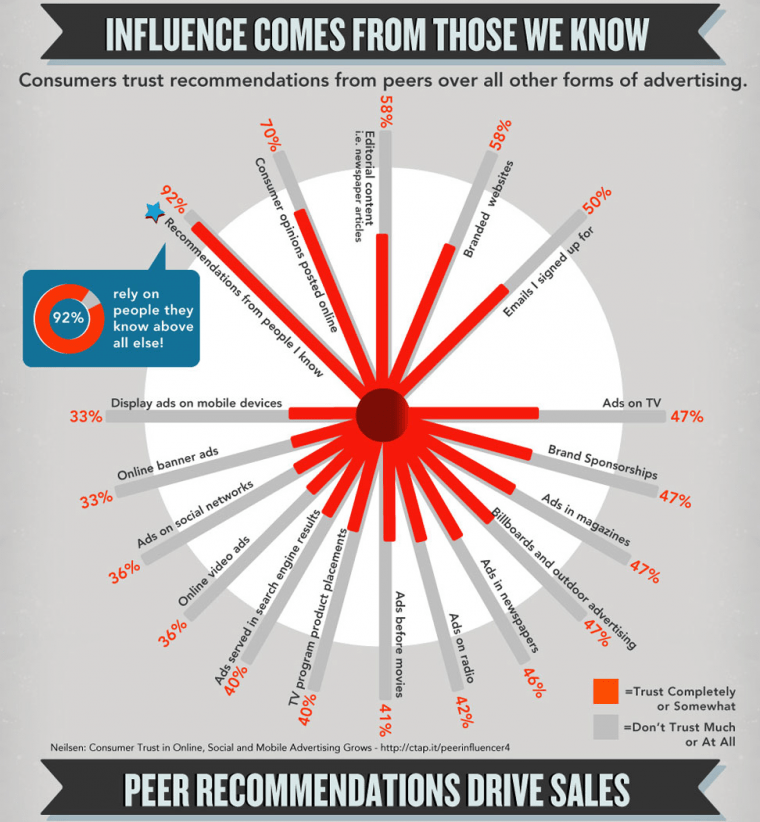 8. Build Relationships
It is a lot less expensive to keep a customer than it is to get a new one. That's why establishing strong relationships with your customer base is crucial. One of the ways you can do that is by launching an email campaign. Make your communications informative and helpful — something your customers will look forward to receiving.
This is also where being on social media is a no-brainer! Social media campaigns are an easy way to keep the communication channel open.
Great reads:
Another must read: How to Break 3 Social Media Bad Habits That Cause Followers to Unfollow Plus Solutions to Change
9. Offer Coupons
Coupons are a good way for many businesses to attract new customers. Research shows that people will go out of their way to use a coupon, proving that this method is successful in expanding your customer base. Coupons can also generate return visits. For example, if you give a customer a coupon for a discount to use on future business, there's a high probability they'll be back.
10. Give it Away
If someone has the opportunity to experience your product or service, chances are they will want to purchase more. Don't be afraid to give someone a free trial or a sample. In today's economy, people are more comfortable purchasing something they have been able to experience first.
See, marketing can be done "old-school" and on a shoestring budget. These ten, inexpensive marketing strategies will help you gain a loyal customer, add new customers and build relationships by keeping your small business top-of-mind. My grandfather would be proud!
Debra Garber
VP of Finance & Operations, Chief Content Contributor, and backyard chicken farmer. I happily share my experiences traversing the wilds of social media. Will trade social media tips for fresh organic eggs. Motto: "Live the life you love, love the life you live."