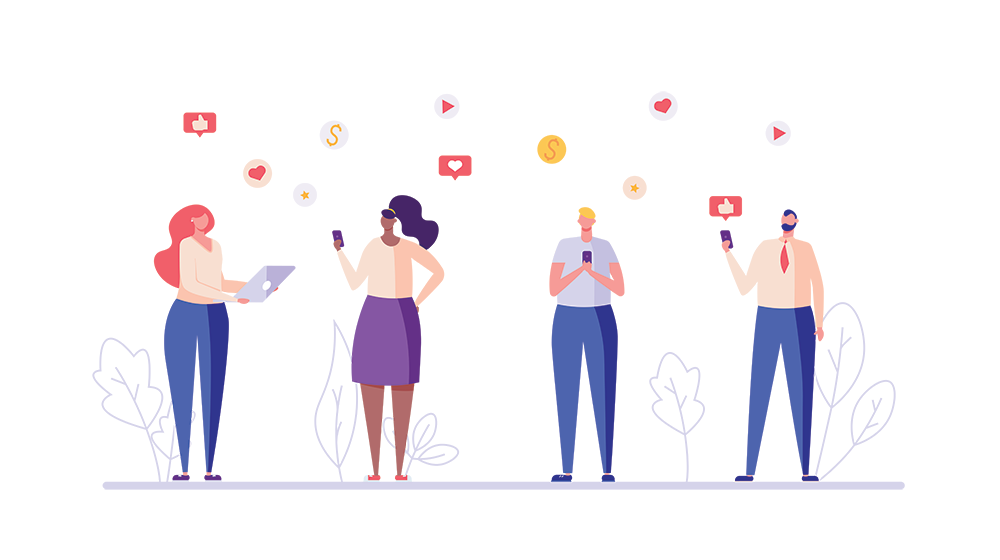 Social Media Engagement: Why it Matters & Tips to Do it Well
What is Engagement on Social Media?
How much interest there is in a certain issue on social media is referred to as social media engagement. This could refer to the quantity of shares, likes, comments, or simply simple views. It generally relates to how much engagement someone has with specific kinds of content.
Engagement on social media primarily consists of three things: engagement with your posts, engagement with your Page as a whole, and engagement with direct messages. Every element contributes to determining total involvement.
We can determine our level of performance by comprehending these three factors. Let's examine each one individually.
All interactions on social media between fans of or followers of your page are considered social media engagement. On Facebook, there are many other ways to interact, including liking, sharing, commenting, and messaging. The type of interaction you get from these actions, which show interest in your Page, depends on how engaged your audience is. You can receive a lot of comments and shares if you have a high number of followers. On the other hand, you can get less engagement if you have fewer followers.
The name of your Page will appear next to the action in the News Feed when someone likes it. This shows that people have seen your Page and are eager to read your posts.
You may increase your engagement by using audience insights. By counting the number of Likes, Comments, Shares, and Messages you get, for instance, you may determine how frequently your fans engage with your Page. You may also monitor how frequently your followers view your Page and leave comments on your postings. Visit our guide on analyzing your Facebook Insights data to find out more about how to do it.
Why Participating in Social Media is So Important
The most effective tool for interacting with clients is social media. It is, however, also the most misunderstood. We know how to utilize it, but sometimes we don't understand why. In fact, some still think of social media as nothing more than another type of advertisement. Social media marketing isn't necessarily one of the numerous ways to generate money online, despite the fact that there are many of them. Here are some good reasons to give your social media engagement initiatives serious consideration.
Relationships with Customers Equals Engagement
The greatest approach to find out what customers enjoy, dislike, and want is to interact with them. When you accomplish this successfully, you'll learn exactly what your customers desire, enabling you to give it to them. This puts you ahead of businesses who don't pay attention to their clients.
Social media is a fantastic platform for connecting with clients since it is intimate. You are conversing with actual people, not a machine. Online users feel safe sharing personal information because they trust one another. They are open to sharing their thoughts and suggestions without worrying about being negatively evaluated.
You develop relationships with your customers when you converse with them. Through these connections, you can develop loyalty and trust. You won't think twice about assisting someone if they ask for something. They'll stick in your mind, and chances are you'll return the favor in the future.
On Facebook, this is especially true. People use Facebook for 20% of their daily time on average. Therefore, there are many options for interaction with your customers.
However, you shouldn't stop there. Once you start interacting with your customers, you'll see how many possibilities you've been passing up. For instance, you might discover that your clients are tweeting inquiries. Or perhaps they're uploading pictures on Instagram. Why don't you reply to those posts more often?
The adage "If you love what you do, you'll never work a day in your life" has probably been heard of. I don't necessarily concur with that statement, though. While putting in long hours is undoubtedly a necessary component of success, you can still love your work.
Strategies for Increasing Social Media Engagement
Social media sites are excellent tools for keeping in touch with loved ones, exchanging news, and sharing information. But how can you guarantee that people see your social media posts? The following advice can help you increase your social media involvement.
1. Be active; don't just post occasionally. Your fans will develop trust in you if you post frequently.
2. Personalize it – You're more likely to connect with readers when you write about issues that concern you directly.
3. React to comments: People appreciate it when you take the time to respond to them.
4. Share interesting content – Avoid boring your audience by keeping your points current.
5. Keep it brief – No more than 140 characters should be used in a tweet.
6. Use hashtags to help people find conversations about subjects that interest them.
Since we started our blog three years ago, the social media world has seen a significant transformation. Everyone seems to be discussing social media these days and how crucial it is to interact with clients online. But why is it necessary to interact with clients on social media? What are some strategies for using social media to raise brand recognition? The most crucial question is: How do you define success?
Utilize customer feedback to boost engagement on social media
Engagement on social media is crucial because it enables firms to communicate with customers directly. This form of communication raises brand awareness among prospective customers and fosters brand loyalty and trust. But many marketers find it difficult to comprehend what social media involvement actually means. In this tutorial, we'll outline the benefits of social media engagement for marketers and offer some advice on how to do it well. We'll demonstrate ways to strengthen your overall web presence and increase social media engagement.
Choose your social media strategy and activity.
Both Domino's Pizza and Tiffany & Co. want to change their social media tactics. The jewelry company is attempting to educate customers about its history, while the pizza chain is attempting to become funnier. Individually company is tweeting differently because they each aim to alter how people perceive them. Despite how diverse these businesses are from one another, they also require an engagement strategy and attractive content to attract new clients.
On January 31, 2018, the pizza tycoon made the announcement that it will begin tweeting jokes, and it hasn't stopped since. The company's most recent tweet shows a photo of a clown-themed Domino's mascot. "We know you adore us, we simply wanted everyone else to know too," the corporation added in the description.
On February 13, 2018, Tiffany & Co. unveiled the #HistoryIsOurFuture campaign. People are urged by the campaign to utilize the hashtag and find out more about the company's history. The company shared images of ancient jewelry, including the Hope Diamond, on Instagram.
Both companies use social media sites to gather client input. Domino's utilizes Twitter to poll customers on topics like their favorite toppings and whether they prefer text or email notifications when a delivery is made. Similar queries are made by Tiffany on Facebook Messenger.
Recognize Your Target Market
How to utilize audience research to inform your content creation
Using audience research can help you better understand your clientele. This enables you to produce material that appeals to them. But it goes further than that. Knowing your audience allows you to produce content that genuinely resonates with them.
Create and Distribute Useful Content
Reaching consumers on social networks, where they spend the majority of their online time, is a terrific method to use content marketing. However, creating interesting material that is valuable to readers requires some thought and imagination.
In this webinar, we'll cover writing catchy headlines and descriptions, using data to identify the best themes for content production, and creating and publishing material that really gets shared. We'll also discuss how to assess your content strategy's performance and make improvements.
Encourage audience participation
The exchanges resemble a volleyball match. Even though it doesn't always happen right away, you still need to respond to each other. Conversation differs from conventional marketing in this way. In fact, it is now difficult for businesses to maintain the dialogue; you need to build an interested audience.
Both reactive and proactive discussions should be used by brands. Responding to consumer complaints and inquiries about goods and services is an example of reactive conversation. Asking clients about their needs and wants is a proactive dialogue practice. Because they foster loyalty and trust, these discussions are crucial. They also produce leads and raise brand recognition.
You may locate oblique references and start dialogues using search engines. You might wish to find out the purpose of someone's search for "I'm looking for a new car" if you see it in their query. Or perhaps he was just casually mentioning his old automobile. Most likely, he was unaware that he had done so. But if you inquire, he'll probably admit that he's considering getting a new one. And that is precisely the information you sought.
Display Your Humanity
Brands ought to advertise themselves. The most crucial thing is that they acknowledge people while acting in a way that feels genuine. This fosters a sense of connection and trust that promotes brand loyalty.
There are numerous ways to engage individually. Include individuals in your marketing messages, for instance. Ask someone you know well enough about their opinion of your goods or service. Even better, consider sending them something in exchange, like a free sample or coupon code.
Tell individuals you value their feedback when you acknowledge them. People enjoy hearing that others are thinking about them. Additionally, it doesn't hurt to express your own gratitude.
Timetable Smarter
You can schedule your day and your week in advance with Hootsuite's scheduling function. You may prepare your articles and comments in advance, saving yourself valuable time throughout the day.
Streams
Want to view all of your social networks' activity at once? You can conveniently look through all of your activities in one spot using streams.
Schedules
Make lists based on particular subjects, occasions, hashtags, or even individuals. You won't need to manually monitor each network on a regular basis because you can keep track of everything in this method.
Tags
To make messages easier to find later, tag them. You can use tags to arrange your reports, filter your stream, and even follow specific users.
Lists
Take control of your online profile like never before. Lists can be used to interact with influencers, organize profiles, and more.
Measurement of Social Engagement
Tools for social media analytics are more beneficial than ever. They aid in your understanding of the best kind of material to employ and how consumers use your brand across various channels. There is no one tool that works in every circumstance because there are so many different ways to examine your numbers. Therefore, we've gathered some of our favorite, free tools that enable you to precisely gauge the level of audience engagement.
Facebook
The social media behemoth just revealed that it now has 2 billion monthly active users. Some individuals applaud the achievement, but others believe there is still potential for development.
Compared to other platforms, Facebook has much lower engagement rates. The average interaction rate for firms with fewer than 5,000 fans is really 0.4%, which is far lower than the 1.3% on Twitter and 4.6% on Instagram. Average engagement rates for brands with fewer than 10k followers are 0.1%, as opposed to 1.8% on Twitter and 3.7% on Instagram.
Average engagement rates for brands with fewer than 10,000 followers fall even further to 0.1%, down from 1.8% on Twitter and 3.9% on Instagram.
The contrary is true, despite the impression that Facebook doesn't give a damn about small businesses. Smaller businesses frequently struggle to grow because they lack the resources to reach out to clients. For growth, they rely on advertising and word-of-mouth, but Facebook makes it challenging for smaller businesses to achieve both.
Twitter
If brands want to keep a large following on Twitter, they should think about posting less frequently. According to an eMarketer study, brands with a posting schedule of every three days had twice as many followers as those with a daily posting schedule. However, for every extra day a brand posted, the average follower count fell by 10%.
Twitter's engagement levels are poor. In actuality, only 0.2 people like a tweet on average, according to Socialbakers. On Facebook and Instagram, the likes per user are 2.6 and 3.5, respectively. You must carefully use hashtags and make sure that your tweets contain pertinent information if you want to increase interaction.
Finally, businesses with excessive posting will eventually lose customers. People can stop reading your posts if you write too frequently. They will stop following you because they are no longer interested in what you have to say.
TikTok
On the app TikTok, users may make quick looping movies known as "LOLs." The most of the time, they're just goofy stuff like dancing, pranking one another, and lip-syncing to tunes. However, it is done by hundreds of millions of individuals every day. Additionally, one study found that daily app usage is around 20 minutes.
Conclusion: The Importance of Social Media Engagement
Engagement counts, as social media sites so eloquently put it. But why does participation matter?
If social media platforms want to build a strong brand image and cultivate deep relationships with their audience, they must be active and involved.
Businesses use social media engagement as a metric to assess how well they are performing on platforms like Facebook, Twitter, Instagram, YouTube, etc. This indicator counts the amount of shares, likes, comments, and retweets a post receives. There are many other ways to assess engagement, including total impressions, reach, engagements per post, and even conversions.
The most crucial thing to keep in mind with social media participation is that it may not signify what you initially believe. In actuality, most companies misuse it. Instead of concentrating on the caliber of the encounters, they place too much emphasis on the statistics.
Debra Garber
VP of Finance & Operations, Chief Content Contributor, and backyard chicken farmer. I happily share my experiences traversing the wilds of social media. Will trade social media tips for fresh organic eggs. Motto: "Live the life you love, love the life you live."