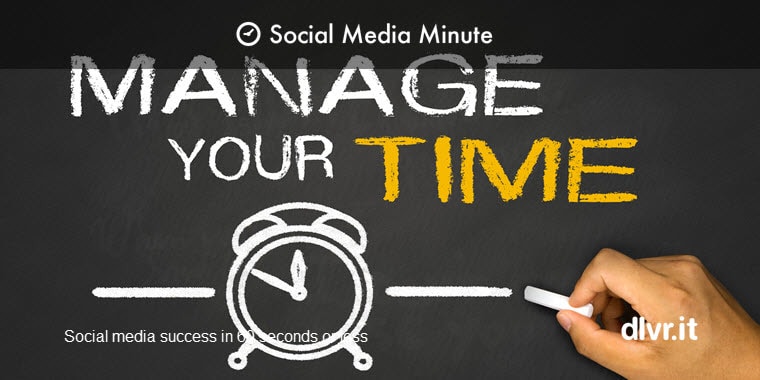 3 Laser-Focused Priorities for a One-Person Social Media Team
Establishing a comprehensive marketing plan for your small business is hard work. Given time and money limitations, it is impossible to follow the avalanche of marketing advice you come across. With all, you have to do to achieve your marketing goals, can you carve out enough time to read and implement a social media marketing plan? If your answer is "no" or "only if…", you need to focus on how you can get the most bang for your buck from those social media marketing activities you can muster the time and resources to execute.
The first step is to recognize that not all marketing tactics are equal. Some may take forever to execute, but result in little reward, while others could have a huge payout. To determine which tactics are best for your small business, from HubSpot, first figure out your top priorities:
Top 3 Priorities for a One-Person Social Media Marketing Team
1. Determine your ultimate goal and how to measure it
Before you start posting to a blog, sending e-blasts or scheduling tweets, you'll find you will be more effective if you've properly set goals for your marketing efforts. Think of your marketing like a road trip — you wouldn't start driving until you knew your destination, and mapped out the most efficient route to get there. Similarly, you should always make sure you know where you wish to end up by implementing your marketing plan and what tactics are useful in reaching your goals.
Once you set your goals, make sure you have systems in place to monitor your results and your ROI.
I love this graphic from our post on Tempus Pecunia Est (Time is Money): How to Maximize the ROI of Time Spent on Social Media. It's a fun reminder of why you need systems in place to measure your results.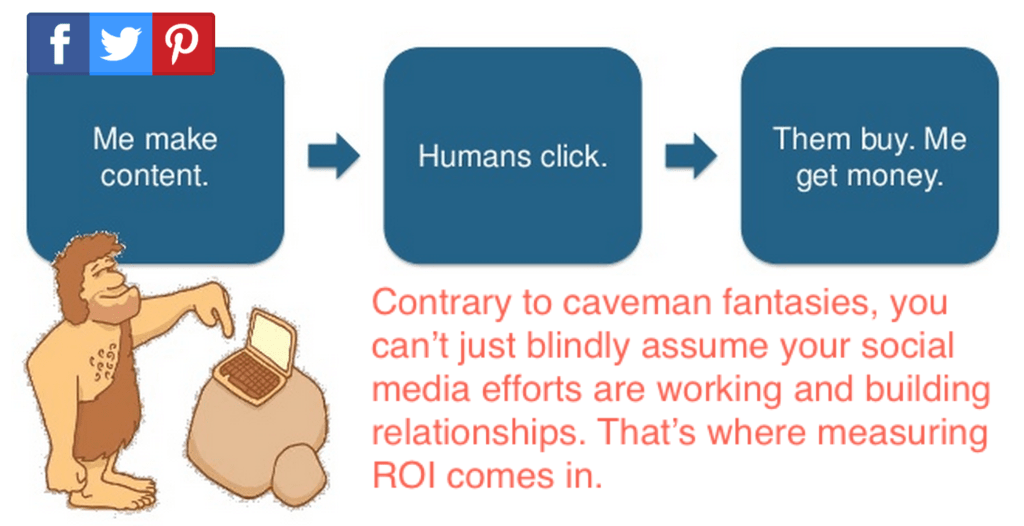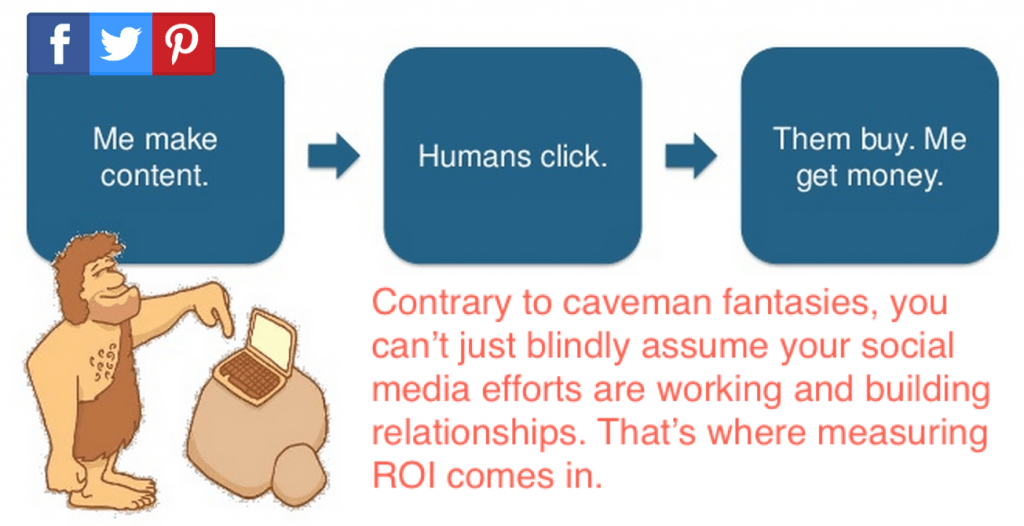 2. Establish exactly who your audience is
There is only so much time in the day to devote to marketing, you want to make sure that every piece of content you produce, whether a blog post, social media update or an e-Blast, is on-target and effective. It would be incredibly frustrating and a complete waste to spend time creating content that falls on deaf ears.
Here are some helpful posts to help determine your audience:
3. Focus on the right social media platforms
We've established that you can't be on all social media platforms at once. Instead of wasting your time engaging on social networks that won't achieve your goals, limit yourself to one or two effective platforms.
To find the right social networks for your business, check out your analytics. Use the analytics as a guide to determine where you should be spending more time on social media. What content is resonating with your audience? What social network gets you the most traffic?
SocialMediaToday had a great approach on how to evaluate social media platforms:
Is Facebook dead as a marketing platform? Not if that's where your audience is. If the people you need to reach are on Twitter, Snapchat, Pinterest – that's where you need to go, plain and simple. If that means you have to work with what you can on Facebook, that's how it is.
For a real-time example of how we used our Google Analytics traffic data to help inform which social media platforms were driving traffic back to our blog, check out our post about Quora:
Is Quora Part of Your Social Media Strategy? 3-Step Process to Easily Grow Quora Referrals by 3x
Now that you have put some thought into your social media goals, established a methodology for determining your audience and social media platforms, the next step is to implement and scale your social media plan.
In our post on daily social media to-do's, we discussed three simple social media marketing plans you can use when you are strapped for time. Taking just 5-minutes to keep your social media audience active is much better than providing your listeners with silence. All you need to do is schedule the time.
The 5-Minute, 30-Minute and 60-Minute Social Media Plans for a One-Person Content Marketing Team
Social Media you can do in just 5-minutes
Repost content from your archives. Dig through your blog archives to find a great piece of content to share again. Your new followers will think it is new content. (3 min)
Write a thank you post. Think of a person who has helped your business in the last month. Get in the habit of saying thank you. You might just brighten up their day. Queue up a few thank you Tweets or Facebook updates to trickle out over the week. (1 min)
Favorite a tweet. Did a customer say something nice? Let them know you appreciate their feedback. (1 min)
Social Media in under 30-minutes
Get influencers to notice you. Create a list of 20 prospects you want to interact with in social media. Spend 15-minutes interacting with some or all of these 20 people. (15 min)
Distribute your content. Register your blog with three relevant RSS Directories.  (5 min)

Create a drip-marketing program. Start planning ahead and saving time in the future. Schedule several updates, blog posts, deals, and promotions or add a back-up feed to your social media scheduling tool. (5 min)
Social Media in 60-minutes or less
Write an original blog post. Follow our Quality Blog Post Ideas when Faced with a Deadline. Set a timer for 45 minutes. Are you good under pressure? Often, I set a timer on my iPhone. It focuses my attention during the time allowed. And remember to check for these common grammar goofs. (45 min)
Answer one question on Quora. Quora is indexed well in Google. Respond to questions relevant to your niche. Get in the habit of doing this weekly. (5 min)
Queue up 3rd party content. Spend a few minutes on scheduling content from sources you like and your audience might find interesting. Spending 10 minutes now will save you in time in the future. This will keep your social accounts active when you can't. (10 min)
Use this as a guide when you are strapped for time. For a comprehensive list, be sure to check out 7 One-minute Social Media Marketing Growth Ideas When You're Pressed for Time and the 56 Time-Saving Social Media Ideas for the Time-Strapped Business Owner.
Debra Garber
VP of Finance & Operations, Chief Content Contributor, and backyard chicken farmer. I happily share my experiences traversing the wilds of social media. Will trade social media tips for fresh organic eggs. Motto: "Live the life you love, love the life you live."