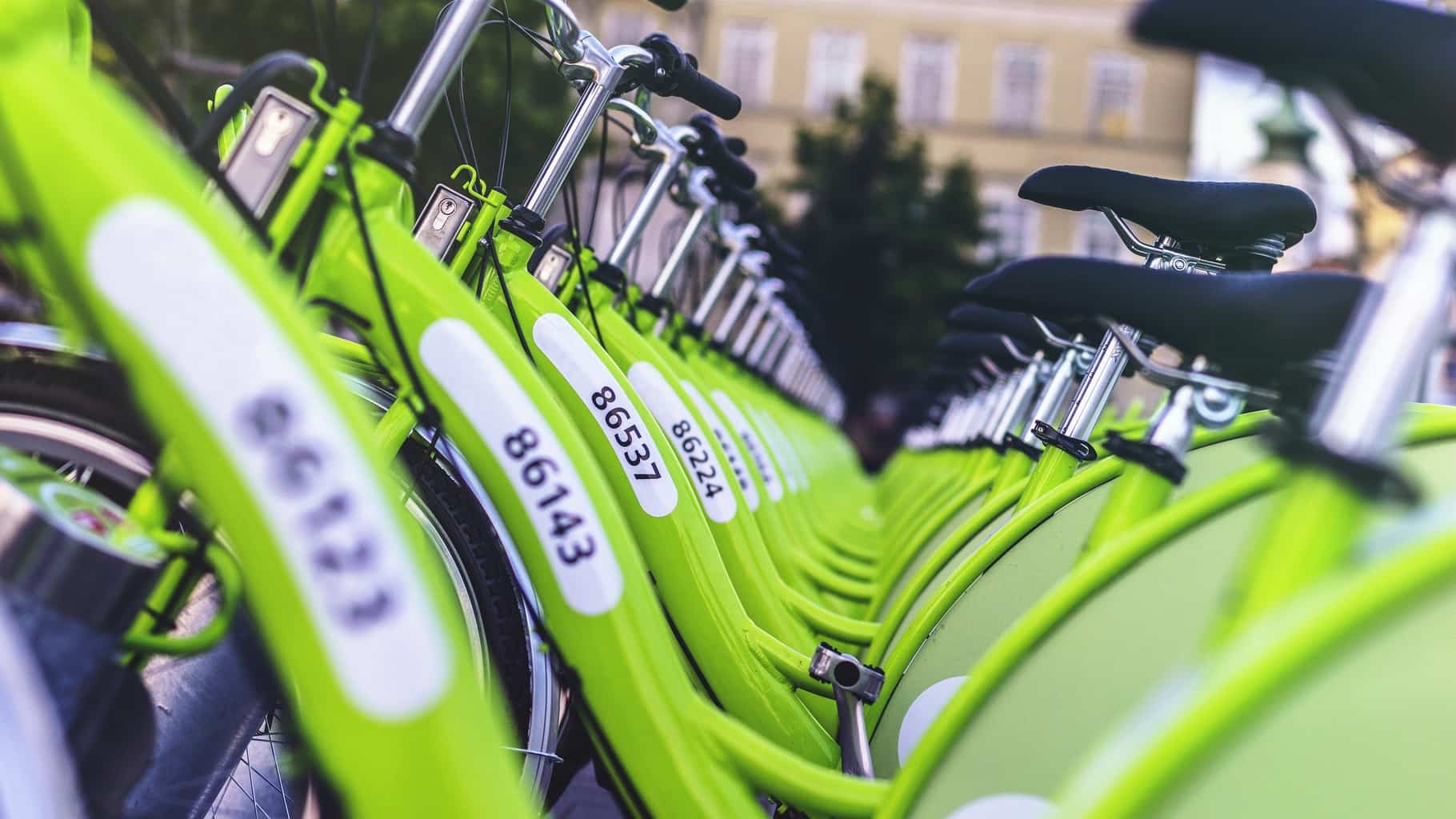 Is Quora Part of Your Social Media Strategy? 3-Step Process to Easily Grow Quora Referrals by 3x
In previous posts, we've discussed the importance of reviewing website analytics to discover sources of growing referral traffic. Following our advice, we noticed referral traffic from Quora was starting to increase. Quora is a question-and-answer site where questions are asked, answered, edited and organized by its community of users.
The discovery of a previously untapped traffic source engaged us to come up with a strategy to see how we could significantly increase traffic. We've documented the steps below.
But first, the results:
Our referral traffic from Quora grew an impressive 3x between February and April!
Why is Quora Awesome?
First, you have to decide if Quora is the right place for you to spend your time. Are your customers there? Quora contains questions and answers for over 500,000 subjects and popular categories including technology, economics, and personal health. You should be able to find a niche to participate in.
Joanne Xu from Crazy Egg explains why social media marketers should get involved:
Great way to see what issues are puzzling your current and potential user base. Use this information to determine the direction of future content.
By answering questions related to your industry, you can demonstrate your expertise in the space and improve your company's brand image.
You can influence people to start thinking about the problem in a new way—one that considers your product niche.
As long as you've clearly stated who you work for, you can also explain how your product can help solve someone's problem.
Quantcast estimates nearly 800,000 people access Quora each month. Their traffic has been steadily growing.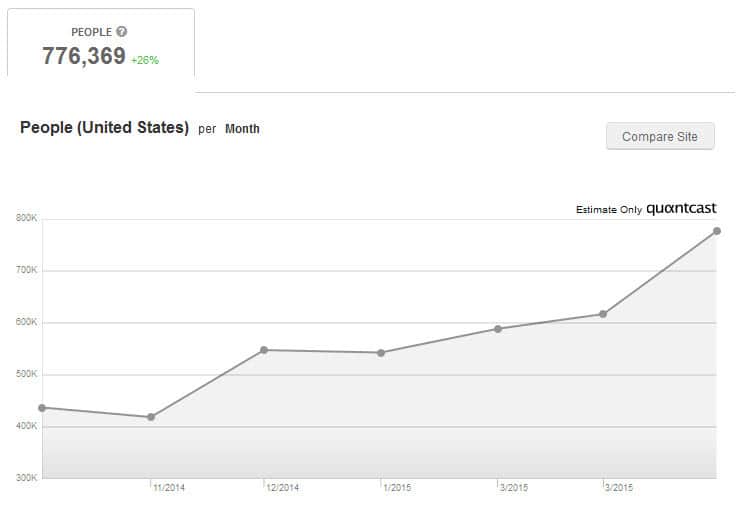 Mastering Quora isn't complex, but it does take the time to build momentum.
Step #1: Follow topics and build your profile(s)
Try a few approaches. Follow narrow and broad topics and fine tune over time. You will get notified when there is a new question on the topics you choose.
Build out your profiles. With each topic you follow, you can create a unique profile that highlights your expertise on that topic. Having multiple profiles is a great feature that compliments a diverse background and further adds creditability to your answers.
Configure your profiles at: 
https://www.quora.com/INSERT-YOUR-USERNAME/about
For example:
Using myself as an example below, you can see I have seven different profiles – one for each topic I follow.
Step #2: Create a Quora blog(s)
We decided to create a Quora blog with the idea of exposing our existing content to a new audience.
For instructions, Quora provides the answer.
Step #3: Engage  
On a daily basis, we performed the following tasks:
Task #1: Answered questions
Strategy: We pinpointed 2-3 targeted questions to answer that would drive traffic back to our blog. Although our answers were precise, we included a link back to our blog for more information on the subject.
See example below: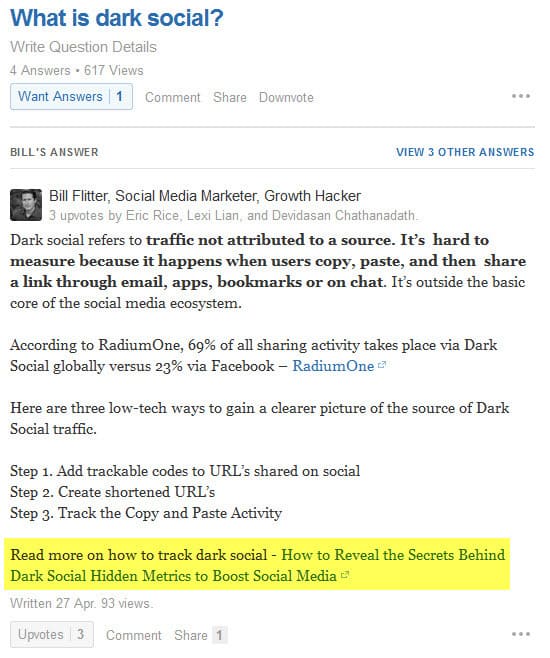 How did we choose which questions to answer? We asked ourselves the following:

Do we have domain expertise in the area discussed?
Do we have data to back up our answer? How about a blog post as a reference?
Are we one of the first to answer the question? We wanted to be one of the first to answer. We noticed this increased the upvotes on our answers.
Time spent: 15 minutes, Monday – Friday
When I responded to questions in each category, Quora had already populated the correct profile in my response – again highlighting my expertise in that subject area. Most social networks only allow for one generic profile. Having more than one profile is a unique advantage. I can showcase my many talents that expand beyond just my professional activities at dlvr.it.
Task #2: Republished blog posts
Strategy: When we added a blog post on the dlvr.it blog, we turned the post into a question to repost on Quora. Each Quora blog post included a summary of the main points and link back to the dlvr.it blog for more information.
Task #3: Shared answers on Twitter and Facebook
Strategy: Build awareness to your answers with your existing social media audience. We used smart automation to build awareness of our solutions. When I responded to a question, the answer was automatically shared with our social media audience using Quora-to-RSS.
We found that starting with "My @Quora answer to…" was the best format when sharing on social media.
___
What's your experience with Quora? Do you have techniques that you found helpful? Feel free to share in the comments.