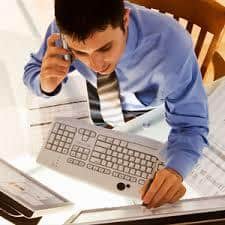 Tips from a Finance Professional. Why a Cloud-Based Accounting System Makes Sense for a Small Business.

Almost a year ago, we made a leap of faith to switch accounting systems from a desktop product to "accounting in the cloud" with QuickBooks Online. As scary as that may sound to a finance professional, it was something we needed to attempt. Our primary goal was to enable remote accounting access for all of our offices. In my original post, 7 tips for start-ups and SMBs moving from desktop to cloud-based accounting software, I touched upon a few solutions to some of our pressing financial needs and added tips based on my experience.  Now with the benefit of more time, I have been able to add tidbits of advice to our original post and provide you with some additional user feedback:
Needs, wants and desires with a cloud-based accounting software:
1 – Remote access to real-time data for management in different locations.
Updated Results: To quote Intuit, "Your whole business. In sync everywhere". We are almost one year into the online system and in my opinion; access to real-time reporting anywhere, anytime, anyplace is the best feature.  Regularly reviewing the numerous reports with finance and management, including a balance sheet, profit and loss statement, accounts receivable aging, accounts payable aging, revenue by product, balance of paid time off remaining, etc., has been very helpful in fully understanding our financial picture.
New tip: Data available at your fingertips is only as good as the data entry process.  Scheduling frequent reviews, at least monthly, will keep the data accurate and will allow invaluable insight into your business.
These previously mentioned tips still hold true as well:
Tip 1: Set up time early on for live training to run through all the functionality and different types of reporting features available. You want your team using this data.

Tip 2: Create memorized reports for specific needs (finance, marketing, sales, product development, etc.). Through the Manage Users functionality, you can see how active they have been.
2 – Ability to upload daily online banking and PayPal transactions with a simple keystroke.
Updated Results:  For the past year, this is the first place I go to after logging in every day during the week,
Banking > Downloaded Transactions > Update
With two simple keystrokes, I am quickly connected to our bank and within seconds, banking transactions and hundreds of PayPal transactions are automatically downloaded. At the same time, QuickBooks categorizes them based on historical referencing and allows you to accept, exclude or categorize them yourself. In the past, each one would have required a journal entry or at least, a consolidated entry without any supporting detail. I now have a complete real-time snapshot of our business and cash-on-hand before my second cup of coffee. Don't be afraid to hook up this time saving feature.
Tip 1: Don't spend much time troubleshooting if you run into a glitch. This happened to us when our bank changed our account names. Online support was quick to respond and very helpful in correcting the problem.

Tip 2: Using the same functionality, you can have QuickBooks download and categorize your credit card statements.
3 – Store all our records in one place. I wanted to attach files (word, excel, pdf, etc.) to vendor records, invoices and journal entries. Ultimately, I wanted the business to be organized all in one place.
Updated Results: I am still in love with this feature.  I may be attachment happy BUT, frankly, being able to drill down into a record, have all the invoices and other supporting materials attached is an organizational life and time saver – everything is in one place, organized and searchable.  Speaking for our management team, I know they also appreciate having access to details without having to request backup from the accounting department.  Very efficient and another example of huge time savings.
One request, I would make of Intuit; add additional storage within the system to keep company spreadsheets and documents not necessarily related to a transaction.  I'm adding it to my wish list for 2014.
Tip 1: Use this feature! The extra ten seconds it takes to upload a file, will save you twenty minutes trying to locate it later.
4 – Data to be backed up automatically.
Updated Results: Despite suffering a couple outages which prohibited access to the online interface, I still don't even blink twice when it comes to knowing that my data is safe, secure and backed up.  On the flip side, not having access to my data when I wanted it was frustrating. This is probably the greatest drawback of "accounting in the cloud". I depend on having access to my data.  The outages lasted 20 minutes to 2 hours. Intuit was very communicative and responsive which I appreciated but thank goodness I wasn't on a deadline.
Tip 1: If you're nervous about your data being stored in the cloud, you can download a copy of your data to store on your own PC with a few short steps. I have yet to use my downloaded file, but feel more secure knowing that I have it local.

Final Tip: Don't hesitate to use QuickBooks Online free technical support via email, live chat, phone and support directly on Intuit's website. They are the experts and can be immense time-savers.
Here's a quick infographic taken directly from Intuit's website on their users favorite features and the applicable time savings. As a user, online access anytime, anywhere, by far is my favorite feature.  What are yours?

Debra Garber
VP of Finance & Operations, Chief Content Contributor, and backyard chicken farmer. I happily share my experiences traversing the wilds of social media. Will trade social media tips for fresh organic eggs. Motto: "Live the life you love, love the life you live."