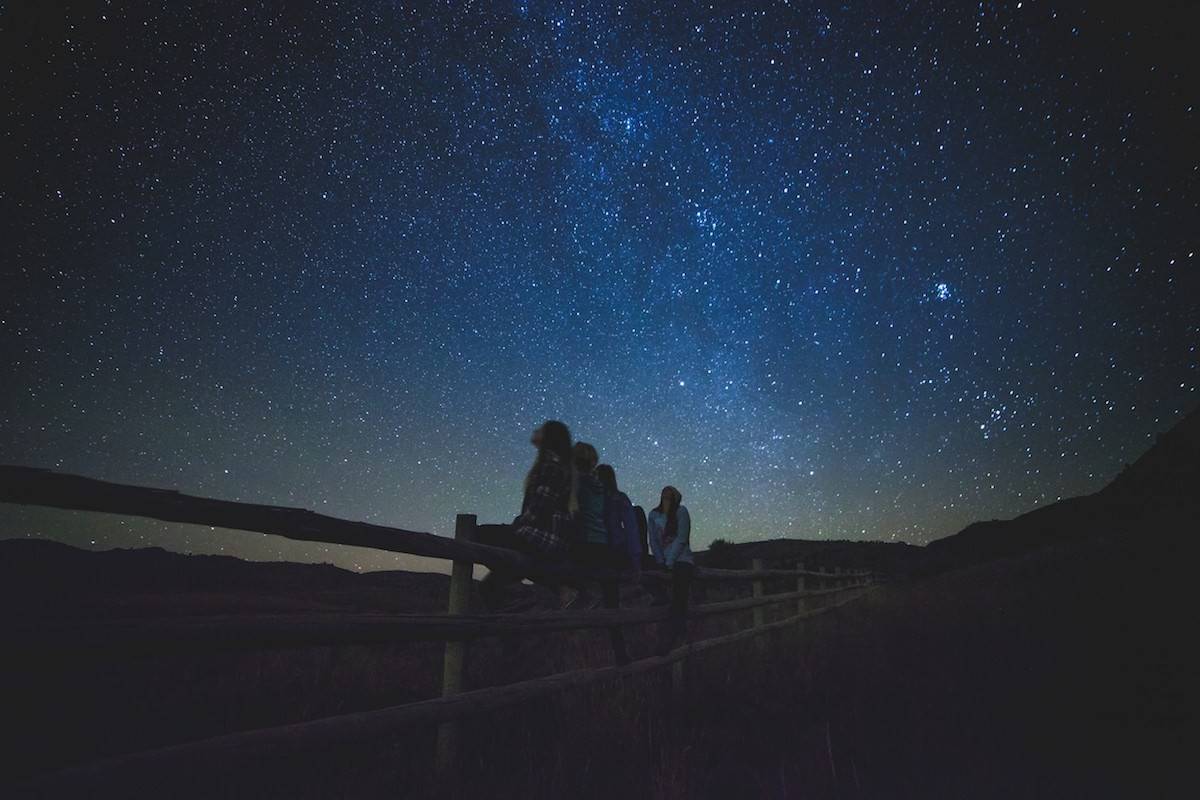 5 Easy Steps to SlideShare Success (Social Media Grow Tip)
Updated September 22, 2016. Do you use SlideShare as part of your B2B social media marketing strategy?
If you're busy like me, you may have missed the post from Forbes proclaiming SlideShare as the quiet giant of content marketing or maybe you're just too busy with your social media workload to add another step into your daily routine.
However, if you were like me, wouldn't you want to use a sharing platform that was quick to learn, easy to use and where its benefits far outweigh the 5-minute learning curve?
Frankly, I'm sold when it comes to an easy social media tool to increase ROI with little to no cost.
comScore reports that SlideShare has five times more traffic from business owners than Twitter or Facebook. And because the company is now owned by LinkedIn, it's simple for B2B audiences to both find and use it.
Surprising facts about SlideShare
It is not just for sharing slides. You can share just about any "type of" content on SlideShare – presentations, infographics, documents, videos, PDFs, and webinars. Think about sharing your blog post!
SlideShare joined the LinkedIn family in 2012 and has since grown into a top destination for professional content. According to SlideShare, with over 18 million uploads in 40 content categories, it is today one of the top 100 most-visited websites in the world.
In Q4 of 2015, the site averaged 70 million unique visitors a month and 215 million page views.
Since created in 2007, the company has had 

more than 10 million presentation uploads

, drawing 50 million visitors and 3 billion views a month. 

With SEO in mind, SlideShare content frequently ranks high in Google search results.
SlideShare your blog content in 5 Easy Steps
The benefits of SlideShare are exponential (i.e. improve SEO, increase blog traffic) but with limited time and resources, where do you start?
To get your feet wet, I suggest sharing your blog content first. In no time at all, you can aggregate your blog into a word document and share it as a PDF.
SlideShare supports OpenOffice, Microsoft Office (Word and PowerPoint) and PDF. Assuming you already have setup your account (setup is a breeze and low to zero cost for entry), here are the 5-easy steps that you can do in less than 5 minutes:
Step #1:
From your blog, if you have the AddThis plugin installed on your blog, open the plugin and use PrintFriendly or just go directly to the printfriendly.com website and enter the blog post URL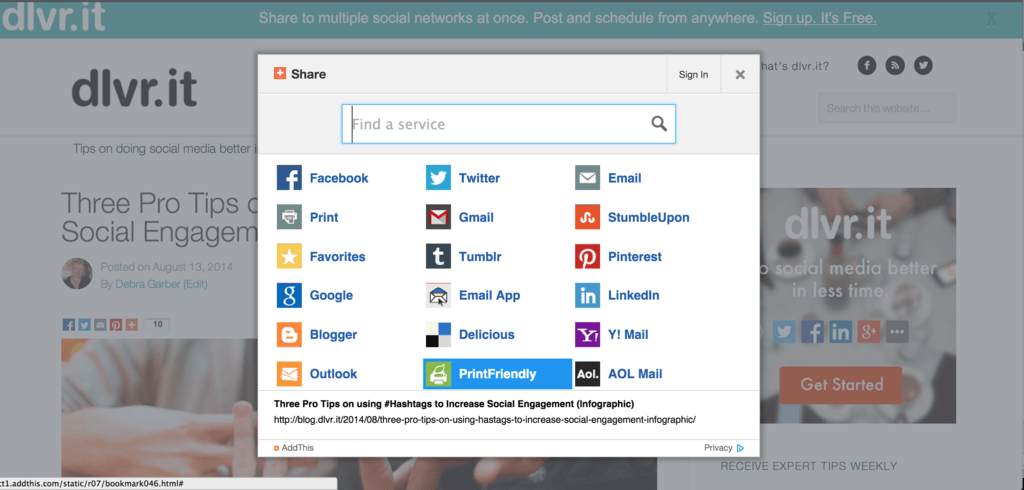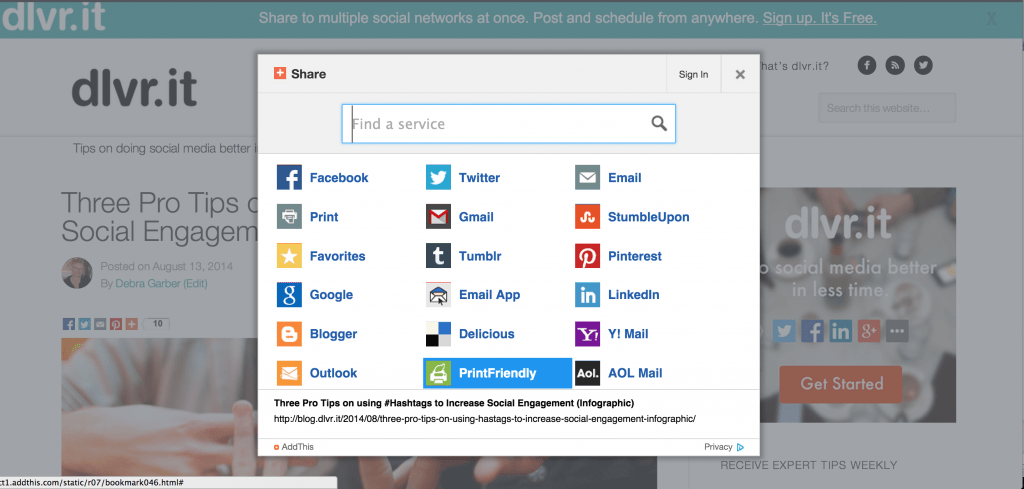 Step #2:
'Create a PDF', but before you do this:
Consider increasing the Text Size to its maximum of 130%.  I find the larger font easier to read once it's uploaded to SlideShare.
At this time (before you hit PDF), you can also delete the Author and/or Remove Images if you need. Unfortunately, this is the extent of any possible editing within the plugin.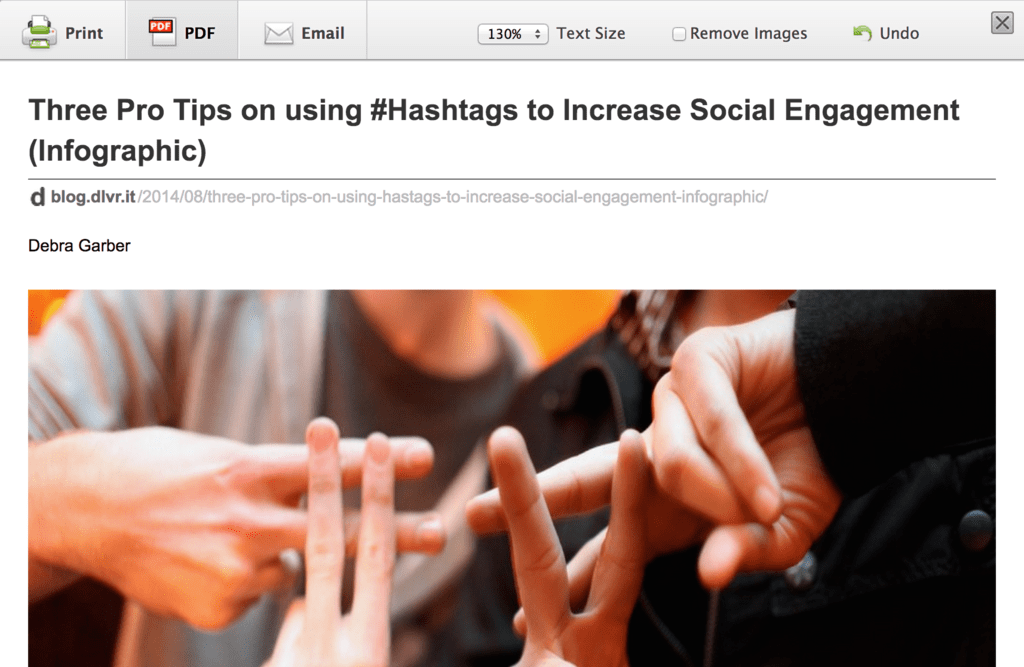 Step #3:
Click 'Download Your PDF' and save the file to your computer.
An easy change you can make is to use your keyword as a filename. For example, to upload your presentation to SlideShare, you have to save it as a PDF. When you save the PDF, use your keyword as the file name.
Also include your keyword or phrase in the title and description of your presentation, as well as the tags.
Make your keyword the first tag for the presentation, and then choose closely related tags to follow.
Step #4:
Open your SlideShare account and hit 'Upload'.
Step #5:
VERY IMPORTANT!
Before you 'Save', make sure to optimize for SEO. Use the discoverability score as a guide. Adding keywords and more information (Category, Description, Tags) is key to making it easier for others to find your content.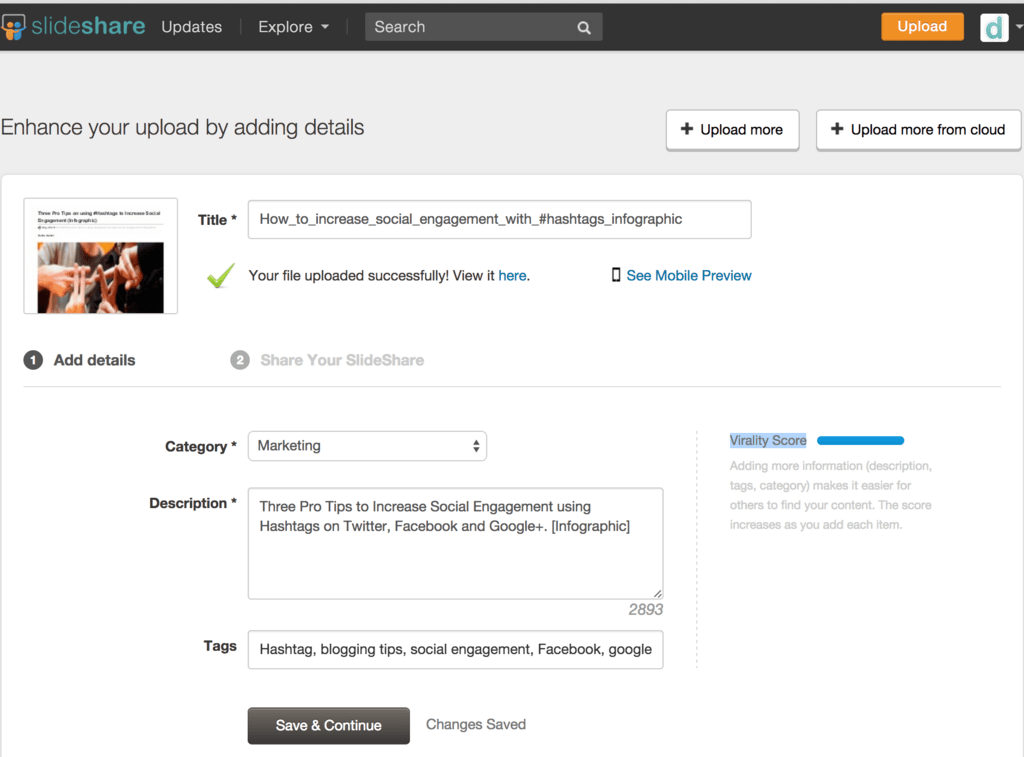 ___
Now it's your turn
Do you use SlideShare?
How do you incorporate it into your B2B social media strategy?
Debra Garber
VP of Finance & Operations, Chief Content Contributor, and backyard chicken farmer. I happily share my experiences traversing the wilds of social media. Will trade social media tips for fresh organic eggs. Motto: "Live the life you love, love the life you live."