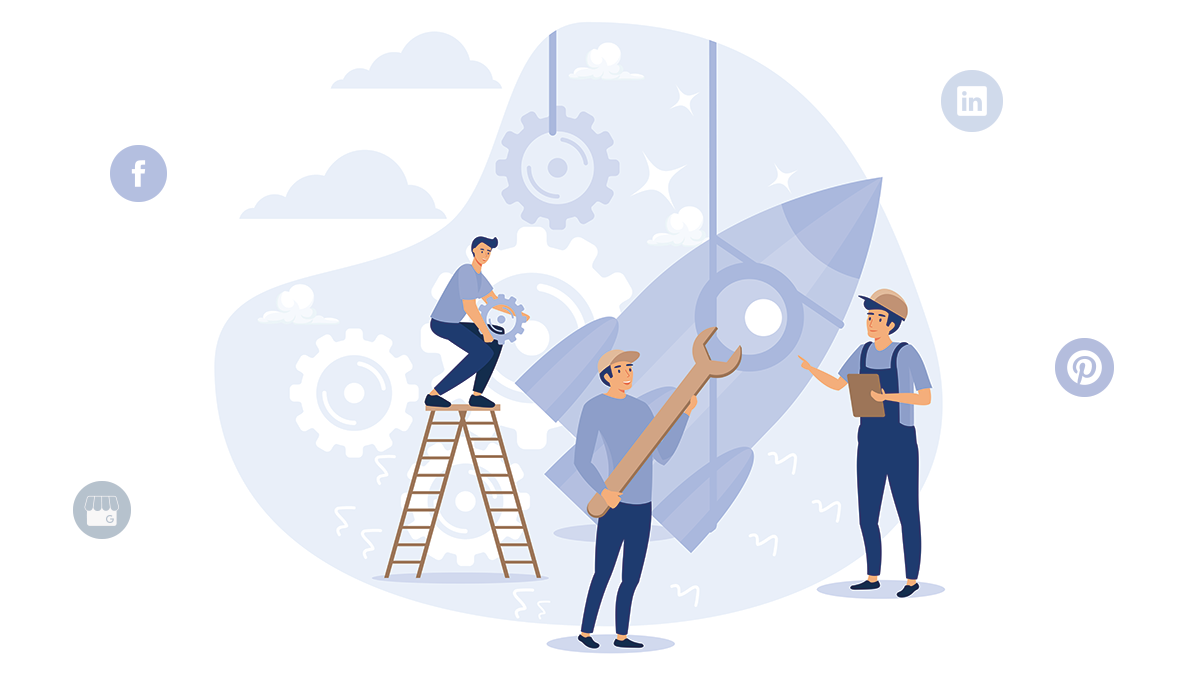 9 Ways to Boost Social Media Traffic
Social media traffic is an important part of any digital marketing strategy. It can help increase brand awareness, customer loyalty, and website traffic. To increase social media traffic, it's important to engage and build relationships on each social media network. This means creating content that stands out and is shareable. We've included below 9 ways to boost your social media traffic. In fact, that's exactly why we created dlvr.it.
Driving social media referral traffic starts with increasing reach and engagement. This means using best practices to increase followers, likes, shares, comments, etc. on each platform. It's important that you use the built-in tools available on each platform to track engagement and website traffic. Additionally, using a URL shortener can help you track different links you post on social media so that you can monitor your results and understand what works best with your audience.
One of the things I enjoy doing is meeting with our customers. Recently, I had the opportunity to chat with a small business owner of a local coffee shop. He said that social media was paralyzing to him. He didn't know what to do next. Sound familiar?
Realize that regardless of the small business category your business may fall under, social media goals remain the same:
Increase awareness of your business
Engage followers on social media
Boost website traffic
Once you understand the goals, it's easy to walk away with an action plan to solve the paralyzing "what do I do next" question.
Are You On Top of Your Social Media Traffic?
Social media traffic is essential for any successful marketing campaign. It can help to increase website visits and generate more leads for businesses. To boost social media traffic, you need to create a strong presence on social media channels – not just waiting and hoping that someone will see your post and repost it for you. This includes creating content that resonates with your target audience and engaging with followers regularly. Paid advertising on social media can also be used to increase website visitors, but it's important to have an effective plan in place for managing website visitors from these channels.
1. Inspire Your Audience With Visuals
Visuals are a powerful tool for inspiring your audience and driving engagement. They can be used to draw attention to your social media posts, product videos, and demos. Studies have shown that 85% of customers are more likely to make a buying decision when they watch demos or product videos. Visuals help make sure customers' purchasing decisions are valid and that they understand what they're buying.
In addition, visuals can also help you reach traffic goals by encouraging people to share your content. People are more likely to share social media posts that have visuals, so it's important to put thought into creating original and inspiring visuals that will draw attention and trigger a response from viewers. Whether it's an infographic, video, or image, visuals should be used strategically in order to maximize their impact on your audience. By using visuals effectively, you can inspire your audience and drive engagement with your content.
2. Make Your Content Easily Shareable
Making your content easily shareable is essential for success in the digital age. With 65% of time spent on social media being through mobile devices, it is important to make sure that share buttons are present and accessible for users to share content from any device. The easier it is for audiences to share the content, the more likely they will do it. Content sharing can help reach more customers and increase brand awareness. To encourage social sharing, content should have compelling call-to-action, enticing headlines/captions, valuable content, and appealing visuals.
Not only does making your content easily shareable help with marketing efforts, but potential clients and employers will check your social media profiles to get an idea of who you are and what you do. Optimizing social media profiles and content around visuals is essential for SEO success as visuals help process information quicker and are retained better than text-based materials. When incorporating images into posts, optimize them by adding relevant keywords to the file name before posting them online.
3. Improve Your SEO
Search engine optimization (SEO) is an important part of any online marketing strategy. It helps to increase your website visibility, generate more sales and leads, and strengthen your brand authority. Data shows that on average, nearly 72% of searches lead to a page one click, while pages two and three usually garner less than 6% of clicks. Therefore, it is essential to optimize your SEO best practices in order to rank higher in search engine results and increase website traffic.
Improving your SEO is essential for driving more traffic to your website. To do this, you should focus on optimizing your content with relevant keywords and phrases, as well as creating high-quality content that is engaging and informative. Additionally, you should also ensure that your website is mobile-friendly, as most searches are now done on mobile devices.
4. Know When Your Audience Is Listening
It's not enough to simply post on social media; you need to know when your audience is listening (and especially when someone mentions your company or products) in order to maximize your reach potential. Knowing when your audience is most active can help you create more effective posts that will be seen by the right people.
With the right strategies in place, businesses can generate more social media traffic and reach their goals. There are several easy ways to do this, such as making content easy to share, investing in social advertising, writing better call-to-actions, and engaging with industry influencers. Additionally, creating shareable content and visuals can help entice people to click on your links.
It's also important to post when your target audience is active and interact with them using calls-to-action (more on this below). Investing in social advertisement and engaging with influencers can help you gain more visibility with hashtags. Installing a customer service chatbot can also be beneficial as it allows you to catch your audience when they're most active.
5. Interact with Your Audience
Interacting with your audience is an important part of building relationships and increasing engagement. It helps to show followers that you value their feedback and are willing to take the time to respond to them. An excellent example of this is Buffer's response to a follower who commented positively on their post. They thanked them for their kind words and posed a new question, further engaging with them. This type of interaction builds trust between you and your followers, as it shows that you are humanistic and care about what they have to say.
To encourage interaction, try posting questions in your posts or replying to comments on social media platforms such as Twitter or Instagram. Additionally, answering direct messages promptly will show users that their feedback is valued and appreciated. Interacting personally with your audience can be a great way to build relationships and increase engagement.
6. Invest in Social Advertising
Social media advertising is an effective way to reach a larger audience and drive more traffic to your website. It allows businesses to target posts that already have high engagement from their current target audience, creating hyper-targeted campaigns that reach the most relevant people. Investing in story ads can also be beneficial, as they often get more engagement than infeed ads since they appear as native content.
School Year Abroad is a great example of how investing in social advertising can pay off. After implementing social media advertising, they saw a 51.5% increase in website sessions. This proves that social media advertising can provide great ROI and cost-effective traffic for businesses. Therefore, it's important for your business to invest in social advertising if you want to gain more audience and traffic.
7. Write Better Calls-to-Action
Writing better calls-to-action in captions can be a great way to get your readers to interact with a link from your site. A good call-to-action should guide the reader's action and make them feel compelled to take the desired action. Testing different phrases can help you find which works best for your audience. For example, Signable uses the phrase "check out which tunes the team listens to while they work" as their call-to-action.
Responding to all comments on social posts is also an effective way of making your audience feel valued and appreciated. Being responsive can give you an edge over the competition, even if they have a larger budget or better content. Incorporating customer service into your social media strategy is also important in order to appeal to potential customers and create good experiences for existing ones. By using these tactics, you will be able to write better calls-to-action that will encourage more interaction with your site.
8. Engage with Industry Influencers
Engaging with industry influencers is an effective way to drive traffic and gain exposure for your business. By featuring them in your content, you can create an organic connection that will help you build relationships with these influential people. Tactics like interviews, expert roundup posts, or covering their stories are great ways to engage with influencers and get them to share your post. Creating articles featuring influencers can be a powerful way to get them to share your content as well.
Asking influencers to share your content is another great way to get seen by their followers and increase the reach of your message. Having influencers share your content will result in more website traffic and referral rates, which can lead to increased sales and brand awareness. It's important to remember that engaging with industry influencers should be done in a genuine manner – don't just ask for favors without offering something in return. Building relationships with these influential people takes time and effort, but it can pay off in the long run.
9. Use Hashtags to Increase Visibility
Hashtags are an effective way to increase visibility and bring more traffic to your website. By utilizing trending conversations on social media, or popular industry-specific hashtags, you can reach a larger audience and draw attention to your content.
Hashtags can be found on most social media platforms, giving you the opportunity to research user conversations related to your brand. Including hashtags in your posts increases the chances of interested circles discovering your content. However, it is important not to overuse them as this can diminish the effectiveness and impact of your post. With careful research and strategic use of hashtags, you can maximize the visibility of your content and gain more followers.
Additional Social Media Traffic Boosting Tips:
Engage Your Audience
Engaging with your audience is essential for any successful business. It helps to build trust and makes them more likely to purchase from you. Creating content that appeals to your target audience and is valuable to them is key in order to boosting engagement. This can be done by asking open-ended questions, organizing interactive quizzes, or awarding prizes to winners.
It's also important to reply to comments, post questions, and answer messages in a timely manner in order to increase user trust. Showing your humanistic side will make followers feel more connected to your brand as well. You can do this by sharing stories about yourself or your team members, or even just responding with a friendly comment when someone leaves feedback on one of your posts. Engagement is an important part of building relationships with customers and potential customers alike, so it's worth investing time and effort into creating engaging content that resonates with them.v
Install a Customer Service Chatbot
Chatbots are becoming increasingly popular in customer service, as they provide an efficient and cost-effective way to interact with customers. With Sprout Social Bot Builder, businesses can easily set up rules-based chatbots that provide timely responses and solutions to customers. This helps ensure that customers get the answers they need quickly and without having to wait for a human representative.
Chatbots can also direct users toward relevant guides or pages on your site, helping increase traffic and engagement. For example, if a customer has a question about a product or service, the chatbot can direct them to the appropriate page on your website. Additionally, you can view a Twitter chatbot in action that directs users toward a relevant answer or solution.
Make Share Buttons Obvious
Making share buttons obvious is an important part of encouraging user sharing. This can be done by making sure that the share buttons are easily visible and recognizable, as well as easy to use. Additionally, including an ongoing count of the number of shares on the share button can provide proof that others have found your content valuable. Customizing social media buttons has both its pros and cons, so it is important to consider which option works best for your website.
Focus on the Social Media Platforms that Drive the Most Web Traffic
Social media is an essential tool for driving web traffic and should not be overlooked. With 72% of Americans using social media, it's a valuable source for website traffic. Research shows that Facebook is the best platform for driving web traffic, but other platforms such as Twitter, Instagram and LinkedIn can also help. GrowthBadger's research indicates that focusing on the right platform will yield better results than spreading resources too thin.
When done right, social media traffic can turn into leads, conversions, and revenue. It's important to focus on the platforms that drive the most web traffic in order to maximize your efforts and get the most out of your investment. Social media is a great way to build an audience and gain success in the digital world. It's important to create content that resonates with your target audience and engage with them regularly in order to increase website visits from social media sources.
Include Referral Links on Your Social Media Profiles
Social media profiles are a great way to promote your website and increase traffic. By including referral links on your social media profiles, you can direct followers to your website for more information. Depending on the platform, you can include multiple links or just one single link to your website.
Sharing content via social media groups is another great way to target interested readers. You can join relevant groups and engage with users in conversations about topics related to your business or website. This will help facilitate traffic to your website by introducing potential customers to what you have to offer. Popular platforms for this type of promotion include Facebook, WhatsApp and LinkedIn. With the right strategy, you can use these platforms to reach a wide audience and increase visibility for your business or website.
Add Links to Your Social Media Posts to Drive Traffic
Adding links to your social media posts is an effective way to drive more traffic. It can be used to direct users to a website, blog post, or other online content. Different platforms allow you to add links in different ways, such as captions, popups, end screens and carousels. Snapchat and TikTok stories are great for sharing a link with followers, but unfortunately you cannot add clickable links to TikTok videos without buying ads.
Almost 90% of marketers agree that social media is an effective way to increase web traffic. There are various strategies that can be used to drive traffic from social media sources. Examples of tactics include optimizing content for certain platforms, using redirect URLs, and using shareable and descriptive images. These strategies can help you reach a wider audience and increase the chances of people clicking on your link. Additionally, it's important to use relevant hashtags when posting so that your content is seen by the right people. By following these tips5. Review your post frequency strategy to maximize website traffic
Post on a Regular Basis
Post frequency is an important factor in driving website traffic – and using dlvr.it as a social media scheduler will make the entire process much easier for you. It is essential to understand how different social media algorithms work and use them to your advantage. For example, The Economist's "link in bio" feature drove millions of referrals to their website and resulted in an increase in subscriptions and registrations. To maximize website traffic, a comprehensive approach should be taken that includes paid ad campaigns, social media engagement, contests and giveaways, influencers, content marketing, SEO optimization and more.
Knowing your target audience should help you decide which tactics best fit your business needs to successfully convert the generated traffic into sales.  Additionally, it is important to review your post frequency strategy regularly to ensure that you are getting the most out of each post by reaching the right people at the right time with the right message.
Summary: How Do You Increase Social Media Traffic?
By focusing on increasing reach and engagement first, you will be able to build a strong foundation for driving more website traffic from social media. Once this is established, you can then move on to more advanced tactics – such as running ads or creating better content. No matter what tactics you choose to use, it's important to always keep an eye on your metrics in order to ensure that your efforts are paying off.
Sharing links in social media groups is a great way to drive traffic to your website. Popular platforms like Facebook, WhatsApp and LinkedIn all have group features that allow you to share content with those likely interested in it. You can also use your profile page on these platforms to promote yourself and include link(s) to your website.
In conclusion, there are many ways to boost social media traffic and improving SEO is one of the best methods. By creating original visuals, making content easily shareable, and optimizing content with relevant keywords and phrases, you can increase website visibility and generate more sales and leads. Additionally, ensuring that your website is mobile-friendly is essential for success in the digital age. With the right strategies in place, you can reach your traffic goals and build a strong online presence.
Debra Garber
VP of Finance & Operations, Chief Content Contributor, and backyard chicken farmer. I happily share my experiences traversing the wilds of social media. Will trade social media tips for fresh organic eggs. Motto: "Live the life you love, love the life you live."