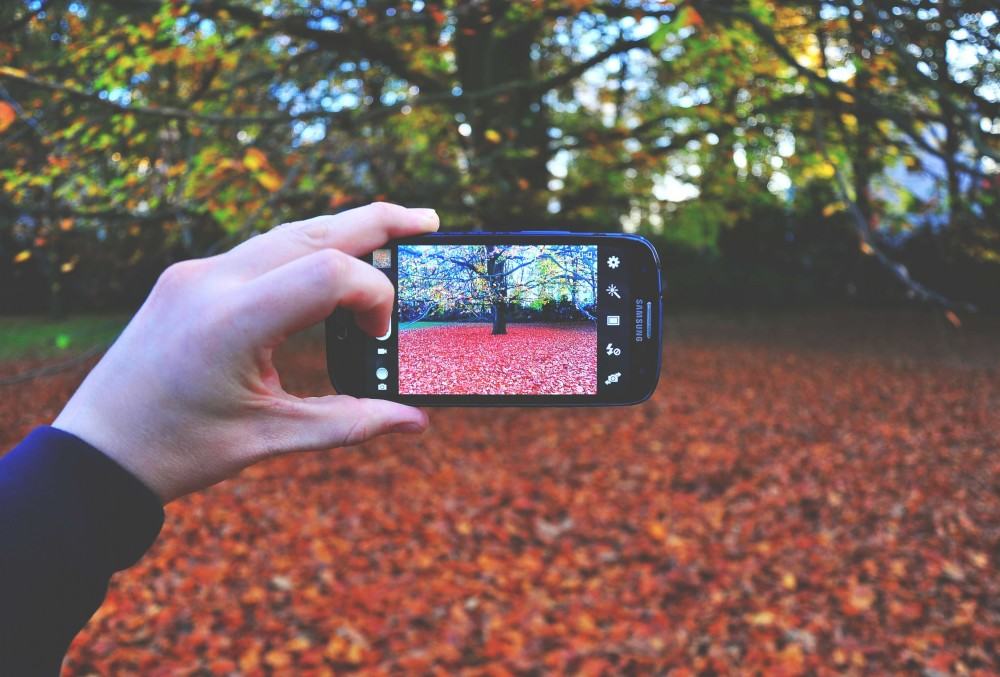 A Simple Photo Sharing Hack that Cuts Hours of Time
Social media is like a box of crayons. Constantly use text, and your social stream looks bleak. A bit of photo sharing and your social feed comes alive with color.
The results speak for themselves.
According to TrackMaven, tweets with images receive engagement rates 2x over tweets without images.
A Kissmetrics study found photos on Facebook receive 53% more likes, 104% more comments and 84% more click-throughs on links than text-based posts.
Facebook Takes Photo Sharing Seriously
How serious is Facebook about images and photos? PandoDaily's Sarah Lacy summed up Facebook's craving for photos,
Facebook has become the world's most dominant, and resilient, social network by ensuring that it "owns" photos.
Facebook paid $17 billion to buy two companies
Instagram ($1B)
WhatsApp ($16B)
Combined they process over 550 million photos per day. Facebook takes photo sharing seriously.
Photo Sharing Extends Twitter's Character Count
Photo sharing extends Twitter's character limited beyond 140 characters. No truer words were spoken when Horace, the Roman Poet beautifully said,
A picture is a poem without words
I bet if Horace used Twitter, his stream would be filled with images. With the ability to share animated GIFs, your Twitter stream, like a poem, can convey experiences, ideas or emotions in a vivid and imaginative way.
Power of Photo Sharing on Pinterest Can't be Ignored
Visual content is a critical piece of any solid social media strategy. Every day, 5 million times per day, Pinterest users are pinning bites of inspiration, recipes, hopes, dreams and more. Because of this, businesses, bloggers and publishers are becoming more mindful about the 'shareability' factor of photos on their websites and blogs.
What should be your goal with social media?
To make your audience see what you see, feel what you feel.
Evoke emotion from your audience.
 and that's why we are introducing…
Automatic Photo Sharing from Instagram, Pinterest, RSS and more
We are excited to announce the arrival of a much requested feature: Automatic Photo Sharing. In a just a few clicks,  instantly share your Instagram moments to Tumblr. Extend the reach of your Pinterest Pins to Facebook. Turn your Twitter stream into a colorful and engaging playground.
Photo sharing inputs include: Instagram, Pinterest and RSS feeds with shareable images.

This new dlvr.it photo sharing feature makes it simple and easy to take advantage of the photo-first social streams. Our goal is to make photo sharing on social media a smoother, simpler, and all-around better experience for you.
Connect your photo feeds to 

dlvr.it

, and we'll automatically post your photos to your social networks – t

he visual content is emphasized in the social feeds. Followers no longer have to click a separate link to see your images (see below).
Connect Instagram and Pinterest and start sharing instantly – expand your reach to all your followers.
Create photo posts on Twitter, Facebook, Tumblr and more – improve follower engagement across social media.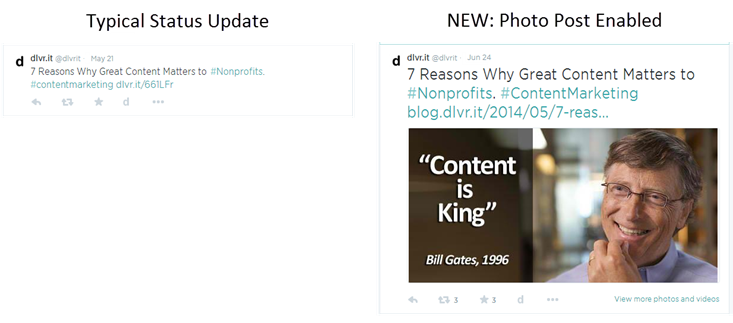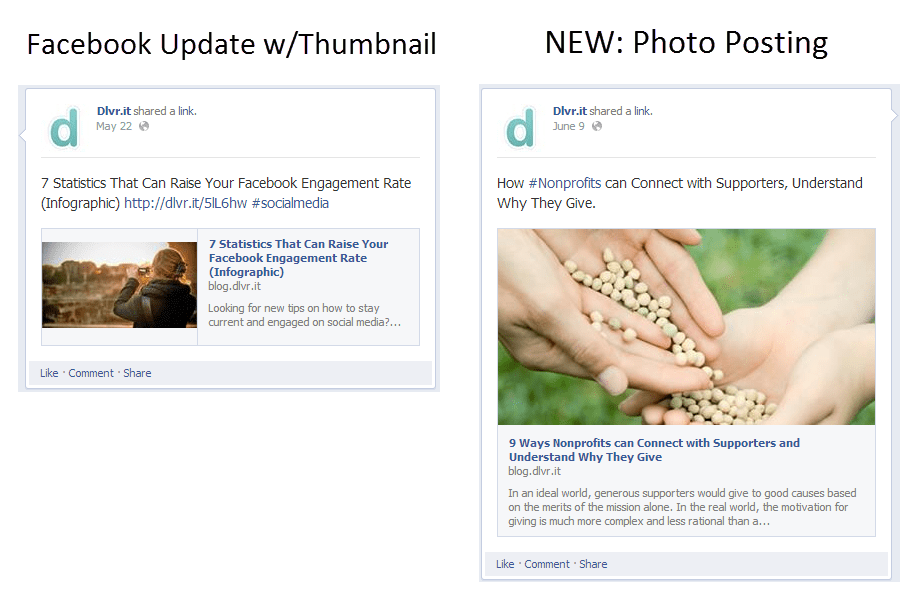 Learn how to turn on Photo Posting on for your dlvr.it account.
If you need a bit of inspiration or tools to create images for your stream, read 15 Resources to Create Images for Social Media.