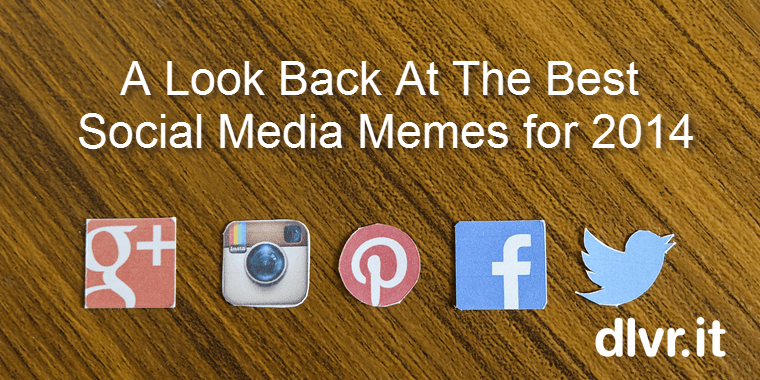 The BEST of Social Media's Best-of List in 2014
DidIt posted a great list of Things that Blew Our Minds in 2014.  I grabbed a few "Best-Of's" from the list and added highlights from the dlvr.it team to make up, quite possibly, the BEST of the best social media lists in 2014 by month.
The Headline: Pharrell's hat becomes Internet meme, gets a Twitter account after producer sports hair-raising getup at the Grammy Awards
Pharrell Williams' hat took on a life of its own, and within hours of the show, the hat had its own Twitter account, and the likes of Arby's and Quaker Oats were tweeting about it. Comparisons were made to Smokey the Bear, the Arby's logo, Canadian Mounties and Curious George's "The Man with the Yellow Hat", to name a few. The jokes and photoshop jobs inspired by this hat were, by far, the best thing about this year's Grammy Awards.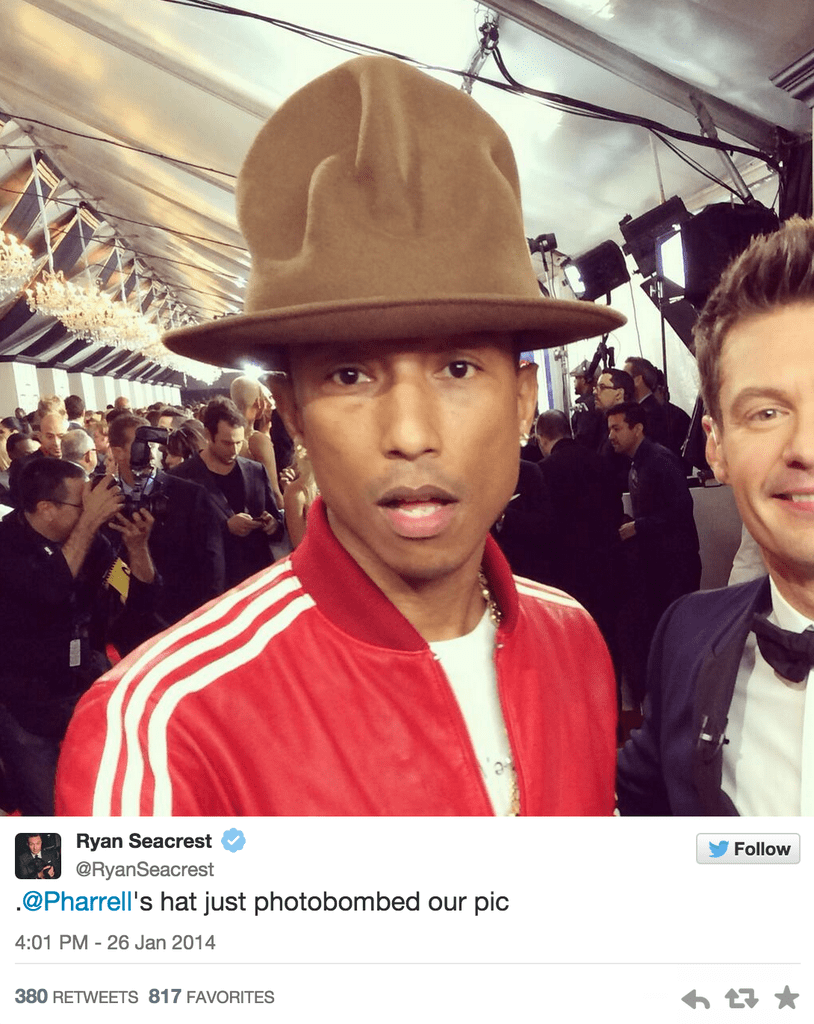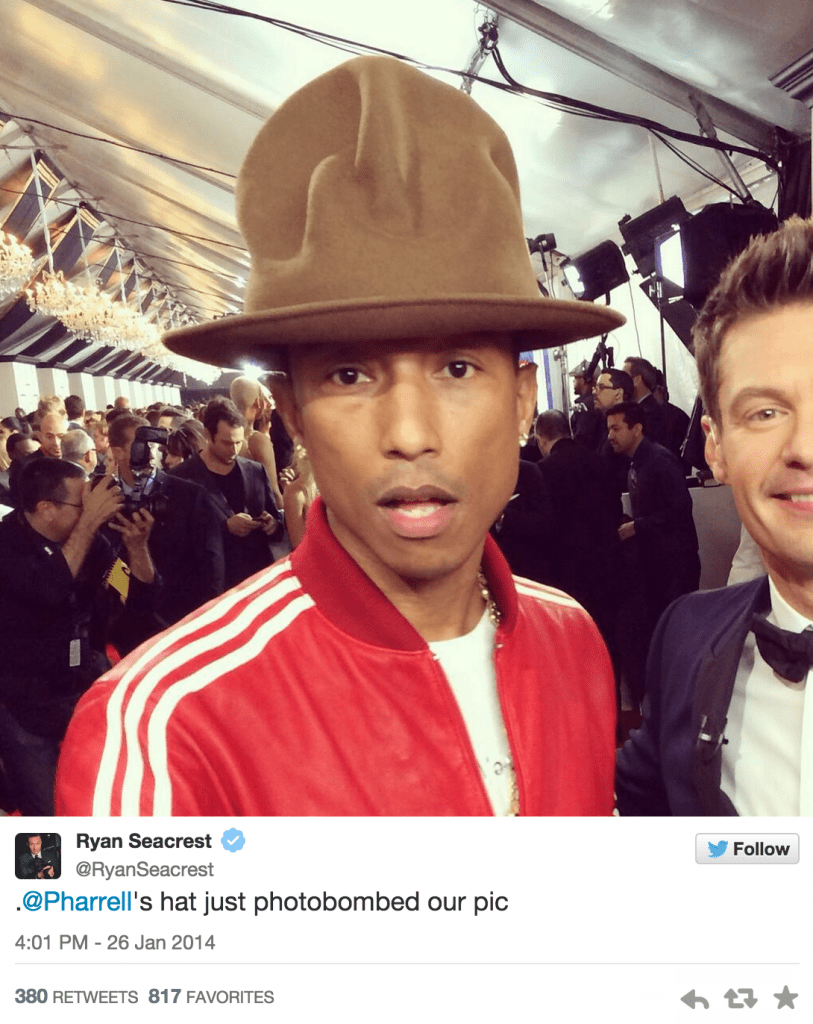 The Headline: Flappy Bird creator explains why he killed the world's most popular app
The creator of the recently departed mobile gaming hit Flappy Bird has said that the application is now gone forever, maintaining that the reason he yanked his $50,000-a-day success story is because it was too addictive. "Flappy Bird was designed to play in a few minutes when you are relaxed," explained 29-year-old Vietnamese creator Dong Nguyen in an interview with Forbes. "But it happened to become an addictive product. I think it has become a problem. To solve that problem, it's best to take down Flappy Bird. It's gone forever."
The Headline: DeGeneres Oscars Selfie Crashes Twitter with Record Retweets
During the Oscar night broadcast, host DeGeneres gathered a Hollywood A list – including Jennifer Lawrence, Angelina Jolie and Bradley Cooper — to pose for a selfie, and demanded the audience make it go viral. More than three million RTs later, it continues to do so. And the real winner? DeGeneres' photo-taking Samsung, which was the whole promotional point. As Ellen DeGeneres put it, "We made history.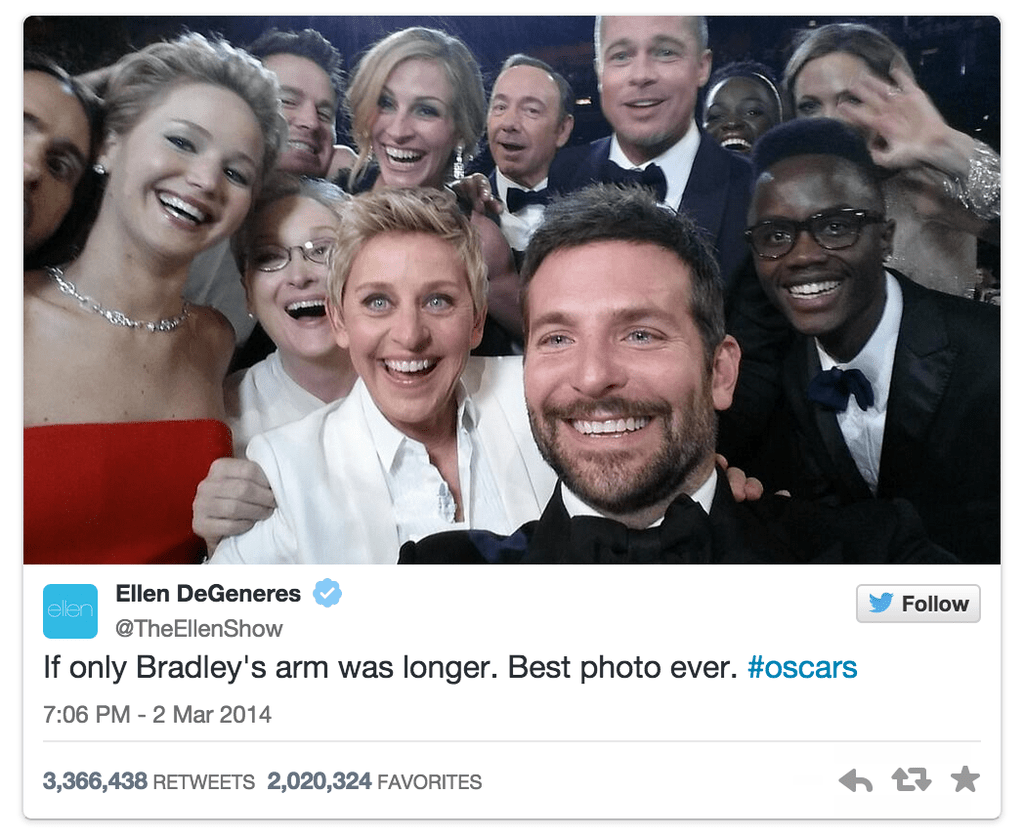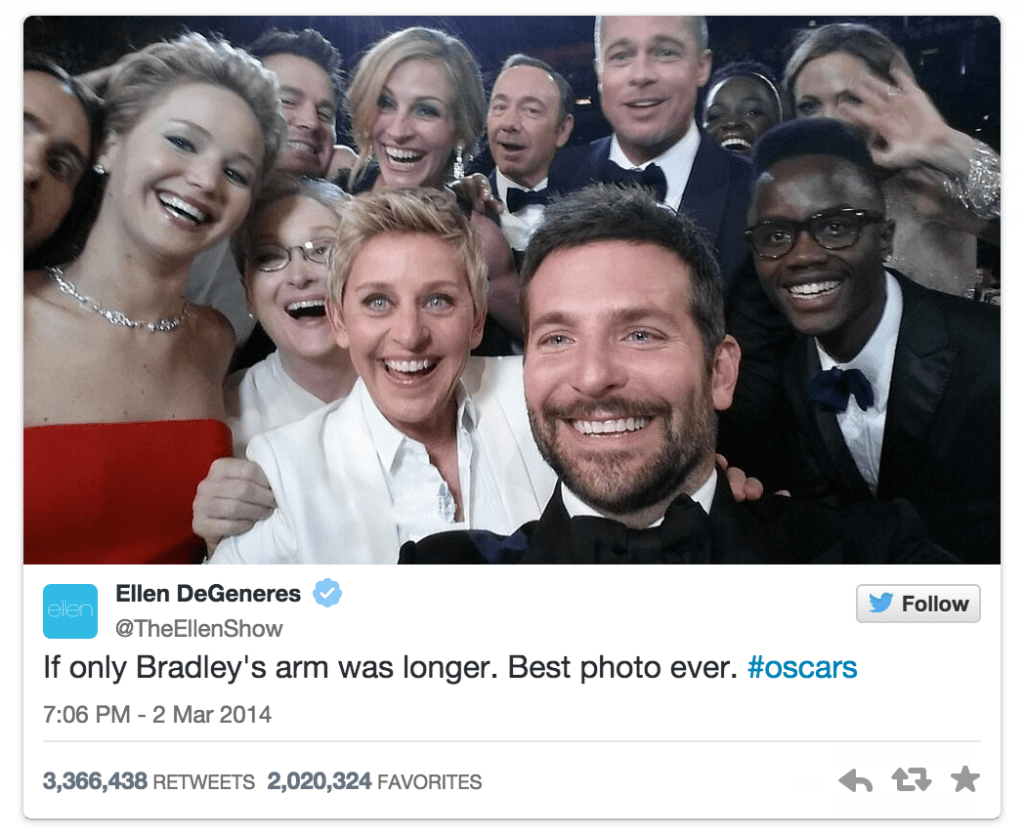 The Headline: The 10 Best Brand Channels on YouTube
GoPro #1. Adweek.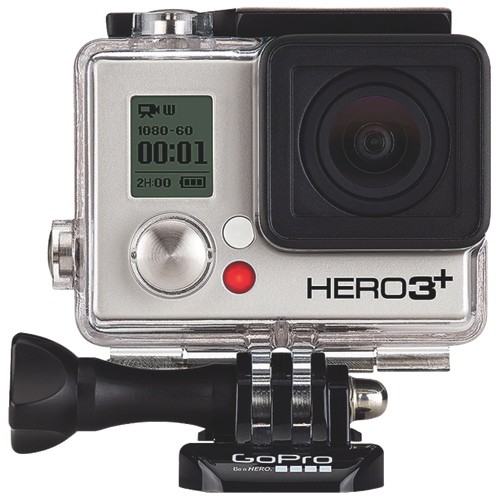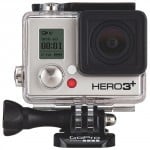 In April 2014, GoPro was listed by Adweek as one of the "Top 10 Best Brand Channels on YouTube" based on a combination of views, shares, comments and overall engagement.
GoPro has done several things exceptionally well from an outreach standpoint, so much so that "GoPro-ing" is nearly a verb now. They use action sports stars like Shaun White and Kelly Slater to be ambassadors and socially share content from their exploits that is specifically attributed to GoPro. They've turned their customers into content generators. Every day the company highlights a GoPro Video and Photo of the Day, which is then promoted across all social channels. With 240 million YouTube channel views, five million Facebook fans and 650,000 Instagram followers, their content is resonating.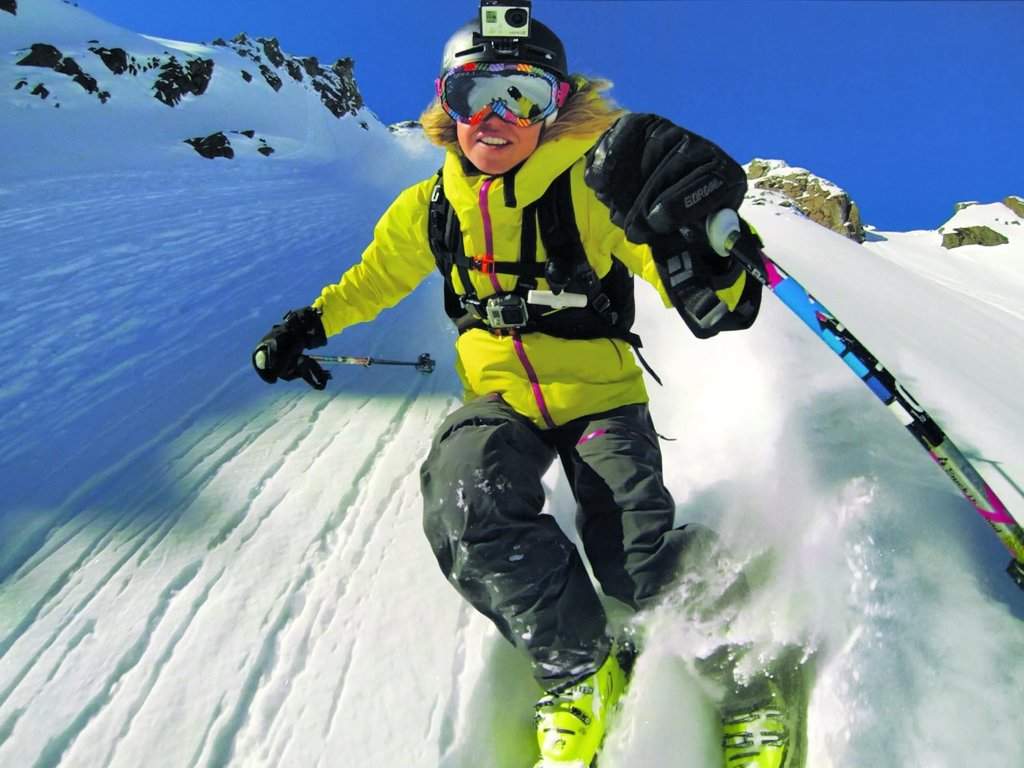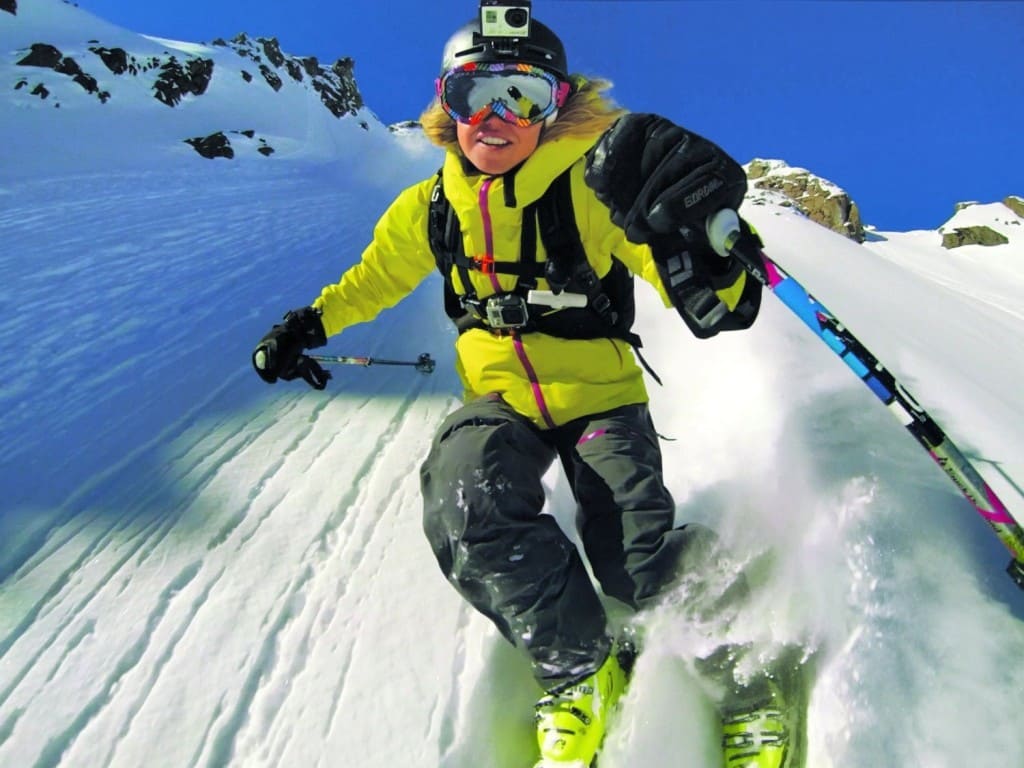 The Headline: Stephen Colbert Leaving Character Behind To Take Over David Letterman's Late-Night Spot
Colbert brings a serious social media following to late night, much as Jimmy Fallon did when he took over The Tonight Show. Letterman's official show Twitter account has 286,000 followers. Colbert's Twitter account has 6.2 million followers.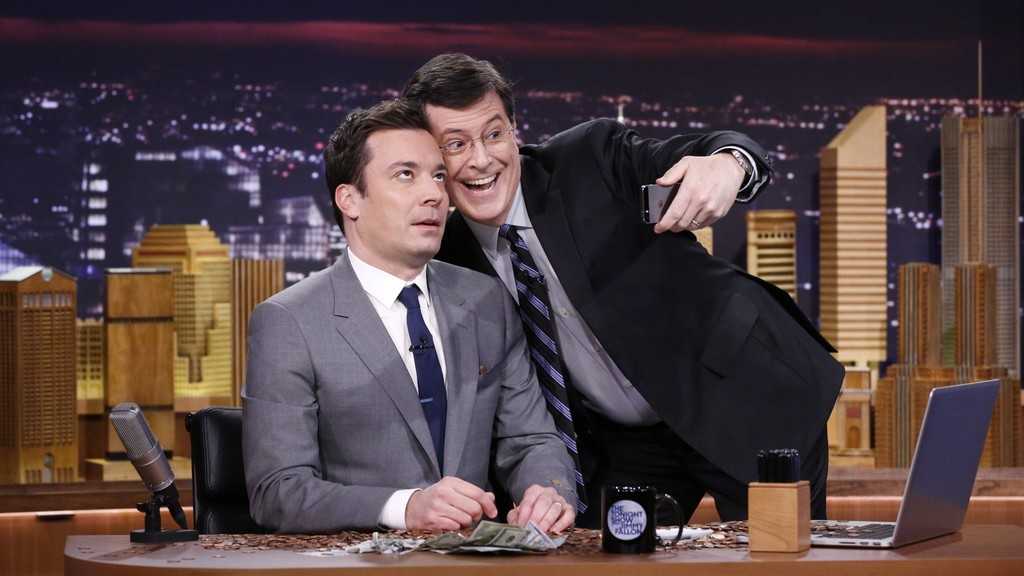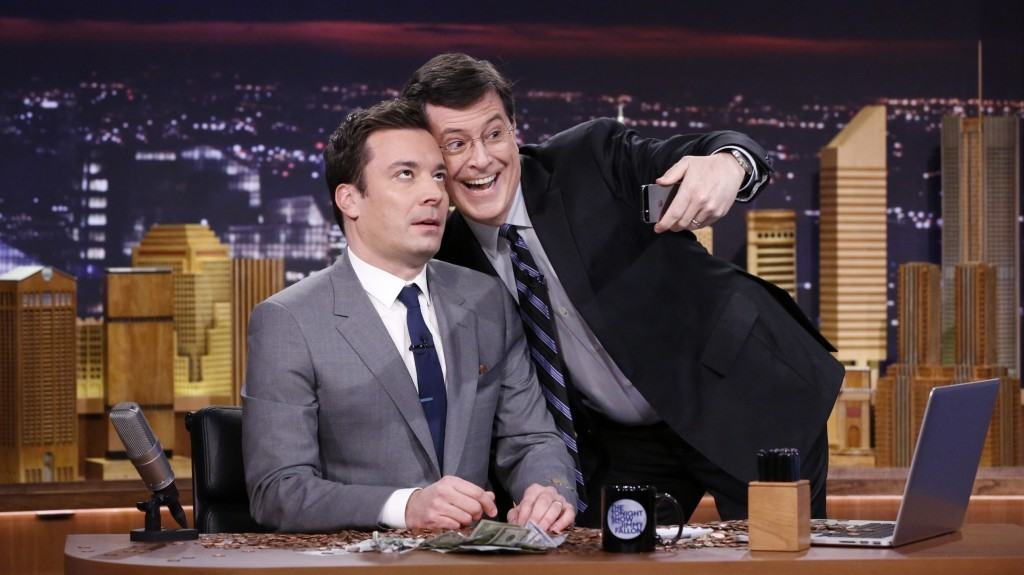 The Headline: Embrace this meme: Jared Leto hugs everything!
It all started out innocently enough a week ago when nature-loving actor Jared Leto shared a tree-hugging self-portrait on Instagram. But, of course, nothing stays innocent for long on the Internet.
The Headline: Think The ALS Ice Bucket Challenge Is Stupid? You're Wrong.
The real challenge with the "ALS Ice Bucket Challenge – trying to escape it this summer. The philanthropic blockbuster, which has been ubiquitous on Facebook and lured in hundreds of celebrities, has sparked millions of donations to ALS research and raised awareness of the disease.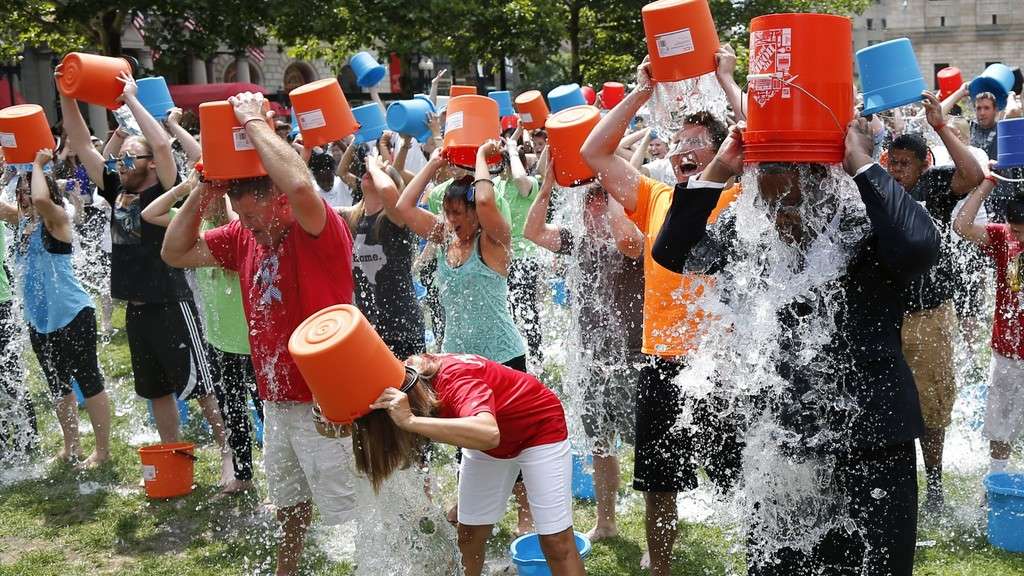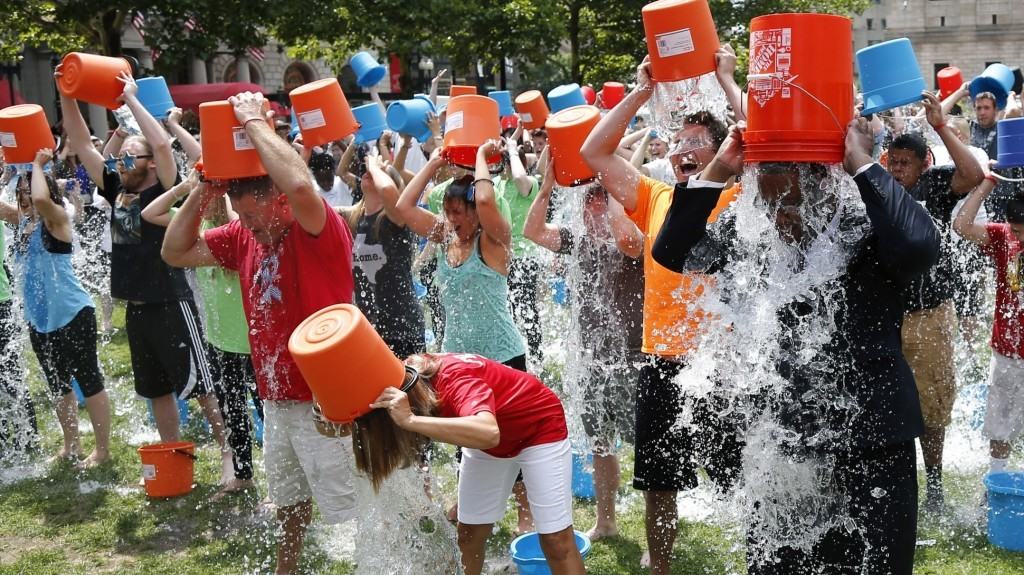 The Headline: Crowdfunding propels potato salad joke into a charity concert bash
If you haven't heard about this one, you've been living under a rock. Zack Danger Brown earned himself lasting fame and $55,000 simply for making potato salad and offering backers the chance to pledge to this Kickstarter campaign.

The Headline: After Apple Inc. dodged the iPhone 6 Plus BendGate bullet, detractors wounded by ricochet
Apparently, destroying expensive phones on YouTube is now a thing. A pattern is emerging where YouTube videos that try to attack Apple's latest iPhone really just direct more attention to it, reminding people outside of the world of tech blogs that there's a new iPhone on sale.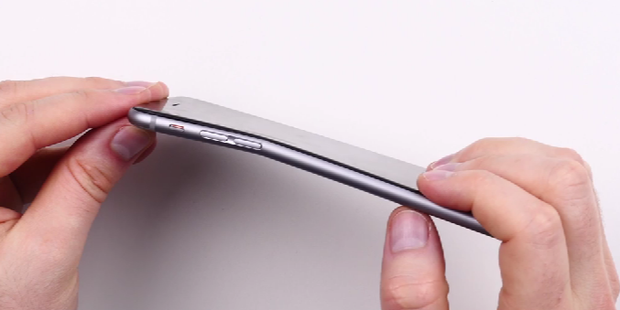 October: Ello
The Headline: 'Facebook Killer' Ello Hatches Plan to Stay Ad-Free Forever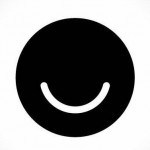 Upstart social network Ello took the internet by storm this past month, and a big part of its appeal lies with a promise that, unlike Facebook, it will never sell ads to users.
"We're really creating a way to enshrine Ello, legally, as what we intend it to be," says Paul Budnitz, Ello's CEO. "The bottom line is we're not going to sell out and no one can make us sell out."
The Headline: Fact or Fiction? The Alex from Target marketing hoax was itself a marketing hoax because everything on the Internet is a lie
A cute teen boy amasses 60,000 Twitter favorites over one weekend after his photo is uploaded. The following Tuesday a PR firm called Breakr claims to have orchestrated the whole thing, but Alex and his family claims to have never heard of them and no one knows who's telling the truth. This affair demonstrates the weird murky funhouse nature of the Internet. WOW.
The Headline: Minecraft creator's new mansion recreated in Minecraft
It's possibly the most achingly zeitgeist story of the year: a rich coder buys a huge mansion in Beverly Hills and then his house ends up being depicted in the block-building mega game that he wrote. That's celebrity, real estate, successful geeks, video games and an ironic meta-narrative in one shot. Christmas has come early. In mid-December, Markus "Notch" Persson, the creator of the multimillion-selling building sim Minecraft, bought his new pad for a reputed $70m.
Since its official launch in 2011, Minecraft has sold more than 50m copies on consoles, PC and smartphones, a spectacular feat for a small independent project built by a handful of coders in Sweden. Persson's studio, Mojang, has since been bought by Microsoft for $2.5bn, taking Minecraft with it, of course.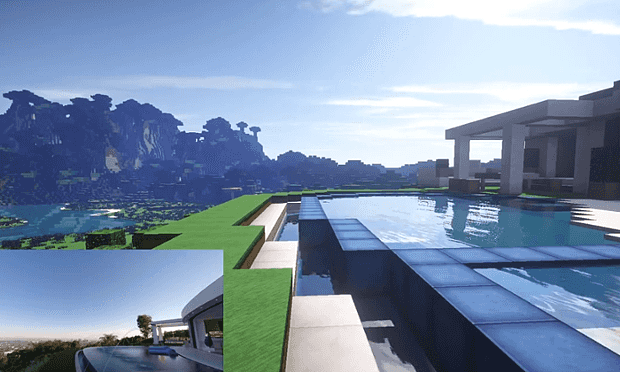 There you have it, the best of the best of the best in 2014. Hope you enjoyed the list. Please share your top picks for 2014. We'd love to hear from you.
Debra Garber
VP of Finance & Operations, Chief Content Contributor, and backyard chicken farmer. I happily share my experiences traversing the wilds of social media. Will trade social media tips for fresh organic eggs. Motto: "Live the life you love, love the life you live."